Abstract
Background
Data on Neo+/− adjuvant treatment in older patients with cancer is sparse. The management of locally advanced esophagogastric cancer (LAEC) in older patients was evaluated to determine treatment modalities and identify factors associated with survival.
Methods
Patients diagnosed with LAEC (stage II or III) over 5 years were identified from the National Cancer Registry of Ireland. Treatment was classified as "best supportive care (BSC)," "surgery only," "neo/adjuvant treatment," and "chemo/radiation alone."Survival was assessed. Univariate and multivariate analysis (MVA) of clinicopathological factors and treatment was conducted.
Results
Forty-six percent (n = 580) of the 1251 patients were ≥ 70 years, 11% (n = 134) received BSC, 23% (n = 288) surgery only, 31% (n = 390) had chemo/radiation alone, and 35% (n = 439) had neo/adjuvant treatment. Forty-six percent, 10%, and 0% of patients < 75, ≥ 75, and ≥ 80 years of age, respectively, received neoadjuvant treatment. Age was associated with treatment received (p < 0.001). Older patients were less likely to receive neo/adjuvant treatment, surgery, and any treatment. Median survival (OS) decreased with age (< 70 years: 23 months; 70–74: 19 months; 75–79: 13 months; ≥ 80 years: 10 months). In MVA, older age, smoking, later stage, and higher grade were significantly associated with a higher risk of death. Patients receiving neo/adjuvant treatment had lower risk of death than any other treatment group regardless of age.
Conclusion
Older patients were less likely to receive treatment for LAEC than younger patients. Patients aged ≥ 70 years benefit from neo/adjuvant treatment. Prospective clinical trials focusing on older patients and incorporating life expectancy, comorbidities, and geriatric assessment are needed to guide treatment.
This is a preview of subscription content, log in to check access.
Access options
Buy single article
Instant access to the full article PDF.
US$ 39.95
Tax calculation will be finalised during checkout.
Subscribe to journal
Immediate online access to all issues from 2019. Subscription will auto renew annually.
US$ 99
Tax calculation will be finalised during checkout.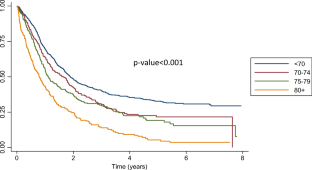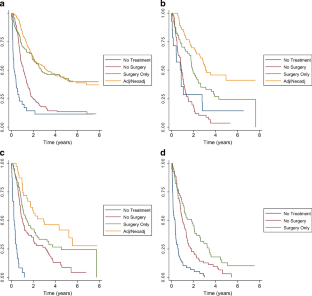 References
1.

Liu H-C, Chen Y-C, Chen C-H, et al. Esophagectomy in elderly patients with esophageal cancer. Int J Gerontol. 2010;4:176e179.

2.

Won E, Ilson DH. Management of localized esophageal cancer in the older patient. Oncologist. 2014;19:367–74.

3.

Steyerberg EW, Neville B, Weeks JC, Earle CC. Referral patterns, treatment choices, and outcomes in locoregional esophageal cancer: a population-based analysis of elderly patients. J Clin Oncol. 2007;25:2389–96.

4.

Molena D, Stem M, Blackford AL, Lidor AO. Esophageal cancer treatment is underutilized among elderly patients in the USA. J Gastrointest Surg. 2017;21:126–36.

5.

Cunningham D, Allum WH, Stenning SP, Thompson JN, van de Velde C, Nicolson M, et al. Perioperative chemotherapy versus surgery alone for resectable gastroesophageal cancer. N Engl J Med. 2006;355:11–20.

6.

Ychou M, Boige V, Pignon J-P, et al. Perioperative chemotherapy compared with surgery alone for resectable gastroesophageal adenocarcinoma: an FNCLCC and FFCD multicenter phase III trial. J Clin Oncol. 2011;29:1715–21.

7.

Al-Batran S, et al. Perioperative chemotherapy with docetaxel, oxaliplatin, and fluorouracil/leucovorin (FLOT) versus epirubicin, cisplatin, and fluorouracil or capecitabine (ECF/ECX) for resectable gastric or gastroesophageal junction (GEJ) adenocarcinoma (FLOT4-AIO): a multicenter, randomized phase 3 trial. J Clin Oncol. 2017;35:4004.

8.

Shapiro J, van Lanschot JJB, Hulshof MC, van Hagen P, van Berge Henegouwen M, Wijnhoven BPL, et al. Neoadjuvant chemoradiotherapy plus surgery versus surgery alone for oesophageal or junctional cancer (CROSS): long-term results of a randomised controlled trial. Lancet Oncol. 2015;16:1090–8.

9.

Allum WH, Stenning SP, Bancewicz J, et al. Long-term results of a randomized trial of surgery with or without preoperative chemotherapy in esophageal cancer. J Clin Oncol. 2009;27:5062–7.

10.

Medical Research Council Oesophageal Cancer Working Group Surgical resection with or without preoperative chemotherapy in oesophageal cancer: a randomised controlled trial. Lancet 2002;359:1727–33.

11.

Sjoquist KM, Burmeister BH, Smithers BM, et al. Survival after neoadjuvant chemotherapy or chemoradiotherapy for resectable oesophageal carcinoma: an updated meta-analysis. Lancet Oncol. 2011;12:681–92.

12.

Ronellenfitsch U, Schwarzbach M, Hofheinz R, et al. Perioperative chemo(radio)therapy versus primary surgery for resectable adenocarcinoma of the stomach, gastroesophageal junction, and lower esophagus. Cochrane Database Syst Rev. 2013;5:CD008107.

13.

Hurria A, Lichtman SM. Clinical pharmacology of cancer therapies in older adults. Br J Cancer. 2008;98:517–22.

14.

Al-Batran SE, Pauligk C, Homann N, Hartmann JT, Moehler M, Probst S, et al. The feasibility of triple-drug chemotherapy combination in older adult patients with oesophagogastric cancer: a randomised trial of the Arbeitsgemeinschaft Internistische Onkologie (FLOT65+). Eur J Cancer. 2013;49:835–42.

15.

Bollschweiler E, Plum P, Mönig SP, et al. Current and future treatment options for esophageal cancer in the elderly. Expert Opin Pharmacother. 2017;18:1001–10.

16.

Sylvie L, Silvia S, Salah-Eddin AB, Markus F, Florian L, Peter TP, et al. Impact of age on the feasibility and efficacy of neoadjuvant chemotherapy in patients with locally advanced oesophagogastric cancer. Eur J Cancer. 2015;51:1918–26.

17.

Hall PS, Swinson D, Waters JS, et al. Optimizing chemotherapy for frail and elderly patients with advanced gastroesophageal cancer: the GO2 phase III trial. 2019 ASCO Annual Meeting. Abstract 4006.

18.

Ruol A, Portale G, Zaninotto G, Cagol M, Cavallin F, Castoro C, et al. Results of esophagectomy for esophageal cancer in elderly patients: age has little influence on outcome and survival. J Thorac Cardiovasc Surg. 2007;133:1186–92.

19.

Liu H-C, Huang W-C, Chen C-H, et al. Radical esophagectomy in elderly patients with esophageal cancer. Formosan J Surg. 2015;48:121–7.

20.

Revels SL, Morris AM, Reddy RM, Akateh C, Wong SL. Racial disparities in esophageal cancer outcomes. Ann Surg Oncol. 2013;20:1136–41.

21.

Lineback CM, Mervak CM, Revels SL, Kemp MT, Reddy RM. Barriers to accessing optimal esophageal cancer care for socioeconomically disadvantaged patients. Ann Thorac Surg. 2017;103:416–21.

22.

Kim HS, Kim JH, Kim JW, et al. Chemotherapy in elderly patients with gastric cancer. J Cancer. 2016;7:88–94.
Ethics declarations
Conflict of interest
The authors declare that they have no conflict of interest.
Additional information
Publisher's Note
Springer Nature remains neutral with regard to jurisdictional claims in published maps and institutional affiliations.
Electronic supplementary material
About this article
Cite this article
Martin, P., O'Leary, E., Deady, S. et al. The Uptake and Efficacy of Neoadjuvant Therapy in Older Adults with Locally Advanced Esophogastric Cancer. J Gastrointest Canc 51, 893–900 (2020). https://doi.org/10.1007/s12029-019-00320-y
Keywords
Esophageal

Gastric

Cancer

Older

Survival

Neoadjuvant