Abstract
Background
The previous study showed lack of improvement in survival rate of hepatocellular carcinoma (HCC) patients in 2013–2014 period compared to 1998–1999 period in Indonesia due to late diagnosis. Comprehensive management of HCC has been implemented since 2015 in Cipto Mangunkusumo National General Hospital. This aims to provide better screening and surveillance in HCC patients and prioritizing of more proactive approach, such as online patient's group discussion and social media education.
Aim
To compare the survival rates in HCC BCLC stage A and B before and after the implementation of comprehensive management.
Methods
A retrospective study design was conducted in this study. We compared the database of HCC BCLC A and B patients between the 2015–2017 period and the 2013–2014 period. Clinical parameters, modality of treatment, and 1-year survival rate were analyzed.
Results
A total of 50 patients from 2013 to 2014 period and 143 patients from 2015 to 2017 period were included in this study. After the implementation of comprehensive management, the number of patients detected in BCLC class A increased significantly (p = 0.003). In 2015–2017 period, the number of patients that received curative treatment increased significantly (p = 0.018). The 1-year survival rate of the 2015–2017 group and the 2013–2014 group was 73.9% and 47.9%, respectively, with p value 0.002.
Conclusions
The 1-year survival rate of BCLC A and BCLC B HCC patients in Cipto Mangunkusumo National Hospital improved significantly after the implementation of comprehensive management of HCC in 2015.
This is a preview of subscription content, log in to check access.
Access options
Buy single article
Instant access to the full article PDF.
US$ 39.95
Price includes VAT for USA
Subscribe to journal
Immediate online access to all issues from 2019. Subscription will auto renew annually.
US$ 99
This is the net price. Taxes to be calculated in checkout.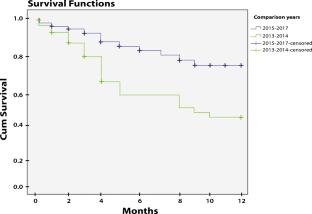 References
1.

Ferlay J, Soerjomataram I, Dikshit R, Eser S, Mathers C, Rebelo M, et al. Cancer incidence and mortality worldwide: sources, methods and major patterns in GLOBOCAN 2012. Int J Cancer. 2015;136(5):359–86.

2.

Ashtari S, Pourhoseingholi MA, Sharifian A, Zali MR. Hepatocellular carcinoma in Asia: prevention strategy and planning. World J Hepatol. 2015;7(12):1708–17.

3.

Zhu RX, Seto WK, Lai CL, Yuen MF. Epidemiology of hepatocellular carcinoma in the Asia-Pacific region. Gut Liver. 2016;10(3):332–9.

4.

World Health Organization. Cancer country profile: Indonesia [Internet]. 2014. [cited 2019 March 1]. Available from: https://www.who.int/cancer/country-profiles/idn-en.pdf

5.

Bertuccio P, Turati F, Carioli G, Rodriguez T, La Vecchia C, Malvezzi M, et al. Global trends and predictions in hepatocellular carcinoma mortality. J Hepatol. 2017;67(2):302–9.

6.

Loho IM, Hasan I, Lesmana CR, Dewiasty E, Gani RA. Hepatocellular carcinoma in a tertiary referral hospital in Indonesia: lack of improvement of one-year survival rates between 1998-1999 and 2013-2014. Asian Pac J Cancer Prev. 2016;17(4):2165–70.

7.

Omata M, Cheng AL, Kokudo N, Kudo M, Lee JM, Jia J, et al. Asia-Pacific clinical practice guidelines on the management of hepatocellular carcinoma: a 2017 update. Hepatol Int. 2017;11(4):317–70.

8.

Kudo M. Japan's successful model of nationwide hepatocellular carcinoma surveillance highlighting the urgent need for global surveillance. Liver Cancer. 2012;1:141–3.

9.

Cainelli F. Hepatitis C virus infection in the elderly: epidemiology, natural history and management. Drugs Aging. 2008;25(1):9–18.

10.

Chan AJ, Balderramo D, Kikuchi L, Ballerga EG, Prieto JE, Tapias M, et al. Early age hepatocellular carcinoma associated with hepatitis B infection in South America. Clin Gastroenterol Hepatol. 2017;15(10):1631–2.

11.

Reid M, Price JC, Tien PC. Hepatitis C virus infection in the older patient. Infect Dis Clin N Am. 2017;31(4):827–38.

12.

Bragg DA, Curry A, Dooley P. Should high-risk patients be screened for hepatitis C virus (HCV)? Evidence-Based Practice. 20(3):5–6.

13.

Sharma M, Kaabi SA, John AK, Dweik NA, Wani HU, Thandassary RB, et al. Screening for hepatitis C in average and high-risk populations of Qatar using rapid point-of-care testing. United European Gastroenterol J. 2015;3(4):364–70.

14.

Joshi SN. Hepatitis C screening. Ochsner J. 2014;14(4):664–8.

15.

Bottorff JL, Struik LL, Bissell LJ, Graham R, Stevens J, Richardson CG. A social media approach to inform youth about breast cancer and smoking: an exploratory descriptive study. Collegian. 2014;21(2):159–68.

16.

Lauckner C, Whitten P. The differential effects of social media sites for promoting cancer risk reduction. J Cancer Educ. 2016;31(3):449–52.

17.

Pagoto SL, Baker K. Engaging moms on teen indoor tanning through social media: protocol of a randomized controlled trial. JMIR Res Protoc. 2016;5(4):e228.

18.

Theiss SK, Burke RM, Cory JL, Fairley TL. Getting beyond impressions: an evaluation of engagement with breast cancer-related Facebook content. Mhealth. 2016;2(41):1–7.

19.

Han CJ, Lee YJ, Demiris G. Interventions using social media for cancer prevention and management: a systematic review. Cancer Nurs. 2018;41(6):19–31.

20.

Prochaska JJ, Coughlin SS, Lyons EJ. Social media and mobile technology for cancer prevention and treatment. Am Soc Clin Oncol Educ Book. 2017;37:128–37.

21.

El-Zayadi AR, Badran HM, Shawky S, Emara S, El-Bareedy A, Sobhi M. Effect of surveillance for hepatocellular carcinoma on tumor staging and treatment decisions in Egyptian patients. Hepatol Int. 2010;4(2):500–6.

22.

Gish RG, Lencioni R, Di Bisceglie AM, Raoul JL, Mazzaferro V. Role of the multidisciplinary team in the diagnosis and treatment of hepatocellular carcinoma. Expert Rev Gastroenterol Hepatol. 2012;6(2):173–85.

23.

Naugler WE, Alsina AE, Frenette CT, Rossaro L, Sellers MT. Building the multidisciplinary team for management of patients with hepatocellular carcinoma. Clin Gastroenterol Hepatol. 2015;13(5):827–35.

24.

Sinn DH, Choi GS, Park HC, Kim JM, Kim H, Song KD, et al. Multidisciplinary approach is associated with improved survival of hepatocellular carcinoma patients. PLoS One. 2019;14(1):e0210730.

25.

Shiina S, Tateishi R, Arano T, Uchino K, Enooku K, Nakagawa H, et al. Radiofrequency ablation for hepatocellular carcinoma: 10-year outcome and prognostic factors. Am J Gastroenterol. 2012;107(4):569–77.

26.

Yang B, Zan RY, Wang SY, Li XL, Wei ML, Guo WH, et al. Radiofrequency ablation versus percutaneous ethanol injection for hepatocellular carcinoma: a meta-analysis of randomized controlled trials. World J Surg Oncol. 2015;13:1–11.
Acknowledgments
We would like to thank Ms. Gita Aprilicia for her support in this study.
Ethics declarations
The study protocol has been approved by the Ethics Committee of the Faculty of Medicine Universitas Indonesia on human research with number protocol 18-01-0018.
Conflict of Interest
The authors declare that they have no conflict of interest.
Additional information
Publisher's Note
Springer Nature remains neutral with regard to jurisdictional claims in published maps and institutional affiliations.
About this article
Cite this article
Kurniawan, J., Gani, R.A., Hasan, I. et al. The Improvement in 1-Year Survival Rate of Patients with Hepatocellular Carcinoma BCLC Stage A and B after the Implementation of Comprehensive Management. J Gastrointest Canc 51, 829–835 (2020). https://doi.org/10.1007/s12029-019-00298-7
Keywords
Comprehensive management

Curative

Hepatectomy

Hepatocellular carcinoma

Radiofrequency ablation

Surveillance

Survival rate