Abstract
Purpose
Today it is known that the gene expression profile of cancer stem cells differs from other cancer cells, which may lead to the resistance to routine treatments. The aim of this study was to investigate the effect of docetaxel (DOC) treatment on CD44+ cell frequency in human gastric cancer (GC) MKN-45 cell line and its effect on expression levels of SIRT1, CXCR4, microRNA (miR)-21, miR-451, and miR-34a that are closely correlated with the chemoresistance or self-renewal of cancer stem cells (CSCs).
Methods
The cytotoxic effect of DOC on MKN-45 cell line was evaluated by 3-(4,5-dimethylthiazol-2-yl)-2,5-diphenyl tetrazolium bromide (MTT)-assay. The frequency of CD44+ cells was measured by flow cytometry in the treated and control groups. The expression level of SIRT1, CXCR4, miR-21, miR-451, and miR-34a was assessed in DOC-treated and non-treated cells using quantitative real-time PCR. Data were analyzed using Statistical Package for the Social Sciences (SPSS) software.
Results
The half-maximal inhibitory concentration (IC50) of DOC was 10 μg/ml after 48 h. Flow cytometry showed a significant increase in CD44+ cells after treatment with DOC (94.3%) when compared with non-treated cells (84.6%) (P < 0.01). The expression of SIRT1, CXCR4, and miR-21 was up-regulated (1.4-fold, 6.7-fold, and 1.22-fold, respectively, P < 0.05) in DOC-treated cells relative to non-treated cells, while miR-451 and miR-34a were down-regulated (0.14-fold and 0.36-fold, respectively, P < 0.05).
Conclusion
DOC treatment affected CD44+ cell frequency in MKN-45 cell line and induced significant changes in the expression of SIRT1, CXCR4, miR-21, miR-451, and miR-34a that are implicated in stemness and chemo-radioresistance, which might offer new insights for future GC therapies.
This is a preview of subscription content, log in to check access.
Access options
Buy single article
Instant access to the full article PDF.
US$ 39.95
Price includes VAT for USA
Subscribe to journal
Immediate online access to all issues from 2019. Subscription will auto renew annually.
US$ 99
This is the net price. Taxes to be calculated in checkout.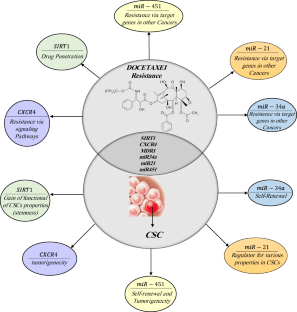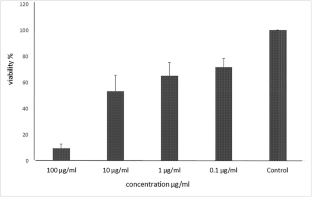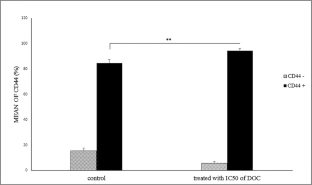 References
1.

Li K, Dan Z, Nie Y-Q. Gastric cancer stem cells in gastric carcinogenesis, progression, prevention and treatment. World J Gastroenterol. 2014;20(18):5420–6.

2.

Wang H, Hajar A, Li S, Chen X, Parissenti AM, Brindley DN, et al. Multiple mechanisms underlying acquired resistance to taxanes in selected docetaxel-resistant MCF-7 breast cancer cells. BMC Cancer. 2014;14(1):37.

3.

Bitarte N, Bandres E, Boni V, Zarate R, Rodriguez J, Gonzalez-Huarriz M, et al. MicroRNA-451 is involved in the self-renewal, tumorigenicity, and chemoresistance of colorectal cancer stem cells. Stem Cells. 2011;29(11):1661–71.

4.

Liu J, Ma L, Xu J, Liu C, Zhang J, Liu J, et al. Spheroid body-forming cells in the human gastric cancer cell line MKN-45 possess cancer stem cell properties. Int J Oncol. 2013;42(2):453–9.

5.

Fu Y, Du P, Zhao J, Ce H, Qin Y, Huang G. Gastric cancer stem cells: mechanisms and therapeutic approaches. Yonsei Med J. 2018;59(10):1150–8.

6.

Nishikawa S, Konno M, Hamabe A, Hasegawa S, Kano Y, Ohta K, et al. Aldehyde dehydrogenasehigh gastric cancer stem cells are resistant to chemotherapy. Int J Oncol. 2013;42(4):1437–42.

7.

Tamada M, Nagano O, Tateyama S, Ohmura M, Yae T, Ishimoto T, et al. Modulation of glucose metabolism by CD44 contributes to antioxidant status and drug resistance in cancer cells. Cancer Res. 2012;72(6):1438–48.

8.

Wang W, Dong L-P, Zhang N, Zhao C-H. Role of cancer stem cell marker CD44 in gastric cancer: a meta-analysis. Int J Clin Exp Med. 2014;7(12):5059.

9.

Golestaneh AF, Atashi A, Langroudi L, Shafiee A, Ghaemi N, Soleimani M. miRNAs expressed differently in cancer stem cells and cancer cells of human gastric cancer cell line MKN-45. Cell Biochem Funct. 2012;30(5):411–8.

10.

Li X, Yao R, Yue L, Qiu W, Qi W, Liu S, et al. FOXM 1 mediates resistance to docetaxel in gastric cancer via up-regulating Stathmin. J Cell Mol Med. 2014;18(5):811–23.

11.

Qiu X, Wang W, Li B, Cheng B, Lin K, Bai J, et al. Targeting Ezh2 could overcome docetaxel resistance in prostate cancer cells. BMC Cancer. 2019;19(1):27.

12.

Bekaii-Saab T, El-Rayes B. Identifying and targeting cancer stem cells in the treatment of gastric cancer. Cancer. 2017;123(8):1303–12.

13.

Wang Z, Chen W. Emerging roles of SIRT1 in cancer drug resistance. Genes Cancer. 2013;4(3–4):82–90.

14.

Feng Y-H, Tsao C-J. Emerging role of microRNA-21 in cancer. Biomed Rep. 2016;5(4):395–402.

15.

Sekar D, Krishnan R, Panagal M, Sivakumar P, Gopinath V, Basam V. Deciphering the role of microRNA 21 in cancer stem cells (CSCs). Genes Dis. 2016;3(4):277–81.

16.

Wang Z, Wang W, Huang K, Wang Y, Li J, Yang X. MicroRNA-34a inhibits cells proliferation and invasion by downregulating Notch1 in endometrial cancer. Oncotarget. 2017;8(67):111258.

17.

Garofalo M, Croce CM. MicroRNAs as therapeutic targets in chemoresistance. Drug Resist Updat. 2013;16(3–5):47–59.

18.

Yokozaki H. Molecular characteristics of eight gastric cancer cell lines established in Japan. Pathol Int. 2000;50(10):767–77.

19.

Nguyen PH, Giraud J, Chambonnier L, Dubus P, Wittkop L, Belleannée G, et al. Characterization of biomarkers of tumorigenic and chemoresistant cancer stem cells in human gastric carcinoma. Clin Cancer Res. 2017;23(6):1586–97.

20.

Dallas NA, Xia L, Fan F, Gray MJ, Gaur P, Van Buren G, et al. Chemoresistant colorectal cancer cells, the cancer stem cell phenotype, and increased sensitivity to insulin-like growth factor-I receptor inhibition. Cancer Res. 2009;69(5):1951–7.

21.

Phillips TM, McBride WH, Pajonk F. The response of CD24−/low/CD44+ breast cancer–initiating cells to radiation. J Natl Cancer Inst. 2006;98(24):1777–85.

22.

Hermann PC, Huber SL, Herrler T, Aicher A, Ellwart JW, Guba M, et al. Distinct populations of cancer stem cells determine tumor growth and metastatic activity in human pancreatic cancer. Cell Stem Cell. 2007;1(3):313–23.

23.

Dylla SJ, Beviglia L, Park I-K, Chartier C, Raval J, Ngan L, et al. Colorectal cancer stem cells are enriched in xenogeneic tumors following chemotherapy. PLoS One. 2008;3(6):e2428.

24.

Han M, Wang Y, Liu M, Bi X, Bao J, Zeng N, et al. MiR-21 regulates epithelial-mesenchymal transition phenotype and hypoxia-inducible factor-1α expression in third-sphere forming breast cancer stem cell-like cells. Cancer Sci. 2012;103(6):1058–64.

25.

Shi G-h, Ye D-w, X-d Y, S-l Z, Dai B, H-l Z, et al. Involvement of microRNA-21 in mediating chemo-resistance to docetaxel in androgen-independent prostate cancer PC3 cells. Acta Pharmacol Sin. 2010;31(7):867–73.

26.

Choi G, Lee J, Ji JY, Woo J, Kang NS, Cho SY, et al. Discovery of a potent small molecule SIRT1/2 inhibitor with anticancer effects. Int J Oncol. 2013;43(4):1205–11.

27.

Chen X, Sun K, Jiao S, Cai N, Zhao X, Zou H, et al. High levels of SIRT1 expression enhance tumorigenesis and associate with a poor prognosis of colorectal carcinoma patients. Sci Rep. 2014;4:7481.

28.

Zhu H, Xia L, Zhang Y, Wang H, Xu W, Hu H, et al. Activating transcription factor 4 confers a multidrug resistance phenotype to gastric cancer cells through transactivation of SIRT1 expression. PLoS One. 2012;7(2):e31431.

29.

Zhao B-C, Wang Z-J, Mao W-Z, Ma H-C, Han J-G, Zhao B, et al. CXCR4/SDF-1 axis is involved in lymph node metastasis of gastric carcinoma. World J Gastroenterol. 2011;17(19):2389.

30.

Dalerba P, Clarke MF. Cancer stem cells and tumor metastasis: first steps into uncharted territory. Cell Stem Cell. 2007;1(3):241–2.

31.

Gatti M, Pattarozzi A, Bajetto A, Würth R, Daga A, Fiaschi P, et al. Inhibition of CXCL12/CXCR4 autocrine/paracrine loop reduces viability of human glioblastoma stem-like cells affecting self-renewal activity. Toxicology. 2013;314(2–3):209–20.

32.

Xie L, Wei J, Qian X, Chen G, Yu L, Ding Y, et al. CXCR4, a potential predictive marker for docetaxel sensitivity in gastric cancer. Anticancer Res. 2010;30(6):2209–16.

33.

Liu C, Tang DG. MicroRNA regulation of cancer stem cells. Cancer Res. 2011;71(18):5950–4.

34.

Bandres E, Bitarte N, Arias F, Agorreta J, Fortes P, Agirre X, et al. microRNA-451 regulates macrophage migration inhibitory factor production and proliferation of gastrointestinal cancer cells. Clin Cancer Res. 2009;15(7):2281–90.

35.

Gal H, Pandi G, Kanner AA, Ram Z, Lithwick-Yanai G, Amariglio N, et al. MIR-451 and imatinib mesylate inhibit tumor growth of glioblastoma stem cells. Biochem Biophys Res Commun. 2008;376(1):86–90.

36.

Bu P, Chen K-Y, Chen JH, Wang L, Walters J, Shin YJ, et al. A microRNA miR-34a-regulated bimodal switch targets Notch in colon cancer stem cells. Cell Stem Cell. 2013;12(5):602–15.

37.

Siemens H, Jackstadt R, Kaller M, Hermeking H. Repression of c-Kit by p53 is mediated by miR-34 and is associated with reduced chemoresistance, migration and stemness. Oncotarget. 2013;4(9):1399.

38.

Li Y, Guessous F, Zhang Y, DiPierro C, Kefas B, Johnson E, et al. MicroRNA-34a inhibits glioblastoma growth by targeting multiple oncogenes. Cancer Res. 2009;69(19):7569–76.
Acknowledgments
The authors give special thanks to Dr. Akram Alizadeh and all the teachers at the Cellular and Molecular Research Center of Shahrekord University of Medical Sciences for their help and support.
Funding
This work was supported by grant no. 2180 from Shahrekord University of Medical Sciences.
Ethics declarations
Conflict of Interest
The authors declare that they have no conflict of interest.
Ethical Approval
This article does not contain any studies with human participants or animals performed by any of the authors.
Additional information
Publisher's Note
Springer Nature remains neutral with regard to jurisdictional claims in published maps and institutional affiliations.
About this article
Cite this article
Motamedi, M., Razmkhah, F., Rezakhani, L. et al. Altered Expression of CD44, SIRT1, CXCR4, miR-21, miR-34a, and miR-451 Genes in MKN-45 Cell Line After Docetaxel Treatment. J Gastrointest Canc 51, 520–526 (2020). https://doi.org/10.1007/s12029-019-00274-1
Keywords
CD44

SIRT1

CXCR4

miR-21

miR-451

miR-34a

Docetaxel

Gastric cancer cell line (MKN-45)