Access options
Buy single article
Instant access to the full article PDF.
USD 39.95
Price includes VAT (USA)
Tax calculation will be finalised during checkout.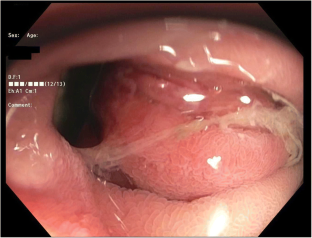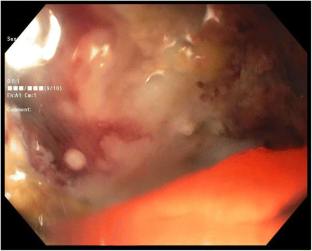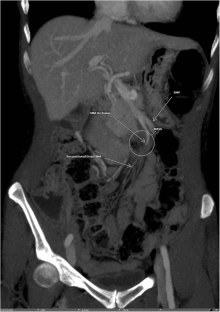 References
1.

Wilkins T, Khan N, Nabh A, Schade RR. Diagnosis and management of upper gastrointestinal bleeding. Am Fam Physician. 2012;85(5):469–76.

2.

Savides TJ, Jensen DM, Cohen J, Randall GM, Kovacs TO, Pelayo E, et al. Severe upper gastrointestinal tumor bleeding: endoscopic findings, treatment, and outcome. Endoscopy 1996;28(2):244–248.

3.

Sharon P, Stalnikovicz R, Rachmilewitz D. Endoscopic diagnosis of duodenal neoplasms causing upper gastrointestinal bleeding. J Clin Gastroenterol. 1982;4(1):35–8.

4.

Lee P, Sutherland D, Feller ER. Massive gastrointestinal bleeding as the initial manifestation of pancreatic carcinoma. Int J Pancreatol. 1994;15(3):223–7.

5.

Tomita H, Osada S, Matsuo M, Shimokawa K. Pancreatic cancer presenting with hematemesis from directly invading the duodenum: report of an unusual manifestation and review. Am Surg. 2006;72(4):363–6.

6.

Wang YU, Yuan C, Liu X. Characteristics of gastrointestinal hemorrhage associated with pancreatic cancer: a retrospective review of 246 cases. Mol Clin Oncol. 2015;3(4):902–8.

7.

Lin YH, Chen CY, Chen CP, Kuo TY, Chang FY, Lee SD. Hematemesis as the initial complication of pancreatic adenocarcinoma directly invading the duodenum: a case report. World J Gastroenterol. 2005;11(5):767–9.

8.

Inceoglu R, Dosluoglu H, Okboy N, Kullu S. Mucinous cystadenocarcinoma of the pancreas: an uncommon presentation with anaemia and upper gastrointestinal bleeding. J R Soc Med. 1991;84(3):171–2.

9.

Ohtsubo K, Watanabe H, Mouri H, Yamashita K, Yasumoto K, Yano S. Endoscopic findings of upper gastrointestinal lesions in patients with pancreatic cancer. JOP. 2012;13(4):420–6.
Ethics declarations
Informed consent was verbally obtained for this case report.
ᅟ
Conflict of Interest
The authors declare that they have no conflict of interest.
About this article
Cite this article
Arif, H., Suchniak-Mussari, K., Cothron, K. et al. Duodenal Invasion of Pancreatic Cancer Resulting in Hematemesis. J Gastrointest Canc 50, 960–961 (2019). https://doi.org/10.1007/s12029-018-0143-y
Keywords
Hematemesis

Duodenal Invasion

UGIB Cases

Upper Gastrointestinal Bleeding (UGIB)

Pancreatic Uncinate Process