This is a preview of subscription content, log in to check access.
Access options
Buy single article
Instant access to the full article PDF.
US$ 39.95
Price includes VAT for USA
Subscribe to journal
Immediate online access to all issues from 2019. Subscription will auto renew annually.
US$ 99
This is the net price. Taxes to be calculated in checkout.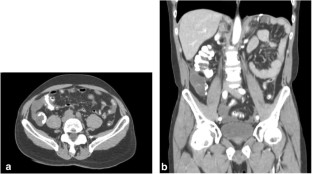 Abbreviations
PMP:

Pseudomyxoma peritonei

DPAM:

Disseminated peritoneal adenomucinosis

PMCA:

Peritoneal mucinous carcinomatosis

CRS:

Cytoreduction surgery

HIPEC:

Hyperthermic intraperitoneal chemotherapy

CEA:

Carcinoembryonic antigen

NCCN:

National Comprehensive Cancer Network
References
1.

Misdraji J. Mucinous epithelial neoplasms of the appendix and pseudomyxoma peritonei. Mod Pathol. 2015;28(S1):S67–79.

2.

Carr NJ (2014). Current concepts in pseudomyxoma peritonei. In Annales de pathologie Elsevier Masson. (Vol. 34, No. 1, pp. 9-13)

3.

Fernandes ACDO, Rocha GRMD, Oliveira ADD, Guimarães MD, Carvalho SCD, Chojniak R. Pseudomyxoma peritonei in a pediatric patient: a case report and literature review. Revista da Associação Médica Brasileira. 2018;64(2):195–9.

4.

Bevan KE, Mohamed F, Moran BJ. Pseudomyxoma peritonei. World J Gastrointest Oncol. 2010;2(1):44–50.

5.

Chua TC, Moran BJ, Sugarbaker PH., Levine EA, Glehen O, Gilly FN, ... & Liauw W (2012). Early-and long-term outcome data of patients with pseudomyxoma peritonei from appendiceal origin treated by a strategy of cytoreductive surgery and hyperthermic intraperitoneal chemotherapy. J Clin Oncol, 30(20), 2449–2456.

6.

Homeag M, Enachescu V, Pavel LE, Zaharia B, Manescu N. Pseudomyxoma peritonei. Curr Health Sci J. 2009;35(3):193–6.

7.

Smeenk RM, Verwaal VJ, Zoetmulder FAN. Pseudomyxoma peritonei. Cancer Treat Rev. 2007;33(2):138–45.

8.

Ramaswamy V. Pathology of mucinous appendiceal tumors and pseudomyxoma peritonei. Indian J Surg Oncol. 2016;7(2):258–67.

9.

Sugarbaker PH. Pseudomyxoma peritonei. A cancer whose biology is characterized by a redistribution phenomenon. Ann Surg. 1994;219(2):109.

10.

Prayson RA, Hart WR, Petras RE. Pseudomyxoma peritonei. A clinicopathologic study of 19 cases with emphasis on site of origin and nature of associated ovarian tumors. Am J Surg Pathol. 1994;18(6):591–603.

11.

Agrawal AK, Bobiński P, Grzebieniak Z, Rudnicki J, Marek G, Kobielak P, ... & Hałoń A (2014). Pseudomyxoma peritonei originating from urachus—case report and review of the literature. Curr Oncol, 21(1), e155.

12.

Nawaz A, Karakurum A, Weltman D, Shehata A, Mohammed I, Hadjiyane C, et al. Pseudomyxoma peritonei manifesting as intestinal obstruction. South Med J. 2000;93(9):891–3.

13.

Touloumis Z, Galyfos G, Kavouras N, Menis M, Lavant L. Aggressive pseudomyxoma peritonei: a case report with an unusual clinical presentation. Case Reports Oncol Med. 2013;2013:1–4.

14.

Esquivel J, Sugarbaker PH. Clinical presentation of the pseudomyxoma peritonei syndrome. Br J Surg. 2000;87(10):1414–8.

15.

Noguchi R, Yano H, Gohda Y, Suda R, Igari T, Ohta Y, et al. Molecular profiles of high-grade and low-grade pseudomyxoma peritonei. Cancer Med. 2015;4(12):1809–16.

16.

Amini A, Masoumi-Moghaddam S, Ehteda A, Morris DL. Secreted mucins in pseudomyxoma peritonei: pathophysiological significance and potential therapeutic prospects. Orphanet J Rare Dis. 2014;9(1):71.

17.

Ronnett BM, Zahn CM, Kurman RJ, Kass ME, Sugarbaker PH, Shmookler BM. Disseminated peritoneal adenomucinosis and peritoneal mucinous carcinomatosis. A clinicopathologic analysis of 109 cases with emphasis on distinguishing pathologic features, site of origin, prognosis, and relationship to "pseudomyxoma peritonei". Am J Surg Pathol. 1995;19(12):1390–408.

18.

Bradley RF, Stewart JH IV, Russell GB, Levine EA, Geisinger KR. Pseudomyxoma peritonei of appendiceal origin: a clinicopathologic analysis of 101 patients uniformly treated at a single institution, with literature review. Am J Surg Pathol. 2006;30(5):551–9.

19.

Sugarbaker PH. New standard of care for appendiceal epithelial neoplasms and pseudomyxoma peritonei syndrome? Lancet Oncol. 2006;7(1):69–76.

20.

Sugarbaker PH. Cytoreductive surgery and intraperitoneal chemotherapy with peritoneal spreadof cystadenocarcinoma. Eur J Surg Suppl. 1991;561:75–82.

21.

Winder T, Lenz HJ. Mucinous adenocarcinomas with intra-abdominal dissemination: a review of current therapy. Oncologist. 2010;15(8):836–44.

22.

Li C, Kanthan R, Kanthan SC. Pseudomyxoma peritonei–a revisit: report of 2 cases and literature review. World J Surg Oncol. 2006;4(1):60.

23.

Kelly KJ. Management of appendix cancer. Clin Colon Rectal Surg. 2015;28(4):247–55.

24.

Tentes AA, Tripsiannis G, Markakidis SK, Karanikiotis CN, Tzegas G, Georgiadis G, et al. Peritoneal cancer index: a prognostic indicator of survival in advanced ovarian cancer. Eur J Surg Oncol (EJSO). 2003;29(1):69–73.

25.

Heaney RM, Shields C, Mulsow J. Outcome following incomplete surgical cytoreduction combined with intraperitoneal chemotherapy for colorectal peritoneal metastases. World J Gastrointest Oncol. 2015;7(12):445–54.

26.

Di Giorgio A, Naticchioni E, Biacchi D, Sibio S, Accarpio F, Rocco M, et al. Cytoreductive surgery (peritonectomy procedures) combined with hyperthermic intraperitoneal chemotherapy (HIPEC) in the treatment of diffuse peritoneal carcinomatosis from ovarian cancer. Cancer. 2008;113(2):315–25.

27.

Gilly FN, Cotte E, Brigand C, Monneuse O, Beaujard AC, Freyer G, et al. Quantitative prognostic indices in peritoneal carcinomatosis. Eur J Surg Oncol (EJSO). 2006;32(6):597–601.

28.

Morris DL. Peritonectomy HIPEC—contemporary results, indications. Chin J Cancer Res. 2013;25(4):373–4.

29.

Sugarbaker PH. Peritonectomy procedures. Ann Surg. 1995;221(1):29–42.

30.

Haase E, Yoo D, Sugarbaker PH. Management of appendiceal pseudomyxoma peritonei diagnosed during pregnancy. World J Surg Oncol. 2009;7(1):48.

31.

Zappa L, Savady R, Humphries GN, Sugarbaker PH. Interstitial pneumonitis following intrapleural chemotherapy. World J Surg Oncol. 2009;7(1):17.

32.

Khan AB, Al Suhaibani Y, Al Mohaimed K, Morris DL. Application of advanced multimodality care to pseudomyxoma peritonei patient: report of first patient treated at a tertiary center. Indian J Surg Oncol. 2010;1(3):270–3.

33.

El-Safadi S, Stahl U, Tinneberg HR, Hackethal A, Muenstedt K. Primary signet ring cell mucinous ovarian carcinoma: a case report and literature review. Case Reports Oncol. 2010;3(3):451–7.

34.

Fonseca LMD, Lacerda-Filho A, Silva RGD. Pseudomyxoma peritonei syndrome 12 months after an intact resection of malignant mucocele of the appendix: a case report. Clinics. 2010;65(8):817–8.

35.

Morris-Stiff G, Falk GA, Joyce D, Chalikonda S. Unusual presentation of more common disease/injury: unusual contents of a scrotal swelling. BMJ Case Reports. 2011;2011:bcr0320114023.

36.

Bouchereau M, Gervais MK, Sideris L, Loriot MH, Ahern SP, Dubé P. Hepatic necrosis and hemorrhage following hyperthermic intraperitoneal chemotherapy with oxaliplatin: a review of two cases. J Gastrointest Oncol. 2011;2(2):113–6.

37.

Laskov I, Michaan N, Many A, Amit A, Azem F. Successful pregnancy following transfer of frozen-thawed embryos in a patient with pseudomyxoma peritonei who underwent peritonectomy and bilateral oophorectomy. J Gynecol Oncol. 2012;23(2):129–32.

38.

Kitai T. Pulmonary metastasis from pseudomyxoma peritonei. Gastroenterol Res Pract. 2012;2012:1–6.

39.

Sugarbaker PH, Rangole AK, Carr NJ. Peritoneal metastases from mucinous endocervical adenocarcinoma. Gynecol Oncol Reports. 2014;10:5–8.

40.

Singh VK, Nishant K, Sharma BK, Lamichaney R. Case report: a weeping umbilical hernia: bilateral ovarian mucinous cystadenoma with disseminated peritoneal adenomucinosis. BMJ Case Reports. 2014;2014:bcr2014204748.

41.

Murughan K, Tiwari M, Balakrishnan K. Cytoreduction with hyperthermic intraperitoneal chemotherapy: an anaesthetic challenge. Indian J Anaesth. 2014;58(1):59–62.

42.

Tempfer CB, Solass W, Buerkle B, Reymond MA. Pressurized intraperitoneal aerosol chemotherapy (PIPAC) with cisplatin and doxorubicin in a woman with pseudomyxoma peritonei: a case report. Gynecol Oncol Reports. 2014;10:32–5.

43.

Peixoto RDA, Wilson S, Schaeffer DF, Lim HJ. Pseudomyxoma peritonei metastatic to the bone: case report and review of systemic management. Gastrointest Cancer Res: GCR. 2014;7(3–4):108.

44.

Campanati RG, Hanan B, Souza SSD, Gomes da Silva R. Pregnancy after cytoreductive surgery and hyperthermic intraperitoneal chemotherapy in pseudomyxoma peritonei. Case Reports Surg. 2014;2014:1–3.

45.

Sabbagh C, Vaillandet C, Tuech JJ, Regimbeau JM. A new etiology for the abdominal compartment syndrome: pseudomyxoma peritonei. Case Reports Gastroenterol. 2015;9(3):307–10.

46.

Chauhan A, Patodi N, Ahmed M. A rare cause of ascites: pseudomyxoma peritonei and a review of the literature. Clin Case Reports. 2015;3(3):156–9.

47.

Anania G, Giaccari S, Solfrini G, Scagliarini L, Vedana L, Resta G. Appendicular mucocele: two case reports and literature review. Il Giornale di chirurgia. 2015;36(6):276–9.

48.

Chiruvella A, Staley CA, Khanna N, Russell M, Maithel SK, et al. Pseudomyxoma Peritonei from a borderline mucinous tumor arising in an ovarian mature cystic teratoma: a rare case report. Arch Surg Oncol. 2016;2:114. https://doi.org/10.4172/2471-2671.1000114.

49.

Gohda Y, Noguchi R, Horie T, Igari T, Nakamura H, Ohta Y, ... & Furukawa Y (2016). Pseudomyxoma peritonei of a mature ovarian teratoma caused by mismatch repair deficiency in a patient with Lynch syndrome: a case report. BMC Med Gen, 17(1), 94.

50.

Ababneh R, Piso P, Hofmann HS, Dumitrovici A, Buiga R, Samasca G, et al. An invasive treatment of pseudomyxoma peritonei with intrathoracic involvement. Maedica. 2016;11(1):72–5.

51.

Mathur S, Kelly E. Pseudomyxoma peritonei: a case report of an incidental finding at cesarean section. J Clin Gynecol Obstet. 2016;5(1):32–6.

52.

Vavinskaya V, Baumgartner JM, Ko A, Saenz CC, Valasek MA. Low-grade appendiceal mucinous neoplasm involving the endometrium and presenting with mucinous vaginal discharge. Case Rep Obstet Gynecol. 2016;2016:1–4.

53.

McGrath C, Linden K, Hube P, Adamiak A, Dennis K. Palliative radiation therapy for symptom control in an advanced case of pseudomyxoma peritonei. Cureus. 2017;9(6):e1407.

54.

Liang L, Zhou N, Xu H, Liu D, Lu Y, Li F, et al. Urachal mucinous adenocarcinoma with pseudomyxoma peritonei: a case report. Medicine. 2017;96(35):e7548.

55.

González-Moreno S, González-Bayón LA, Ortega-Pérez G. Hyperthermic intraperitoneal chemotherapy: rationale and technique. World J Gastrointest Oncol. 2010;2(2):68–75.

56.

Markman M. Intraperitoneal chemotherapy in the management of malignant disease. Expert Rev Anticancer Ther. 2001;1(1):142–8.

57.

Loungnarath R, Causeret S, Bossard N, Faheez M, Sayag-Beaujard AC, Brigand C, et al. Cytoreductive surgery with intraperitoneal chemohyperthermia for the treatment of pseudomyxoma peritonei: a prospective study. Dis Colon Rectum. 2005;48(7):1372–9.

58.

Sugarbaker PH. Peritonectomy procedures. Surg Oncol Clin N Am. 2003;12(3):703–27.

59.

Sugarbaker PH, Gianola FJ, Speyer JL, Wesley R, Barofsky I, & Myers CE (1985). Prospective randomized trial of intravenous v intraperitoneal 5-FU in patients with advanced primary colon or rectal cancer. In Seminars in oncology. Elsevier. Vol. 12, no. 3, pp. 101-111

60.

Ortega-Deballon P, Glehen O, Levine E, Piso P, Sugarbaker PH, Hayes-Jordan A, et al. Childbearing after hyperthermic intraperitoneal chemotherapy: results from an international survey. Ann Surg Oncol. 2011;18(8):2297–301.

61.

Glehen O, Kwiatkowski F, Sugarbaker PH, et al. Cytoreductive surgery combined with perioperative intraperitoneal chemotherapy for the management of peritoneal carcinomatosis from colorectal cancer: a multi-institutional study. J Clin Oncol. 2004;22:3284–92.

62.

Sugarbaker PH, Chang D. Results of treatment of 385 patients with peritoneal surface spread of appendiceal malignancy. Ann Surg Oncol. 1999;6(8):727–31.

63.

Sugarbaker PH. Managing the peritoneal surface component of gastrointestinal cancer. Part 2. Perioperative intraperitoneal chemotherapy. Oncology (Williston Park, NY). 2004;18(2):207–19.

64.

Pablo Carmignani C, Hampton R, Sugarbaker CE, Chang D, Sugarbaker PH. Utility of CEA and CA 19-9 tumor markers in diagnosis and prognostic assessment of mucinous epithelial cancers of the appendix. J Surg Oncol. 2004;87(4):162–6.

65.

Van Ruth S, Hart AAM, Bonfrer JMG, Verwaal VJ, Zoetmulder FAN. Prognostic value of baseline and serial carcinoembryonic antigen and carbohydrate antigen 19.9 measurements in patients with pseudomyxoma peritonei treated with cytoreduction and hyperthermic intraperitoneal chemotherapy. Ann Surg Oncol. 2002;9(10):961–7.

66.

NCCN (National Comprehensive Cancer Network). Colon Canr: NCCN Clinical Practice Guidelines in Oncology (Version 4.2018). https://www.nccn.org/professionals/physician_gls/pdf/colon.pdf. Accessed 29 July 2018.
Ethics declarations
Conflict of Interest
The authors declare that they have no conflict of interest.
About this article
Cite this article
García, K.M., Flores, K.M., Ruiz, A. et al. Pseudomyxoma Peritonei: Case Report and Literature Review. J Gastrointest Canc 50, 1037–1042 (2019). https://doi.org/10.1007/s12029-018-00192-8