Access options
Buy single article
Instant access to the full article PDF.
US$ 39.95
Tax calculation will be finalised during checkout.
Subscribe to journal
Immediate online access to all issues from 2019. Subscription will auto renew annually.
US$ 119
Tax calculation will be finalised during checkout.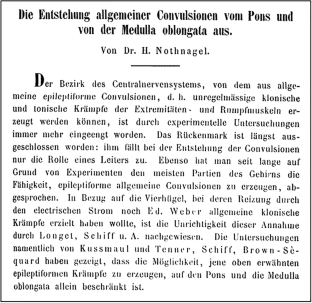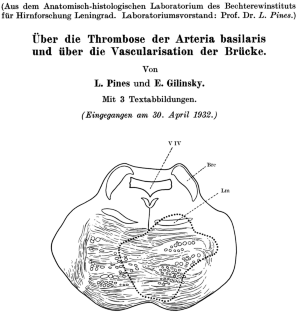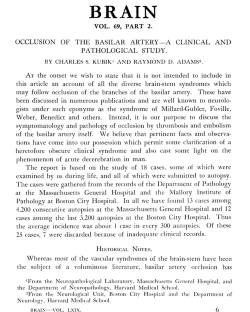 References
1.

Burns JD, Rindler RS, Carr C, et al. Delay in Diagnosis of Basilar Artery Stroke. Neurocrit Care. 2016;24(2):172–9.

2.

Abercrombie J. Pathological and Practical Researches on Diseases of the Brain and the Spinal Cord. Waugh and Innes: Edinburgh; 1834.

3.

Kompanje EJ, Walgaard C, de Groot YJ, Stevens M. Historical sources of basilar artery occlusion. Neurology. 2011;76(17):1520–3.

4.

Griesinger W Das Aneurisma der Basilararterie, in Archiv der Heilkunde1862: Zurich. p. 548–68.

5.

Leyden EV. Über die Thrombose der basilar Arterie. Z Klin Med. 1882;5:165–85.

6.

Eichhorst H, Ein bemerkenswerther Erweichungsherd in der Varolsbriicke, in Folge von syphilitischer Erkrankung der Art. basilaris. Charite-Annalen 1874; I: 206.

7.

Hayem G. Sur la thrombose par arterite du tronc basilaire comme cause de mort subite. Arch de physiol. 1868;1:270.

8.

Hofer I. Ménière's Syndrome Due to Thrombosis of Basilar Artery of Cerebrum. Monatschr f Ohrenh. 1934;68:533–8.

9.

Hyland HH. Thrombosis of Basilar Artery. Arch Neurol Psychiat. 1933;30:342–56.

10.

Nothnagel H. Die Entstehung allgemeiner Convulsionen vom Pons und von der Medulla oblongata aus. Archiv fur pathologische Anatomie und Physiologie und fur klinische Medicin. 1868;44(1):1–12.

11.

Caplan LR, Wityk RJ, Glass TA, et al. New England Medical Center Posterior Circulation registry. Ann Neurol. 2004;56(3):389–98.

12.

Saposnik G, Caplan LR. Convulsive-like movements in brainstem stroke. Arch Neurol. 2001;58(4):654–7.

13.

Scott M, Lennon HC. Decerebrate Tonic Extensor Convulsions as a Sign of Occlusion of the Basilar Artery. Arch Neurol Psychiat. 1940;44:1102–8.

14.

Foix C, Masso A. Le syndrome de lartere cerebrale posterieure. Presse Med. 1923;31:361–5.

15.

Caplan LR. Charles Foix–the first modern stroke neurologist. Stroke. 1990;21(2):348–56.

16.

Weber H. A contribution to the pathology of the crura cerebri. Medico Chirurg Trans. 1863;46:121–39.

17.

Silverman IE, Liu GT, Volpe NJ, Galetta SL. The crossed paralyses. The original brain-stem s yndromes of Millard-Gubler, Foville, Weber, and Raymond-Cestan. Arch Neurol. 1995;52(6):635–8.

18.

Pines L, Gilinsky E. Thrombosis of the basilar artery and the vascularization of the pons. Arch f Psych u Nervenkrankh. 1932;97:380–7.

19.

Kubik CS, Adams RD. Occlusion of the basilar artery; a clinical and pathological study. Brain. 1946;69(2):73–121.

20.

Wilson SAK, Neurology. ed. A.N. Bruce 1940, London: E. Arnold & Co.
Ethics declarations
Conflicts of interest
The author declares that he has no conflict of interest.
Additional information
Publisher's Note
Springer Nature remains neutral with regard to jurisdictional claims in published maps and institutional affiliations.
About this article
Cite this article
Wijdicks, E.F.M. Von Leyden's Contribution to the Elusive Syndrome of Acute Basilar Artery Occlusion. Neurocrit Care (2021). https://doi.org/10.1007/s12028-021-01191-7
Received:

Accepted:

Published: