Abstract
Background/Objective
Antithrombotic therapy is administered after left ventricular assist device (LVAD) implantation to prevent thromboembolic events. Intracranial hemorrhage (ICH) is a life-threatening adverse event requiring immediate discontinuation of antithrombotics. We investigated the timing of antithrombotic resumption after ICH in patients with LVADs and the association between timing and risk of recurrent hemorrhage and thrombotic events.
Methods
We performed a multicenter, retrospective analysis of patients with ICH occurrence during LVAD antithrombotic regimen with subsequent resumption of antithrombotics from January 1, 2010, to December 31, 2017. Covariates included age, international normalized ratio, antithrombotic dosing, timing of resumption, modified Rankin score, and subsequent hemorrhagic and thrombotic events within 1 year post-ICH. Patients who did not resume anticoagulation were excluded.
Results
Of 673 patients with LVADs, 85 (12.6%) developed ICH while being treated with antithrombotics. Forty-three were excluded due to death prior to resumption and one due to lack of resumption. The remaining 41 patients were on antithrombotics with a median (interquartile range [IQR]) international normalized ratio at ICH onset of 2.6 (1.8–3.6). Aspirin and warfarin were resumed at a median (IQR) of 5.5 (1.3–8.8) and 6.5 (4.0–15.5) days post-ICH, respectively. A continuous unfractionated heparin infusion was initiated in 16 (39.0%) patients at a median (IQR) of 2.5 (1.0–7.8) days post-ICH. During the 1-year follow-up after anticoagulation resumption, 11 (26.8%) patients suffered secondary hemorrhages and two (4.9%) suffered secondary thrombotic events. Using Kaplan–Meier method and log-rank test, we compared all patients who resumed anticoagulation by 6 days post-ICH to those who resumed after 6 days. There was no difference in freedom from secondary hemorrhagic event between the two groups (P = 0.75).
Conclusion
Despite timing of resumption of antithrombotic therapy after ICH, recurrent hemorrhagic events can be expected in one-quarter of these patients over the subsequent year.
This is a preview of subscription content, log in to check access.
Access options
Buy single article
Instant access to the full article PDF.
US$ 39.95
Price includes VAT for USA
Subscribe to journal
Immediate online access to all issues from 2019. Subscription will auto renew annually.
US$ 199
This is the net price. Taxes to be calculated in checkout.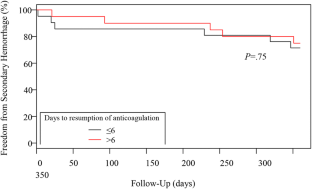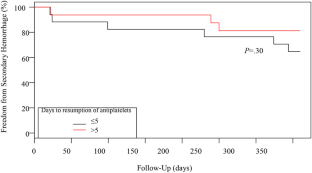 References
1.

Gurbel PA, Shah P, Desai S, Tantry US. Antithrombotic strategies and device thrombosis. Cardiol Clin. 2018;36(4):541–50.

2.

Maltais S, Kilic A, Nathan S, et al. PREVENtion of HeartMate II pump thrombosis through clinical management: the PREVENT multi-center study. J Heart Lung Transpl. 2017;36(1):1–12.

3.

Cornwell WK 3rd, Ambardekar AV, Tran T, et al. Stroke incidence and impact of continuous-flow left ventricular assist devices on cerebrovascular physiology. Stroke. 2019;50(2):542–8.

4.

Aguilar MI, Hart RG, Kase CS, et al. Treatment of warfarin-associated intracerebral hemorrhage: literature review and expert opinion. Mayo Clin Proc. 2007;82(1):82–92.

5.

Acharya D, Loyaga-Rendon R, Morgan CJ, et al. INTERMACS analysis of stroke during support with continuous-flow left ventricular assist devices: risk factors and outcomes. JACC Heart Fail. 2017;5(10):703–11.

6.

Cho SM, Moazami N, Frontera JA. Stroke and intracranial hemorrhage in HeartMate II and HeartWare left ventricular assist devices: a systematic review. Neurocrit Care. 2017;27(1):17–25.

7.

Grysiewicz RA, Thomas K, Pandey DK. Epidemiology of ischaemic and hemorrhagic stroke: incidence, prevalence, mortality, and risk factors. Neurol Clin. 2008;26(4):871–95.

8.

Poon MT, Fonville AF, Salman RAS. Long-term prognosis after intracerebral haemorrhage: systematic review and meta-analysis. J Neurol Neurosurg Psychiatry. 2014;85(6):660–7.

9.

Wilson TJ, Stetler WR Jr, Al-Holou WN, Sullivan SE, Fletcher JJ. Management of intracranial hemorrhage in patients with left ventricular assist devices. J Neurosurg. 2013;118(5):1063–8.

10.

Tahir RA, Rotman LE, Davis MC, et al. Intracranial hemorrhage in patients with a left ventricular assist device. World Neurosurg. 2018;113:e714–21.

11.

Mehra MR, Goldstein DJ, Uriel N, et al. Two-year outcomes with a magnetically levitated cardiac pump in heart failure. N Engl J Med. 2018;378(15):1386–95.

12.

Mehra MR, Naka Y, Uriel N, et al. A fully magnetically levitated circulatory pump for advanced heart failure. N Engl J Med. 2017;376(5):440–50.
Acknowledgements
The authors would like to thank Alison Dowdell for her administrative assistance with manuscript review and formatting.
Ethics declarations
Source of Support
None.
Conflict of interest
None.
Ethical approval
This study was performed after IRB approval.
Additional information
Publisher's Note
Springer Nature remains neutral with regard to jurisdictional claims in published maps and institutional affiliations.
Mayo Clinic does not endorse specific products or services included in this article.
About this article
Cite this article
Santos, C.D., Matos, N.L., Asleh, R. et al. The Dilemma of Resuming Antithrombotic Therapy After Intracranial Hemorrhage in Patients With Left Ventricular Assist Devices. Neurocrit Care 32, 822–827 (2020). https://doi.org/10.1007/s12028-019-00836-y
Keywords
Anticoagulants

Antithrombotics

Brain hemorrhage

Intracranial hemorrhage

Ventricular assist device

Thrombosis