Abstract
Physical maltreatment is one of the most common forms of child abuse. Cutaneous injuries often raise the suspicion of child maltreatment. Nevertheless, among health professionals there is still uncertainty in the evaluation of such injuries. In the literature, there are few indications about the most important factors that allow the differentiation of physical abuse findings from signs/lesions that are caused by "folk medicine practices" with similar presentations. We report the case of two brothers who were brought to the Emergency Department of a pediatric hospital by their father because each of them showed one painful, circular and red-purple bruise on their back. Suspecting child abuse, the emergency physicians reported the case to a multidisciplinary unit (dedicated to child abuse). After a careful physical examination, psychological interviews, as well as the evaluation of their medical history, the operators pointed out that the lesions were the result of cupping practices (a form of folk medicine). This case highlights the need for a multidisciplinary approach and demonstrates the importance of a careful evaluation of the cultural background of the family.
Access options
Buy single article
Instant access to the full article PDF.
US$ 39.95
Tax calculation will be finalised during checkout.
Subscribe to journal
Immediate online access to all issues from 2019. Subscription will auto renew annually.
US$ 79
Tax calculation will be finalised during checkout.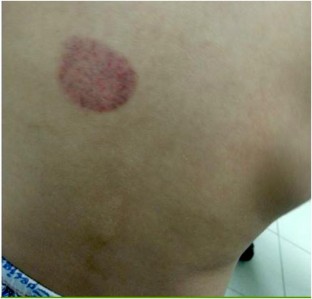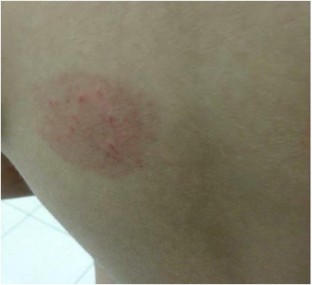 References
1.

Viero A, Amadasi A, Blandino A, Kustermann A, Montisci M, Cattaneo C. Skin lesions and traditional folk practices: a medico-legal perspective. Forensic Sci Med Pathol. 2019. https://doi.org/10.1007/s12024-019-00115-4.

2.

Kos L, Shwayder T. Cutaneous manifestations of child abuse. Pediatr Dermatol. 2006;23:311–20.

3.

Mudd SS, Findlay JS. The cutaneous manifestations and common mimickers of physical child abuse. J Pediatr Health Care. 2004;18:123–9.

4.

Ghosh SK, Bandyopadhyay D. Dermatoses secondary to Indian cultural practices. Int J Dermatol. 2014;53:e288–9.

5.

Lupariello F, Curti SM, Coppo E, Racalbuto SS, Di Vella G. Self-harm risk among adolescents and the phenomenon of the "blue whale challenge": case series and review of the literature. J Forensic Sci. 2019;64:638–42.

6.

Allen SA, Janjua M, Badshah A. An unusual pattern of ecchymosis related to Gua Sha. Wien Klin Wochenschr. 2009;121:684.

7.

Heath KJ, Byard RW. Suction pump injuries mimicking child abuse. Forensic Sci Med Pathol. 2015;11:626–8.

8.

Curti SM, Lupariello F, Coppo E, Praznik EJ, Racalbuto SS, Di vella G. Child sexual abuse perpetrated by women: case series and review of the literature. J Forensic Sci. 2019. https://doi.org/10.1111/1556-4029.14033.
Ethics declarations
Conflict of interest
The authors declare they have no conflict of interest.
Ethical approval
This article does not contain any studies with human participants or animals undertaken by any of the authors.
Additional information
Publisher's note
Springer Nature remains neutral with regard to jurisdictional claims in published maps and institutional affiliations.
About this article
Cite this article
Lupariello, F., Coppo, E., Cavecchia, I. et al. Differential diagnosis between physical maltreatment and cupping practices in a suspected child abuse case. Forensic Sci Med Pathol 16, 188–190 (2020). https://doi.org/10.1007/s12024-019-00155-w
Accepted:

Published:

Issue Date:
Keywords
Child abuse

Folk medicine

Cupping

Multidisciplinary approach