Abstract
In this paper we present a case of a 65-year-old man, with chronic kidney insufficiency treated with hemodialysis, found dead by his wife, lying in his bed. Based on autopsy findings, toxicological analysis, the police report and circumstances of death, it was concluded that the death was suicidal and that the cause of death was hemorrhagic shock due to fatal blood loss through a small puncture wound in an arteriovenous fistula of the left forearm, inflicted by a small Swiss Army knife. Similarly to occupation-related suicides, the victim had used his knowledge about chronic kidney disease and the relatively high pressure in an arteriovenous fistula to inform his suicidal actions, and, thus, this case might be considered a disease-knowledge-related or medical-knowledge-related suicide.
Access options
Buy single article
Instant access to the full article PDF.
US$ 39.95
Tax calculation will be finalised during checkout.
Subscribe to journal
Immediate online access to all issues from 2019. Subscription will auto renew annually.
US$ 79
Tax calculation will be finalised during checkout.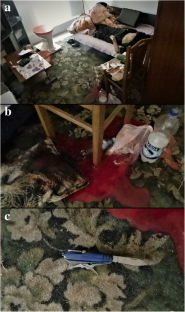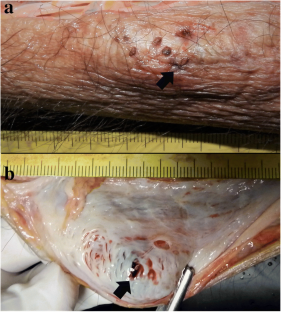 References
1.

Daugirdas JT, Blake PG, Ing TS. Handbook of dialysis. 5th ed. Philadelphia: Wolters Kluwer Health; 2015.

2.

Vascular Access 2006 Work Group. Clinical practice guidelines for vascular access. Am J Kidney Dis. 2006;48(Suppl 1):S176–247.

3.

Marc B, Baudry F, Zerrouki L, Ghaith A, Garnier M. Suicidal incised wound of a fistula for hemodialysis access in an elderly woman: case report. Am J Forensic Med Pathol. 2000;21:270–2.

4.

Byard RW, James RA. Forensic issues in cases of fatal hemorrhage from arteriovenous dialysis access sites. Forensic Sci Med Pathol. 2007;3:128–32.

5.

Jose MD, Marshall MR, Read G, Lioufas N, Ling J, Snelling P, et al. Fatal dialysis vascular access hemorrhage. Am J Kidney Dis. 2017;70:570–5.

6.

Gill JR, Storck K, Kelly S. Fatal exsanguination from hemodialysis vascular access sites. Forensic Sci Med Pathol. 2012;8:259–62.

7.

Schmidt P, Padosch S, Madea B. Occupation-related suicides. In: Tsokos M, editor. Forensic pathology reviews, vol. 2. Totowa: Humana Press; 2005. p. 145–65.
Funding
This work was supported by the Ministry of Education, Science and Technical Development of Republic of Serbia, Grant No. 45005.
Ethics declarations
Conflict of interest
The authors hereby declare that they have no conflict of interest.
Ethical approval
This article does not contain any studies with human participants or animals performed by any of the authors.
Additional information
Publisher's note
Springer Nature remains neutral with regard to jurisdictional claims in published maps and institutional affiliations.
About this article
Cite this article
Živković, V., Cvetković, D. & Nikolić, S. Exsanguination from a puncture wound to arteriovenous fistula as the method of suicide in a chronic kidney disease patient. Forensic Sci Med Pathol 16, 352–354 (2020). https://doi.org/10.1007/s12024-019-00151-0
Accepted:

Published:

Issue Date:
Keywords
Suicide

Exsanguination

Arteriovenous fistula

Chronic kidney insufficiency

Occupation-related suicide