Abstract
Multicentre studies are of utmost importance to confirm hypotheses. The lack of established standards and the ensuing complexity of their data management often hamper their implementation. The Brain Imaging Data Structure (BIDS) is an initiative for organizing and describing neuroimaging and electrophysiological data. Building on BIDS, we have developed two software programs: BIDS Manager and BIDS Uploader. The former has been designed to collect, organise and manage the data and the latter has been conceived to handle their transfer and anonymisation from the partner centres. These two programs aim at facilitating the implementation of multicentre study by providing a standardised framework.
Access options
Buy single article
Instant access to the full article PDF.
US$ 39.95
Tax calculation will be finalised during checkout.
Subscribe to journal
Immediate online access to all issues from 2019. Subscription will auto renew annually.
US$ 79
Tax calculation will be finalised during checkout.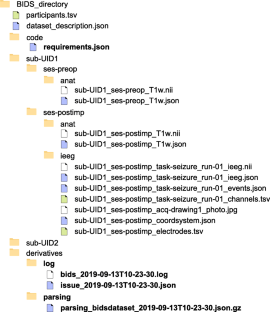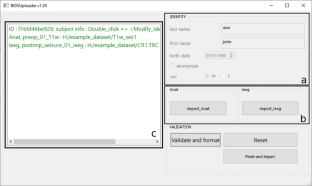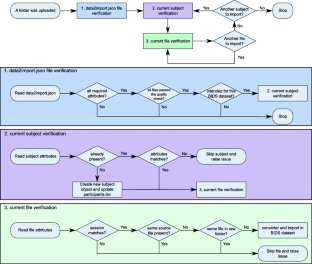 Notes
1.

2.

3.

4.

GDPR defines in Article 3 pseudo-anonymisation as "the processing of personal data in such a way that the data can no longer be attributed to a specific data subject without the use of additional information." Such "additional information" must be "kept separately and subject to technical and organisational measures to ensure non-attribution to an identified or identifiable person."

5.
Acknowledgments
NR was supported by the French national clinical project SPREAD [PHRCN-16-0685 sponsored by University Hospitals of Strasbourg, IDRCB No. 2017-A00497-46]. This work was partially supported by the RHU EPINOV [A*MIDEX project (ANR-17-RHUS-0004) funded by the 'Investissements d'Avenir' French Government]. AJ has received funding from the European Union's Horizon 2020 Framework Programme for Research and Innovation under Specific Grant Agreement No. 785907 (Human Brain Project SGA2). We would like to thank Dr Olivier David who shared the code of the uploader used in the F-TRACT project (f-tract.eu) which served as the starting point of BIDS Uploader described above.
Ethics declarations
Conflict of interests
The authors declare no competing interests.
Additional information
Publisher's Note
Springer Nature remains neutral with regard to jurisdictional claims in published maps and institutional affiliations.
About this article
Cite this article
Roehri, N., Medina Villalon, S., Jegou, A. et al. Transfer, Collection and Organisation of Electrophysiological and Imaging Data for Multicentre Studies. Neuroinform (2021). https://doi.org/10.1007/s12021-020-09503-6
Keywords
Multicenter

Data management

BIDS

Electrophysiology

Neuroimaging