Abstract
Purpose
We aimed to evaluate the clinical efficacy and safety of lenvatinib in patients with advanced anaplastic thyroid cancer (ATC) in real-world practice.
Methods
This multicenter, retrospective cohort study included 14 patients with advanced ATC who received lenvatinib. We evaluated the response rate according to RECIST.
Results
Ten patients had de novo ATC, and lenvatinib was used as a neoadjuvant treatment in eight patients. During a median follow-up of 6.7 months, patients received lenvatinib at a median dose of 13 mg daily. Overall, four patients (29%) showed partial response, nine (64%) had stable disease, and one (7%) had progressive disease. Tumor burden was reduced in 13 patients (93%), and the median best percent change from the baseline was −15.8%. The median progression-free survival and overall survival were 5.7 months (95% confidence interval [CI], 2.2–8.3) and 6.7 months (95% CI, 3.0–8.4), respectively. All patients experienced adverse events (AEs). Most AEs were manageable but two AEs—tracheal perforation, and pneumothorax and pneumomediastinum—were life-threatening. One patient underwent flap surgery for reconstruction of their tracheal perforation, and another died of pneumothorax and pneumomediastinum, which seemed to be related to lenvatinib.
Conclusions
In this multicenter real-world study, lenvatinib demonstrated limited clinical activity in advanced ATC. It effectively reduced the tumor burden but showed doubtful survival benefit. Although most AEs were manageable, one fatal AE was related to rapid tumor shrinkage. Further studies are needed to clarify the efficacy and optimal dose of lenvatinib in patients with advanced ATC.
Access options
Buy single article
Instant access to the full article PDF.
US$ 39.95
Tax calculation will be finalised during checkout.
Subscribe to journal
Immediate online access to all issues from 2019. Subscription will auto renew annually.
US$ 119
Tax calculation will be finalised during checkout.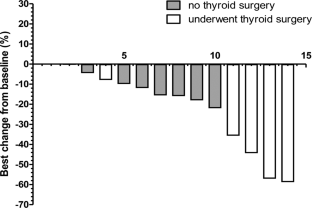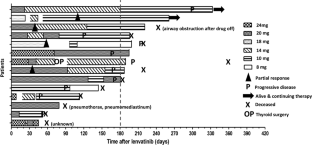 Funding
This research did not receive any specific grant from any funding agency in public, commercial, or not-for-profit sectors.
Ethics declarations
Conflict of interest
The authors declare that they have no conflict of interest.
Ethical approval
This study protocol was reviewed and approved by the Institutional Review Board of each participating institution.
Additional information
Publisher's note Springer Nature remains neutral with regard to jurisdictional claims in published maps and institutional affiliations.
Supplementary information
About this article
Cite this article
Kim, M., Ahn, J., Song, D.E. et al. Real-world experience of lenvatinib in patients with advanced anaplastic thyroid cancer. Endocrine 71, 427–433 (2021). https://doi.org/10.1007/s12020-020-02425-y
Received:

Accepted:

Published:

Issue Date:
Keywords
Anaplastic thyroid cancer

Lenvatinib

Response rate

Survival

Toxicity