Abstract
As a type of stress, maternal separation (MS) has been one of the most widely used models in neuropsychiatric research. An increasing number of studies has found that MS not only affects the function of the hypothalamic–pituitary–adrenal axis and hippocampal 5-hydroxytryptamine system, but also causes dysfunction of the central dopamine (DA) system and increases the susceptibility of dopaminergic neurons to pathogenic factors of Parkinson's disease (PD), for instance, 6-hydroxydopamine, thus impairing motor function. We reviewed the impact of MS on the DA system and its correlation with PD and found the following: (1) discrepant effects of MS on the DA system have been reported; (2) MS is a good model to study the impact of stress on the occurrence and development of PD, however, unified modeling criteria of MS are required; (3) correlation between MS and PD may involve the impact of MS on the DA system, which however is not the only connection; (4) intervening measures can block pathways between MS and PD, which provides reference for the prevention of PD in specific populations such as left-behind children.
Access options
Buy single article
Instant access to the full article PDF.
US$ 39.95
Tax calculation will be finalised during checkout.
Subscribe to journal
Immediate online access to all issues from 2019. Subscription will auto renew annually.
US$ 79
Tax calculation will be finalised during checkout.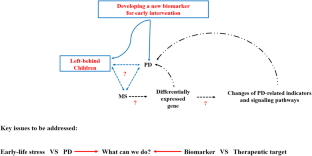 Abbreviations
DA:

Dopamine

DANs:

Dopaminergic neurons

DAT:

Dopamine transporter

ELS:

Early life stress

MS:

Maternal separation

PD:

Parkinson's disease

6-OHDA:

6-Hydroxydopamine

TH:

Tyrosine hydroxylase
Acknowledgements
The authors thank all their past and present team members and collaborators who have contributed to the data discussed in the review. We would like to express our gratitude to Professor Chun-feng Liu of Soochow University for his cordial support, valuable information, and guidance, which helped us in completing this review.
Funding
This study was supported by the Science Technology Development and Guidance Foundation of Suzhou (SYSD2017089) and Postgraduate Research & Practice Innovation Program of Jiangsu Province.
Ethics declarations
Conflict of interest
The authors declare that they have no conflict of interest.
Additional information
Publisher's Note
Springer Nature remains neutral with regard to jurisdictional claims in published maps and institutional affiliations.
About this article
Cite this article
He, Kj., Zhang, Yt., Wei, Sz. et al. Impact of Maternal Separation on Dopamine System and its Association with Parkinson's Disease. Neuromol Med 22, 335–340 (2020). https://doi.org/10.1007/s12017-019-08587-x
Received:

Accepted:

Published:

Issue Date:
Keywords
Parkinson's disease

Maternal separation

Stress

Dopamine

Left-behind children