Abstract
Autoimmune diseases are characterized by tissue damage and loss of function due to an immune response that is directed against specific organs. This review is focused on the role of impaired intestinal barrier function on autoimmune pathogenesis. Together with the gut-associated lymphoid tissue and the neuroendocrine network, the intestinal epithelial barrier, with its intercellular tight junctions, controls the equilibrium between tolerance and immunity to non-self antigens. Zonulin is the only physiologic modulator of intercellular tight junctions described so far that is involved in trafficking of macromolecules and, therefore, in tolerance/immune response balance. When the zonulin pathway is deregulated in genetically susceptible individuals, autoimmune disorders can occur. This new paradigm subverts traditional theories underlying the development of these diseases and suggests that these processes can be arrested if the interplay between genes and environmental triggers is prevented by re-establishing the zonulin-dependent intestinal barrier function. Both animal models and recent clinical evidence support this new paradigm and provide the rationale for innovative approaches to prevent and treat autoimmune diseases.
This is a preview of subscription content, log in to check access.
Access options
Buy single article
Instant access to the full article PDF.
US$ 39.95
Price includes VAT for USA
Subscribe to journal
Immediate online access to all issues from 2019. Subscription will auto renew annually.
US$ 99
This is the net price. Taxes to be calculated in checkout.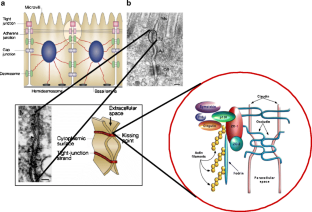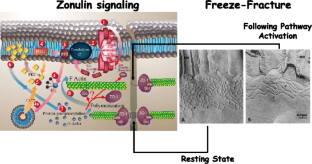 References
1.

Perl A (2004) Pathogenesis and spectrum of autoimmunity. Methods Mol Med 102:1–8

2.

Christen U, von Herrath MG (2004) Induction, acceleration or prevention of autoimmunity by molecular mimicry. Mol Immunol 40:1113–1120

3.

Fasano A (2001) Pathological and therapeutic implications of macromolecule passage through the tight junction. In Tight Junctions. CRC Press, Inc, Boca Raton, pp 697–722

4.

Yu QH, Yang Q (2009) Diversity of tight junctions (TJs) between gastrointestinal epithelial cells and their function in maintaining the mucosal barrier. Cell Biol Int 33:78–82

5.

Fasano A (2001) Intestinal zonulin: open sesame! Gut 49:159–162

6.

Fasano A, Shea-Donohue T (2005) Mechanisms of disease: the role of intestinal barrier function in the pathogenesis of gastrointestinal autoimmune diseases. Nat Clin Pract Gastroneterol Hepatol 2:416–422

7.

Plenge RM (2010) Unlocking the pathogenesis of celiac disease. Nat Genet 42:281–282

8.

Drago S, El Asmar R, De Pierro M et al (2006) Gliadin, zonulin and gut permeability: effects on celiac and non-celiac intestinal mucosa and intestinal cell lines. Scand J Gastroenterol 41:408–419

9.

Madara JL, Trier JS (1980) Structural abnormalities of jejunal epithelial cell membranes in celiac sprue. Lab Inves 43:254–261

10.

Szakál DN, Gyorffy H, Arató A et al (2010) Mucosal expression of claudins 2, 3 and 4 in proximal and distal part of duodenum in children with coeliac disease. Virchows Arch 456:245–250

11.

Tripathi A, Lammers KM, Goldblum S et al (2009) Identification of human zonulin, a physiological modulator of tight junctions, as prehaptoglobin-2. Proc Natl Acad Sci U S A 106:16799–16804

12.

Wolters VM, Alizadeh BZ, Weijerman ME et al (2010) Intestinal barrier gene variants may not explain the increased levels of antigliadin antibodies, suggesting other mechanisms than altered permeability. Hum Immunol 71:392–396

13.

Mäkelä M, Vaarala O, Hermann R et al (2006) Enteral virus infections in early childhood and an enhanced type 1 diabetes-associated antibody response to dietary insulin. J Autoimmun 27:54–61

14.

Mojibian M, Chakir H, Lefebvre DE, Crookshank JA, Sonier B, Keely E, Scott FW (2009) Diabetes-specific HLA-DR-restricted proinflammatory T-cell response to wheat polypeptides in tissue transglutaminase antibody-negative patients with type 1 diabetes. Diabetes 58:1789–1796

15.

Westall FC (2007) Abnormal hormonal control of gut hydrolytic enzymes causes autoimmune attack on the CNS by production of immune-mimic and adjuvant molecules: a comprehensive explanation for the induction of multiple sclerosis. Med Hypotheses 68:364–369

16.

Yokote H, Miyake S, Croxford JL, Oki S, Mizusawa H, Yamamura T (2008) NKT cell-dependent amelioration of a mouse model of multiple sclerosis by altering gut flora. Am J Pathol 173:1714–1723

17.

Edwards CJ (2008) Commensal gut bacteria and the etiopathogenesis of rheumatoid arthritis. J Rheumatol 35:1477–14797

18.

Abreu MT (2010) Toll-like receptor signaling in the intestinal epithelium: how bacterial recognition shapes intestinal function. Nat Rev Immunol 10:131–144

19.

Fasano A (2008) Physiological, pathological, and therapeutic implications of zonulin-mediated intestinal barrier modulation: living life on the edge of the wall. Am J Pathol 173:1243–1252

20.

Groschwitz KR, Hogan SP (2009) Intestinal barrier function: molecular regulation and disease pathogenesis. J Allergy Clin Immunol 124:3–20

21.

Fasano A (2011) Zonulin and its regulation of intestinal barrier function: the biological door to inflammation, autoimmunity, and cancer. Physiol Rev 91:151–175

22.

Cereijido M (1992) Evolution of ideas on the tight junction. In Tight Junction. CRC Press, Inc., Boca Raton, p 1

23.

Fasano A, Baudry B, Pumplin DW et al (1991) Vibrio cholerae produces a second enterotoxin, which affects intestinal tight junctions. Proc Natl Acad Sci U S A 88:5242–5246

24.

Wang W, Uzzau S, Goldblum SE et al (2000) Human zonulin, a potential modulator of intestinal tight junctions. J Cell Sci 113:4435–4440

25.

Fasano A, Not T, Wang W et al (2000) Zonulin, a newly discovered modulator of intestinal permeability, and its expression in coeliac disease. Lancet 358:1518–1519

26.

El Asmar R, Panigrahi P, Bamford P et al (2002) Host-dependent activation of the zonulin system is involved in the impairment of the gut barrier function following bacterial colonization. Gastroenterology 123:1607–1615

27.

Branski D, Fasano A, Troncone R (2006) Latest developments in the pathogenesis and treatment of celiac disease. J Pediatr 149:295–300

28.

Fasano A (2009) Surprises from celiac disease. Sci Am 301:54–61

29.

Lammers KM, Lu R, Brownley J et al (2008) Gliadin induces an increase in intestinal permeability and zonulin release by binding to the chemokine receptor CXCR3. Gastroenterology 135:194–204

30.

Thomas KE, Fasano A, Vogel SN (2006) Gliadin stimulation of murine macrophage inflammatory gene expression and intestinal permeability are MyD88-dependent: role of the innate immune response in Celiac disease. J Immunol 176:2512–2521

31.

Turner JR (2009) Intestinal mucosal barrier function in health and disease. Nat Rev Immunol 9:799–809

32.

Jabri B, Sollid LM (2009) Tissue-mediated control of immunopathology in coeliac disease. Nat Rev Immunol 9:858–870

33.

Maki M, Huupponen T, Holm K, Hallstrom O (1995) Seroconversion of reticulin autoantibodies predicts coeliac disease in insulin dependent diabetes mellitus. Gut 36:239–242

34.

Collin P, Salmi J, Hallstrom O (1989) High frequency of coeliac disease in adult patients with type 1 diabetes. Scand J Gastroenterol 24:81–88

35.

Fasano A (2001) Pathological and therapeutical implications of macromolecule passage through the tight junction. In Tight junctions. CRC Press, Inc., Boca Raton, pp 697–722

36.

Carratù R, Secondulfo M, de Magistris L et al (1999) Altered intestinal permeability to mannitol in diabetes mellitus type I. J Pediatr Gastroenterol Nutr 28:264–271

37.

Meddings JB, Jarand J, Urbanski SJ et al (1999) Increased gastrointestinal permeability is an early lesion in the spontaneously diabetic BB rat. Am J Physiol 276:G951–G957

38.

Watts T, Berti I, Sapone A, Gerarduzzi T, Not T, Zielke R, Fasano A (2005) Role of the intestinal tight junction modulator zonulin in the pathogenesis of type I diabetes in BB diabetic-prone rats. Proc Natl Acad Sci U S A 102:2916–2921

39.

Sapone A, de Magistris L, Pietzak M et al (2006) Zonulin upregulation is associated with increased gut permeability in subjects with type 1 diabetes and their relatives. Diabetes 55:1443–1449

40.

Scott FW, Cloutier HE, Kleeman R et al (1997) Potential mechanisms by which certain foods promote or inhibit the development of spontaneous diabetes in BB rats. Dose, timing, early effect on islet area, and switch in infiltrate from Th1 to Th2 cells. Diabetes 46:589–598

41.

Visser J, Rozing J, Sapone A, Lammers K, Fasano A (2009) Tight junctions, intestinal permeability, and autoimmunity: celiac disease and type 1 diabetes paradigms. Ann N Y Acad Sci 1165:195–205

42.

Visser JT, Lammers K, Hoogendijk A et al (2010) Restoration of impaired intestinal barrier function by the hydrolysed casein diet contributes to the prevention of type 1 diabetes in the diabetes-prone BioBreeding rat. Diabetologia 53:2621–2628

43.

Simpson M, Mojibian M, Barriga K, Scott F, Fasano A, Rewers M, Norris J (2009) An exploration of Glo-3A antibody levels in children at increased risk for type 1 diabetes mellitus. Pediatr Diabetes 10:563–572

44.

Hijazi Z, Molla AM, Al-Habashi H et al (2004) Intestinal permeability is increased in bronchial asthma. Arch Dis Child 89:227–229

45.

Yacyshyn B, Meddings J, Sadowski D, Bowen-Yacyshyn MB (1996) Multiple sclerosis patients have peripheral blood CD45RO+ B cells and increased intestinal permeability. Dig Dis Sci 41:2493–2501

46.

Yacyshyn BR, Meddings JB (1995) CD45RO expression on circulating CD19+ B cells in Crohn's disease correlates with intestinal permeability. Gastroenterology 108:132–138

47.

Schmitz H, Barmeyer C, Fromm M et al (1999) Altered tight junction structure contributes to the impaired epithelial barrier function in ulcerative colitis. Gastroenterology 116:301–307

48.

Weber CR, Turner JR (2007) Inflammatory bowel disease: is it really just another break in the wall? Gut 56:6–8

49.

Wang F, Schwarz BT, Graham WV et al (2006) IFN-gamma-induced TNFR2 expression is required for TNF-dependent intestinal epithelial barrier dysfunction. Gastroenterology 131:1153–1163

50.

Wendling D, Bidet A, Guidet M (1992) Evaluation de la perméabilité intestinale au cours de la spondylarthrite ankylosante par le test au 51Cr-EDTA. Rev Esp Reumatol 19:253–256

51.

Martinez-Gonzalez O, Cantero-Hinojosa J, Paule-Sastre P, Gomez-Magan JC, Salvtierra-Rios D (1994) Intestinal permeability in patients with ankylosing spondylitis and their healthy relatives. Br J Rheumatol 33:644–648

52.

Vaile JH, Meddings JB, Yacyshyn BR, Russell AS, Maksymowych WP (1999) Bowel permeability and CD45RO expression on circulating CD20+ B cells in patients with ankylosing spondylitis and their relatives. J Rheumatol 26:128–133

53.

Liu J, Zhu P, Peng J, Li K, Du J, Gu J, Ou Y (2007) Identification of disease-associated proteins by proteomic approach in ankylosing spondylitis. Biochem Biophys Res Commun 357:531–536

54.

Paterson BM, Lammers KM, Arrieta MC, Fasano A, Meddings JB (2007) The safety, tolerance, pharmacokinetic and pharmacodynamic effects of single doses of AT-1001 in celiac disease subjects: a proof of concept study. Aliment Pharmacol Ther 26:757–766

55.

Kelly CP, Green PH, Murray JA et al (2009) Safety, tolerability and effects on intestinal permeability of larazotide acetate in celiac disease: results of a phase IIB 6-week gluten-challenge clinical trial. Gastroenterology 136(Supplement 1):A-474
Funding
Work presented in this review was supported in parts by grants from the National Institutes of Health Grants DK-48373 and DK-078699 to AF.
About this article
Cite this article
Fasano, A. Leaky Gut and Autoimmune Diseases. Clinic Rev Allerg Immunol 42, 71–78 (2012). https://doi.org/10.1007/s12016-011-8291-x
Keywords
Antigens

Autoimmunity

Gut permeability

Immune response

Tight junctions

Zonulin