Abstract
Deep caries, trauma, and severe periodontitis result in pulpitis, pulp necrosis, and eventually pulp loss. However, no clinical therapy can regenerate lost pulp. A novel pulp regeneration strategy for clinical application is urgently needed. Signaling transduction plays an essential role in regulating the regenerative potentials of dental stem cells. Cytokines or growth factors, such as stromal cell-derived factor (SDF), fibroblast growth factor (FGF), bone morphogenetic protein (BMP), vascular endothelial growth factor (VEGF), WNT, can promote the migration, proliferation, odontogenic differentiation, pro-angiogenesis, and pro-neurogenesis potentials of dental stem cells respectively. Using the methods of signaling modulation including growth factors delivery, genetic modification, and physical stimulation has been applied in multiple preclinical studies of pulp regeneration based on cell transplantation or cell homing. Transplanting dental stem cells and growth factors encapsulated into scaffold regenerated vascularized pulp-like tissue in the root canal. Also, injecting a flowable scaffold only with chemokines recruited endogenous stem/progenitor cells for pulp regeneration. Notably, dental pulp regeneration has gradually developed into the clinical phase. These findings enlightened us on a novel strategy for structural and functional pulp regeneration through elaborate modulation of signaling transduction spatially and temporally via clinically applicable growth factors delivery. But challenges, such as the adverse effects of unphysiological signaling activation, the controlled drug release system, and the safety of gene modulation, are necessary to be tested in future works for promoting the clinical translation of pulp regeneration.
Graphical Abstract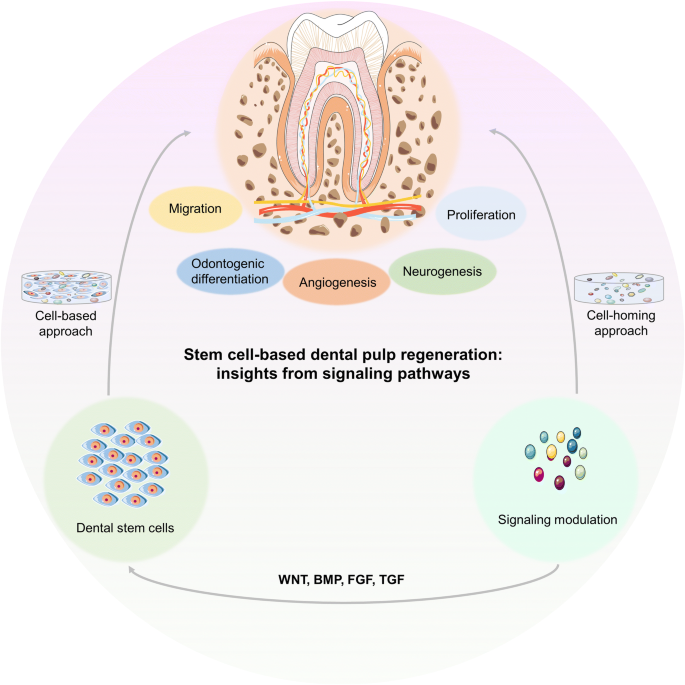 Access options
Buy single article
Instant access to the full article PDF.
US$ 39.95
Tax calculation will be finalised during checkout.
Subscribe to journal
Immediate online access to all issues from 2019. Subscription will auto renew annually.
US$ 79
Tax calculation will be finalised during checkout.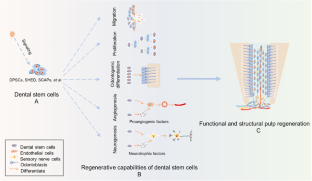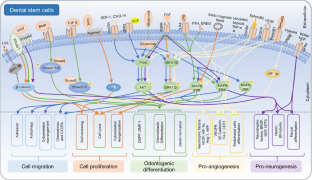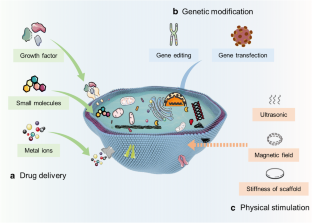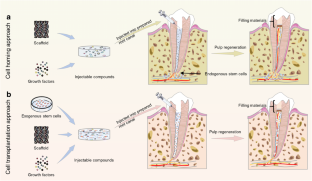 Funding
This work was supported by grants from the National Key Research and Development Program of China (2017YFA0104800), the Fundamental Research Funds for the Central Universities (YJ201878), Technology Innovation Research and Development Project of Chengdu (2019-YF05-00705-SN), Key Project of Sichuan province (2019YFS0311, 2019YFS0515), and the Nature Science Foundation of China (81600912, 31601113).
Ethics declarations
Conflict of Interest
The authors declare no conflicts of interest.
Ethics Approval
Not applicable.
Consent for Publication
Not applicable. 
Consent to Participate
Not applicable. 
Code Availability
Not applicable.
Additional information
Publisher's Note
Springer Nature remains neutral with regard to jurisdictional claims in published maps and institutional affiliations.
About this article
Cite this article
Liang, C., Liao, L. & Tian, W. Stem Cell‐based Dental Pulp Regeneration: Insights From Signaling Pathways. Stem Cell Rev and Rep (2021). https://doi.org/10.1007/s12015-020-10117-3
Keywords
Dental stem cells

Growth factors

Signaling transduction

Dental pulp regeneration

Clinical translation.