Abstract
Excessive fluoride exposure has detrimental effects on the thyroid gland, which may be modified by iodine. However, the role of iodine in it remains unclear. This study aims to evaluate the role of iodine in thyroid abnormalities caused by fluoride exposure in school-age children. A total of 446 children aged 7–12 years were recruited from Tongxu County, Henan province, in 2017 (ZZUIRB 2017-018). We obtained demographic information through questionnaire surveys. The concentrations of urinary fluoride (UF) and urinary iodine (UI) were determined by the ion-selective electrode method and the catalytic spectrophotometric method, respectively. The radiation immunoassay was used to determine the serum concentrations of total triiodothyronine (TT3), total thyroxine (TT4), and thyroid-stimulating hormone (TSH). The B-mode ultrasound was performed to assess thyroid volumes (Tvols). The associations between fluoride exposure and thyroid-related indicators were tested by linear regression models. We found that Tvols increased by 0.22 (95% CI: 0.14, 0.31) cm3 with each standard deviation increment of UF. Moreover, Tvols in boys were more susceptible to fluoride exposure than those in girls, and the Tvols of children with high urinary iodine are less susceptible to fluoride exposure (P for interaction < 0.05). We also observed that TT3 levels were negatively related to UF concentrations at moderate urinary iodine levels (≤ 300 μg/l). Fluoride exposure can elevate the Tvols of school-age children, especially in boys, and high levels of iodine may alleviate this effect to some extent.
Access options
Buy single article
Instant access to the full article PDF.
US$ 39.95
Tax calculation will be finalised during checkout.
Subscribe to journal
Immediate online access to all issues from 2019. Subscription will auto renew annually.
US$ 399
Tax calculation will be finalised during checkout.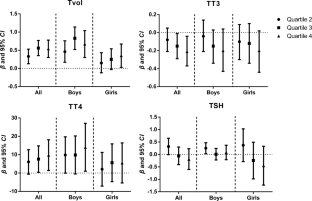 References
1.

Benyi E, Savendahl L (2017) The physiology of childhood growth: hormonal regulation. Horm Res Paediatr 88:6–14. https://doi.org/10.1159/000471876

2.

Teng W, Shan Z, Teng X, Guan H, Li Y, Teng D, Jin Y, Yu X, Fan C, Chong W, Yang F, Dai H, Yu Y, Li J, Chen Y, Zhao D, Shi X, Hu F, Mao J, Gu X, Yang R, Tong Y, Wang W, Gao T, Li C (2006) Effect of iodine intake on thyroid diseases in China. N Engl J Med 354:2783–2793. https://doi.org/10.1056/NEJMoa054022

3.

Boomsma MJ, Bijl HP, Langendijk JA (2011) Radiation-induced hypothyroidism in head and neck cancer patients: a systematic review. Radiother Oncol 99:1–5. https://doi.org/10.1016/j.radonc.2011.03.002

4.

Shan Z, Chen L, Lian X, Liu C, Shi B, Shi L, Tong N, Wang S, Weng J, Zhao J, Teng X, Yu X, Lai Y, Wang W, Li C, Mao J, Li Y, Fan C, Teng W (2016) Iodine status and prevalence of thyroid disorders after introduction of mandatory universal salt iodization for 16 years in China: a cross-sectional study in 10 cities. Thyroid 26:1125–1130. https://doi.org/10.1089/thy.2015.0613

5.

MacFarland SP, Bauer AJ, Adzick NS, Surrey LF, Noyes J, Kazahaya K, Mostoufi-Moab S (2018) Disease burden and outcome in children and young adults with concurrent graves disease and differentiated thyroid carcinoma. J Clin Endocrinol Metab 103:2918–2925. https://doi.org/10.1210/jc.2018-00026

6.

Fuge R (1988) Sources of halogens in the environment, influences on human and animal health. Environ Geochem Health 10:51–61. https://doi.org/10.1007/BF01758592

7.

Griffin SO, Regnier E, Griffin PM, Huntley V (2007) Effectiveness of fluoride in preventing caries in adults. J Dent Res 86:410–415. https://doi.org/10.1177/154405910708600504

8.

Agalakova NI, Nadei OV (2020) Inorganic fluoride and functions of brain. Crit Rev Toxicol 50:28–46. https://doi.org/10.1080/10408444.2020.1722061

9.

Reddy YP, Tiwari S, Tomar LK, Desai N, Sharma VK (2020) Fluoride-induced expression of neuroinflammatory markers and neurophysiological regulation in the brain of wistar rat model. Biol Trace Elem Res. https://doi.org/10.1007/s12011-020-02362-x

10.

Li M, Zhao Y, Tian X, Liu P, Xie J, Dong N, Feng J, Gao Y, Fan Y, Qiu Y, Tian F, Yan X (2020) Fluoride exposure and blood pressure: a systematic review and meta-analysis. Biol Trace Elem Res. https://doi.org/10.1007/s12011-020-02232-6

11.

Waugh DT (2019) Fluoride exposure induces inhibition of sodium/iodide symporter (nis) contributing to impaired iodine absorption and iodine deficiency: molecular mechanisms of inhibition and implications for public health. Int J Environ Res Public Health 16. https://doi.org/10.3390/ijerph16061086

12.

Yang H, Xing R, Liu S, Yu H, Li P (2016) Gamma-aminobutyric acid ameliorates fluoride-induced hypothyroidism in male kunming mice. Life Sci 146:1–7. https://doi.org/10.1016/j.lfs.2015.12.041

13.

Peckham S, Lowery D, Spencer S (2015) Are fluoride levels in drinking water associated with hypothyroidism prevalence in England? A large observational study of gp practice data and fluoride levels in drinking water. J Epidemiol Community Health 69:619–624. https://doi.org/10.1136/jech-2014-204971

14.

Liu G, Zhang W, Jiang P, Li X, Liu C, Chai C (2012) Role of nitric oxide and vascular endothelial growth factor in fluoride-induced goitrogenesis in rats. Environ Toxicol Pharmacol 34:209–217. https://doi.org/10.1016/j.etap.2012.04.003

15.

Kumar V, Chahar P, Kajjari S, Rahman F, Bansal DK, Kapadia JM (2018) Fluoride, thyroid hormone derangements and its correlation with tooth eruption pattern among the pediatric population from endemic and non-endemic fluorosis areas. J Contemp Dent Pract 19:1512–1516

16.

Barberio AM, Hosein FS, Quinonez C, McLaren L (2017) Fluoride exposure and indicators of thyroid functioning in the Canadian population: implications for community water fluoridation. J Epidemiol Community Health 71:1019–1025. https://doi.org/10.1136/jech-2017-209129

17.

Khandare AL, Gourineni SR, Validandi V (2017) Dental fluorosis, nutritional status, kidney damage, and thyroid function along with bone metabolic indicators in school-going children living in fluoride-affected hilly areas of Doda district, Jammu and Kashmir, India. Environ Monit Assess 189:579. https://doi.org/10.1007/s10661-017-6288-5

18.

Abdelaleem MM, El-Tahawy NFG, Abozaid SMM, Abdel-Hakim SA (2018) Possible protective effect of curcumin on the thyroid gland changes induced by sodium fluoride in albino rats: light and electron microscopic study. Endocr Regul 52:59–68. https://doi.org/10.2478/enr-2018-0007

19.

Sarkar C, Pal S (2014) Ameliorative effect of resveratrol against fluoride-induced alteration of thyroid function in male wistar rats. Biol Trace Elem Res 162:278–287. https://doi.org/10.1007/s12011-014-0108-3

20.

Wang H, Yang Z, Zhou B, Gao H, Yan X, Wang J (2009) Fluoride-induced thyroid dysfunction in rats: roles of dietary protein and calcium level. Toxicol Ind Health 25:49–57. https://doi.org/10.1177/0748233709102720

21.

Jiang Y, Guo X, Sun Q, Shan Z, Teng W (2016) Effects of excess fluoride and iodide on thyroid function and morphology. Biol Trace Elem Res 170:382–389. https://doi.org/10.1007/s12011-015-0479-0

22.

Dong J, Cong Z, You M, Fu Y, Wang Y, Wang Y, Fu H, Wei L, Chen J (2019) Effects of perinatal di (2-ethylhexyl) phthalate exposure on thyroid function in rat offspring. Environ Toxicol Pharmacol 67:53–60. https://doi.org/10.1016/j.etap.2019.01.012

23.

Malin AJ, Riddell J, McCague H, Till C (2018) Fluoride exposure and thyroid function among adults living in Canada: effect modification by iodine status. Environ Int 121:667–674. https://doi.org/10.1016/j.envint.2018.09.026

24.

Liu H, Zeng Q, Cui Y, Yu L, Zhao L, Hou C, Zhang S, Zhang L, Fu G, Liu Y, Jiang C, Chen X, Wang A (2014) The effects and underlying mechanism of excessive iodide on excessive fluoride-induced thyroid cytotoxicity. Environ Toxicol Pharmacol 38:332–340. https://doi.org/10.1016/j.etap.2014.06.008

25.

Zhao W, Zhu H, Yu Z, Aoki K, Misumi J, Zhang X (1998) Long-term effects of various iodine and fluorine doses on the thyroid and fluorosis in mice. Endocr Regul 32:63–70

26.

Kutlucan A, Kale Koroglu B, Numan Tamer M, Aydin Y, Baltaci D, Akdogan M, Ozturk M, Vural H, Ermis F (2013) The investigation of effects of fluorosis on thyroid volume in school-age children. Med Glas (Zenica) 10:93–98

27.

Savchenkov MF, Efimova NV, Manueva RS, Nikolaeva LA, Shin NS (2016) Thyroid gland pathology in children population exposed to the combination of iodine deficiency and fluoride pollution of environment. Gig Sanit 95:1201–1205

28.

Wang A, Duan L, Huang H, Ma J, Zhang Y, Ma Q, Guo Y, Li Z, Cheng X, Zhu J, Zhou G, Ba Y (2020) Association between fluoride exposure and behavioural outcomes of school-age children: a pilot study in China. Int J Environ Health Res:1–10. https://doi.org/10.1080/09603123.2020.1747601

29.

Sun D, Codling K, Chang S, Zhang S, Shen H, Su X, Chen Z, Scherpbier RW, Yan J (2017) Eliminating iodine deficiency in China: achievements, challenges and global implications. Nutrients 9. https://doi.org/10.3390/nu9040361

30.

Guo W, Tan L, Chen W, Fan L, Chen Y, Du C, Zhu M, Wei H, Wang W, Gao M, Cui T, Shen J, Zhang W (2019) Relationship between metabolic syndrome and thyroid nodules and thyroid volume in an adult population. Endocrine 65:357–364. https://doi.org/10.1007/s12020-019-01901-4

31.

Bashash M, Thomas D, Hu H, Martinez-Mier EA, Sanchez BN, Basu N, Peterson KE, Ettinger AS, Wright R, Zhang Z, Liu Y, Schnaas L, Mercado-Garcia A, Tellez-Rojo MM, Hernandez-Avila M (2017) Prenatal fluoride exposure and cognitive outcomes in children at 4 and 6-12 years of age in Mexico. Environ Health Perspect 125:097017. https://doi.org/10.1289/EHP655

32.

Wang YX, Wu Y, Chen HG, Duan P, Wang L, Shen HQ, Lu WQ, Sun B, Wang Q, Zhang B, Chavarro JE, Zhang J, Pan A (2019) Seminal plasma metabolome in relation to semen quality and urinary phthalate metabolites among Chinese adult men. Environ Int 129:354–363. https://doi.org/10.1016/j.envint.2019.05.043

33.

Liu H, Hou C, Zeng Q, Zhao L, Cui Y, Yu L, Wang L, Zhao Y, Nie J, Zhang B, Wang A (2016) Role of endoplasmic reticulum stress-induced apoptosis in rat thyroid toxicity caused by excess fluoride and/or iodide. Environ Toxicol Pharmacol 46:277–285. https://doi.org/10.1016/j.etap.2016.08.007

34.

Yu LY, Cui YS, Liu HL (2018) Effects of endoplasmic reticulum stress-induced apoptosis in thyroid injury caused by fluoride in rat. Zhonghua Yu Fang Yi Xue Za Zhi 52:1182–1187. https://doi.org/10.3760/cma.j.issn.0253-9624.2018.11.017

35.

Green R, Lanphear B, Hornung R, Flora D, Martinez-Mier EA, Neufeld R, Ayotte P, Muckle G, Till C (2019) Association between maternal fluoride exposure during pregnancy and IQ scores in offspring in Canada. JAMA Pediatr. https://doi.org/10.1001/jamapediatrics.2019.1729

36.

Asawa K, Singh A, Bhat N, Tak M, Shinde K, Jain S (2015) Association of temporomandibular joint signs & symptoms with dental fluorosis & skeletal manifestations in endemic fluoride areas of Dungarpur district, Rajasthan, India. J Clin Diagn Res 9:ZC18–ZC21. https://doi.org/10.7860/JCDR/2015/15807.6958

37.

Guelinckx I, Iglesia I, Bottin JH, De Miguel-Etayo P, Gonzalez-Gil EM, Salas-Salvado J, Kavouras SA, Gandy J, Martinez H, Bardosono S, Abdollahi M, Nasseri E, Jarosz A, Ma G, Carmuega E, Thiebaut I, Moreno LA (2015) Intake of water and beverages of children and adolescents in 13 countries. Eur J Nutr 54(Suppl 2):69–79. https://doi.org/10.1007/s00394-015-0955-5

38.

Skorka-Majewicz M, Goschorska M, Zwierello W, Baranowska-Bosiacka I, Styburski D, Kapczuk P, Gutowska I (2020) Effect of fluoride on endocrine tissues and their secretory functions -- review. Chemosphere 260:127565. https://doi.org/10.1016/j.chemosphere.2020.127565

39.

Wang M, Liu L, Li H, Li Y, Liu H, Hou C, Zeng Q, Li P, Zhao Q, Dong L, Zhou G, Yu X, Liu L, Guan Q, Zhang S, Wang A (2020) Thyroid function, intelligence, and low-moderate fluoride exposure among Chinese school-age children. Environ Int 134:105229. https://doi.org/10.1016/j.envint.2019.105229

40.

Khandare AL, Validandi V, Gourineni SR, Gopalan V, Nagalla B (2018) Dose-dependent effect of fluoride on clinical and subclinical indices of fluorosis in school going children and its mitigation by supply of safe drinking water for 5 years: an Indian study. Environ Monit Assess 190:110. https://doi.org/10.1007/s10661-018-6501-1

41.

Babiker A, Alawi A, Al Atawi M, Al Alwan I (2020) The role of micronutrients in thyroid dysfunction. Sudanese J Paediatr 20:13–19. https://doi.org/10.24911/SJP.106-1587138942

42.

Gashu D, Marquis GS, Bougma K, Stoecker BJ (2018) Selenium inadequacy hampers thyroid response of young children after iodine repletion. J Trace Elem Med Biol 50:291–295. https://doi.org/10.1016/j.jtemb.2018.07.021

43.

Onsesveren I, Barjaktarovic M, Chaker L, de Rijke YB, Jaddoe VWV, van Santen HM, Visser TJ, Peeters RP, Korevaar TIM (2017) Childhood thyroid function reference ranges and determinants: a literature overview and a prospective cohort study. Thyroid 27:1360–1369. https://doi.org/10.1089/thy.2017.0262

44.

Shaik N, Shanbhog R, Nandlal B, Tippeswamy HM (2019) Fluoride and thyroid function in children resident of naturally fluoridated areas consuming different levels of fluoride in drinking water: an observational study. Contemp Clin Dent 10:24–30. https://doi.org/10.4103/ccd.ccd_108_18

45.

Osmunson B, Limeback H, Neurath C (2016) Study incapable of detecting iq loss from fluoride. Am J Public Health 106:212–213. https://doi.org/10.2105/AJPH.2015.302918

46.

Rocha RA, Calatayud M, Devesa V, Velez D (2017) Evaluation of exposure to fluoride in child population of North Argentina. Environ Sci Pollut Res Int 24:22040–22047. https://doi.org/10.1007/s11356-017-9010-9

47.

Zohouri FV, Swinbank CM, Maguire A, Moynihan PJ (2006) Is the fluoride/creatinine ratio of a spot urine sample indicative of 24-h urinary fluoride? Community Dent Oral Epidemiol 34:130–138. https://doi.org/10.1111/j.1600-0528.2006.00269.x
Acknowledgments
We would like to express our deep thanks to all of the subjects enrolled in our study and their families. And we also want to give sincere thanks to all the staff for their efforts in this study.
Funding
This study was supported by the National Natural Science Foundation of China (81972981, 81673116), the Henan Department of Science and Technology, China (162300410272), and Zhengzhou University (2020zzuJXLX003).
Ethics declarations
Conflict of Interest
The authors declare that they have no conflicts of interest.
Additional information
Publisher's Note
Springer Nature remains neutral with regard to jurisdictional claims in published maps and institutional affiliations.
Highlights
• The effects of fluoride on thyroid were evaluated in school-age children.
• Thyroid volumes have positive association with urinary fluoride in children.
• Iodine may modify the effects of fluoride on thyroid.
• Boys are susceptible to the damage of fluoride on thyroid.
Supplementary Information
About this article
Cite this article
Du, Y., Zhou, G., Gong, B. et al. Iodine Modifies the Susceptibility of Thyroid to Fluoride Exposure in School-age Children: a Cross-sectional Study in Yellow River Basin, Henan, China. Biol Trace Elem Res (2021). https://doi.org/10.1007/s12011-020-02519-8
Received:

Accepted:

Published:
Keywords
Fluoride

Iodine

Thyroid volumes

Thyroid-related hormones

Children