Abstract
Docetaxel (DT) has been reported to positive therapeutic actions in the treatment of glioblastoma, breast tumors, and prostate cancers. However, it can also induce peripheral neuropathic pain and neurotoxicity as adverse effects. Expression level of TRPV1 cation channel is high in dorsal root ganglion (DRG), and its activation via capsaicin and reactive oxygen species (ROS) mediates peripheral neuropathic pain in mice. As cancer is known to increase the levels of ROS, the protective roles of melatonin (MT) and selenium (Se) were evaluated on the TRPV1-mediated neurotoxicity and pain in the DT-treated mice. Mice and TRPV1 expressing SH-SY5Y cells were equally divided into control, MT, Se, DT, DT+MT, and DT+Se groups. In the results of pain tests in the mice, we observed a decrease in DT-mediated mechanical and heat neuropathic pain by MT and Se. The results of plate reader assay and laser confocal microscopy image analyses indicated a protective role of MT and Se on the DT-induced increase of mitochondrial ROS, cytosolic ROS, apoptosis, lipid peroxidation, intracellular free Zn2+, Ca2+, and caspase-3 and -9 levels in the DRG and SH-SY5Y cells. MT and Se modulated DT-induced decreases of total antioxidant status, reduced glutathione and glutathione peroxidase in the DRG. However, the effects of DT were not observed in the non-TRPV1 expressing SH-SY5Y cells. Hence, MT and Se mediated protective effects against DT-induced adverse peripheral oxidative neurotoxicity and peripheral pain. These effects may be attributed to potent antioxidant properties of MT and Se.
This is a preview of subscription content, log in to check access.
Access options
Buy single article
Instant access to the full article PDF.
US$ 39.95
Price includes VAT for USA
Subscribe to journal
Immediate online access to all issues from 2019. Subscription will auto renew annually.
US$ 954
This is the net price. Taxes to be calculated in checkout.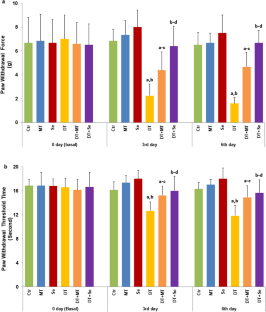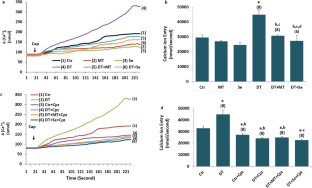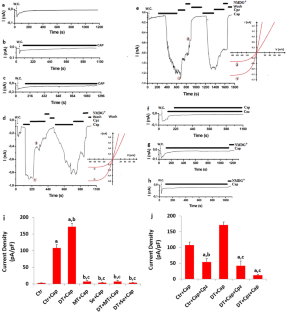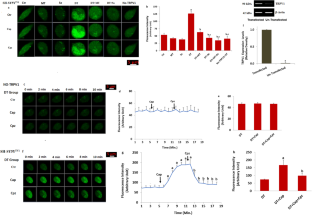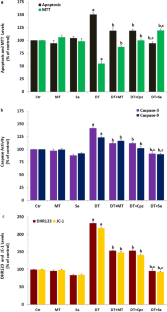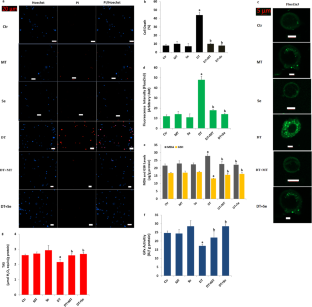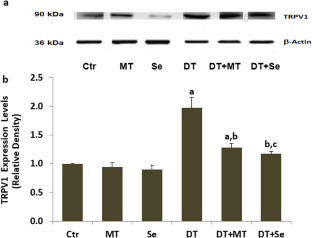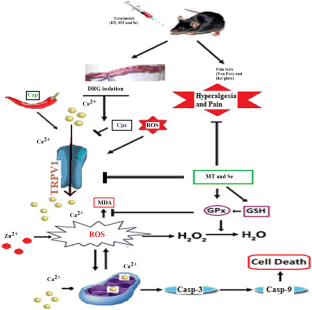 References
1.

Mohsenzadegan M, Seif F, Farajollahi MM, Khoshmirsafa M (2018) Anti-oxidants as chemopreventive agents in prostate cancer: a gap between preclinical and clinical studies. Recent Pat Anticancer Drug Discov 13(2):224–239. https://doi.org/10.2174/1574892813666180213164700

2.

Cheatle MD, Wasser T, Foster C, Olugbodi A, Bryan J (2014) Prevalence of suicidal ideation in patients with chronic non-cancer pain referred to a behaviorally based pain program. Pain Physician 17(3):E359–EE67

3.

Nazıroğlu M, Braidy N (2017) Thermo-sensitive TRP channels: novel targets for treating chemotherapy-induced peripheral pain. Front Physiol 8:1040. https://doi.org/10.3389/fphys.2017.01040

4.

Portenoy RK (2011) Treatment of cancer pain. Lancet. 377(9784):2236–2247. https://doi.org/10.1016/S0140-6736(11)60236-5

5.

Fernandes R, Mazzarello S, Joy AA, Pond GR, Hilton J, Ibrahim MFK, Canil C, Ong M, Stober C, Vandermeer L, Hutton B, da Costa M, Damaraju S, Clemons M (2018) Taxane acute pain syndrome (TAPS) in patients receiving chemotherapy for breast or prostate cancer: a prospective multi-center study. Support Care Cancer 26(9):3073–3081. https://doi.org/10.1007/s00520-018-4161-x

6.

Hagiwara H, Sunada Y (2004) Mechanism of taxane neurotoxicity. Breast Cancer 11(1):82–85

7.

Kim ST, Kyung EJ, Suh JS, Lee HS, Lee JH, Chae SI et al (2018) Phosphatidylcholine attenuated docetaxel-induced peripheral neurotoxicity in rats. Drug Chem Toxicol 41(4):476–485. https://doi.org/10.1080/01480545.2017.1390580

8.

Yüksel E, Nazıroğlu M, Şahin M, Çiğ B (2017) Involvement of TRPM2 and TRPV1 channels on hyperalgesia, apoptosis and oxidative stress in rat fibromyalgia model: protective role of selenium. Sci Rep 7(1):17543. https://doi.org/10.1038/s41598-017-17715-1

9.

Nazıroğlu M (2012) Molecular role of catalase on oxidative stress-induced Ca(2+) signaling and TRP cation channel activation in nervous system. J Recept Signal Transduct Res 32(3):134–141. https://doi.org/10.3109/10799893.2012.672994

10.

Caterina MJ, Schumacher MA, Tominaga M, Rosen TA, Levine JD, Julius D (1997) The capsaicin receptor: a heat-activated ion channel in the pain pathway. Nature 389(6653):816–824

11.

Caterina MJ, Leffler A, Malmberg AB, Martin WJ, Trafton J, Petersen-Zeitz KR, Koltzenburg M, Basbaum AI, Julius D (2000) Impaired nociception and pain sensation in mice lacking the capsaicin receptor. Science. 288(5464):306–313. https://doi.org/10.1126/science.288.5464.306

12.

Jordt SE, Tominaga M, Julius D (2000) Acid potentiation of the capsaicin receptor determined by a key extracellular site. Proc Natl Acad Sci U S A 97(14):8134–8139. https://doi.org/10.1073/pnas.100129497

13.

Ibi M, Matsuno K, Shiba D, Katsuyama M, Iwata K, Kakehi T, Nakagawa T, Sango K, Shirai Y, Yokoyama T, Kaneko S, Saito N, Yabe-Nishimura C (2008) Reactive oxygen species derived from NOX1/NADPH oxidase enhance inflammatory pain. J Neurosci 28(38):9486–9494

14.

Vandewauw I, Owsianik G, Voets T (2013) Systematic and quantitative mRNA expression analysis of TRP channel genes at the single trigeminal and dorsal root ganglion level in mouse. BMC Neurosci 14:21. https://doi.org/10.1186/1471-2202-14-21

15.

Ta LE, Bieber AJ, Carlton SM, Loprinzi CL, Low PA, Windebank AJ (2010) Transient Receptor Potential Vanilloid 1 is essential for cisplatin-induced heat hyperalgesia in mice. Mol Pain 6:15. https://doi.org/10.1186/1744-8069-6-15

16.

Khasabova IA, Khasabov S, Paz J, Harding-Rose C, Simone DA, Seybold VS (2012) Cannabinoid type-1 receptor reduces pain and neurotoxicity produced by chemotherapy. J Neurosci 32(20):7091–7101. https://doi.org/10.1523/JNEUROSCI.0403-12.2012

17.

Anand U, Otto WR, Anand P (2010) Sensitization of capsaicin and icilin responses in oxaliplatin treated adult rat DRG neurons. Mol Pain 6:82. https://doi.org/10.1186/1744-8069-6-82

18.

Chukyo A, Chiba T, Kambe T, Yamamoto K, Kawakami K, Taguchi K, Abe K (2018) Oxaliplatin-induced changes in expression of transient receptor potential channels in the dorsal root ganglion as a neuropathic mechanism for cold hypersensitivity. Neuropeptides. 67:95–101. https://doi.org/10.1016/j.npep.2017.12.002

19.

Areti A, Yerra VG, Naidu V, Kumar A (2014) Oxidative stress and nerve damage: role in chemotherapy induced peripheral neuropathy. Redox Biol 2:289–295. https://doi.org/10.1016/j.redox.2014.01.006

20.

Nazıroğlu M, Öz A, Yıldızhan K (2020) Selenium and neurological diseases: focus on peripheral pain and TRP channels. Curr Neuropharmacol 18(6):501–517. https://doi.org/10.2174/1570159X18666200106152631

21.

Vernie LN, de Goeij JJ, Zegers C, de Vries M, Baldew GS, McVie JG (1988) Cisplatin-induced changes of selenium levels and glutathione peroxidase activities in blood of testis tumor patients. Cancer Lett 40(1):83–91

22.

Nazıroğlu M, Karaoğlu A, Aksoy AO (2004) Selenium and high dose vitamin E administration protects cisplatin-induced oxidative damage to renal, liver and lens tissues in rats. Toxicology 195:221–230. https://doi.org/10.1016/j.tox.2003.10.012

23.

Kahya MC, Nazıroğlu M, Övey İS (2017) Modulation of diabetes-induced oxidative stress, apoptosis, and Ca(2+) entry through TRPM2 and TRPV1 channels in dorsal root ganglion and hippocampus of diabetic rats by melatonin and selenium. Mol Neurobiol 54(3):2345–2360. https://doi.org/10.1007/s12035-016-9727-3

24.

Ataizi ZS, Ertilav K, Nazıroğlu M (2019) Mitochondrial oxidative stress-induced brain and hippocampus apoptosis decrease through modulation of caspase activity, Ca(2+) influx and inflammatory cytokine molecular pathways in the docetaxel-treated mice by melatonin and selenium treatments. Metab Brain Dis 34(4):1077–1089. https://doi.org/10.1007/s11011-019-00428-x

25.

Lam PM, Hainsworth AH, Smith GD, Owen DE, Davies J, Lambert DG (2007) Activation of recombinant human TRPV1 receptors expressed in SH-SY5Y human neuroblastoma cells increases [Ca(2+)](i), initiates neurotransmitter release and promotes delayed cell death. J Neurochem 102(3):801–811. https://doi.org/10.1111/j.1471-4159.2007.04569.x

26.

Rohm B, Holik AK, Somoza MM, Pignitter M, Zaunschirm M, Ley JP, Krammer GE, Somoza V (2013) Nonivamide, a capsaicin analog, increases dopamine and serotonin release in SH-SY5Y cells via a TRPV1-independent pathway. Mol Nutr Food Res 57(11):2008–2018. https://doi.org/10.1002/mnfr.201200846

27.

Lilja J, Lindegren H, Forsby A (2007) Surfactant-induced TRPV1 activity--a novel mechanism for eye irritation? Toxicol Sci 99(1):174–180. https://doi.org/10.1093/toxsci/kfm164

28.

Öz A, Çelik Ö (2016) Curcumin inhibits oxidative stress-induced TRPM2 channel activation, calcium ion entry and apoptosis values in SH-SY5Y neuroblastoma cells: involvement of transfection procedure. Mol Membr Biol 33(3-5):76–88. https://doi.org/10.1080/09687688.2017.1318224

29.

Celik O, Nazıroğlu M (2012) Melatonin modulates apoptosis and TRPM2 channels in transfected cells activated by oxidative stress. Physiol Behav 107(3):458–465. https://doi.org/10.1016/j.physbeh.2012.09.013

30.

Ertilav K, Nazıroğlu M, Ataizi ZS, Braidy N (2019) Selenium enhances the apoptotic efficacy of docetaxel through activation of TRPM2 channel in DBTRG glioblastoma cells. Neurotox Res 35(4):797–808. https://doi.org/10.1007/s12640-019-0009-5

31.

Kobayashi K, Fukuoka T, Obata K et al (2005) Distinct expression of TRPM8, TRPA1, and TRPV1 mRNAs in rat primary afferent neurons with adelta/c-fibers and colocalization with trk receptors. J Comp Neurol 493(4):596–606. https://doi.org/10.1002/cne.21066

32.

Ernsberger U (2008) The role of GDNF family ligand signalling in the differentiation of sympathetic and dorsal root ganglion neurons. Cell Tissue Res 333(3):353–371. https://doi.org/10.1007/s00441-008-0634-4

33.

Zwick M, Davis BM, Woodbury CJ, Burkett JN, Koerber HR, Simpson JF, Albers KM (2002) Glial cell line-derived neurotrophic factor is a survival factor for isolectin B4-positive, but not vanilloid receptor 1-positive, neurons in the mouse. J Neurosci 22(10):4057–4065. https://doi.org/10.1523/JNEUROSCI.22-10-04057.2002

34.

Nazıroğlu M, Ciğ B, Ozgül C (2013) Neuroprotection induced by N acetylcysteine against cytosolic glutathione depletion-induced Ca2+ influx in dorsal root ganglion neurons of mice: role of TRPV1 channels. Neuroscience 242:151–160. https://doi.org/10.1016/j.neuroscience.2013.03.032

35.

Nazıroğlu M (2017) Activation of TRPM2 and TRPV1 channels in dorsal root ganglion by NADPH oxidase and protein kinase C molecular pathways: a patch clamp study. J Mol Neurosci 61(3):425–435. https://doi.org/10.1007/s12031-017-0882-4

36.

Uguz AC, Cig B, Espino J, Bejarano I, Naziroglu M, Rodríguez AB, Pariente JA (2012) Melatonin potentiates chemotherapy-induced cytotoxicity and apoptosis in rat pancreatic tumor cells. J Pineal Res 53:91–98. https://doi.org/10.1111/j.1600-079X.2012.00974.x

37.

Gee KR, Archer EA, Lapham LA, Leonard ME, Zhou ZL, Bingham J, Diwu Z (2000) New ratiometric fluorescent calcium indicators with moderately attenuated binding affinities. Bioorg Med Chem Lett 10(14):1515–1518. https://doi.org/10.1016/S0960-894X(00)00280-8

38.

Joshi DC, Bakowska JC (2011) Determination of mitochondrial membrane potential and reactive oxygen species in live rat cortical neurons. J Vis Exp 51:2704. https://doi.org/10.3791/2704

39.

Keil VC, Funke F, Zeug A, Schild D, Müller M (2011) Ratiometric high-resolution imaging of JC-1 fluorescence reveals the subcellular heterogeneity of astrocytic mitochondria. Pflugers Arch 462:693–708. https://doi.org/10.1007/s00424-011-1012-8

40.

Li X, Jiang LH (2018) Multiple molecular mechanisms form a positive feedback loop driving amyloid β42 peptide-induced neurotoxicity via activation of the TRPM2 channel in hippocampal neurons. Cell Death Dis 9(2):195. https://doi.org/10.1038/s41419-018-0270-1

41.

Placer ZA, Cushman L, Johnson BC (1966) Estimation of products of lipid peroxidation (malonyl dialdehyde) in biological fluids. Anal Biochem 16:359–364

42.

Ertilav K, Uslusoy F, Ataizi S, Nazıroğlu M (2018) Long term exposure to cell phone frequencies (900 and 1800 MHz) induces apoptosis, mitochondrial oxidative stress and TRPV1 channel activation in the hippocampus and dorsal root ganglion of rats. Metab Brain Dis 33(3):753–763. https://doi.org/10.1007/s11011-017-0180-4

43.

Sedlak J, Lindsay RHC (1968) Estimation of total, protein bound and non-protein sulfhydryl groups in tissue with Ellmann' s reagent. Anal Biochem 25:192–205

44.

Lawrence RA, Burk RF (2012) Glutathione peroxidase activity in selenium-deficient rat liver. Biochem Biophys Res Commun 425(3):503–509

45.

Erel O (2004) A novel automated direct measurement method for total antioxidant capacity using a new generation, more stable ABTS radical cation. Clin Biochem 37(4):277–285. https://doi.org/10.1016/j.clinbiochem.2003.11.015

46.

Yazğan Y, Nazıroğlu M (2017) Ovariectomy-induced mitochondrial oxidative stress, apoptosis, and calcium ion influx through TRPA1, TRPM2, and TRPV1 are prevented by 17β-estradiol, tamoxifen, and raloxifene in the hippocampus and dorsal root ganglion of rats. Mol Neurobiol 54(10):7620–7638. https://doi.org/10.1007/s12035-016-0232-5

47.

Mortadza SS, Sim JA, Stacey M, Jiang LH (2017) Signalling mechanisms mediating Zn(2+)-induced TRPM2 channel activation and cell death in microglial cells. Sci Rep 7:45032. https://doi.org/10.1038/srep45032

48.

Maret W (2019) The redox biology of redox-inert zinc ions. Free Radic Biol Med 134:311–326. https://doi.org/10.1016/j.freeradbiomed.2019.01.006

49.

Nazıroğlu M (2009) Role of selenium on calcium signaling and oxidative stress-induced molecular pathways in epilepsy. Neurochem Res 34(12):2181–2191. https://doi.org/10.1007/s11064-009-0015-8

50.

Schweizer U, Bräuer AU, Köhrle J, Nitsch R, Savaskan NE (2004) Selenium and brain function: a poorly recognized liaison. Brain Res Brain Res Rev 45:164–178. https://doi.org/10.1016/j.brainresrev.2004.03.004

51.

Wang S, Chuang HH (2011) C-terminal dimerization activates the nociceptive transduction channel transient receptor potential vanilloid 1. J Biol Chem 286(47):40601–40607. https://doi.org/10.1074/jbc.M111.256669

52.

Miao H, Xu J, Xu D, Ma X, Zhao X, Liu L (2019) Nociceptive behavior induced by chemotherapeutic paclitaxel and beneficial role of antioxidative pathways. Physiol Res 68(3):491–500. https://doi.org/10.33549/physiolres.933939

53.

Sheth S, Mukherjea D, Rybak LP, Ramkumar V (2017) Mechanisms of cisplatin-induced ototoxicity and otoprotection. Front Cell Neurosci 11:338. https://doi.org/10.3389/fncel.2017.00338

54.

Ogawa N, Kurokawa T, Fujiwara K, Polat OK, Badr H, Takahashi N, Mori Y (2016) Functional and structural divergence in human TRPV1 channel subunits by oxidative cysteine modification. J Biol Chem 291(8):4197–4210. https://doi.org/10.1074/jbc.M115.700278

55.

Ekmekcioglu C (2014) Expression and putative functions of melatonin receptors in malignant cells and tissues. Wien Med Wochenschr 164:472–478. https://doi.org/10.1007/s10354-014-0289-6

56.

Huang K, Bian D, Jiang B, Zhai Q, Gao N, Wang R (2017) TRPA1 contributed to the neuropathic pain induced by docetaxel treatment. Cell Biochem Funct 35(3):141–143. https://doi.org/10.1002/cbf.3258

57.

Hwang JH, Kang SY, Kang AN, Jung HW, Jung C, Jeong JH, Park YK (2017) MOK, a pharmacopuncture medicine, regulates thyroid dysfunction in L-thyroxin-induced hyperthyroidism in rats through the regulation of oxidation and the TRPV1 ion channel. BMC Complement Altern Med 17(1):535. https://doi.org/10.1186/s12906-017-2036-1

58.

Nie J, Liu X (2017) Quercetin alleviates generalized hyperalgesia in mice with induced adenomyosis. Mol Med Rep 16(4):5370–5376. https://doi.org/10.3892/mmr.2017.7238

59.

Materazzi S, Fusi C, Benemei S, Pedretti P, Patacchini R, Nilius B, Prenen J, Creminon C, Geppetti P, Nassini R (2012) TRPA1 and TRPV4 mediate paclitaxel-induced peripheral neuropathy in mice via a glutathione-sensitive mechanism. Pflugers Arch 463:561–569. https://doi.org/10.1007/s00424-011-1071-x

60.

Kumari A, Singh KP, Mandal A, Paswan RK, Sinha P, Das P, Ali V, Bimal S, Lal CS (2017) Intracellular zinc flux causes reactive oxygen species mediated mitochondrial dysfunction leading to cell death in Leishmania donovani. PLoS One 12(6):e0178800. https://doi.org/10.1371/journal.pone.0178800

61.

Slepchenko KG, Lu Q, Li YV (2017) Cross talk between increased intracellular zinc Zn(2+) and accumulation of reactive oxygen species in chemical ischemia. Am J Phys Cell Phys 313(4):C448–C459. https://doi.org/10.1152/ajpcell.00048.2017

62.

Luo J, Bavencoffe A, Yang P, Feng J, Yin S, Qian A, Yu W, Liu S, Gong X, Cai T, Walters ET, Dessauer CW, Hu H (2018) Zinc inhibits TRPV1 to alleviate chemotherapy-induced neuropathic pain. J Neurosci 38(2):474–483. https://doi.org/10.1523/JNEUROSCI.1816-17.2017

63.

Ayaz M, Turan B (2006) Selenium prevents diabetes-induced alterations in [Zn2+]i and metallothionein level of rat heart via restoration of cell redox cycle. Am J Physiol Heart Circ Physiol 290(3):H1071–H1080. https://doi.org/10.1152/ajpheart.00754.2005

64.

Lin AM, Chen KB, Chao PL (2005) Antioxidative effect of vitamin D3 on zinc-induced oxidative stress in CNS. Ann N Y Acad Sci 1053:319–329
Funding
The study was supported by BSN Health, Analyses, Innovation, Consultancy, Organization, Agriculture and Industry Ltd, Göller Bölgesi Teknokenti, Isparta, Turkey (Project No: 2018-11). There is no financial disclosure of the current study.
Ethics declarations
Conflict of Interest
Professor M. Nazıroğlu was employed by the company (BSN Health, Analyses, Innovation, Consultancy, Organization, Agriculture and Industry Ltd, Göller Bölgesi Teknokenti, Isparta, Turkey). The remaining authors declare that the research was conducted in the absence of any commercial or financial relationships that could be construed as a potential conflict of interest.
Ethics Statement
This article does not contain any studies with human participants performed by any of the authors. This study was approved by the Local Ethical Committee of Burdur Mehmet Akif University (BMAU), Burdur, Turkey (Permit Numbers: 2019-60). The mice were cared in accordance with the guidelines of the Animal Care Committee of BMAU.
Additional information
Publisher's Note
Springer Nature remains neutral with regard to jurisdictional claims in published maps and institutional affiliations.
About this article
Cite this article
Ertilav, K., Nazıroğlu, M., Ataizi, Z.S. et al. Melatonin and Selenium Suppress Docetaxel-Induced TRPV1 Activation, Neuropathic Pain and Oxidative Neurotoxicity in Mice. Biol Trace Elem Res (2020). https://doi.org/10.1007/s12011-020-02250-4
Received:

Accepted:

Published:
Keywords
Apoptosis

Docetaxel

Glutathione

Hyperalgesia

Oxidative stress

TRPV1 channel