Abstract
Due to the importance of Caspian kutum (Rutilus frisii kutum) in the nutrition and health of consumers, a study was conducted to evaluate the concentration of mercury and its associated health risk for this species, its predators, and the people. Samples were collected from the fish at the four best-selling stations, Bandar Torkaman, Bander Anzali, Fereydunkenar, and Chalos, with mean mercury concentrations in the samples from the stations being 49.4, 132.6, 103.6, and 107.6 μg/g respectively. Mercury in the muscle tissue of the collected samples increased from east to west in the southern Caspian Basin. The mercury concentrations at all stations were below the permissible international levels for this heavy metal, suggesting no or low potential health risk. However, due to the toxicity and other harmful properties of mercury, it is necessary to monitor the values of this element as well as other pollutants in fish species to assess the health risk.
This is a preview of subscription content, log in to check access.
Access options
Buy single article
Instant access to the full article PDF.
US$ 39.95
Price includes VAT for USA
Subscribe to journal
Immediate online access to all issues from 2019. Subscription will auto renew annually.
US$ 954
This is the net price. Taxes to be calculated in checkout.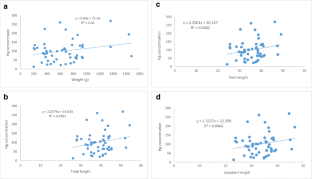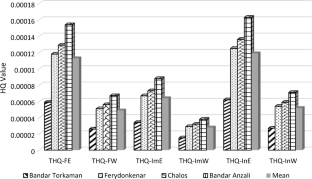 References
1.

Gu YG, Huang HH, Lin Q (2016) Concentrations and human health implications of heavy metals in wild aquatic organisms captured from the core area of Daya Bay's Fishery Resource Reserve, South China Sea. Environ Toxicol Pharmacol 45:90–94. https://doi.org/10.1016/j.etap.2016.05.022

2.

Giri S, Singh AK (2013) Assessment of human health risk for heavy metals in fish and shrimp collected from Subarnarekha river, India. Int J Environ Health Res:37–41. https://doi.org/10.1080/09603123.2013.857391

3.

Zhang L, Wong MH (2007) Environmental mercury contamination in China: sources and impacts. Environ Int 33:108–121

4.

Malvandi H, Esmaili-Sari A, Aliabadian M (2014) Mercury contamination in Khramulia (Capoeta capoeta) from the Cheshme Kile and Zarrin Gol Rivers in Iran and human health risk assessment. Bull Environ Contam Toxicol 93:472–477. https://doi.org/10.1007/s00128-014-1335-1

5.

Djermanovic M, Baralic I, Pejic S (2019) Total mercury levels in commercial fish in market of the Republic of Srpska, Bosnia and Herzegovina. Biol Trace Elem Res 194:1–7. https://doi.org/10.1007/s12011-019-01805-4

6.

Malvandi H, Sarvary Korojdeh M, Azimi S (2020) Assessment of mercury contamination in Perch species in the southern Caspian Sea. Arch Environ Contam Toxicol. https://doi.org/10.1007/s00244-020-00730-1

7.

Davoodi SH, Agah B, Aghamolaei T et al (2018) Fish consumption based on transtheoretical model among housewives. J Educ Health Promot:7

8.

Laird MJ, Henao JJA, Reyes ES, Stark KD, Low G, Swanson HK, Laird BD (2018) Mercury and omega-3 fatty acid profiles in freshwater fish of the Dehcho Region, Northwest Territories: informing risk benefit assessments. Sci Total Environ 637-638:1508–1517. https://doi.org/10.1016/j.scitotenv.2018.04.381

9.

Wang P, Chen S wei, Chen Z hui, et al (2019) Benefit–risk assessment of commonly consumed fish species from South China Sea based on methyl mercury and DHA. Environ Geochem Health 41:2055–2066. https://doi.org/10.1007/s10653-019-00254-1

10.

Malvandi H, Alahabadi A (2019) Evaluation of potential human health risk due to the exposure to mercury via fish consumption of Alosa spp. from the southern Caspian Sea. Mar Pollut Bull 143:66–71. https://doi.org/10.1016/j.marpolbul.2019.04.042

11.

Nejatkhah Manavi P, Mazumder A (2018) Potential risk of mercury to human health in three species of fish from the southern Caspian Sea. Mar Pollut Bull 130:1–5. https://doi.org/10.1016/j.marpolbul.2018.03.004

12.

Gbogbo F, Arthur-Yartel A, Bondzie JA, Dorleku WP, Dadzie S, Kwansa-Bentum B, Ewool J, Billah MK, Lamptey AM (2018) Risk of heavy metal ingestion from the consumption of two commercially valuable species of fish from the fresh and coastal waters of Ghana. PLoS One 13:1–17. https://doi.org/10.1371/journal.pone.0194682

13.

Martínez-Salcido AI, Ruelas-Inzunza J, Gil-Manrique B, Nateras-Ramírez O, Amezcua F (2018) Mercury levels in fish for human consumption from the Southeast gulf of California: tissue distribution and health risk assessment. Arch Environ Contam Toxicol 74:273–283. https://doi.org/10.1007/s00244-017-0495-5

14.

Baki MA, Shojib MFH, Sehrin S, Chakraborty S, Choudhury TR, Bristy MS, Ahmed MK, Yusoff SB, Khan MF (2019) Health risk assessment of heavy metal accumulation in the Buriganga and Turag River systems for Puntius ticto, Heteropneustes fossilis, and Channa punctatus. Environ Geochem Health. 42:531–543. https://doi.org/10.1007/s10653-019-00386-4

15.

Zarghami M (2019) Effect of urban pollutants on distribution of benthic foraminifera in the Southern of Caspian Sea. Proc Int Acad Ecol Environ Sci 9:24

16.

Malvandi H (2017) Preliminary evaluation of heavy metal contamination in the Zarrin-Gol River sediments , Iran. Mar Pollut Bull 117:547–553. https://doi.org/10.1016/j.marpolbul.2017.02.035

17.

Alahabadi A, Malvandi H (2018) Contamination and ecological risk assessment of heavy metals and metalloids in surface sediments of the Tajan River, Iran. Mar Pollut Bull 133:741–749. https://doi.org/10.1016/j.marpolbul.2018.06.030

18.

Fazli H, Kor D, Daryanabard G (2014) Spatial and temporal distribution of Kutum (Rutilus frisii kutum, Kamensky 1901) in Iranian waters of the Caspian Sea TT. ISFJ 23:63–74. https://doi.org/10.22092/ISFJ.2017.110163

19.

Fazli H, Daryanabard GR, Pourgholam R et al (2012) Qualitative assessment of Caspian kutum (Rutilus frisii kutum Kamensky 1901) stocks in Iranian waters of the Caspian Sea (1991-2011). ISFJ 21:53–64. https://doi.org/10.22092/ISFJ.2017.110055

20.

Shafiei Sabet S, Imanpoor MR, Aminian Fatideh B, Gorgin S (2015) Study on morphological structure of Kutum population (Rutilus frisii kutum) in southern of Caspian Sea using Truss network system. J Environ Sci Technol 17:115–126

21.

Abdoli A, Naderi M (2009) Biodiversity of fishes of the southern basin of the Caspian Sea. Abzian Scientific Publication

22.

Barone G, Storelli A, Garofalo R, Busco VP, Quaglia NC, Centrone G, Storelli MM (2015) Assessment of mercury and cadmium via seafood consumption in Italy: estimated dietary intake (EWI) and target hazard quotient (THQ). Food Addit Contam - Part A Chem Anal Control Expo Risk Assess 32:1277–1286. https://doi.org/10.1080/19440049.2015.1055594

23.

Varol M, Kurt G, Alp A (2017) Heavy metal and arsenic concentrations in rainbow trout (Oncorhynchus mykiss) farmed in a dam reservoir on the Firat (Euphrates) River: risk-based consumption advisories. Sci Total Environ 599-600:1288–1296. https://doi.org/10.1016/j.scitotenv.2017.05.052

24.

Hosseini SM, Mirghaffari N, Mahboobi Soofiani N, Hosseini SV (2011) Risk assessment of mercury due to consumption of kutum of the Caspian Sea (Rutilus frisii kutum) in Mazandaran Province. J Nat Environ Iran J Nat Resour 64:423–257

25.

Forooghi R, Esmaeli Sari A, Ghasempouri SM (2007) Correlation of length and weight with mercury concentration in different tissues of Kutum Roach (Rutilus frisii kutum) in central south of Caspian Sea. Iran Sci Fish J 15:97–102

26.

Pourguolam R, Nasrollalahzade Sarvavi H, Rezaei M, Varedi SE (2013) Study on some heavy metals contatamination and risk assessment in mscle tissue of Rutilus frisii kutum and Liza saliens of Caspian Sea. Jouranl Mar Sci Technol Res 7:67–84

27.

Monsefrad F, J Imanpour Namin, Heidary S (2012) Concentration of heavy and toxic metals Cu , Zn , Cd , Pb and Hg in liver and muscles of Rutilus frisii kutum during spawning season with respect to growth parameters. Iran J Fish Sci 11:825–839.

28.

Dadar M, Adel M, Saravi HN, Dadar M (2016) A comparative study of trace metals in male and female Caspian kutum (Rutilus frisii kutum) from the southern basin of Caspian Sea. Environ Sci Pollut Res 23:24540–24546. https://doi.org/10.1007/s11356-016-6871-2

29.

Heshmati A, Momtaz JK, Nili-ahmadabadi A, Ghadimi S (2017) Dietary exposure to toxic and essential trace elements by consumption of wild and farmed Carp (Cyprinus carpio) and Caspian kutum (Rutilus frisii kutum) in Iran. Chemosphere 173:207–215. https://doi.org/10.1016/j.chemosphere.2017.01.009

30.

Salehi Borban S, Gharachorloo M, Zamani F (2017) Check Amount of heavy metals in muscle and fish oil Rutilus frisii kutum, Clupeonella cultriventris and Liza saliens. J Food Hyg 6:75–87.

31.

Ebadi Fathabad A, Tajik H, Shariatifar N (2019) Heavy metal concentration and health risk assessment of some species of fish, Rasht, Iran. J Maz Univ Med Sci 28:118–132

32.

Norouzi M, Bagheri Tavani M, Amirjanati A, Ghodrati S (2017) Concentration of heavy metals in tissues of golden gray mullet (Liza aurata) in different areas of the southern coast of the Caspian Sea. Environ Sci 14:201–214.

33.

Dadar M, Adel M, Saravi HN, Fakhri Y (2017) Trace element concentration and its risk assessment in common kilka (Clupeonella cultriventris caspia Bordin , 1904) from southern basin of Caspian Sea. Toxin Rev. https://doi.org/10.1080/15569543.2016.1274762

34.

Nasrollahzadeh Saravi H, Pourgholam R, Pourang N, et al (2013) Heavy metal concentrations in edible tissue of Cyprinus carpio and its target hazard quotients in the southern Iranian Caspian Sea coast, (2010). J Maz Univ Med Sci 23:33–44.

35.

Asefi M, Zamani-Ahmadmahmoodi R (2015) Mercury concentrations and health risk assessment for two fish species, Barbus grypus and Barbus luteus, from the Maroon River, Khuzestan Province, Iran. Environ Monit Assess 187:653. https://doi.org/10.1007/s10661-015-4845-3

36.

Łuczyńska J, Łuczyński MJ, Paszczyk B, Tońska E (2016) Concentration of mercury in muscles of predatory and non-predatory fish from lake Pluszne (Poland). J Vet Res 60:43–47. https://doi.org/10.1515/jvetres-2016-0007

37.

Lepak JM, Hooten MB, Eagles-Smith CA, Tate MT, Lutz MA, Ackerman JT, Willacker JJ Jr, Jackson AK, Evers DC, Wiener JG, Pritz CF, Davis J (2016) Assessing potential health risks to fish and humans using mercury concentrations in inland fish from across western Canada and the United States. Sci Total Environ 571:342–354. https://doi.org/10.1016/j.scitotenv.2016.03.031
Acknowledgments
The author is grateful to Somayeh Azimi and Mina Sarvari Korojdehi for their field and laboratory assistance. Thanks are extended to Mr Chris Banks, who improved the draft and added valuable comments to the manuscript.
Funding
This work was part of a research project supported by Iran National Science Foundation-Science deputy of presidency through grant No. 96008256.
Ethics declarations
Conflict of Interest
The authors declare that they have no conflict of interest.
Ethical approval
Approval from the institutional animal care committee was not required because samples of fish caught in local markets and fishing ports were used for this study. In other words, the specimens of the animals studied were not merely captured for the purpose of this study, but were captured by fishermen for human consumption and then the authors purchased them for this study.
Additional information
Publisher's Note
Springer Nature remains neutral with regard to jurisdictional claims in published maps and institutional affiliations.
About this article
Cite this article
Malvandi, H. Assessing the Potential Health Risk from Mercury Through Consumption of the Most Popular and Preferable Fish Species, Rutilus frisii kutum, on the Northern Coast of Iran. Biol Trace Elem Res (2020). https://doi.org/10.1007/s12011-020-02248-y
Received:

Accepted:

Published:
Keywords
Fish

Aquatic ecosystem

Health index

Heavy metals

Caspian Sea