Abstract
Lead (Pb) exposure is a growing concern in developing countries, especially in vulnerable children. The objective of this study was to evaluate blood lead levels (BLL) in children from two fishing populations at Northern Colombia, Loma de Arena and Tierrabomba, as well as their association with morphometric parameters, markers of hematological status, liver function, and mRNA expression of genes related to Pb toxicity. A total of 198 blood samples were collected from participants aged 5–16 years old. The mean (± standard error) BLL for the studied sample was 3.6 ± 0.3 μg/dL, and the 97.5th percentile was 21.0 μg/dL. The participants of Loma de Arena and Tierrabomba presented BLL of 3.9 ± 0.5 and 2.9 ± 0.3 μg/dL, respectively. Children born preterm had greater BLL than those born at full term. Boys had greater BLL than girls, which also occurred for participants between 12 and 16 years old, compared with those aged 5–11 years old. The BLL were negatively correlated with body mass index in children from Loma de Arena, but an opposite behavior was observed for Tierrabomba. In Loma de Arena, the mRNA expression of interferon gamma, a pro-inflammatory cytokine, increased with the BLL, but that of δ-aminolevulinic acid dehydrogenase, a sensor for Pb poisoning, decreased. In Tierrabomba, gene expression did not change with BLL. These results show that in fishing communities, lead exposure promotes different health impacts depending on age, sex, and other site-specific factors. In any case, appropriate educational and intervention programs should be carried out to minimize Pb exposure in children.
Access options
Buy single article
Instant access to the full article PDF.
US$ 39.95
Tax calculation will be finalised during checkout.
Subscribe to journal
Immediate online access to all issues from 2019. Subscription will auto renew annually.
US$ 399
Tax calculation will be finalised during checkout.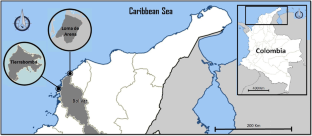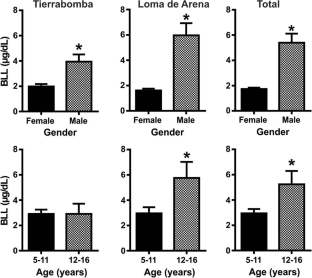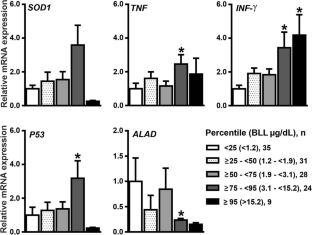 References
1.

Hamp N, Zimmerman A, Hoffen J (2018) Advocating for automatic eligibility for early intervention services for children exposed to lead. Pediatr Ann 47:e413–e418. https://doi.org/10.3928/19382359-20180924-01

2.

Njati SY, Maguta MM (2019) Lead-based paints and children's PVC toys are potential sources of domestic lead poisoning - a review. Environ Pollut 249:1091–1105. https://doi.org/10.1016/j.envpol.2019.03.062

3.

Obeng-Gyasi E (2019) Sources of lead exposure in various countries. Rev Environ Health 34(1):25–34. https://doi.org/10.1515/reveh-2018-0037

4.

Ying XL, Gao ZY, Yan J, Zhang M, Wang J, Xu J, Markowitz M, Yan CH (2018) Sources, symptoms and characteristics of childhood lead poisoning: experience from a lead specialty clinic in China. Clin Toxicol (Phila) 56(6):397–403. https://doi.org/10.1080/15563650.2017.1391392

5.

Levallois P, Barn P, Valcke M, Gauvin D, Kosatsky T (2018) Public health consequences of lead in drinking water. Curr Environ Health Rep 5(2):255–262. https://doi.org/10.1007/s40572-018-0193-0

6.

Hon KL, Fung CK, Leung AK (2017) Childhood lead poisoning: an overview. Hong Kong Med J 23(6):616–621. https://doi.org/10.12809/hkmj176214

7.

Everson J, Patterson CC (1980) Ultra-clean isotope dilution/mass spectrometric analyses for lead in human blood plasma indicated that most reported values are artificially high. Clin Chem 26(11):1603–1607. https://doi.org/10.1093/clinchem/26.11.1603

8.

Sommar JN, Hedmer M, Lundh T, Nilsson L, Skerfving S, Bergdahl IA (2014) Investigation of lead concentrations in whole blood, plasma and urine as biomarkers for biological monitoring of lead exposure. J Expo Sci Environ Epidemiol 24(1):51–57. https://doi.org/10.1038/jes.2013.4

9.

Jomova K, Valko M (2011) Advances in metal-induced oxidative stress and human disease. Toxicology. 283(2–3):65–87. https://doi.org/10.1016/j.tox.2011.03.001

10.

Pounds JG (1984) Effect of lead intoxication on calcium homeostasis and calcium-mediated cell function: a review. Neurotoxicology 5(3):295–331 PMID: 6151637

11.

Gonick HC (2011) Lead-binding proteins: a review. J Toxicol 2011:686050–686010. https://doi.org/10.1155/2011/686050

12.

Caito S, Aschner M (2017) Developmental neurotoxicity of lead. Adv Neurobiol 18:3–12. https://doi.org/10.1007/978-3-319-60189-2_1

13.

Hsieh NH, Chung SH, Chen SC, Chen WY, Cheng YH, Lin YJ, You SH, Liao CM (2017) Anemia risk in relation to lead exposure in lead-related manufacturing. BMC Public Health 17(1):389. https://doi.org/10.1186/s12889-017-4315-7

14.

Rahman SN, Fatima P, Chowdhury AQ, Rahman MW (2013) Blood level of lead in women with unexplained infertility. Mymensingh Med J 22(3):508–512 PMID: 23982541

15.

Park SK, Elmarsafawy S, Mukherjee B, Spiro A 3rd, Vokonas PS, Nie H, Weisskopf MG, Schwartz J, Hu H (2010) Cumulative lead exposure and age-related hearing loss: the VA normative aging study. Hear Res 269(1–2):48–55. https://doi.org/10.1016/j.heares.2010.07.004

16.

Dietert RR, Piepenbrink MS (2006) Lead and immune function. Crit Rev Toxicol 36(4):359–385. https://doi.org/10.1080/10408440500534297

17.

Kaji M, Nishi Y (2006) Lead and growth. Clin Pediatr Endocrinol 15(4):123–128. https://doi.org/10.1297/cpe.15.123

18.

Xu X, Byles JE, Shi Z, Hall JJ (2018) Dietary patterns, dietary lead exposure and hypertension in the older Chinese population. Asia Pac J Clin Nutr 27(2):451–459. https://doi.org/10.6133/apjcn.032017.20

19.

Landrigan PJ, Rauh VA, Galvez MP (2010) Environmental justice and the health of children. Mt Sinai J Med 77:178–187. https://doi.org/10.1002/msj.20173

20.

Paulson JA, Brown MJ (2019) The CDC blood lead reference value for children: time for a change. Environ Health 18:16. https://doi.org/10.1186/s12940-019-0457-7

21.

Centers for Disease Control and Prevention. US Department of Health and Human Services. Atlanta, GA, USA: [(accessed on 2 February 2020)]. CDC response to Advisory Committee on Childhood Lead Poisoning Prevention recommendations in "Low level lead exposure harms children: A renewed call for primary prevention". Available online: http://www.cdc.gov/nceh/lead/acclpp/cdc_response_lead_exposure_recs.pdf

22.

Brown LM, Kim D, Yomai A, Meyer PA, Noonan GP, Huff D, Flanders WD (2005) Blood lead levels and risk factors for lead poisoning in children and caregivers in Chuuk state, Micronesia. Int J Hyg Environ Health 208:231–236. https://doi.org/10.1016/j.ijheh.2005.01.028

23.

Cao J, Li M, Wang Y, Yu G, Yan C (2014) Environmental lead exposure among preschool children in Shanghai, China: blood lead levels and risk factors. PLoS One 9:e113297. https://doi.org/10.1371/journal.pone.0113297

24.

Mathee A, Khan T, Naicker N, Kootbodien T, Naidoo S, Becker P (2013) Lead exposure in young school children in south African subsistence fishing communities. Environ Res 126:179–183. https://doi.org/10.1016/j.envres.2013.05.009

25.

Wang H, Shi H, Chang L, Zhang X, Li J, Yang Y, Jiang Y (2012) Association of blood lead with calcium, iron, zinc and hemoglobin in children aged 0-7 years: a large population-based study. Biol Trace Elem Res 149(2):143–147. https://doi.org/10.1007/s12011-012-9413-x

26.

Alvarez-Ortega N, Caballero-Gallardo K, Olivero-Verbel J (2019) Toxicological effects in children exposed to lead: a cross-sectional study at the Colombian Caribbean coast. Environ Int 130:104809. https://doi.org/10.1016/j.envint.2019.05.003

27.

Alvarez-Ortega N, Caballero-Gallardo K, Olivero-Verbel J (2017) Low blood lead levels impair intellectual and hematological function in children from Cartagena, Caribbean coast of Colombia. J Trace Elem Med Biol 44:233–240. https://doi.org/10.1016/j.jtemb.2017.08.006

28.

Olivero-Verbel J, Duarte D, Echenique M, Guette J, Johnson-Restrepo B, Parsons PJ (2007) Blood lead levels in children aged 5-9 years living in Cartagena, Colombia. Sci Total Environ 372:707–716. https://doi.org/10.1016/j.scitotenv.2006.10.025

29.

Pawłowska-Seredyńska K, Umławska W, Resler K, Morawska-Kochman M, Pazdro-Zastawny K, Kręcicki T (2020) Craniofacial proportions in children with adenoid or adenotonsillar hypertrophy are related to disease duration and nasopharyngeal obstruction. Int J Pediatr Otorhinolaryngol 132:109911. https://doi.org/10.1016/j.ijporl.2020.109911

30.

McClure LF, Niles JK, Kaufman HW (2016) Blood lead levels in young children: US, 2009-2015. J Pediatr 175:173–181. https://doi.org/10.1016/j.jpeds.2016.05.005

31.

Lima-Oliveira G, Salvagno GL, Lippi G, Gelati M, Montagnana M, Danese E, Picheth G, Guidi GC (2012) Influence of a regular, standardized meal on clinical chemistry analytes. Ann Lab Med 32:250–256. https://doi.org/10.3343/alm.2012.32.4.250

32.

Brym P, Ruść A, Kamiński S (2013) Evaluation of reference genes for qRT-PCR gene expression studies in whole blood samples from healthy and leukemia-virus infected cattle. Vet Immunol Immunopathol 153:302–307. https://doi.org/10.1016/j.vetimm.2013.03.004

33.

World Health Organization (WHO) (2010) Childhood lead poisoning. 〈https://www.who.int/ceh/publications/leadguidance.pdf〉 (Accessed 3 February 2020)

34.

Nikula T, Mykkänen J, Simell O, Lahesmaa R (2013) Genome-wide comparison of two RNA-stabilizing reagents for transcriptional profiling of peripheral blood. Transl Res 161(3):181–188. https://doi.org/10.1016/j.trsl.2012.10.003

35.

Zidan HE, Karam RA, El-Seifi OS, Abd Elrahman TM (2018) Circulating long non-coding RNA MALAT1 expression as molecular biomarker in Egyptian patients with breast cancer. Cancer Gene Ther 220:32–37. https://doi.org/10.1016/j.cancergen.2017.11.005

36.

Xia X, Huo W, Wan R, Xia X, Du Q, Chang Z (2017) Identification of housekeeping genes as references for quantitative real-time RT-PCR analysis in Misgurnus anguillicaudatus. J Genet 96(6):895–904. https://doi.org/10.1007/s12041-017-0845-0

37.

Livak KJ, Schmittgen TD (2001) Analysis of relative gene expression data using real-time quantitative PCR and the 2(−Delta C(T)) method. Methods 25:402–408. https://doi.org/10.1006/meth.2001.1262

38.

Tsoi MF, Cheung CL, Cheung TT, Cheung BM (2016) Continual decrease in blood lead level in Americans: United States National Health Nutrition and examination survey 1999-2014. Am J Med 129:1213–1218. https://doi.org/10.1016/j.amjmed.2016.05.042

39.

Li MM, Gao ZY, Dong CY, Wu MQ, Yan J, Cao J, Ma WJ, Wang J, Gong YL, Xu J, Cai SZ, Chen JY, Xu SQ, Tong S, Tang D, Zhang J, Yan CH (2020) Contemporary blood lead levels of children aged 0-84 months in China: a national cross-sectional study. Environ Int 134:105288. https://doi.org/10.1016/j.envint.2019.105288

40.

Hai DN, Tung LV, Van DK, Binh TT, Phuong HL, Trung ND, Son ND, Giang HT, Hung NM, Khue PM (2018) Lead environmental pollution and childhood lead poisoning at ban Thi commune, Bac Kan Province, Vietnam. Biomed Res Int 2018:5156812–5156817. https://doi.org/10.1155/2018/5156812

41.

Gao Z, Cao J, Yan J, Wang J, Cai S, Yan C (2017) Blood lead levels and risk factors among preschool children in a lead polluted area in Taizhou, China. Biomed Res Int 2017:4934198–4934198. https://doi.org/10.1155/2017/4934198

42.

Anticona C, Bergdahl IA, San Sebastian M (2012) Lead exposure among children from native communities of the Peruvian Amazon basin. Rev Panam Salud Publica 31:296–302 PMID: 22652969

43.

Ugwuja EI, Ogbu IS, Umeaku EA, Otuu FC (2014) Blood lead levels in children attending a tertiary teaching hospital in Enugu, South-Eastern Nigeria. Paediatr Int Child Health 34(3):216–219. https://doi.org/10.1179/2046905514Y.0000000118

44.

Pezzi C, Lee D, Kennedy L, Aguirre J, Titus M, Ford R, Cochran J, Smock L, Mamo B, Urban K, Morillo J, Hughes S, Payton C, Scott K, Montour J, Matheson J, Brown MJ, Mitchell T (2019) Blood lead levels among resettled refugee children in select US states, 2010-2014. Pediatrics 143:e20182591. https://doi.org/10.1542/peds.2018-2591

45.

Jelliffe-Pawlowski LL, Miles SQ, Courtney JG, Materna B, Charlton V (2006) Effect of magnitude and timing of maternal pregnancy blood lead (Pb) levels on birth outcomes. J Perinatol 26(3):154–162. https://doi.org/10.1038/sj.jp.7211453

46.

Burns JS, Williams PL, Lee MM, Revich B, Sergeyev O, Hauser R, Korrick SA (2017) Peripubertal blood lead levels and growth among Russian boys. Environ Int 106:53–59. https://doi.org/10.1016/j.envint.2017.05.023

47.

Scinicariello F, Buser MC, Mevissen M, Portier CJ (2013) Blood lead level association with lower body weight in NHANES 1999-2006. Toxicol Appl Pharmacol 273:516–523. https://doi.org/10.1016/j.taap.2013.09.022

48.

Zhou CC, He YQ, Gao ZY, Wu MQ, Yan CH (2020) Sex differences in the effects of lead exposure on growth and development in young children. Chemosphere 250:126294. https://doi.org/10.1016/j.chemosphere.2020.126294

49.

Wang J, Gao ZY, Yan J, Ying XL, Tong SL, Yan CH (2017) Sex differences in the effects of prenatal lead exposure on birth outcomes. Environ Pollut 225:193–200. https://doi.org/10.1016/j.envpol.2017.03.031

50.

Chwalba A, Maksym B, Dobrakowski M, Kasperczyk S, Pawlas N, Birkner E, Kasperczyk A (2018) The effect of occupational chronic lead exposure on the complete blood count and the levels of selected hematopoietic cytokines. Toxicol Appl Pharmacol 355:174–179. https://doi.org/10.1016/j.taap.2018.05.034

51.

Sarkar RN, Das CK, Bhattacharjee U, Banerjee M (2018) Platelet indices as a marker of severity in non-diabetic nonhypertensive acute ischemic stroke patients. J Assoc Physicians India 66(7):40–42. https://doi.org/10.1080/09537104.2019.1680826

52.

Zeng Z, Huo X, Zhang Y, Xiao Z, Zhang Y, Xu X (2018) Lead exposure is associated with risk of impaired coagulation in preschool children from an e-waste recycling area. Environ Sci Pollut Res Int 25:20670–20679. https://doi.org/10.1007/s11356-018-2206-9

53.

Khan DA, Qayyum S, Saleem S, Khan FA (2008) Lead-induced oxidative stress adversely affects health of the occupational workers. Toxicol Ind Health 24:611–618. https://doi.org/10.1177/0748233708098127

54.

Yılmaz H, Keten A, Karacaoğlu E, Tutkun E, Akçan R (2012) Analysis of the hematological and biochemical parameters related to lead intoxication. J Forensic Legal Med 19:452–454. https://doi.org/10.1016/j.jflm.2012.04.001

55.

Sun Y, Jin TY, Sun DH, Zhu GY, Lei LJ, Zhang HY, Shen GZ (2007) Effects of occupational lead exposure on bone mineral density and bone metabolism in workers. Zhonghua Lao Dong Wei Sheng Zhi Ye Bing Za Zhi 25:257–262 PMID: 17621417

56.

Metryka E, Chibowska K, Gutowska I, Falkowska A, Kupnicka P, Barczak K, Chlubek D, Baranowska-Bosiacka I (2018) Lead (Pb) exposure enhances expression of factors associated with inflammation. Int J Mol Sci 19(6):E1813. https://doi.org/10.3390/ijms19061813

57.

LaBreche HG, Meadows SK, Nevins JR, Chute JP (2011) Peripheral blood signatures of lead exposure. PLoS One 6:e23043. https://doi.org/10.1371/journal.pone.0023043

58.

Ikenaka Y, Nakayama SM, Muroya T, Yabe J, Konnai S, Darwish WS, Muzandu K, Choongo K, Mainda G, Teraoka H, Umemura T, Ishizuka M (2012) Effects of environmental lead contamination on cattle in a lead/zinc mining area: changes in cattle immune systems on exposure to lead in vivo and in vitro. Environ Toxicol Chem 31:2300–2305. https://doi.org/10.1002/etc.1951

59.

Li C, Xu M, Wang S, Yang X, Zhou S, Zhang J, Liu Q, Sun Y (2011) Lead exposure suppressed ALAD transcription by increasing methylation level of the promoter CpG islands. Toxicol Lett 203:48–53. https://doi.org/10.1016/j.toxlet.2011.03.002

60.

Akram Z, Riaz S, Kayani MA, Jahan S, Ahmad MW, Ullah MA, Wazir H, Mahjabeen I (2019) Lead induces DNA damage and alteration of ALAD and antioxidant genes mRNA expression in construction site workers. Arch Environ Occup Health 74(4):171–178. https://doi.org/10.1080/19338244.2018.1428523
Acknowledgments
The authors would like to thank all participants of the study, their parents, and community leaders, for their valuable help during sampling collection.
Funding
This work was supported by grants from Colciencias-University of Cartagena (1107-545-31,458. 323/12), the Program for Doctoral Studies in Colombia (Colciencias 567-2012 and 727-2015), and the Program to Support Research Groups (2016–2020), sponsored by the Vice-Rectory of Research, University of Cartagena.
Ethics declarations
Conflict of Interest
The authors declare that they have no conflict of interest.
Ethical Approval
The protocols for this study were approved by the Ethics Committee of the University of Cartagena (Acta No. 36-2011) and conducted in accordance with the Helsinki declaration for studies involving human participants.
Additional information
Publisher's Note
Springer Nature remains neutral with regard to jurisdictional claims in published maps and institutional affiliations.
Electronic supplementary material
About this article
Cite this article
Carranza-Lopez, L., Alvarez-Ortega, N., Caballero-Gallardo, K. et al. Biomonitoring of Lead Exposure in Children from Two Fishing Communities at Northern Colombia. Biol Trace Elem Res 199, 850–860 (2021). https://doi.org/10.1007/s12011-020-02207-7
Received:

Accepted:

Published:

Issue Date:
Keywords
Blood lead levels

Gene expression

Hematology

Weight

Height

BMI