Abstract
Cerium(IV) oxide is widely used as a catalyst in all aspects of human life and human beings are exposed to these materials. The purpose of this experimental study was to investigate the effect of CeO2 during pregnancy on alterations in the testis tissue and blood biochemical parameters in newborn mice. Pregnant NMRI mice were divided randomly into five groups (n = 6 for each group) including one control group and 4 treatment groups. Injection of CeO2 solution was administered intraperitoneally at the doses of 10, 25, 80, and 250 mg/kg.bw, respectively, on GD 7 and GD 14. At the end of treatment period, the testicular histological and biochemical parameters of 2- and 6-day-old newborns were analyzed, as well as the biochemical parameters in serum samples of 15-day-old newborns. The number of spermatogonia, Sertoli, and Leydig cells in the testis of the 2-day-old newborn and spermatogonia and Leydig cells in the testis of the 6-day-old newborns in the 250 mg/kg.bw CeO2 treatment group was significantly reduced compared with the control group (P < 0.05). Testis MDA of the 2- and 6-day-old newborns in the treated group receiving 250 mg/kg.bw of CeO2 was significantly higher than the control group (P < 0.001). There was no significant difference between serum MDA and TAC levels between the treated groups with different doses of CeO2 compared with the control group. Therefore, CeO2 given to dams during pregnancy may affect the testicular tissue and blood biochemical parameters in neonates and may be dose-dependent.
Access options
Buy single article
Instant access to the full article PDF.
US$ 39.95
Tax calculation will be finalised during checkout.
Subscribe to journal
Immediate online access to all issues from 2019. Subscription will auto renew annually.
US$ 399
Tax calculation will be finalised during checkout.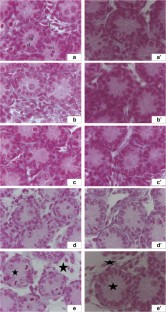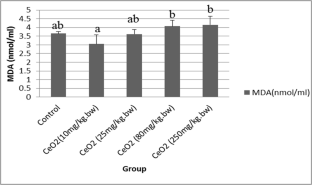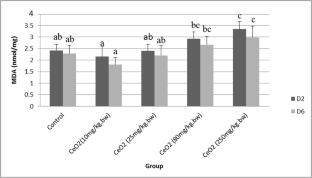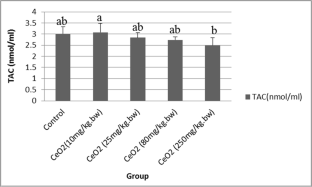 Abbreviations
bw:

Body weight

Ce:

Cerium

CeO2 :

Cerium(IV) oxide

dd:

Double distilled

dpp:

Days post-partum

D2:

2-day-old infant

D6:

6-day-old infant

°C:

Degree centigrade

Fig:

Figure

g:

Gram

GD:

Gestational day

HCL:

Hydrochloric acid

h:

Hour

i.p:

Intraperitoneal

L:

Leydig cells

μl:

Microliter

MDA:

Malondialdehyde concentration

μm:

Micrometer

min:

Minute

mm3 :

Cubic millimeters

mg/kg.bw:

Milligrams per kilogram of body weight

ml:

Milliliter

nm:

Nanometer

nmol:

Nanomolar

KCL:

Potassium chloride

REEs:

Rare earth elements

St:

Sertoli cells

Sp:

Spermatogonia cells

TAC:

Total antioxidant capacity

TCA:

Tricloric acid

TPTZ:

2,4,6Tripyridyl-s-triazine

TBA:

Thiobarbituric acid

V:

Volume

W:

Weight
References
1.

Chen J, Xiao HJ, Qi T, Chen DL, Long HM, Liu SH (2015) Rare earths exposure and male infertility: the injury mechanism study of rare earths on male mice and human sperm. Environ Sci Pollut Res 22(3):2076–2086

2.

Kawagoe M, Ishikawa K, Wang SC, Yoshikawa K, Arany S, Zhou XP, Wang JS, Ueno Y, Koizumi Y, Kameda T, Koyota S, Sugiyama T (2008) Acute effects on the lung and the liver of oral administration of cerium chloride on adult, neonatal and fetal mice. J Trace Elem Med Biol 22(1):59–65

3.

Nelson BC, Johnson ME, Walker ML, Riley KR, Sims CM (2016) Antioxidant Cerium Oxide Nanoparticles in Biology and Medicine.Antioxidants (Basel) 17;5(2). https://doi.org/10.3390/antiox5020015

4.

Nelson BC et al (2016) Antioxidant cerium oxide nanoparticles in biology and medicine. Antioxidants 5(2):15

5.

Falchi L et al (2016) Cerium dioxide nanoparticles did not alter the functional and morphologic characteristics of ram sperm during short-term exposure. Theriogenology 85(7):1274–1281 e3

6.

Niu J et al (2007) Cardioprotective effects of cerium oxide nanoparticles in a transgenic murine model of cardiomyopathy. Cardiovasc Res 73(3):549–559

7.

Ma JY, Mercer RR, Barger M, Schwegler-Berry D, Scabilloni J, Ma JK, Castranova V (2012) Induction of pulmonary fibrosis by cerium oxide nanoparticles. Toxicol Appl Pharmacol 262(3):255–264

8.

Srinivas A, Rao PJ, Selvam G, Murthy PB, Reddy PN (2011) Acute inhalation toxicity of cerium oxide nanoparticles in rats. Toxicol Lett 205(2):105–115

9.

Cassee FR, van Balen EC, Singh C, Green D, Muijser H, Weinstein J, Dreher K (2011) Exposure, health and ecological effects review of engineered nanoscale cerium and cerium oxide associated with its use as a fuel additive. Crit Rev Toxicol 41(3):213–229

10.

Zhang Z, Gao P, Qiu Y, Liu G, Feng Y, Wiesner M (2016) Transport of cerium oxide nanoparticles in saturated silica media: influences of operational parameters and aqueous chemical conditions. Sci Rep 6:34135

11.

Park E-J, Cho WS, Jeong J, Yi JH, Choi K, Kim Y, Park K (2010) Induction of inflammatory responses in mice treated with cerium oxide nanoparticles by intratracheal instillation. J Health Sci 56(4):387–396

12.

Chaudhury K, Babu K N, Singh AK, Das S, Kumar A, Seal S (2013) Mitigation of endometriosis using regenerative cerium oxide nanoparticles. Nanomedicine 9(3):439–448

13.

Zhao H, Cheng J, Cai J, Cheng Z, Cui Y, Gao G, Hu R, Gong X, Wang L, Hong F (2012) Liver injury and its molecular mechanisms in mice caused by exposure to cerium chloride. Arch Environ Contam Toxicol 62(1):154–164

14.

Das S, Singh S, Dowding JM, Oommen S, Kumar A, Sayle TXT, Saraf S, Patra CR, Vlahakis NE, Sayle DC, Self WT, Seal S (2012) The induction of angiogenesis by cerium oxide nanoparticles through the modulation of oxygen in intracellular environments. Biomaterials 33(31):7746–7755

15.

Courbiere B, Auffan M, Rollais R, Tassistro V, Bonnefoy A, Botta A, Rose J, Orsière T, Perrin J (2013) Ultrastructural interactions and genotoxicity assay of cerium dioxide nanoparticles on mouse oocytes. Int J Mol Sci 14(11):21613–21628

16.

Popov AL, Popova NR, Selezneva II, Akkizov AY, Ivanov VK (2016) Cerium oxide nanoparticles stimulate proliferation of primary mouse embryonic fibroblasts in vitro. Mater Sci Eng C 68:406–413

17.

Kobyliak NM, Falalyeyeva TM, Kuryk OG, Beregova TV, Bodnar PM, Zholobak NM, Shcherbakov OB, Bubnov RV, Spivak MY (2015) Antioxidative effects of cerium dioxide nanoparticles ameliorate age-related male infertility: optimistic results in rats and the review of clinical clues for integrative concept of men health and fertility. EPMA J 6(1):12

18.

Preaubert L et al (2016) Cerium dioxide nanoparticles affect in vitro fertilization in mice. Nanotoxicology 10(1):111–117

19.

Malmir M, Soleimani Mehranjani M, Naderi Noreini S, Faraji T (2018) Protective antioxidant effects of N-acetylcysteine against impairment of spermatogenesis caused by paranonylphenol. Andrologia 50:e13114

20.

Milazzo J et al (2007) Comparison of conditions for cryopreservation of testicular tissue from immature mice. Hum Reprod 23(1):17–28

21.

Milazzo J et al (2010) Rapid screening of cryopreservation protocols for murine prepubertal testicular tissue by histology and PCNA immunostaining. J Androl 31(6):617–630

22.

Gholami M et al (2017) Effects of 3, 4-dihydroxyflavone on cryopreserved testicular tissue of neonatal mouse. Herb Med J 2(1):18–25

23.

Howard V, Reed M (2004) Unbiased stereology: three-dimensional measurement in microscopy. Garland Science

24.

Buege JA, Aust SD (1978) [30] Microsomal lipid peroxidation. In: Methods in enzymology. Elsevier, pp 302–310

25.

Esterbauer H, Cheeseman KH (1990) [42] Determination of aldehydic lipid peroxidation products: malonaldehyde and 4-hydroxynonenal. In: Methods in enzymology. Elsevier, pp 407–421

26.

Benzie IF, Strain JJ (1996) The ferric reducing ability of plasma (FRAP) as a measure of "antioxidant power": the FRAP assay. Anal Biochem 239(1):70–76

27.

Oral R, Bustamante P, Warnau M, D'Ambra A, Guida M, Pagano G (2010) Cytogenetic and developmental toxicity of cerium and lanthanum to sea urchin embryos. Chemosphere 81(2):194–198

28.

Marzec-Wróblewska U, Kamiński P, Łakota P, Ludwikowski G, Szymański M, Wasilow K, Stuczyński T, Buciński A, Jerzak L (2015) Determination of rare earth elements in human sperm and association with semen quality. Arch Environ Contam Toxicol 69(2):191–201

29.

Préaubert L, Tassistro V, Auffan M, Sari-Minodier I, Rose J, Courbiere B, Perrin J (2018) Very low concentration of cerium dioxide nanoparticles induce DNA damage, but no loss of vitality, in human spermatozoa. Toxicol in Vitro 50:236–241

30.

Garcia T, Hofmann M (2015) Regulation of germ line stem cell homeostasis. Anim Reprod 12(1):35

31.

Huang P, Li J, Zhang S, Chen C, Han Y, Liu N, Xiao Y, Wang H, Zhang M, Yu Q, Liu Y, Wang W (2011) Effects of lanthanum, cerium, and neodymium on the nuclei and mitochondria of hepatocytes: accumulation and oxidative damage. Environ Toxicol Pharmacol 31(1):25–32

32.

Brohi RD, Wang L, Talpur HS, Wu D, Khan FA, Bhattarai D, Rehman ZU, Farmanullah F, Huo LJ (2017) Toxicity of nanoparticles on the reproductive system in animal models: a review. Front Pharmacol 8:606

33.

Elshaari F, Fatum A, Sheriff D (2010) Spermatozoa-a unique representation of oxygenantioxidant paradox. Acta Medica Medianae 49(1):48–53

34.

Hashemitabar M, Orazizadeh M, Khorsandi L (2008) Effect of dexamethasone on Fas ligand expression in mouse testicular germ cells. ZUMS J 16(62):17–26

35.

Subramanyam D, Gurunathan D, Gaayathri R, Priya VV (2018) Comparative evaluation of salivary malondialdehyde levels as a marker of lipid peroxidation in early childhood caries. Eur J Dent 12(1):67

36.

Barrera G, Pizzimenti S, Daga M, Dianzani C, Arcaro A, Cetrangolo GP, Giordano G, Cucci MA, Graf M, Gentile F (2018) Lipid peroxidation-derived aldehydes, 4-hydroxynonenal and malondialdehyde in aging-related disorders. Antioxidants 7(8):102

37.

Mikkelsen SH et al (2011) Survey on basic knowledge about exposure and potential environmental and health risks for selected nanomaterials. Danish Ministry of the Environment

38.

Rosenkranz P, Fernández-Cruz ML, Conde E, Ramírez-Fernández MB, Flores JC, Fernández M, Navas JM (2012) Effects of cerium oxide nanoparticles to fish and mammalian cell lines: an assessment of cytotoxicity and methodology. Toxicol in Vitro 26(6):888–896

39.

Rogers, S.N., Toxicological effects of cerium oxide nanoparticle aggregates on Caenorhabditis elegans. 2013

40.

Akinmuyisitan IW, Gbore FA, Adu OA (2015) Reproductive performance of growing female rabbits (Oryctolagus cuniculus) fed diets supplemented with cerium oxide. Journal of Medical and Bioengineering 4(3): 239–243

41.

Adua O, Akinmuyisitana I, Gbore F (2015) Growth performance and blood profile of female rabbits fed dietary cerium oxide. J. bio-sci 21:69–75
Acknowledgments
Eventually, the authors of this article would like to thank Razi Herbal Medicines Research Center, Lorestan University of Medical Sciences and Kermanshah University of Medical Sciences for funding, support, and cooperation in this project.
Ethics declarations
The study was approved by the Institutional Animal Ethics Committee of Kermanshah University of Medical Sciences, Kermanshah, Iran. Ethical clearance number for this study is IR.KUMS.REC.1397.1004.
Conflict of Interest
The authors declare that they have no conflicts of interest.
Additional information
Publisher's Note
Springer Nature remains neutral with regard to jurisdictional claims in published maps and institutional affiliations.
About this article
Cite this article
Nemati, A., Farhadi, A., Jalili, C. et al. The Effect of Cerium Oxide During Pregnancy on the Development of the Testicular Tissue of Newborn NMRI Mice. Biol Trace Elem Res 195, 196–204 (2020). https://doi.org/10.1007/s12011-019-01836-x
Received:

Accepted:

Published:

Issue Date:
Keywords
Cerium oxide

Pregnant mice

Newborn

Testicular tissue