Abstract
Although there are numerous reports of septic pyogenic arthritis after arthroscopic anterior cruciate ligament (ACL) reconstruction, there is limited information regarding the outcomes of fungal infection. We determined the outcomes of six patients with mycotic infection after regular ACL reconstruction. There were four males and two females with a mean age of 33 years. We determined the number of procedures performed, bone loss originating to control infection, and final reconstruction in these patients. An average of five arthroscopic lavage procedures had been performed at the referring centers. Fungal infection was diagnosed based on pathologic samples; five infections were the result of mucormycosis and one was Candida. After final débridement, the mean segmental bone loss was 12.8 cm. All patients were treated with intravenous antifungal coverage and cement spacers before final reconstruction. At final followup, all patients were free of clinical infection. Three had reconstruction with an allograft-prosthesis composite, two with hemicylindrical allografts, and one with an intercalary allograft arthrodesis. Despite the extremely unusual presentation of this complication, surgeons should be aware of potential and catastrophic consequences of this severe complication after ACL reconstruction.
Level of Evidence: Level IV, therapeutic study. See the Guidelines for Authors for a complete description of levels of evidence.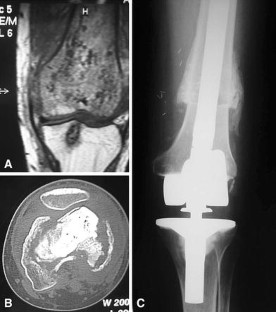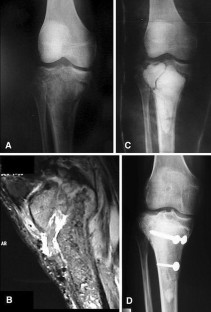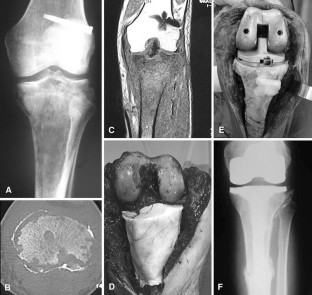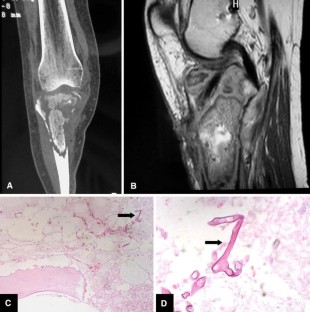 References
1.

Burke WV, Zych GA. Fungal infection following replacement of the anterior cruciate ligament: a case report. J Bone Joint Surg Am. 2002;84:449–453.

2.

Burks RT, Friederichs MG, Fink B, Luker MG, West HS, Greis PE. Treatment of postoperative anterior cruciate ligament infections with graft removal and early reimplantation. Am J Sports Med. 2003;31:414–418.

3.

Frank M, Schmucker U, David S, Matthes G, Ekkernkamp A, Seifert J. Devastating femoral osteomyelitis after anterior cruciate ligament reconstruction. Knee Surg Sports Traumatol Arthrosc. 2008;16:71–74.

4.

Holtom PD, Obuch AB, Ahlmann ER, Shepherd LE, Patzakis MJ. Mucormycosis of the tibia: a case report and review of the literature. Clin Orthop Relat Res. 2000;381:222–228.

5.

Indelli PF, Dillingham M, Fanton G, Schurman DJ. Septic arthritis in postoperative anterior cruciate ligament reconstruction. Clin Orthop Relat Res. 2002;398:182–188.

6.

Judd D, Bottoni C, Kim D, Burke M, Hooker S. Infections following arthroscopic anterior cruciate reconstruction. Arthroscopy. 2006;22:375–384.

7.

Matava MJ, Evans TA, Wright RW, Shively RA. Septic arthritis of the knee following anterior cruciate ligament reconstruction: results of a survey of sports medicine fellowship directors. Arthroscopy. 1998;14:717–725.

8.

McAllister DR, Parker RD, Cooper AE, Recht MP, Abate J. Outcomes of postoperative septic arthritis after anterior cruciate ligament reconstruction. Am J Sports Med. 1999;27:562–570.

9.

Meis JF, Kullberg BJ, Pruszczynski M, Veth RP. Severe osteomyelitis due to the zygomycete Apophysomyces elegans. J Clin Microbiol. 1994;32:3078–3081.

10.

Musso AD, McCormack RG. Infection after ACL reconstruction: what happens when cultures are negative? Clin J Sport Med. 2005;15:381–384.

11.

Schollin-Borg M, Michaëlsson K, Rahme H. Presentation, outcome, and cause of septic arthritis after anterior cruciate ligament reconstruction: a case control study. Arthroscopy. 2003;19:941–947.

12.

Shaw CJ, Thomason AJ, Spencer JD. Fungal osteomyelitis of the foot: a report of an unusual case. J Bone Joint Surg Br. 1994;76:137–139.

13.

Spellberg B, Edwards J Jr, Ibrahim A. Novel perspectives on mucormycosis: pathophysiology, presentation, and management. Clin Microbiol Rev. 2005;18:556–569.

14.

Viola R, Marzano N, Vianello R. An unusual epidemic of Staphylococcus-negative infections involving anterior cruciate ligament reconstruction with salvage of the graft and function. Arthroscopy. 2000;16:173–177.

15.

Williams RJ 3rd, Laurencin CT, Warren RF, Speciale AC, Brause BD, O'Brien S. Septic arthritis after arthroscopic anterior cruciate ligament reconstruction: diagnosis and management. Am J Sports Med. 1997;25:261–267.

16.

Zalavras CG, Patzakis MJ, Tibone J, Weisman N, Holtom P. Treatment of persistent infection after anterior cruciate ligament surgery. Clin Orthop Relat Res. 2005;439:52–55.
Additional information
Each author certifies that he or she has no commercial associations (eg, consultancies, stock ownership, equity interest, patent/licensing arrangements, etc) that might pose a conflict of interest in connection with the submitted article.
Each author certifies that his institution has approved the reporting of this case report and that all investigations were conducted in conformity with ethical principles of research.
Electronic supplementary material
Below is the link to the electronic supplementary material.
Supplementary material 1 Video 1. A 29-year-old man had a fungal infection after ACL reconstruction. The video shows the final reconstruction after infection control. The cement spacer was resected, the cavitary bone defect was reconstructed with morselized allograft, and the structural defect was reconstructed with a hemicylindrical allograft. (MPG 25273 kb)
About this article
Cite this article
Muscolo, D.L., Carbo, L., Aponte-Tinao, L.A. et al. Massive Bone Loss from Fungal Infection after Anterior Cruciate Ligament Arthroscopic Reconstruction. Clin Orthop Relat Res 467, 2420–2425 (2009). https://doi.org/10.1007/s11999-009-0714-0
Received:

Accepted:

Published:

Issue Date:
Keywords
Anterior Cruciate Ligament

Fungal Infection

Anterior Cruciate Ligament Reconstruction

Septic Arthritis

Hamstring Autograft