Abstract
The fusion of computed tomography and magnetic resonance images is a software-dependent processing technique that enables one to integrate and analyze preoperative images for planning complex musculoskeletal tumor resections. By integrating various imaging modalities into one imaging data set we may facilitate preoperative image analysis and planning of navigation computer-assisted bone tumor resection and reconstruction. We performed image fusion for computer-assisted tumor surgery in 13 consecutive patients, seven males and six females, with a mean age of 35.8 years (range, 6–80 years). Visual verification of fused images was accurate in all patients. The mean time for image fusion was 30.6 minutes (range, 8–80 minutes). After intraoperative registration, all tumor resections were performed as planned preoperatively under navigation image guidance. Resections achieved after navigation resection planning were validated by postoperative CT or resected specimens in seven patients. Histologic examination of all resected specimens showed tumor-free margins in patients with bone sarcoma. The fusion of computed tomography and magnetic resonance imaging has the potential to enhance computer-assisted bone tumor surgery. The fusion image, when combined with surgical navigation, helps surgeons reproduce a preoperative plan reliably and may offer substantial clinical benefits.
Level of Evidence: Level IV, therapeutic study. See the Guidelines for Authors for a complete description of levels of evidence.
We're sorry, something doesn't seem to be working properly.
Please try refreshing the page. If that doesn't work, please contact support so we can address the problem.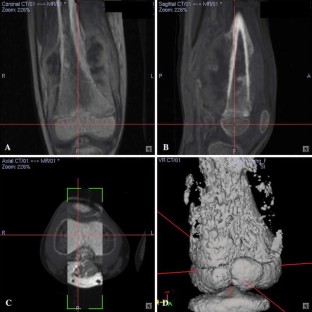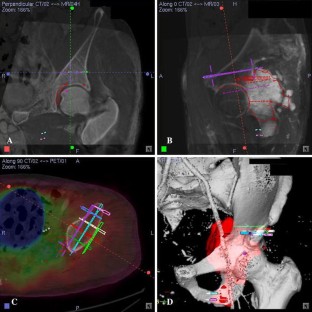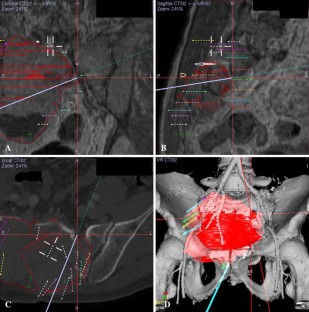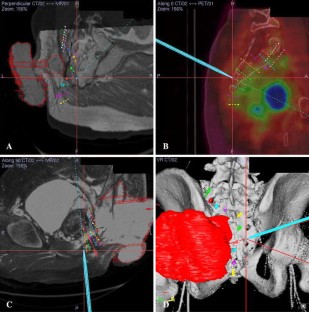 References
1.

Anderson KC, Buehler KC, Markel DC. Computer assisted navigation in total knee arthroplasty: comparison with conventional methods. J Arthroplasty. 2005;20(7 suppl 3):132–138.

2.

Enneking WF, Dunham W, Gebhardt MC, Malawar M, Pritchard DJ. A system for the functional evaluation of reconstructive procedures after surgical treatment of tumors of the musculoskeletal system. Clin Orthop Relat Res. 1993;286:241–246.

3.

Gebhard F, Weidner A, Liener UC, Stockle U, Arand M. Navigation at the spine. Injury. 2004;35(suppl 1):S-A35–45.

4.

Grutzner PA, Suhm N. Computer aided long bone fracture treatment. Injury. 2004;35(suppl 1):S-A57–64.

5.

Gupta A, Pollock R, Cannon SR, Briggs TW, Skinner J, Blunn G. A knee-sparing distal femoral endoprosthesis using hydroxyapatite-coated extracortical plates: preliminary results. J Bone Joint Surg Br. 2006;88:1367–1372.

6.

Hufner T, Kfuri M Jr, Galanski M, Bastian L, Loss M, Pohlemann T, Krettek C. New indications for computer-assisted surgery: tumor resection in the pelvis. Clin Orthop Relat Res. 2004;426:219–225.

7.

Krettek C, Geerling J, Bastian L, Citak M, Rucker F, Kendoff D, Hufner T. Computer aided tumor resection in the pelvis. Injury. 2004;35(suppl 1):S-A79–83.

8.

Laine T, Lund T, Ylikoski M, Lohikoski J, Schlenzka D. Accuracy of pedicle screw insertion with and without computer assistance: a randomised controlled clinical study in 100 consecutive patients. Eur Spine J. 2000;9:235–240.

9.

Leong JL, Batra PS, Citardi MJ. CT-MR image fusion for the management of skull base lesions. Otolaryngol Head Neck Surg. 2006;134:868–876.

10.

Marmulla R, Hassfeld S, Lüth T, Mühling J. Laser-scan-based navigation in cranio-maxillofacial surgery. J Craniomaxillofac Surg. 2003;31:267–277.

11.

Muscolo DL, Ayerza MA, Aponte-Tinao LA, Ranalletta M. Partial epiphyseal preservation and intercalary allograft reconstruction in high-grade metaphyseal osteosarcoma of the knee. J Bone Joint Surg Am. 2005;87(suppl 1, pt 2):226–236.

12.

Nemec SF, Donat MA, Mehrain S, Friedrich K, Krestan C, Matula C, Imhof H, Czerny C. CT-MR image fusion for computer assisted navigated neurosurgery of temporal bone tumors. Eur J Radiol. 2007;62:192–198.

13.

Raabe A, Krishnan R, Wolff R, Hermann E, Zimmerman M, Seifert V. Laser surface scanning for patient registration in intracranial image-guided surgery. Neurosurgery. 2002;50:797–801; discussion 802–803.

14.

Rege SD, Chaiken L, Hoh CK, Choi Y, Lufkin R, Anzai Y, Juillard G, Maddahi J, Phelps ME, Hawkins RA. Change induced by radiation therapy in FDG uptake in normal and malignant structures of the head and neck: quantitation with PET. Radiology. 1993;189:807–812.

15.

Sure U, Alberti O, Petermeyer M, Becker R, Bertalanffy H. Advanced image-guided skull base surgery. Surg Neurol. 2000;53:563–572; discussion 572.

16.

Wixson RL, MacDonald MA. Total hip arthroplasty through a minimal posterior approach using imageless computer-assisted hip navigation. J Arthroplasty. 2005;20(7 suppl 3):51–56.

17.

Wong KC, Kumta SM, Chiu KH, Antonio GE, Unwin P, Leung KS. Precision tumour resection and reconstruction using image-guided computer navigation. J Bone Joint Surg Br. 2007;89:943–947.

18.

Wong KC, Kumta SM, Chiu KH, Cheung KW, Leung KS, Unwin P, Wong MC. Computer assisted pelvic tumor resection and reconstruction with a custom-made prosthesis using an innovative adaptation and its validation. Comput Aided Surg. 2007;12:225–232.

19.

Wong WL, Hussain K, Chevretton E, Hawkes DJ, Baddeley H, Maisey M, McGurk M. Validation and clinical application of computer-combined computed tomography and PET with 2-[18F]-fluoro-2-deoxy-D-glucose head and neck images. Am J Surg. 1996;172:628–632.
Acknowledgments
We thank Eric Wai-kin Ng and Keith Kam-shing Lee (ACAOS-ITAV team, Department of Orthopaedics and Traumatology, Prince of Wales Hospital, Hong Kong), for setup of the navigation system and documentation of operative procedures; Ulrich G. Buehner and Dr. Sarvestani Amir (R&D, Computer Assisted Applications, Stryker Navigation, Freiburg, Germany) for their support with use of the cranial navigation software; and Dr. Paul Unwin and the design team (Stanmore Implants Worldwide Ltd, Centre for Biomedical Engineering, Royal National Orthopaedic Hospital, Middlesex, UK) for the CAD custom tumor prosthesis. We also appreciate the assistance of Prof. Martin C. M. Wong and Man-ho Lee (Department of Rapid Prototyping & Tooling Unit, Hong Kong Polytechnic University) in use of the CAD software.
Additional information
Each author certifies that he or she has no commercial associations (eg, consultancies, stock ownership, equity interest, patent/licensing arrangements, etc) that might pose a conflict of interest in connection with the submitted article.
Each author certifies that his or her institution has approved the human protocol for this investigation, that all investigations were conducted in conformity with ethical principles of research.
Electronic supplementary material
Below is the link to the electronic supplementary material.
About this article
Cite this article
Wong, K.C., Kumta, S.M., Antonio, G.E. et al. Image Fusion for Computer-assisted Bone Tumor Surgery. Clin Orthop Relat Res 466, 2533–2541 (2008). https://doi.org/10.1007/s11999-008-0374-5
Received:

Accepted:

Published:

Issue Date:
Keywords
Image Fusion

Malignant Peripheral Nerve Sheath Tumor

Giant Cell Tumor

Navigation Software

Intralesional Excision