Abstract
In the present manuscript, we fabricated screen-printed electrode based biosensor and enzymatic optical biosensor for detection of carcinogenic formaldehyde. The biosensor strip using cyclic voltammetry technique exhibited high sensitivity of 352 μA mg−1 L cm−2 with detection limit of 0.03 mg/L, and sensitivity of 0.186 Abs (mg/L)−1 with detection limit of 0.02 mg/L was obtained with optical biosensor over the concentration range of 0.01–0.5 mg/L. This electrochemical sensing result was compared with that of enzymatic optical sensing obtained with α-Fe2O3/ITO bioelectrode on the same sample, under similar environmental conditions, obtaining a high correlation (r2 = 0.988). The non-availability of biosensor for formaldehyde detection in corn as a food and feed stimulated our research efforts in this direction. The results of the study may have implications in developing a range of biosensors for the quantification of adulterants and contaminants along the whole food supply chain from farm to fork.
Access options
Buy single article
Instant access to the full article PDF.
US$ 39.95
Tax calculation will be finalised during checkout.
Subscribe to journal
Immediate online access to all issues from 2019. Subscription will auto renew annually.
US$ 79
Tax calculation will be finalised during checkout.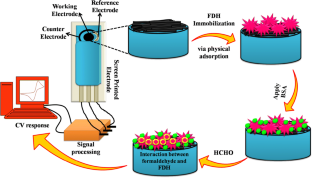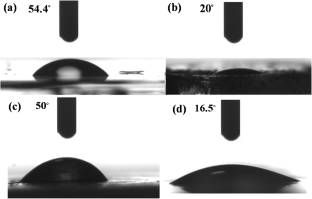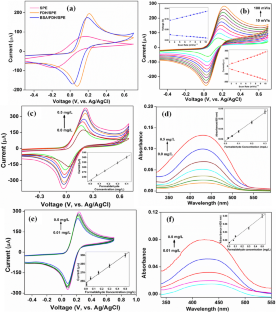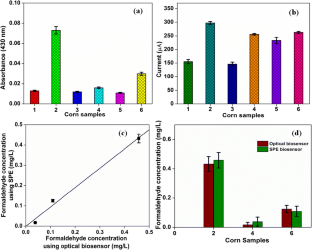 References
Ahmed, K. M. F., Hafez, R. S., Morgan, S. D., & Awad, A. A. (2015). Detection of some chemical hazards in milk and some dairy products. African Journal of Food Science, 9(4), 187–193.

Alexandre, D. L., Melo, A. M. A., Furtado, R. F., Borges, M. F., Figueiredo, E. A. T., Biswas, A., Cheng, H. N., & Alves, C. R. (2018). A rapid and specific biosensor for Salmonella typhimurium detection in milk. Food and Bioprocess Technology, 11(4), 748–756.

Ali, M. A., Solanki, P. R., Patel, M. K., Dhayani, H., Agrawal, V. V., John, R., & Malhotra, B. D. (2013). A highly efficient microfluidic nano biochip based on nanostructured nickel oxide. Nanoscale, 5(7), 2883–2891.

Al-Khatib, M. T., Shequarah, M. N., & Alsmadi, S. A. (2017). Control of soil-borne pathogens by soil fumigation with paraformaldehyde (fogidesfarm) as alternative to methyl bromide. Asian Journal of Plant Pathology, 11(2), 81–88.

Arora, K., Sumana, G., Saxena, V., Gupta, R. K., Gupta, S. K., Yakhmi, J. V., Pandey, M. K., Chand, S., & Malhotra, B. D. (2007). Improved performance of polyaniline-uricase biosensor. Analytica Chimica Acta, 594(1), 17–23.

Assadpour, E., Maghsoudlou, Y., Jafari, S.-M., Ghorbani, M., & Aalami, M. (2016). Evaluation of folic acid nano-encapsulation by double emulsions. Food and Bioprocess Technology, 9(12), 2024–2032. https://doi.org/10.1007/s11947-016-1786-y.

Azizi, S. N., Ghasemi, S., & Amiripour, F. (2016). Nickel/P nanozeolite modified electrode: a new sensor for the detection of formaldehyde. Sensors and Actuators B: Chemical, 227, 1–10.

Azlin-Hasim, S., Cruz-Romero, M. C., Morris, M. A., Padmanabhan, S. C., Cummins, E., & Kerry, J. P. (2016). The potential application of antimicrobial silver polyvinyl chloride nanocomposite films to extend the shelf-life of chicken breast fillets. Food and Bioprocess Technology, 9(10), 1661–1673. https://doi.org/10.1007/s11947-016-1745-7.

Bhardwaj, H., Singh, C., Pandey, M. K., & Sumana, G. (2016). Star shaped zinc sulphide quantum dots self-assembled monolayers: preparation and applications in food toxin detection. Sensors and Actuators B: Chemistry, 231, 624–633.

Bingham, A. K., Phillips, T. D., & Bauer, J. E. (2003). Potential for dietary protection against the effects of aflatoxins in animals. Journal of the American Veterinary Medical Association, 222(5), 591–596.

Brahim, M. B., Ammar, H. B., Abdelhedi, R., & Samet, Y. (2016). Electrochemical behavior and analytical detection of imidacloprid insecticide on a BDD electrode using square-wave voltammetric method. Chinese Chemical Letters, 27(5), 666–672.

Brown, A. P., & Anson, F. C. (1977). Cyclic and differential pulse voltammetric behavior of reactants confined to the electrode surface. Analytical Chemistry, 49(11), 1589–1595.

Cahuantzi-Muñoz, S. L., González-Fuentes, M. A., Ortiz-Frade, L. A., Torres, E., Ţălu, Ş., Trejo, G., & Méndez-Albores, A. (2019). Electrochemical biosensor for sensitive quantification of glyphosate in maize kernels. Electroanalysis, 31(5), 927–935.

Chou, C. H., Chang, J. L., & Zen, J. M. (2009). Homogeneous platinum‐deposited screen‐printed edge band ultramicroelectrodes for amperometric sensing of carbon monoxide. Electroanalysis: An International Journal Devoted to Fundamental and Practical Aspects of Electroanalysis, 21(2), 206–209.

Ding, D., Yan, X., Zhang, X., He, Q., Qiu, B., Jiang, D., Wei, H., Guo, J., Umar, A., & Sun, L. (2015). Preparation and enhanced properties of Fe3O4 nanoparticles reinforced polyimide nanocomposites. Superlattices and Microstructures, 85, 305–320.

European Commission. (2006). Directive 2006/52/EC of the European Parliament and of the Council amending Directive 95/2/EC on food additives other than colours and sweeteners and Directive 94/35/EC on sweeteners for use in foodstuffs. Official Journal of the European Union, vol, 204, 10–22.

European Food Safety Authority. (2007). Opinion of the scientific panel on food additives, flavourings, processing aids and materials in contact with food (AFC) related to use of formaldehyde as a preservative during the manufacture and preparation of food additives. European Food Safety Authority Journal, 415, 1–10.

Fabra, M. J., Flores-Lopez, M. L., Cerqueira, M. A., de Rodriguez, D. J., Lagaron, J. M., & Vicente, A. A. (2016). Layer-by-layer technique to developing functional nanolaminate films with antifungal activity. Food and Bioprocess Technology, 9(3), 471–480. https://doi.org/10.1007/s11947-015-1646-1.

Fu, G.-M., Chen, Y., Li, R.-Y., Yuan, X.-Q., Liu, C.-M., Li, B., & Wan, Y. (2017). Pathway and rate-limiting step of glyphosate degradation by Aspergillus oryzae A-F02. Preparative Biochemistry and Biotechnology, 47(8), 782–788.

Gumpu, M. B., Nesakumar, N., Sethuraman, S., Krishnan, U. M., & Rayappan, J. B. B. (2016). Determination of putrescine in tiger prawn using an amperometric biosensor based on immobilization of diamine oxidase onto ceria nanospheres. Food and Bioprocess Technology, 9(4), 717–724.

Hajilari, F., Farhadi, K., Eskandari, H., & Allahnouri, F. (2020). Application of Cu/porous silicon nanocomposite screen printed sensor for the determination of formaldehyde. Electrochimica Acta, 355, 136751.

International Agency for Research on Cancer. (2004). Formaldehyde, 2-Butoxyethanol and 1-tert-Butoxypropan-2-ol. In Monographs on the evaluation of carcinogenic risks to humans (Vol. 88). Geneva: World Health Organization.

Jeong, H.-S., Chung, H., Song, S.-H., Kim, C.-I., Lee, J.-G., & Kim, Y.-S. (2015). Validation and determination of the contents of acetaldehyde and formaldehyde in foods. Toxicology Research, 31(3), 273–278.

Kundu, M., Prasad, S., Krishnan, P., & Gajjala, S. (2019). A novel electrochemical biosensor based on hematite (α-Fe2O3) flower like nanostructures for sensitive determination of formaldehyde adulteration in fruit juices. Food and Bioprocess Technology, 12(10), 1659–1671.

Liteplo, R. G., Beauchamp, R., Chenier, R., & Meek, M. E. (2002). Concise international chemical assessment document 40: Formaldehyde, pp 1-74. Geneva: World Health Organization.

Malvano, F., Albanese, D., Pilloton, R., Di Matteo, M., & Crescitelli, A. (2017). A new label-free impedimetric affinity sensor based on cholinesterases for detection of organophosphorous and carbamic pesticides in food samples: impedimetric versus amperometric detection. Food and Bioprocess Technology, 10(10), 1834–1843.

Marzuki, N. I., Bakar, F. A., Salleh, A. B., Heng, L. Y., Yusof, N. A., & Siddiquee, S. (2012). Development of electrochemical biosensor for formaldehyde determination based on immobilized enzyme. International Journal of Electrochemical Science, 7, 6070–6083.

Mphuthi, N. G., Adekunle, A. S., Fayemi, O. E., Olasunkanmi, L. O., & Ebenso, E. E. (2017). Phthalocyanine doped metal oxide nanoparticles on multiwalled carbon nanotubes platform for the detection of dopamine. Scientific Reports, 7(1), 43181.

Nachaki, E. O., Ndangili, P. M., Naumih, N. M., & Masika, E. (2018). Nickel-Palladium-based electrochemical sensor for quantitative detection of formaldehyde. Chemistry Select, 3, 384–392.

Nedellec, V., Rabl, A., & Dab, W. (2016). Public health and chronic low chlordecone exposure in Guadeloupe, Part 1: hazards, exposure-response functions, and exposures. Environmental Health, 15, 1–20.

Noor Aini, B., Siddiquee, S., & Ampon, K. (2016). Development of formaldehyde biosensor for determination of formalin in fish samples; malabar red snapper (Lutjanus malabaricus) and longtail tuna (Thunnus tonggol). Biosensors, 6(3), 1–32.

Sari, A. P., Rachim, A., & Nurlely, & Fauzia, V. (2017). Performance of optical biosensor using alcohol oxidase enzyme for formaldehyde detection. AIP Conference Proceedings, 1862(1), 030049. https://doi.org/10.1063/1.4991153.

Sigawi, S., Smutok, O., Demkiv, O., Gayda, G., Vus, B., Nitzan, Y., & Nisnevitch, M. (2014). Detection of waterborne and airborne formaldehyde: from amperometric chemosensing to a visual biosensor based on alcohol oxidase. Materials, 7(2), 1055–1068.

Singh, C., Srivastava, S., Ali, M. A., Gupta, T. K., Sumana, G., Srivastava, A., Mathur, R. B., & Malhotra, B. D. (2013). Carboxylated multiwalled carbon nanotubes based biosensor for aflatoxin detection. Sensor Actuators B: Chemistry, 185, 258–264.

Solanki, P. R., Patel, M. K., Ali, M. A., & Malhotra, B. D. (2015). A chitosan modified nickel oxide platform for biosensing applications. Journal of Materials Chemistry B, 3(32), 6698–6708.

Songa, E. A., Somerset, V. S., Waryo, T., Baker, P. G. L., & Iwuoha, E. I. (2009). Amperometric nanobiosensor for quantitative determination of glyphosate and glufosinate residues in corn samples. Pure and Applied Chemistry, 81(1), 123–139.

Sundari, R., Hadibarata, T., Heng, L. Y., & Ahmad, M. (2012). A new biosensor based on nanogold doping in P-HEMA alcohol oxidase detects formaldehyde in fresh food. Trends in Applied Sciences Research, 7(9), 737.

Thimmasandra, N. R., & Devarahosahally, V. K. (2014). Visual detection and determination of melamine using synthetic dyes. Journal of Applied Chemistry, 2014, 1–7. https://doi.org/10.1155/2014/457254.

Udaiyan, K., Greep, S., Muthukumar, T., & Chitra, A. (1999). Effect of fumigation and pesticide drenches on VAM status and growth in cereals. Journal of Environmental Biology, 20, 167–176.

Wang, M., Jiang, S., Chen, Y., Chen, X., Zhao, L., Zhang, J., & Xu, J. (2012). Formaldehyde biosensor with formaldehyde dehydrogenase adsorped on carbon electrode modified with polypyrrole and carbon nanotube. Engineering, 4(10), 135–138.

Weng, X., Chon, C. H., Jiang, H., & Li, D. (2009). Rapid detection of formaldehyde concentration in food on a polydimethylsiloxane (PDMS) microfluidic chip. Food Chemistry, 114(3), 1079–1082.

Yanaga, A., Hozumi, N., Ohira, S.-I., Hasegawa, A., & Toda, K. (2016). Formaldehyde vapor produced from hexamethylenetetramine and pesticide: simultaneous monitoring of formaldehyde and ozone in chamber experiments by flow-based hybrid micro-gas analyzer. Talanta, 148, 649–654.

Yi, Q., Niu, F., & Yu, W. (2011). Pd-modified TiO2 electrode for electrochemical oxidation of hydrazine, formaldehyde and glucose. Thin Solid Films, 519(10), 3155–3161.

Zailina, H., & Fatimah, A. B. (2013). Health risk assessment of adults consuming commercial fish contaminated with formaldehyde. Food and Public Health, 3(1), 52–58.

Zhan, H., Feng, Y., Fan, X., & Chen, S. (2018). Recent advances in glyphosate biodegradation. Applied Microbiology and Biotechnology, 102(12), 5033–5043.

Zhao, X., Zuo, J., Qiu, S., Hu, W., Wang, Y., & Zhang, J. (2017). Reduced graphene oxide-modified screen-printed carbon (rGO-SPCE)-based disposable electrochemical sensor for sensitive and selective determination of ethyl carbamate. Food Analytical Methods, 10(10), 3329–3337.

Zhou, Z. L., Kang, T. F., Zhang, Y., & Cheng, S. Y. (2009). Electrochemical sensor for formaldehyde based on Pt–Pd nanoparticles and a Nafion-modified glassy carbon electrode. Microchimica Acta, 164(1), 133–138.
Acknowledgements
We are highly grateful to Director, CSIR-National Physical Laboratory, New Delhi, India, for providing the research facilities, necessary for conducting the study.
Funding
This work was supported by the ICAR-Indian Agricultural Research Institute, New Delhi, India.
Ethics declarations
Ethical Approval
This article does not contain any studies with human participants or animals performed by any of the authors.
Informed Consent
Informed consent was obtained from all individual participants included in the study.
Conflict of Interest
The authors declare that they have no conflict of interest.
Additional information
Publisher's Note
Springer Nature remains neutral with regard to jurisdictional claims in published maps and institutional affiliations.
About this article
Cite this article
Kundu, M., Rajesh, Krishnan, P. et al. Comparative Studies of Screen-Printed Electrode Based Electrochemical Biosensor with the Optical Biosensor for Formaldehyde Detection in Corn. Food Bioprocess Technol 14, 726–738 (2021). https://doi.org/10.1007/s11947-021-02604-3
Received:

Accepted:

Published:

Issue Date:
Keywords
Screen-printed electrode

Corn

Formaldehyde

Electrochemical and optical biosensor