Abstract
The present study investigated the antifungal and aflatoxin B1 (AFB1) inhibitory efficacy of Jasmine essential oil-loaded in the chitosan nanoparticle (JEO-NP) with probable antifungal and anti-aflatoxin B1 mode of action against Aspergillus flavus. The prepared JEO-NP was characterized through FTIR and XRD. The maximum percent encapsulation efficiency (75.51% w/w) and loading capacity (5.65% w/w) were found at the 1:1 ratio of chitosan: JEO. The results of thermogravimetric analysis exhibited an increase in thermal stability of JEO-NP compared to the free JEO. The antifungal and AFB1 inhibitory concentration of JEO-NP was found to be 2.5 μL/mL against A. flavus, which was lower than free form JEO (3.0 μL/mL). Biochemical and in silico approaches revealed the antifungal mechanisms of action of JEO-NP were related to the inhibition in ergosterol biosynthesis, leakage of vital ions (Ca+2, Mg+2, and K+), impairment in carbon substrate utilization, and functioning of the AFB1 regulatory genes (ver-1 and omt A (in silico)) of A. flavus. JEO-NP exhibited free radical scavenging activity through DPPH assay (IC50 1.31 μL/mL). The in situ results showed that JEO-NP significantly protects the maize seed samples from A. flavus growth, AFB1 contamination and also preserved its nutritional quality. The absorption, distribution, metabolism, excretion, and toxicity (ADMET) profiling revealed the JEO major components are non-mutagenic, non-hepatotoxic, non-carcinogenic, non-tumorigenic, biodegradable nature, and predicted toxicity (LD50 mg/kg rat) were ranged 3107.01 to 3960.22 mg/kg. The findings revealed that the nanoencapsulation technique could be used to enhance the antifungal efficacy of plant essential oil in the food system.
Access options
Buy single article
Instant access to the full article PDF.
US$ 39.95
Tax calculation will be finalised during checkout.
Subscribe to journal
Immediate online access to all issues from 2019. Subscription will auto renew annually.
US$ 79
Tax calculation will be finalised during checkout.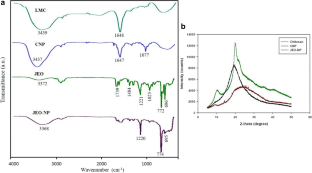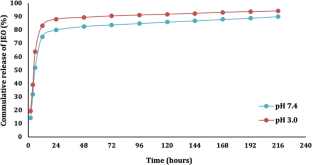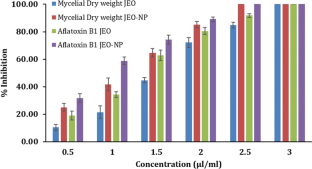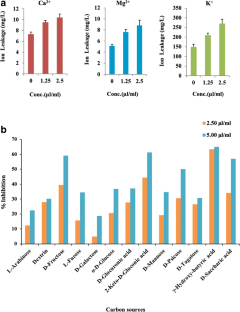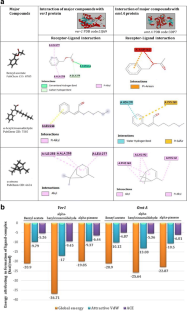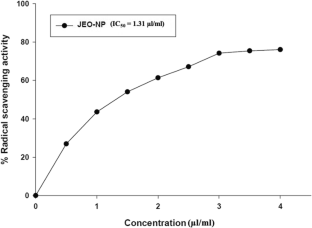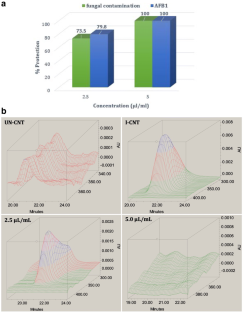 References
Adams, R. P. (2007). Identification of essential oil components by gas chromatography/mass spectrometry (Vol. 456). Carol Stream, IL: Allured Publishing Corp.

Ali, S. W., Rajendran, S., & Joshi, M. (2011). Synthesis and characterization of chitosan and silver loaded chitosan nanoparticles for bioactive polyester. Carbohydrate Polymers, 83(2), 438–446.

Alishahi, A., & Aïder, M. (2012). Applications of chitosan in the seafood industry and aquaculture: a review. Food and Bioprocess Technology, 5(3), 817–830.

Alvarez, M. V., Ponce, A. G., & Moreira, M. D. R. (2013). Antimicrobial efficiency of chitosan coating enriched with bioactive compounds to improve the safety of fresh cut broccoli. LWT-Food Science and Technology, 50(1), 78–87.

Anitha, A., Deepagan, V. G., Rani, V. D., Menon, D., Nair, S. V., & Jayakumar, R. (2011). Preparation, characterization, in vitro drug release and biological studies of curcumin loaded dextran sulphate–chitosan nanoparticles. Carbohydrate Polymers, 84(3), 1158–1164.

Beyki, M., Zhaveh, S., Khalili, S. T., Rahmani-Cherati, T., Abollahi, A., Bayat, M., Tabatabaei, M., & Mohsenifar, A. (2014). Encapsulation of Mentha piperita essential oils in chitosan–cinnamic acid nanogel with enhanced antimicrobial activity against Aspergillus flavus. Industrial Crops and Products, 54, 310–319.

Bucurescu, A., Blaga, A. C., Estevinho, B. N., & Rocha, F. (2018). Microencapsulation of curcumin by a spray-drying technique using gum arabic as encapsulating agent and release studies. Food and Bioprocess Technology, 11(10), 1795–1806.

Chen, X. G., Lee, C. M., & Park, H. J. (2003). O/W emulsification for the self-aggregation and nanoparticle formation of linoleic acid modified chitosan in the aqueous system. Journal of agricultural and food chemistry., 51(10), 3135–3139.

Coates, J. (2000). Interpretation of infrared spectra, a practical approach. Encyclopedia of analytical chemistry, 12(2014), 10815–10837.

Cota-Arriola, O., Onofre Cortez-Rocha, M., Burgos-Hernández, A., Marina Ezquerra-Brauer, J., & Plascencia-Jatomea, M. (2013). Controlled release matrices and micro/nanoparticles of chitosan with antimicrobial potential: development of new strategies for microbial control in agriculture. Journal of the Science of Food and Agriculture, 93(7), 1525–1536.

de Campo, C., Dos Santos, P. P., Costa, T. M. H., Paese, K., Guterres, S. S., de Oliveira Rios, A., & Flôres, S. H. (2017). Nanoencapsulation of chia seed oil with chia mucilage (Salvia hispanica L.) as wall material: characterization and stability evaluation. Food chemistry, 234, 1–9.

Dima, C., Pătraşcu, L., Cantaragiu, A., Alexe, P., & Dima, Ş. (2016). The kinetics of the swelling process and the release mechanisms of Coriandrum sativum L. essential oil from chitosan/alginate/inulin microcapsules. Food chemistry, 195, 39–48.

Dubois, M., Gilles, K. A., Hamilton, J. K., Rebers, P. T., & Smith, F. (1956). Colorimetric method for determination of sugars and related substances. Anal. Chem., 28(3), 350–356.

Dudhani, A. R., & Kosaraju, S. L. (2010). Bioadhesive chitosan nanoparticles: preparation and characterization. Carbohydrate polymers, 81(2), 243–251.

Gibbs, B. F., Kermasha, S., Alli, I., & Mulligan, C. N. (1999). Encapsulation in the food industry: a review. International journal of food sciences and nutrition, 50(3), 213–224.

Helal, G. A., Sarhan, M. M., Abu Shahla, A. N. K., & Abou El-Khair, E. K. (2006). Effects of Cymbopogon citratus L. essential oil on the growth, lipid content and morphogenesis of Aspergillus niger ML2-strain. Journal of Basic Microbiology, 46(6), 456–469.

Hemmatkhah, F., Zeynali, F., & Almasi, H. (2020). Encapsulated cumin seed essential oil-loaded active papers: characterization and evaluation of the effect on quality attributes of beef hamburger. Food and Bioprocess Technology, 13(3), 533–547.

Hosseini, S. F., Zandi, M., Rezaei, M., & Farahmandghavi, F. (2013). Two-step method for encapsulation of oregano essential oil in chitosan nanoparticles: preparation, characterization and in vitro release study. Carbohydrate polymers, 95(1), 50–56.

Hu, Y., Du, Y., Wang, X., & Feng, T. (2009). Self-aggregation of water-soluble chitosan and solubilization of thymol as an antimicrobial agent. Journal of Biomedical Materials Research Part A, 90A(3), 874–881.

International Agency for Research on Cancer (IARC). (2002). Some naturally occurring substances: food items and constituents, heterocyclic aromatic amines and mycotoxins, vol. 82 of IARC monographs on the evaluation of carcinogenic risks to humans, World Health Organization, International Agency for Research on Cancer, Lyon, France.

Jones, D. B. (1931). "Factors for converting percentages of nitrogen in foods and feeds into percentages of protein," USDA (US Department of Agriculture) Circular Series, No. 183, 1-21.

Karaburun, A. Ç., Acar Çevik, U., Osmaniye, D., Sağlık, B. N., Kaya Çavuşoğlu, B., Levent, S., Özkay, Y., Koparal, A. S., Behçet, M., & Kaplancıklı, Z. A. (2018). Synthesis and evaluation of new 1, 3, 4-thiadiazole derivatives as potent antifungal agents. Molecules, 23(12), 3129.

Keawchaoon, L., & Yoksan, R. (2011). Preparation, characterization and in vitro release study of carvacrol-loaded chitosan nanoparticles. Colloids and surfaces B: Biointerfaces, 84(1), 163–171.

Kedia, A., Prakash, B., Mishra, P. K., Chanotiya, C. S., & Dubey, N. K. (2014). Antifungal, anti-aflatoxigenic, and insecticidal efficacy of spearmint (Mentha spicata L.) essential oil. International Biodeterioration & Biodegradation, 89, 29–36.

Khalili, S. T., Mohsenifar, A., Beyki, M., Zhaveh, S., Rahmani-Cherati, T., Abdollahi, A., Bayat, M., & Tabatabaei, M. (2015). Encapsulation of Thyme essential oils in chitosan-benzoic acid nanogel with enhanced antimicrobial activity against Aspergillus flavus. LWT-Food Science and Technology, 60(1), 502–508.

Kiran, S., Kujur, A., & Prakash, B. (2016). Assessment of preservative potential of Cinnamomum zeylanicum Blume essential oil against food borne molds, aflatoxin B1 synthesis, its functional properties and mode of action. Innovative food science & emerging technologies, 37, 184–191.

Kujur, A., Kiran, S., Dubey, N. K., & Prakash, B. (2017). Microencapsulation of Gaultheria procumbens essential oil using chitosan-cinnamic acid microgel: improvement of antimicrobial activity, stability and mode of action. LWT-Food Science and Technology, 86, 132–138.

Kujur, A., Yadav, A., Kumar, A., Singh, P. P., & Prakash, B. (2019). Nanoencapsulated methyl salicylate as a biorational alternative of synthetic antifungal and aflatoxin B 1 suppressive agents. Environmental Science and Pollution Research, 26(18), 18440–18450.

López-Meneses, A. K., Plascencia-Jatomea, M., Lizardi-Mendoza, J., Fernández-Quiroz, D., Rodríguez-Félix, F., Mouriño-Pérez, R. R., & Cortez-Rocha, M. O. (2018). Schinus molle L. essential oil-loaded chitosan nanoparticles: preparation, characterization, antifungal and anti-aflatoxigenic properties. LWT-Food Science and Technology, 96, 597–603.

Lv, Y., Yang, F., Li, X., Zhang, X., & Abbas, S. (2014). Formation of heat-resistant nanocapsules of jasmine essential oil via gelatin/gum arabic based complex coacervation. Food Hydrocolloids, 35, 305–314.

Majeed, H., Bian, Y. Y., Ali, B., Jamil, A., Majeed, U., Khan, Q. F., & Fang, Z. (2015). Essential oil encapsulations: uses, procedures, and trends. RSC Advances., 5(72), 58449–58463.

Meng, X. Y., Zhang, H. X., Mezei, M., & Cui, M. (2011). Molecular docking: a powerful approach for structure-based drug discovery. Current computer-aided drug design, 7(2), 146–157.

Molamohammadi, H., Pakkish, Z., Akhavan, H. R., & Saffari, V. R. (2020). Effect of salicylic acid incorporated chitosan coating on shelf life extension of fresh in-hull pistachio fruit. Food and Bioprocess Technology, 13(1), 121–131.

Nitta, S. K., & Numata, K. (2013). Biopolymer-based nanoparticles for drug/gene delivery and tissue engineering. International journal of molecular sciences, 14(1), 1629–1654.

Prakash, B., Kujur, A., Yadav, A., Kumar, A., Singh, P. P., & Dubey, N. K. (2018). Nanoencapsulation: an efficient technology to boost the antimicrobial potential of plant essential oils in food system. Food Control, 89, 1–11.

Prakash, B., Singh, P., Mishra, P. K., & Dubey, N. K. (2012). Safety assessment of Zanthoxylum alatum Roxb. essential oil, its antifungal, anti-aflatoxin, antioxidant activity and efficacy as antimicrobial in preservation of Piper nigrum L. fruits. International journal of food microbiology, 153(1-2), 183–191.

Rajaei, A., Hadian, M., Mohsenifar, A., Rahmani-Cherati, T., & Tabatabaei, M. (2017). A coating based on clove essential oils encapsulated by chitosan-myristic acid nanogel efficiently enhanced the shelf-life of beef cutlets. Food Packaging and Shelf Life, 14, 137–145.

Rammanee, K., & Hongpattarakere, T. (2011). Effects of tropical citrus essential oils on growth, aflatoxin production, and ultrastructure alterations of Aspergillus flavus and Aspergillus parasiticus. Food and Bioprocess Technology, 4(6), 1050–1059.

Rapp, R. P. (2004). Changing strategies for the management of invasive fungal infections. Pharmacotherapy., 24(2 Part 2), 4S–28S.

Rath, C. C., Devi, S., Dash, S. K., & Mishra, R. K. (2008). Antibacterial potential assessment of Jasmine essential oil against E. coli. Indian Journal of Pharmaceutical Sciences, 70(2), 238.

Rebey, I. B., Wannes, W. A., Kaab, S. B., Bourgou, S., Tounsi, M. S., Ksouri, R., & Fauconnier, M. L. (2019). Bioactive compounds and antioxidant activity of Pimpinella anisum L. accessions at different ripening stages. Scientia horticulturae, 246, 453–461.

Santhanam, J., Abd Ghani, F. N., & Basri, D. F. (2014). Antifungal activity of Jasminum sambac against Malassezia sp. and non-Malassezia sp. isolated from human skin samples. Journal of Mycology, 2014 Article ID-359630. https://doi.org/10.1155/2014/359630.

Sheijooni-Fumani, N., Hassan, J., & Yousefi, S. R. (2011). Determination of aflatoxin B1 in cereals by homogeneous liquid–liquid extraction coupled to high performance liquid chromatography-fluorescence detection. Journal of separation science, 34(11), 1333–1337.

Singh, M. P. (2009). Application of Biolog FF MicroPlate for substrate utilization and metabolite profiling of closely related fungi. Journal of Microbiological Methods, 77(1), 102–108.

Singh, V., Praveen, V., Tripathi, D., Haque, S., Somvanshi, P., Katti, S. B., & Tripathi, C. K. M. (2015). Isolation, characterization and antifungal docking studies of wortmannin isolated from Penicillium radicum. Scientific reports, 5(1), 1–13.

Smeriglio, A., Cornara, L., Denaro, M., Barreca, D., Burlando, B., Xiao, J., & Trombetta, D. (2019). Antioxidant and cytoprotective activities of an ancient Mediterranean citrus (Citrus lumia Risso) albedo extract: microscopic observations and polyphenol characterization. Food chemistry, 279, 347–355.

Tavares, L., & Noreña, C. P. Z. (2020). Encapsulation of ginger essential oil using complex coacervation method: coacervate formation, rheological property, and physicochemical characterization. Food and Bioprocess Technology, 1–16.

Tavares, L., Barros, H. L. B., Vaghetti, J. C. P., & Noreña, C. P. Z. (2019). Microencapsulation of garlic extract by complex coacervation using whey protein isolate/chitosan and gum arabic/chitosan as wall materials: influence of anionic biopolymers on the physicochemical and structural properties of microparticles. Food and Bioprocess Technology, 12(12), 2093–2106.

Tian, J., Huang, B., Luo, X., Zeng, H., Ban, X., He, J., & Wang, Y. (2012). The control of Aspergillus flavus with Cinnamomum jensenianum Hand.-Mazz essential oil and its potential use as a food preservative. Food Chemistry, 130(3), 520–527.

Tsai, M. L., Wu, C. T., Lin, T. F., Lin, W. C., Huang, Y. C., & Yang, C. H. (2013). Chemical composition and biological properties of essential oils of two mint species. Tropical Journal of Pharmaceutical Research, 12(4), 577–582.

Uppalapati, S. R., Kingston, J. J., Qureshi, I. A., Murali, H. S., & Batra, H. V. (2013). In silico, in vitro and in vivo analysis of binding affinity between N and C-domains of Clostridium perfringens alpha toxin. PLoS One., 8(12), 82024.

Usha, T., Goyal, A. K., Lubna, S., Prashanth, H., Mohan, T. M., Pande, V., & Middha, S. K. (2014). Identification of anti-cancer targets of eco-friendly waste Punica granatum peel by dual reverse virtual screening and binding analysis. Asian Pac J Cancer Prev, 15(23), 10345–10350.

Wang, H., Wang, J., Li, L., Hsiang, T., Wang, M., Shang, S., & Yu, Z. (2016). Metabolic activities of five botryticides against Botrytis cinerea examined using the Biolog FF MicroPlate. Scientific Reports., 6(1), 31025.

Wild, C. P., Baan, R. A., Gelderblom, W. C., Miller, J. D., Riley, R. T., & Wu, F. (2012). Improving public health through mycotoxin control (p. 151). J. I. Pitt (Ed.). Lyon, France: International Agency for Research on Cancer.

Xing, F., Wang, L., Liu, X., Selvaraj, J. N., Wang, Y., & Zhao, Y. (2017). Aflatoxin B1 inhibition in Aspergillus flavus by Aspergillus niger through down-regulating expression of major biosynthetic genes and AFB1 degradation by atoxigenic A. flavus. International journal of food microbiology., 256, 1–10.

Yang, C., Zhou, Y., Zheng, Y., Li, C., Sheng, S., Wang, J., & Wu, F. (2016). Enzymatic modification of chitosan by cinnamic acids: antibacterial activity against Ralstonia solanacearum. International journal of biological macromolecules., 87, 577–585.

Yang, W., Wang, L., Ban, Z., Yan, J., Lu, H., Zhang, X., & Li, L. (2019). Efficient microencapsulation of Syringa essential oil; the valuable potential on quality maintenance and storage behavior of peach. Food Hydrocolloids., 95, 177–185.

Yu, J., Chang, P. K., Ehrlich, K. C., Cary, J. W., Bhatnagar, D., & Cleveland, T. E. (2004). Clustered pathway genes in aflatoxin biosynthesis. Applied and Environmental Microbiology., 70(3), 1253–1262.

Zekavati, R., Safi, S., Hashemi, S. J., Rahmani-Cherati, T., Tabatabaei, M., Mohsenifar, A., & Bayat, M. (2013). Highly sensitive FRET-based fluorescence immunoassay for aflatoxin B1 using cadmium telluride quantum dots. Microchimica Acta., 180(13-14), 1217–1223.
Acknowledgements
We are thankful to the Head, CAS in Botany, Banaras Hindu University, Varanasi for Instrumental facilities. We are also thankful to Indian Institute of Technology, Banaras Hindu University, and Varanasi for FTIR and XRD analysis.
Funding
This study is funded by the Science and Engineering Research Board (Scheme No. EEQ/2018/000124) New Delhi, India, and CSIR as Junior Research Fellowship (Ref: 09/013(0706)/2017-EMR-I).
Additional information
Publisher's Note
Springer Nature remains neutral with regard to jurisdictional claims in published maps and institutional affiliations.
About this article
Cite this article
Kujur, A., Kumar, A., Singh, P.P. et al. Fabrication, Characterization, and Antifungal Assessment of Jasmine Essential Oil-Loaded Chitosan Nanomatrix Against Aspergillus flavus in Food System. Food Bioprocess Technol 14, 554–571 (2021). https://doi.org/10.1007/s11947-021-02592-4
Received:

Accepted:

Published:

Issue Date:
Keywords
Antifungal activity of essential oils

Chitosan nanocapsules

Essential oil nanoencapsulation

Biological activity of chitosan nanocapsules

Chitosan nanocapsules safety profile