Abstract
The beneficial effects of trans-resveratrol on health are widely accepted. However, when exposed to heat and UV light, the degradation of trans-resveratrol to less active form cis-resveratrol limits its use in industrial applications. Due to this reason, it is crucial to preserve the stability of trans-resveratrol by using carrier systems. This study aimed to encapsulate the trans-resveratrol in core/shell nanoparticles composed of eggshell membrane proteins and silk fibroin, respectively, using a coaxial electrospraying technique to preserve its stability. The size of the nanoparticles ranged from 8.2 to 254 nm. Keeping the encapsulation yield at the maximum level (96.9%), electroencapsulation process parameters which minimize the average particle diameter (23.8 nm) were found to be A (silk fibroin concentration) = 30.7 mg/ml, B (ratio of flow rates) = 0.72, C (applied voltage) = 18.8 kV, and D (distance) = 12.2 cm. Encapsulation efficiency varied between 40.05 and 96.41%. Detection of antioxidant capacity of released trans-resveratrol suggested that nanoparticles could be a suitable delivery system for sustained release of trans-resveratrol with preserved thermal and UV photostability. Central composite design (CCD) and the response surface methodology (RSM) were successfully used to optimize the electroencapsulation process parameters for the preparation of trans-resveratrol loaded core/shell nanoparticles. It was found that these parameters seemed to be varied depending on the response required. Therefore, an optimum process should be investigated to obtain desired responses such as high encapsulation yield, high encapsulation efficiency, and small average particle size while preserving the thermal and UV stabilities at reasonable levels.
Access options
Buy single article
Instant access to the full article PDF.
US$ 39.95
Tax calculation will be finalised during checkout.
Subscribe to journal
Immediate online access to all issues from 2019. Subscription will auto renew annually.
US$ 79
Tax calculation will be finalised during checkout.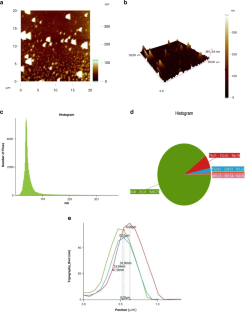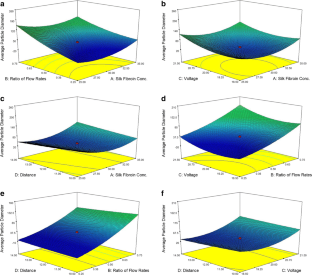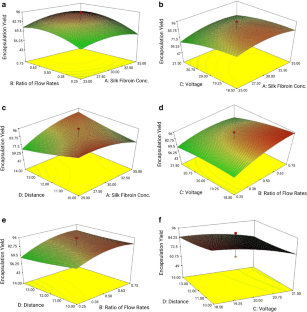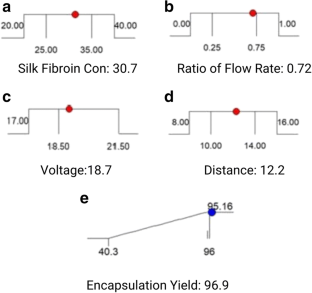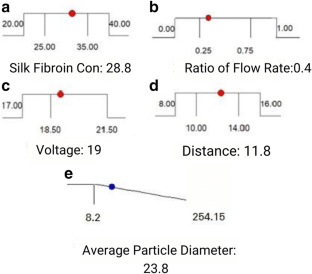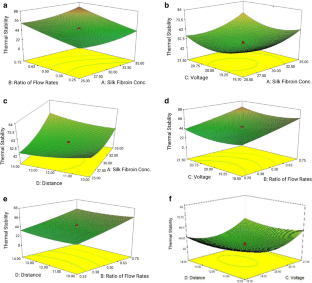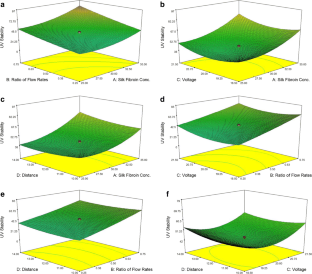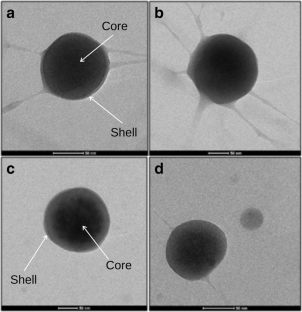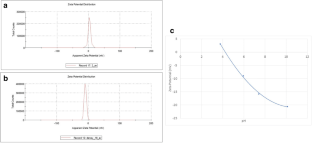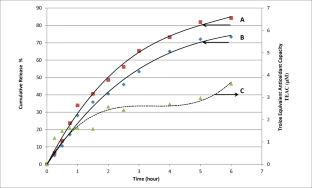 References
Ajisawa, A. (1997). Dissolution aqueous of silk fibroin with calcium chloride/ethanol solution. The Journal of Sericultural Science of Japan, 67(2), 91–94.

Bakhshi, P. K., Nangrejo, M. R., Stride, E., & Edirisinghe, M. (2013). Application of electrohydrodynamic technology for folic acid encapsulation. Food and Bioprocess Technology, 6(7), 1837–1846.

Baspinar, Y., Üstündas, M., Bayraktar, O., & Sezgin, C. (2018). Curcumin and piperine loaded zein-chitosan nanoparticles: development and in-vitro characterisation. Saudi Pharmaceutical Journal, 26(3), 323–334.

Bayçin, D., Altiok, E., Ülkü, S., & Bayraktar, O. (2007). Adsorption of olive leaf (Olea europaea L.) antioxidants on silk fibroin. Journal of Agricultural and Food Chemistry, 55(4), 1227–1236.

Bayraktar, O., Erdogan, I., Köse, M. D., & Kalmaz, G. (2017). Nanocarriers for Plant-Derived Natural Compounds. In Nanostructures for Antimicrobial Therapy: Nanostructures in Therapeutic Medicine Series, (pp. 395–412). Amsterdam, Netherlands: Elsevier.

Bitencourt, J., Mendes, E., Riekes, M. K., Matoso De Oliveira, V., Domingos Michel, M., Stulzer, H. K., et al. (2012). PHBV/PCL microparticles for controlled release of resveratrol: physicochemical characterization, antioxidant potential, and effect on hemolysis of human erythrocytes. The Scientific World Journal, 2012, 13.

Celli, G. B., Ghanem, A., & Brooks, M. S. L. (2015). Bioactive encapsulated powders for functional foods—a review of methods and current limitations. Food and Bioprocess Technology, 8(9), 1825–1837.

de Vries, K., Strydom, M., & Steenkamp, V. (2018). Bioavailability of resveratrol: possibilities for enhancement. Journal of Herbal Medicine, 11, 71–77.

Delvallée, A., Feltin, N., Ducourtieux, S., Trabelsi, M., & Hochepied, J.-. F. (2013). Comparison of nanoparticle diameter measurements by Atomic Force Microscopy and Scanning Electron Microscopy, 06007, 06007. 16 the International Congress of Metrology. https://cfmetrologie.edpsciences.org/articles/metrology/pdf/2013/01/metrology_metr2013_06007.pdf. Accessed 31 Dec 2020.

Eaton, P., Quaresma, P., Soares, C., Neves, C., de Almeida, M. P., Pereira, E., & West, P. (2017). A direct comparison of experimental methods to measure dimensions of synthetic nanoparticles. Ultramicroscopy, 182, 179–190.

Fernández-Mar, M. I., Mateos, R., García-Parrilla, M. C., Puertas, B., & Cantos-Villar, E. (2012). Bioactive compounds in wine: Resveratrol, hydroxytyrosol and melatonin: a review. Food Chemistry, 130(4), 797–813.

Ferreira, S. L. C., Bruns, R. E., da Silva, E. G. P., dos Santos, W. N. L., Quintella, C. M., David, J. M., de Andrade, J. B., Breitkreitz, M. C., Jardim, I. C. S. F., & Neto, B. B. (2007). Statistical designs and response surface techniques for the optimization of chromatographic systems. Journal of Chromatography A, 1158(1–2), 2–14.

Fu, N., You, Y. J., Quek, S. Y., Wu, W. D., & Chen, X. D. (2020). Interplaying effects of wall and core materials on the property and functionality of microparticles for co-encapsulation of vitamin E with coenzyme Q10. Food and Bioprocess Technology, 13(4), 705–721.

He, C., Hu, Y., Yin, L., Tang, C., & Yin, C. (2010). Effects of particle size and surface charge on cellular uptake and biodistribution of polymeric nanoparticles. Biomaterials, 31(13), 3657–3666.

Honary, S., & Zahir, F. (2013). Effect of zeta potential on the properties of nano-drug delivery systems - a review (part 2). Tropical Journal of Pharmaceutical Research, 12(2), 255–264.

Huang, X., Dai, Y., Cai, J., Zhong, N., Xiao, H., McClements, D. J., & Hu, K. (2017). Resveratrol encapsulation in core-shell biopolymer nanoparticles: impact on antioxidant and anticancer activities. Food Hydrocolloids, 64, 157–165.

Huang, X., Liu, Y., Zou, Y., Liang, X., Peng, Y., McClements, D. J., & Hu, K. (2019). Encapsulation of resveratrol in zein/pectin core-shell nanoparticles: stability, bioaccessibility, and antioxidant capacity after simulated gastrointestinal digestion. Food Hydrocolloids, 93, 261–269.

Jayan, H., Maria Leena, M., Sivakama Sundari, S. K., Moses, J. A., & Anandharamakrishnan, C. (2019). Improvement of bioavailability for resveratrol through encapsulation in zein using electrospraying technique. Journal of Functional Foods, 57, 417–424.

Jeong, H., Samdani, K. J., Yoo, D. H., Lee, D. W., Kim, N. H., Yoo, I. S., & Lee, J. H. (2016). Resveratrol cross-linked chitosan loaded with phospholipid for controlled release and antioxidant activity. International Journal of Biological Macromolecules, 93(Pt A), 757–766.

Köse, M. D., & Bayraktar, O. (2016). Encapsulation of lycopene using electrospraying method. Biointerface Research in Applied Chemistry, 6(1), 1019–1025.

Köse, M. D., Baspinar, Y., & Bayraktar, O. (2019). Electroencapsulation ( electrospraying & electrospinning) of active compounds for food applications. Current Pharmaceutical Design, 25, 1–8.

Kundu, J., Chung, Y. I., Kim, Y. H., Tae, G., & Kundu, S. C. (2010). Silk fibroin nanoparticles for cellular uptake and control release. International Journal of Pharmaceutics, 388(1–2), 242–250.

Langcake, P., & Pryce, R. J. (1976). The production of resveratrol by Vitis vinifera and other members of the Vitaceae as a response to infection or injury. Physiological Plant Pathology, 9(1), 77–86.

Lee, M.-C., & Huang, Y.-C. (2019). Soluble eggshell membrane protein-loaded chitosan/fucoidan nanoparticles for treatment of defective intestinal epithelial cells. International Journal of Biological Macromolecules, 131, 949–958.

Lee, K. G., Kweon, H. Y., Yeo, J. H., Woo, S. O., Han, S. M., & Kim, J. H. (2011). Characterization of tyrosine-rich Antheraea pernyi silk fibroin hydrolysate. International Journal of Biological Macromolecules, 48(1), 223–226.

Mainet, L. C. H., Cabrera, L. P., Rodriguez, E., Cruz, A. F., Santana, G., Menchaca, J. L., & Pérez-Tijerina, E. (2012). TiN nanoparticles: small size-selected fabrication and their quantum size effect. Nanoscale Research Letters, 7(1), 1–22.

Makris, D. P. (2018). Green extraction processes for the efficient recovery of bioactive polyphenols from wine industry solid wastes – Recent progress. Current Opinion in Green and Sustainable Chemistry, 13, 50–55.

Marelli, B., Brenckle, M. A., Kaplan, D. L., & Omenetto, F. G. (2016). Silk fibroin as edible coating for perishable food preservation. Scientific Reports, 6(May), 1–11.

Montalbán, M., Coburn, J., Lozano-Pérez, A., Cenis, J., Víllora, G., & Kaplan, D. (2018). Production of curcumin-loaded silk fibroin nanoparticles for cancer therapy. Nanomaterials, 8(2), 126.

Mottaghitalab, F., Farokhi, M., Shokrgozar, M. A., Atyabi, F., & Hosseinkhani, H. (2015). Silk fibroin nanoparticle as a novel drug delivery system. Journal of Controlled Release, 206, 161–176.

Myers, H. R., Montgomery, C. D., & Anderson-Cook, C. M. (2016). Response Surface Methodology: Process and Product Optimization Using Designed Experiments (4th ed.). Hoboken, New Jersey: John Wiley & Sons, Inc.

Niesen, D. B. (2017). Isolation, synthesis, and metabolism of polyphenols: Stilbenoids, gallotannins and ellagitannins.

Park, S., Choi, K. S., Lee, D., Kim, D., Lim, K. T., Lee, K. H., Seonwoo, H., & Kim, J. (2016). Eggshell membrane: Review and impact on engineering. Biosystems Engineering, 151, 446–463.

Peng, H., Xiong, H., Li, J., Xie, M., Liu, Y., Bai, C., & Chen, L. (2010). Vanillin cross-linked chitosan microspheres for controlled release of resveratrol. Food Chemistry, 121(1), 23–28.

Rajkhowa, R., Gil, E. S., Kluge, J., Numata, K., Wang, L., Wang, X., & Kaplan, D. L. (2010). Reinforcing silk scaffolds with silk particles. Macromolecular Bioscience, 10(6), 599–611.

Rajurkar, N., Hande, S., & e. (2011). Estimation of phytochemical content and antioxidant activity of some selected traditional Indian medicinal plants. Indian Journal of Pharmaceutical Sciences, 73(2), 146–151.

Re, R., Pellegrini, N., Proteggente, A., Pannala, A., Yang, M., & Rice-Evans, C. (1999). Antioxidant activity applying an improved ABTS radical cation decolorization assay. Free Radical Biology and Medicine, 26(9–10), 1231–1237.

Renaud, S., & de Lorgeril, M. (1992). Wine, alcohol, platelets, and the French paradox for coronary heart disease. The Lancet, 339(8808), 1523–1526.

Ribeiro, A. M., Estevinho, B. N., & Rocha, F. (2019). Spray drying encapsulation of elderberry extract and evaluating the release and stability of phenolic compounds in encapsulated powders. Food and Bioprocess Technology, 12(8), 1381–1394.

Ruff, K. J., DeVore, D. P., Leu, M. D., & Robinson, M. A. (2009). Eggshell membrane: a possible new natural therapeutic for joint and connective tissue disorders. Results from two open-label human clinical studies. Clinical Interventions in Aging, 4, 235–240.

Sah, M. K., & Rath, S. N. (2016). Soluble eggshell membrane: a natural protein to improve the properties of biomaterials used for tissue engineering applications. Materials Science and Engineering C, 67, 807–821.

Seethu, B. G., Pushpadass, H. A., Emerald, F. M. E., Nath, B. S., Naik, N. L., & Subramanian, K. S. (2020). Electrohydrodynamic encapsulation of resveratrol using food-grade nanofibres: process optimization, characterization and fortification. Food and Bioprocess Technology, 13(2), 341–354.

Shi, P., & Goh, J. C. H. (2011). Release and cellular acceptance of multiple drugs loaded silk fibroin particles. International Journal of Pharmaceutics, 420(2), 282–289.

Siemann, E. H., & Creasy, L. (1992). Concentration of the phytoalexin resveratrol in wine. American Journal of Enology and Viticulture, 43, 49–52.

Simmons, J. E., & Gennings, C. (1996). Experimental designs, statistics and interpretation. Food and Chemical Toxicology, 34(11–12), 1169–1171.

Sotheeswaran, S., & Pasupathy, V. (1993). Distribution of resveratrol oligomers in plants. Phytochemistry, 32(5), 1083–1092.

Trela, B. C., & Waterhouse, A. L. (1996). Resveratrol: isomeric molar absorptivities and stability. Journal of Agricultural and Food Chemistry, 44(5), 1253–1257.

Walle, T. (2011). Bioavailability of resveratrol. Annals of the New York Academy of Sciences, 1215(1), 9–15.

Wu, M.-H., Zhu, L., Zhou, Z.-Z., & Zhang, Y.-Q. (2013). Coimmobilization of naringinases on silk fibroin nanoparticles and its application in food packaging. Journal of Nanoparticles, 2013, 1–5.

Yi, F., Yu, J., Guo, Z. X., Zhang, L. X., & Li, Q. (2003). Natural bioactive material: a preparation of soluble eggshell membrane protein. Macromolecular Bioscience, 3(5), 234–237.

Yi, F., Guo, Z. X., Zhang, L. X., Yu, J., & Li, Q. (2004). Soluble eggshell membrane protein: preparation, characterization and biocompatibility. Biomaterials, 25(19), 4591–4599.

Yi, F., Lu, J. W., Guo, Z. X., & Yu, J. (2006). Mechanical properties and biocompatibility of soluble eggshell membrane protein/poly(vinyl alcohol) blend films. Journal of Biomaterials Science, Polymer Edition, 17(9), 1015–1024.

Yukseloglu, S. M., Sokmen, N., & Canoglu, S. (2015). Biomaterial applications of silk fibroin electrospun nanofibres. Microelectronic Engineering, 146, 43–47.

Zhang, J., Mi, Q., & Shen, M. (2012). Resveratrol binding to collagen and its biological implication. Food Chemistry, 131(3), 879–884.
Funding
This research was supported by the Scientific and Technological Research Council of Turkey (TUBİTAK) under grant number 116M566.
Ethics declarations
Conflict of Interest
The authors declare that they have no conflict of interest.
Additional information
Publisher's Note
Springer Nature remains neutral with regard to jurisdictional claims in published maps and institutional affiliations.
Supplementary Information
About this article
Cite this article
Bayraktar, O., Yahsi, Y. & Köse, M.D. Electroencapsulation of Trans-resveratrol in Nanoparticles Composed of Silk Fibroin and Soluble Eggshell Membrane Protein. Food Bioprocess Technol 14, 334–351 (2021). https://doi.org/10.1007/s11947-020-02576-w
Received:

Accepted:

Published:

Issue Date:
Keywords
Resveratrol

Eggshell membrane

Silk fibroin

Electroencapsulation

Nanoparticle