Structured Abstract
Purpose of Review
The goal of this paper is to describe the pathophysiology of adult nocturnal enuresis and develop a generalized approach for evaluation and treatment.
Recent Findings
Although nocturnal enuresis (NE) impacts a significant proportion of the adult population, research on this topic remains lacking. In the few existing studies, the management strategy is extrapolated from research on pediatric nocturnal enuresis. Furthermore, treatment approaches highlight the importance of identifying risk factors and contributing pathologies. The modern urologist should understand the complexity of this problem and the variety of techniques to evaluate and treat the adult patient with NE.
Summary
Adult nocturnal enuresis is multifactorial and may have multiple underlying pathologies. A comprehensive workup requires an understanding of the patient's history and symptomatology and the pathophysiologic processes that can occur. Treatment should first target identifiable etiologies, although a generalized algorithm can then be utilized with behavioral and lifestyle modifications, followed by medical therapy. Future studies will provide a better framework for treating this problem.
This is a preview of subscription content, log in to check access.
Access options
Buy single article
Instant access to the full article PDF.
US$ 39.95
Price includes VAT for USA
Subscribe to journal
Immediate online access to all issues from 2019. Subscription will auto renew annually.
US$ 99
This is the net price. Taxes to be calculated in checkout.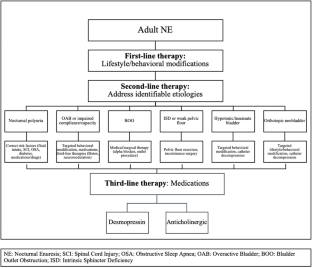 References
Papers of particular interest, published recently, have been highlighted as: • Of importance •• Of major importance
1.

Sakamoto K, Blaivas JG. Adult onset nocturnal enuresis. J Urol. 2001;165(6 Pt 1):1914–7. https://doi.org/10.1097/00005392-200106000-00017.

2.

Yeung CK, Sihoe JD, Sit FK, Bower W, Sreedhar B, Lau J. Characteristics of primary nocturnal enuresis in adults: an epidemiological study. BJU Int. 2004;93(3):341–5. https://doi.org/10.1111/j.1464-410x.2003.04612.x.

3.

• Lee D, Dillon BE, Lemack GE. Adult Onset Nocturnal Enuresis: Identifying Causes, Cofactors and Impact on Quality of Life. Low Urin Tract Symptoms. 2018;10(3):292–6. https://doi.org/10.1111/luts.1218345 patients were evaluated to determine risk factors and adverse effects of adult NE.

4.

Pahwa AK, Andy UU, Newman DK, Stambakio H, Schmitz KH, Arya LA. Noctural enuresis as a risk factor for falls in older community dwelling women with urinary incontinence. J Urol. 2016;195(5):1512–6. https://doi.org/10.1016/j.juro.2015.11.046.

5.

Hillary CJ, Chapple CR. The evaluation and treatment of adult nocturnal enuresis. Curr Bladd Dysfunct Rep. 2014;9:84–9.

6.

Yeung CK, Sihoe JD, Sit FK, Diao M, Yew SY. Urodynamic findings in adults with primary nocturnal enuresis. J Urol. 2004;171(6 Pt 2):2595–8. https://doi.org/10.1097/01.ju.0000112790.72612.0a.

7.

Weiss JP, Blaivas JG. Nocturnal polyuria versus overactive bladder in nocturia. Urology. 2002;60(5 Suppl 1):28–32; discussion. https://doi.org/10.1016/s0090-4295(02)01789-2.

8.

Lukacz ES, Sampselle C, Gray M, Macdiarmid S, Rosenberg M, Ellsworth P, et al. A healthy bladder: a consensus statement. Int J Clin Pract. 2011;65(10):1026–36. https://doi.org/10.1111/j.1742-1241.2011.02763.x.

9.

•• Akhavizadegan H, Locke JA, Stothers L, Kavanagh A. A comprehensive review of adult enuresis. Can Urol Assoc J. 2018:282–7. https://doi.org/10.5489/cuaj.5485This is the most comprehensive review to date on adult nocturnal enuresis.

10.

Lose G, Mattiasson A, Walter S, Lalos O, van Kerrebroeck P, Abrams P, et al. Clinical experiences with desmopressin for long-term treatment of nocturia. J Urol. 2004;172(3):1021–5. https://doi.org/10.1097/01.ju.0000136203.76320.f6.

11.

Zahariou A, Karagiannis G, Papaioannou P, Stathi K, Michail X. The use of desmopressin in the management of nocturnal enuresis in patients with spinal cord injury. Eura Medicophys. 2007;43(3):333–8.

12.

Chung E. Desmopressin and nocturnal voiding dysfunction: clinical evidence and safety profile in the treatment of nocturia. Expert Opin Pharmacother. 2018;19(3):291–8. https://doi.org/10.1080/14656566.2018.1429406.

13.

Koo P, McCool FD, Hale L, Stone K, Eaton CB. Association of obstructive sleep apnea risk factors with nocturnal enuresis in postmenopausal women. Menopause. 2016;23(2):175–82. https://doi.org/10.1097/GME.0000000000000517.

14.

Ninivaggio C, Riese H, Dunivan GC, Jeppson PC, Komesu YM, Murata A, et al. One and the same? Nocturnal enuresis and overactive bladder in the female veteran population: evaluation of a large National Database. Female Pelvic Med Reconstr Surg. 2018;24(4):307–11. https://doi.org/10.1097/SPV.0000000000000439.

15.

Madhu CK, Hashim H, Enki D, Drake MJ. Risk factors and functional abnormalities associated with adult onset secondary nocturnal enuresis in women. Neurourol Urodyn. 2017;36(1):188–91. https://doi.org/10.1002/nau.22912.

16.

Ekinci O, Celik T, Unal S, Oktay G, Toros F, Ozer C. Nocturnal enuresis in sickle cell disease and thalassemia major: associated factors in a clinical sample. Int J Hematol. 2013;98(4):430–6. https://doi.org/10.1007/s12185-013-1422-9.

17.

Bower WF, Sit FK, Yeung CK. Nocturnal enuresis in adolescents and adults is associated with childhood elimination symptoms. J Urol. 2006;176(4 Pt 2):1771–5. https://doi.org/10.1016/j.juro.2006.04.087.

18.

Campbell P, Li W, Money-Taylor J, Davies J, Gray T, Radley S. Nocturnal enuresis: prevalence and associated LUTS in adult women attending a urogynaecology clinic. Int Urogynecol J. 2017;28(2):315–20. https://doi.org/10.1007/s00192-016-3099-0.

19.

El-Bahnasawy MS, Shaaban H, Gomha MA, Nabeeh A. Clinical and urodynamic efficacy of oxybutynin and verapamil in the treatment of nocturnal enuresis after formation of orthotopic ileal neobladders. A prospective, randomized, crossover study. Scand J Urol Nephrol. 2008;42(4):344–51. https://doi.org/10.1080/00365590701832726.

20.

• Weiss JP, Everaert K. Management of nocturia and nocturnal polyuria. Urology. 2019;133S:24–33. https://doi.org/10.1016/j.urology.2019.09.022A comprehensive review of the evaluation and managament of adult nocturia.

21.

Ouslander JG, Ai-Samarrai N, Schnelle JF. Prompted voiding for nighttime incontinence in nursing homes: is it effective? J Am Geriatr Soc. 2001;49(6):706–9. https://doi.org/10.1046/j.1532-5415.2001.49145.x.

22.

Hofmeester I, Kollen BJ, Steffens MG, van Capelle JW, Mulder Z, Feitz WF, et al. Predictors for a positive outcome of adapted clinical dry bed training in adolescents and adults with enuresis. Neurourol Urodyn. 2016;35(8):1006–10. https://doi.org/10.1002/nau.22869.

23.

Sinha R, Raut S. Management of nocturnal enuresis - myths and facts. World J Nephrol. 2016;5(4):328–38. https://doi.org/10.5527/wjn.v5.i4.328.

24.

Tani M, Hirayama A, Torimoto K, Matsushita C, Yamada A, Fujimoto K. Guidance on water intake effectively improves urinary frequency in patients with nocturia. Int J Urol. 2014;21(6):595–600. https://doi.org/10.1111/iju.12387.

25.

Hashim H, Al MR. Management of fluid intake in patients with overactive bladder. Curr Urol Rep. 2009;10(6):428–33. https://doi.org/10.1007/s11934-009-0068-x.

26.

Yucel S, Kutlu O, Kukul E, Baykara M. Impact of urodynamics in treatment of primary nocturnal enuresis persisting into adulthood. Urology. 2004;64(5):1020–5; discussion 5. https://doi.org/10.1016/j.urology.2004.06.067.

27.

Vandersteen DR, Husmann DA. Treatment of primary nocturnal enuresis persisting into adulthood. J Urol. 1999;161(1):90–2.

28.

Burgu B, Gokce MI, Gucuk A, Soygur T. Prospective evaluation of factors affecting the response and relapse rates to desmopressin therapy in male monosymptomatic enuretic adults. Urology. 2009;74(4):915–9. https://doi.org/10.1016/j.urology.2009.05.033.

29.

Hajdinjak T, Leskovar J. Comparison of nocturia response to desmopressin treatment between patients with normal and high nocturnal bladder capacity index. ScientificWorldJournal. 2013;2013:878564–7. https://doi.org/10.1155/2013/878564.

30.

Han J, Jung JH, Bakker CJ, Ebell MH, Dahm P. Desmopressin for treating nocturia in men. BJU Int. 2018;122(4):549–59. https://doi.org/10.1111/bju.14183.

31.

•• Ebell MH, Radke T, Gardner J. A systematic review of the efficacy and safety of desmopressin for nocturia in adults. J Urol. 2014;192(3):829–35. https://doi.org/10.1016/j.juro.2014.03.095This article supports the utility of desmopressin in adults and offers a generalized approach for the clinician.

32.

Goldberg H, Baniel J, Mano R, Gillon G, Kedar D, Yossepowitch O. Low-dose oral desmopressin for treatment of nocturia and nocturnal enuresis in patients after radical cystectomy and orthotopic urinary diversion. BJU Int. 2014;114(5):727–32. https://doi.org/10.1111/bju.12598.

33.

Neveus T. Nocturnal enuresis-theoretic background and practical guidelines. Pediatr Nephrol. 2011;26(8):1207–14. https://doi.org/10.1007/s00467-011-1762-8.

34.

Chancellor MB, Rivas DA, Staas WE Jr. DDAVP in the urological management of the difficult neurogenic bladder in spinal cord injury: preliminary report. J Am Paraplegia Soc. 1994;17(4):165–7. https://doi.org/10.1080/01952307.1994.11735930.

35.

Hunsballe JM, Rittig S, Pedersen EB, Olesen OV, Djurhuus JC. Single dose imipramine reduces nocturnal urine output in patients with nocturnal enuresis and nocturnal polyuria. J Urol. 1997;158(3 Pt 1):830–6. https://doi.org/10.1097/00005392-199709000-00038.
Ethics declarations
Conflict of Interest
The authors declare that they have no conflict of interest.
Informed Consent and Human and Animal Rights
This article does not contain any studies with human or animal subjects performed by any of the authors.
Additional information
Publisher's Note
Springer Nature remains neutral with regard to jurisdictional claims in published maps and institutional affiliations.
This article is part of the Topical Collection on Female Urology
About this article
Cite this article
Katz, E.G., MacLachlan, L.S. Nocturnal Enuresis in the Adult. Curr Urol Rep 21, 31 (2020). https://doi.org/10.1007/s11934-020-00983-2
Keywords
Nocturnal enuresis

Nocturnal polyuria

Nocturia

Desmopressin

Urinary incontinence