Abstract
Purpose of Review
Cancer and heart disease are the leading causes of mortality in the USA. Advances in cancer therapies, namely, the development and use of chemotherapeutic agents alone or in combination, are becoming increasingly prevalent.
Recent Findings
Many chemotherapeutic agents have been associated with adverse cardiovascular manifestations. The mechanisms of these sequelae remain incompletely understood. In particular, microtubule inhibitor (MTI) agents have been related to the development of heart failure, myocardial ischemia, and conduction abnormalities. At present, there are no guidelines for patients undergoing MTI therapy as it pertains to both preventative and mitigatory strategies for cardiovascular complications. We conducted a literature review focusing on content related to the use of MTIs and their effect on the cardiovascular system.
Summary
MTIs have been associated with various forms of cardiotoxicity, and fatal cardiotoxicities are rare. The most well-described cardiotoxicities are brady- and tachyarrhythmias. The co-administration of anthracycline-based agents with MTIs can increase the risk of cardiotoxicity.
Access options
Buy single article
Instant access to the full article PDF.
US$ 39.95
Tax calculation will be finalised during checkout.
Subscribe to journal
Immediate online access to all issues from 2019. Subscription will auto renew annually.
US$ 79
Tax calculation will be finalised during checkout.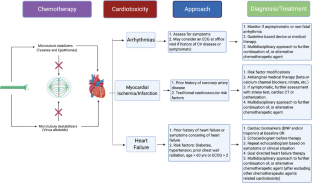 Abbreviations
MTI:

Microtubule inhibitors

LVEF:

Left ventricular ejection fraction

NCI:

National Cancer Institute

CHF:

Congestive heart failure

MI:

Myocardial infarction

CAD:

Coronary artery disease

CTIA:

Chemotherapy treatment-induced arrhythmia

BNP:

Brain natriuretic peptide
References
Papers of particular interest, published recently, have been highlighted as: • Of importance •• Of major importance
1.

Heron, M., Deaths: leading causes for 2017. 2019: National Vital Statistics Reports.

2.

Writing Committee M, et al. 2013 ACCF/AHA guideline for the management of heart failure: a report of the American College of Cardiology Foundation/American Heart Association Task Force on practice guidelines. Circulation. 2013;128(16):e240–327.

3.

Armenian SH, Xu L, Ky B, Sun C, Farol LT, Pal SK, et al. Cardiovascular disease among survivors of adult-onset cancer: a community-based retrospective cohort study. J Clin Oncol. 2016;34(10):1122–30.

4.

Chan KS, Koh CG, Li HY. Mitosis-targeted anti-cancer therapies: where they stand. Cell Death Dis. 2012;3:e411.

5.

Perez EA. Microtubule inhibitors: differentiating tubulin-inhibiting agents based on mechanisms of action, clinical activity, and resistance. Mol Cancer Ther. 2009;8(8):2086–95.

6.

Curigliano G, Mayer EL, Burstein HJ, Winer EP, Goldhirsch A. Cardiac toxicity from systemic cancer therapy: a comprehensive review. Prog Cardiovasc Dis. 2010;53(2):94–104.

7.

•• Osman, M. and M. Elkady, A prospective study to evaluate the effect of paclitaxel on cardiac ejection fraction. Breast Care (Basel), 2017. 12(4): p. 255–259. This study followed recipients of paclitaxel and noted a median ejection fraction (EF) decrease by approximately 12%. During 30-month follow-up post-treatment, 20% of patients developed grade 1 or 2 cardiotoxicity.

8.

Common Terminology Criteria for Adverse Events e.S.D.o.H.a.H. Services, Editor. 2017.

9.

Loong HH, Yeo W. Microtubule-targeting agents in oncology and therapeutic potential in hepatocellular carcinoma. Onco Targets Ther. 2014;7:575–85.

10.

Knight BK, Rose AG. Pulmonary veno-occlusive disease after chemotherapy. Thorax. 1985;40(11):874–5.

11.

Swift GL, Gibbs A, Campbell IA, Wagenvoort CA, Tuthill D. Pulmonary veno-occlusive disease and Hodgkin's lymphoma. Eur Respir J. 1993;6(4):596–8.

12.

Lejonc JL, et al. Myocardial infarction following vinblastine treatment. Lancet. 1980;2(8196):692.

13.

Yancey RS, Talpaz M. Vindesine-associated angina and ECG changes. Cancer Treat Rep. 1982;66(3):587–9.

14.

House KW, Simon SR, Pugh RP. Chemotherapy-induced myocardial infarction in a young man with Hodgkin's disease. Clin Cardiol. 1992;15(2):122–5.

15.

Dermitzakis EV, Kimiskidis VK, Lazaridis G, Alexopoulou Z, Timotheadou E, Papanikolaou A, et al. The impact of paclitaxel and carboplatin chemotherapy on the autonomous nervous system of patients with ovarian cancer. BMC Neurol. 2016;16(1):190.

16.

McGuire WP, et al. Taxol: a unique antineoplastic agent with significant activity in advanced ovarian epithelial neoplasms. Ann Intern Med. 1989;111(4):273–9.

17.

Sledge GW, Neuberg D, Bernardo P, Ingle JN, Martino S, Rowinsky EK, et al. Phase III trial of doxorubicin, paclitaxel, and the combination of doxorubicin and paclitaxel as front-line chemotherapy for metastatic breast cancer: an intergroup trial (E1193). J Clin Oncol. 2003;21(4):588–92.

18.

Gehl J, Boesgaard M, Paaske T, Vittrup Jensen B, Dombernowsky P. Combined doxorubicin and paclitaxel in advanced breast cancer: effective and cardiotoxic. Ann Oncol. 1996;7(7):687–93.

19.

Minotti G, et al. Paclitaxel and docetaxel enhance the metabolism of doxorubicin to toxic species in human myocardium. Clin Cancer Res. 2001;7(6):1511–5.

20.

Misset JL, Dieras V, Gruia G, Bourgeois H, Cvitkovic E, Kalla S, et al. Dose-finding study of docetaxel and doxorubicin in first-line treatment of patients with metastatic breast cancer. Ann Oncol. 1999;10(5):553–60.

21.

Salvatorelli E, Menna P, Cascegna S, Liberi G, Calafiore AM, Gianni L, et al. Paclitaxel and docetaxel stimulation of doxorubicinol formation in the human heart: implications for cardiotoxicity of doxorubicin-taxane chemotherapies. J Pharmacol Exp Ther. 2006;318(1):424–33.

22.

Giordano SH, Booser DJ, Murray JL, Ibrahim NK, Rahman ZU, Valero V, et al. A detailed evaluation of cardiac toxicity: a phase II study of doxorubicin and one- or three-hour-infusion paclitaxel in patients with metastatic breast cancer. Clin Cancer Res. 2002;8(11):3360–8.

23.

Pentassuglia L, Timolati F, Seifriz F, Abudukadier K, Suter TM, Zuppinger C. Inhibition of ErbB2/neuregulin signaling augments paclitaxel-induced cardiotoxicity in adult ventricular myocytes. Exp Cell Res. 2007;313(8):1588–601.

24.

Brugarolas A, Lacave AJ, Ribas A, Miralles MTG. Vincristine (NSC 67574) in non-small cell bronchogenic carcinoma. Results of a phase II clinical study. Eur J Cancer. 1978;14(5):501–5.

25.

Gollerkeri A, Harrold L, Rose M, Jain D, Burtness BA. Use of paclitaxel in patients with pre-existing cardiomyopathy: a review of our experience. Int J Cancer. 2001;93(1):139–41.

18.••

Rosa, G.M., et al., Update on cardiotoxicity of anti-cancer treatments. Eur J Clin Invest, 2016. 46(3): p. 264-84. A synopsis of chemotherapuetic agents and cardiotoxic manifestations. Recommendations pertaining to potential diagnostic tools and their relevance to early recognition of cardiac pathologies as they relate to cardiac toxicity.

19.••

Chang, H.-M., et al., Cardiovascular complications of cancer therapy: best practices in diagnosis, prevention, and management: part 1. Journal of the American College of Cardiology, 2017. 70(20): p. 2536–2551. This article highlights cardiac manifestations of chemotherapuetic agents and the importance of prevention and treatment of cardiac disease in patients undergoing oncologic therapies. A significant focus of this paper pertains to additonal cardiotoxicities in survivors of prior chemotherapy and the need fo rmultidisciplinary care between cardiologists and oncologists.

28.

Rowinsky EK, McGuire WP, Guarnieri T, Fisherman JS, Christian MC, Donehower RC. Cardiac disturbances during the administration of taxol. J Clin Oncol. 1991;9(9):1704–12.

29.

Arbuck SG, et al. A reassessment of cardiac toxicity associated with Taxol. J Natl Cancer Inst Monogr. 1993;15:117–30.

30.

Mikaelian I, Buness A, de Vera-Mudry MC, Kanwal C, Coluccio D, Rasmussen E, et al. Primary endothelial damage is the mechanism of cardiotoxicity of tubulin-binding drugs. Toxicol Sci. 2010;117(1):144–51.

31.

Marmagkiolis K, Finch W, Tsitlakidou D, Josephs T, Iliescu C, Best JF, et al. Radiation toxicity to the cardiovascular system. Curr Oncol Rep. 2016;18(3):15.

32.

Guglin M, Aljayeh M, Saiyad S, Ali R, Curtis AB. Introducing a new entity: chemotherapy-induced arrhythmia. Europace. 2009;11(12):1579–86.

33.

Ostenfeld EB, Erichsen R, Pedersen L, Farkas DK, Weiss NS, Sørensen HT. Atrial fibrillation as a marker of occult cancer. PLoS One. 2014;9(8):e102861.

34.

Brouty-Boye D, Kolonias D, Lampidis TJ. Antiproliferative activity of taxol on human tumor and normal breast cells vs. effects on cardiac cells. Int J Cancer. 1995;60(4):571–5.

35.

Rowinsky EK. The development and clinical utility of the taxane class of antimicrotubule chemotherapy agents. Annu Rev Med. 1997;48:353–74.

36.

Kamineni P, Prakasa K, Hasan SP, Ravi A, Dawkins F. Cardiotoxicities of paclitaxel in African Americans. J Natl Med Assoc. 2004;96(7):995.

37.

Ekholm EM, et al. Impairment of heart rate variability during paclitaxel therapy. Cancer. 2000;88(9):2149–53.

38.

Tekol Y. Negative chronotropic and atrioventricular blocking effects of taxine on isolated frog heart and its acute toxicity in mice. Planta Med. 1985;51(5):357–60.

39.

Cardiotoxicity of Chemotherapeutic Agents. 2017: Nova Biomedical.

40.

Einama T, Sato K, Tsuda H, Mochizuki H. Successful treatment of malignant pericardial effusion, using weekly paclitaxel, in a patient with breast cancer. Int J Clin Oncol. 2006;11(5):412–5.

41.

Ishiba T, et al. A case of cardiac tamponade due to breast cancer treated with weekly paclitaxel. Gan To Kagaku Ryoho. 2012;39(12):2060–2.

42.

Chavan DM, Huang Z, Song K, Parimi LRH, Yang XS, Zhang X, et al. Incidence of venous thromboembolism following the neoadjuvant chemotherapy regimen for epithelial type of ovarian cancer. Medicine (Baltimore). 2017;96(42):e7935.

43.

Semb KA, Aamdal S, Oian P. Capillary protein leak syndrome appears to explain fluid retention in cancer patients who receive docetaxel treatment. J Clin Oncol. 1998;16(10):3426–32.

44.

Kang RY, Yoo KS, Han HJ, Lee JY, Lee SH, Kim DW, et al. Evaluation of the effects and adverse drug reactions of low-dose dexamethasone premedication with weekly docetaxel. Support Care Cancer. 2017;25(2):429–37.

45.

Yamamoto T, Rino Y, Adachi H, Fujii K, Saito S, Masuda M. Polymyositis and myocarditis after chemotherapy for advanced thymoma. Cancer Treatment Communications. 2013;1(1):9–10.

46.

Sasaki H, et al. Thymoma associated with fatal myocarditis and polymyositis in a 58-year-old man following treatment with carboplatin and paclitaxel: a case report. Oncol Lett. 2012;3(2):300–2.

47.

Markman M, Kennedy A, Webster K, Kulp B, Peterson G, Belinson J. Paclitaxel administration to gynecologic cancer patients with major cardiac risk factors. J Clin Oncol. 1998;16(11):3483–5.

48.

Taxol Administration Guide B.M.S. Company, Editor. 1993.

49.

Piccart MJ, Klijn J, Paridaens R, Nooij M, Mauriac L, Coleman R, et al. Corticosteroids significantly delay the onset of docetaxel-induced fluid retention: final results of a randomized study of the European Organization for Research and Treatment of Cancer Investigational Drug Branch for Breast Cancer. J Clin Oncol. 1997;15(9):3149–55.

50.

Chouhan JD, Herrington JD. Single premedication dose of dexamethasone 20 mg IV before docetaxel administration. J Oncol Pharm Pract. 2011;17(3):155–9.

51.

Shimoyama M, Murata Y, Sumi KI, Hamazoe R, Komuro I. Docetaxel induced cardiotoxicity. Heart. 2001;86(2):219.

52.

Sparano JA. Use of dexrazoxane and other strategies to prevent cardiomyopathy associated with doxorubicin-taxane combinations. Semin Oncol. 1998;25(4 Suppl 10):66–71.

53.

Kusumoto FM, Schoenfeld MH, Barrett C, Edgerton JR, Ellenbogen KA, Gold MR, et al. 2018 ACC/AHA/HRS Guideline on the Evaluation and Management of Patients with Bradycardia and Cardiac Conduction Delay: a Report of the American College of Cardiology/American Heart Association Task Force on Clinical Practice Guidelines and the Heart Rhythm Society. Circulation. 2019;140(8):e382–482.

53.•

Ky, B., et al., Early increases in multiple biomarkers predict subsequent cardiotoxicity in patients with breast cancer treated with doxorubicin, taxanes, and trastuzumab. Journal of the American College of Cardiology, 2014. 63(8): p. 809–816. Biomarkers, in particular ultrasensitive troponin I and myeloperoxidase, show promise in detecting potential risk for, or the development of, cardiothoxicity in patients undergoing chemotherapy.

55.

Curigliano G, Lenihan D, Fradley M, Ganatra S, Barac A, Blaes A, et al. Management of cardiac disease in cancer patients throughout oncological treatment: ESMO consensus recommendations. Ann Oncol. 2020;31(2):171–90.

56.

Hadi HAR, Carr CS, Al Suwaidi J. Endothelial dysfunction: cardiovascular risk factors, therapy, and outcome. Vasc Health Risk Manag. 2005;1(3):183–98.

57.

Kunadian, V., et al., An EAPCI expert consensus document on ischaemia with non-obstructive coronary arteries in collaboration with European Society of Cardiology Working Group on Coronary Pathophysiology & Microcirculation Endorsed by Coronary Vasomotor Disorders International Study Group. European Heart Journal, 2020.
Ethics declarations
Human and Animal Rights and Informed Consent
This article does not contain any studies with human or animal subjects performed by any of the authors.
Conflict of Interest
The authors declare no conflicts of interest.
Additional information
Publisher's Note
Springer Nature remains neutral with regard to jurisdictional claims in published maps and institutional affiliations.
This article is part of the Topical Collection on Cardio-oncology
About this article
Cite this article
Joshi, A.M., Prousi, G.S., Bianco, C. et al. Microtubule Inhibitors and Cardiotoxicity. Curr Oncol Rep 23, 30 (2021). https://doi.org/10.1007/s11912-021-01014-0
Keywords
Mitotic inhibitors

Cardiotoxicity

Cardio-oncology

Arrhythmia

Heart failure

Endothelial dysfunction