Cardiovascular Risk in Patients with Prehypertension and the Metabolic Syndrome
Hypertension and the Kidney (RM Carey, Section Editor)
Part of the following topical collections:
Abstract
Prehypertension (pHTN) and metabolic syndrome (MetS) are both lifestyle diseases that are potentiated by increased adiposity, as both disease processes are closely related to weight. In the case of pHTN, increased adiposity causes dysregulation of the renin-angiotensin-aldosterone-system (RAAS) as well as adipokine- and leptin-associated increases in adrenergic tone. In MetS, excess weight potentiates hyperglycemia and insulin resistance which causes positive feedback into the RAAS system, activates an inflammatory cascade that potentiates atherosclerosis, and causes lipid dysregulation which together contribute to cardiovascular disease, especially coronary heart disease (CHD) and heart failure (HF). The relationship with all-cause mortality is not as clear-cut in part because of some protective effects associated with the obesity paradox in chronic diseases such as CHD and HF. However, in healthy populations, the absence of excess weight and its associated effects on prehypertension and MetS are associated with a longer absolute and disease-free lifespan.
Keywords
Metabolic syndrome 
Obesity 
Prehypertension 
Heart failure 
Insulin resistance 
Abbreviations
BMI

Body mass index

BP

Blood pressure

CHD

Coronary heart disease

CVD

Cardiovascular disease

DBP

Diastolic blood pressure

ESH

European Society of Hypertension

ESC

European Society of Cardiology

FFA

Free fatty acid

HF

Heart failure

HTN

Hypertension

pHTN

Prehypertension

IR

Insulin resistance

JNC

Joint National Committee

LV

Left ventricle/ventricular

MetS

The metabolic syndrome

NCEP

National Cholesterol Education Program

NHANES

National Health and Nutrition Examination Survey

NO

Nitric oxide

RAAS

Renin-angiotensin-aldosterone system

ROS

Reactive oxygen species

REGARDS

The Reasons for Geographic and Racial Differences in Stroke Study

SBP

Systolic blood pressure

WC

Waist circumference
Introduction
Prehypertension (pHTN) is defined by JNC 7 guidelines as a systolic blood pressure (SBP) of 120–139 mmHg and diastolic blood pressure (DBP) of 85–89 mmHg [1•]. This definition is contested, with recent European Society for Hypertension (ESH) and European Society of Cardiology (ESC) guidelines classifying SBP of 130–139 mmHg and DBP of 85–89 mmHg as a "high normal" BP range [2]. Interestingly enough, the Eighth Joint National Committee guidelines do not address pHTN at all. The purpose behind this definition, regardless of the criteria, is to help identify patients who would benefit from early intervention to prevent the development of HTN and additional cardiovascular disease (CVD). This concept came about after a meta-analysis published by Lewington et al., which revealed that BPs above 115/75 mmHg substantially increased the risk of coronary heart disease (CHD) and stroke with each rise in 20 mmHg for SBP and 10 mmHg in DBP [3••]. pHTN does not appear to discriminate: subgroup analysis of the REGARDS study revealed that pHTN was found equally among men and women and no significant difference was noted between blacks and whites. What was notable was the difference in age, as the pHTN patients were on average 3 years younger than HTN patients (62.9 vs. 65.2–65.9, respectively) [4].
The metabolic syndrome (MetS) is a cluster of interrelated conditions that, when present within the same individual, offer a substantially increased risk of morbidity and mortality. The definition of MetS has undergone various changes throughout the years, with diagnostic criteria shifting depending on the latest guidelines and recommendations. The most recent and widely used definition comes from the National Cholesterol Education Program (NCEP) Adult Treatment Panel III, which lists the diagnostic criteria as having three or more of the following abnormalities: fasting blood glucose > 100 mg/dL (or undergoing pharmacotherapy for elevated blood glucose); HDL cholesterol < 40 mg/dL (men) or < 50 mg/dL (women) or undergoing pharmacotherapy for low HDL; triglycerides (TGs) > 150 mg/dL or undergoing pharmacotherapy for elevated TGs; waist circumference (WC) > 102 cm (men) or > 88 cm (women) for Caucasian and African American population, although lower cut points are used in Asians and Mediterranean population; or HTN defined as > 130/88 mmHg or undergoing pharmacotherapy for HTN [5•].
The most recent estimate of the prevalence of MetS between the years 2003 and 2012 is about 33% with a significantly higher prevalence in women than in men, and the highest prevalence by race was found in Hispanics, followed by non-Hispanic whites, and then blacks. Per their analysis of recent data from National Health and Nutrition Survey (NHANES), it appears that the prevalence of MetS is increasing [6]. This falls in line with prior data from NHANES, which reported the prevalence of MetS between the years 1999 and 2006 at 34% [7].
Obesity is perhaps the predominant risk factor for developing MetS, as every single definition of the disease has had either body mass index (BMI) or WC as a defining trait [5•, 8, 9, 10, 11]. Some versions, such as those from the International Diabetes Federation and the American Association of Clinical Endocrinologists, list WC or BMI as mandatory parameters for the diagnosis of MetS [10, 11]. However, since it is possible to have MetS without the presence of obesity or an increased WC, the NCEP criteria and several other definitions have moved obesity to the list of optional criteria to meet [5•, 8, 9, 10, 11].
The link between MetS and pHTN is significant as the "hypertensive" criteria for MetS by the NCEP (SBP > 130 mmHg, DBP > 88 mmHg) sit firmly within the pHTN/"high normal" criteria as defined by both the JNC 7 and ESH-ESC [1•, 2, 5•]. In this paper, we will review the mechanisms of disease related to BP and the components of MetS, as well as their effects on CVD outcomes and health.
Weight and Its Link to BP
Risk factors for pHTN include age, childhood obesity, increases in adiposity and BMI, smoking, sedentary habits, and pre-diabetes/diabetes [12•, 13]. The effects extend into multiple organ systems, increasing the risks of renal disease, stroke, CHD, and mortality [14, 15, 16, 17].
Reversible mechanisms for increases in BP revolve around endothelial dysfunction that is mediated by a combination of the renin-angiotensin-aldosterone-system (RAAS), adrenergic tone, and interactions of these systems with the immune response which are closely tied to weight and levels of adiposity (Fig. 
1
) [
18
•]. The Framingham cohort demonstrated that 34% of HTN in men and 62% of HTN in women age 35–75 years were attributable to excess weight (defined as a BMI of 25 kg/m
2
or more) [
19
•]. The Physician's Health Study described an 8% increase in risk of incident HTN with each 1-unit increase in BMI during a median follow-up of 14.5 years [
20
]. In a longitudinal study of 6863 children, HTN was related directly to BMI regardless of body composition [
21
]. Another analysis of the Framingham cohort indicated that the effect is reversible by demonstrating that sustained weight loss of 1.8 kg or more was associated with a long-term HTN risk reduction of 22% in middle-age patients and a 26% reduction in older patients [
22
]. This has very important prognostic implications given the association of tight BP control and improved CVD outcomes by the SPRINT research group [
23
••].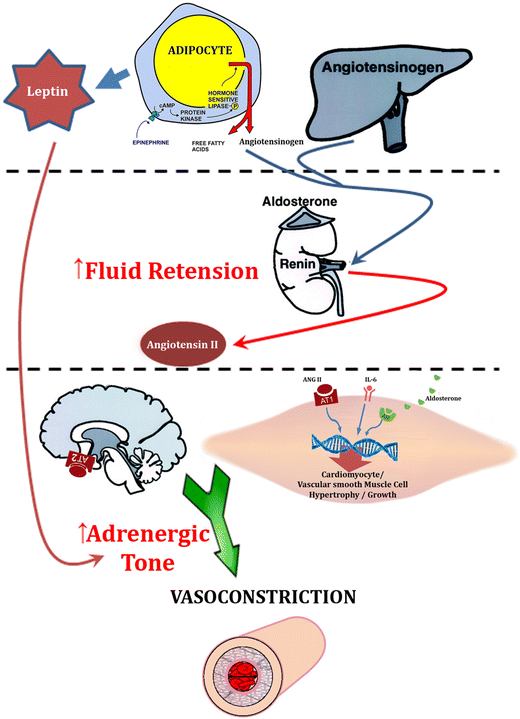 One of the mechanisms of BP increases is weight-associated elevations in circulating blood volume; there is a disproportionate increase in cardiac output that is related to an increase in free fatty acids (FFA) and leptin-mediated sympathetic activity [24•, 25]. Weight increases in those with MetS are also associated with disproportional increases in adipose tissue-derived angiotensinogen—the major precursor for components of the RAAS. Angiotensinogen production in adipose tissue is volume insensitive and serves as a cause and effect of adipocyte hypertrophy and leads to elevation of BP through the action of angiotensin II, which induces systemic vasoconstriction, direct sodium and water retention, and increased aldosterone production. These signaling molecules also cause a presynaptic potentiating effect, impairing baroreceptor sensitivity [26].
Additionally, excess circulating FFA appear to contribute to increased sympathetic tone in obese patients with HTN who demonstrate excess vascular α-adrenergic sensitivity and an increase in α-adrenergic tone [27, 28]. Increased FFA associated with obesity also inhibits sodium/potassium exchange pumps as well as sodium ATP pumps, which contribute to increased smooth muscle tone, peripheral resistance, and associated BP [29•]. Adipocytes also secrete leptin, which increases sympathetic tone in the renal vasculature through activity in the arcuate nucleus of the hypothalamus [30]. This adds to a positive feedback loop, as chronic increased sympathetic tone triggers excessive RAAS activation which leads to renal vasoconstriction and renin-dependent chronic HTN. These effects are likely the causes of a direct relationship between increases in insulin levels, BMI and BP, and plasma norepinephrine levels [31, 32].
Together, dysregulation of these mechanisms raises BP and increases sodium and water excretion through initial pressure diuresis [33•]. However, over time, the higher BP resets the kidney fluid apparatus to tolerate a HTN level, causing extracellular fluid volume expansion without reflexive diuresis, consistent with a pressure-independent mechanism of volume overload [34].
Obesity, MetS, and the Inflammatory Cascade
The concept of insulin resistance (IR) was thought to be a defining feature of MetS, and was included in various iterations of the definition, such as Group for the Study of Insulin Resistance, the World Health Organization, and American Association of Clinical Endocrinologists, which all list it as the required trait for the diagnosis of MetS [
9
,
10
,
11
]. It is notably absent from the commonly accepted NCEP definition, but its absence from the definition does not mean it is absent from the condition itself. Many of the existing criteria, such as hypertriglyceridemia, hyperlipidemia, and hyperglycemia, can all be attributed to increased IR. The pathway is believed to start with adipocyte hypertrophy and associated hypoxia which leads to impaired insulin signaling and poor glucose uptake and results in secretion of FFA and adipokines [
35
]. Increased FFA triggers hepatic IR and a rise in de novo lipogenesis and TG synthesis as well as macrophage infiltration into adipose and hepatic tissue that potentiates dysfunction, causing increased FFA, further adipokine secretion, and worsening hyperglycemia [
35
]. Pro-inflammatory effects of FFA and their deposition in the vascular intima cause a positive feedback loop via a cascade of cytokines such as tumor necrosis factor-alpha (TNF-α) and interleukin-6 (IL-6) that attract macrophages and exacerbate endothelial dysfunction and atherosclerosis (Fig. 
2
) [
36
••,
37
]. The inflammation caused by the macrophage infiltration limits adipose response to insulin, which would normally limit the glycerol conversion discussed earlier [
38
]. Increased hyperglycemia is also self-potentiating as it triggers hepatic acetyl-CoA, which in turn activates pyruvate carboxylase leading to increased glycerol conversion to glucose.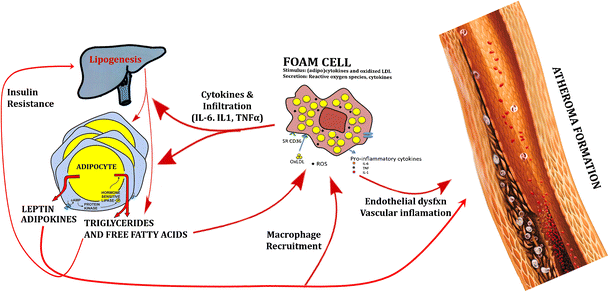 In both human and animal subjects with type II diabetes, endothelial-dependent vasodilation is markedly reduced [39, 40•]. Given the role of endothelial vasoconstricting and vasodilating mechanisms in regulating blood flow, it is not surprising that there is increasing evidence of endothelial dysfunction as a culprit in the oxygen imbalance of myocardial circulation that may lead to cardiac ischemia and infarction [41, 42•, 43]. As a result, endothelial dysfunction is considered to be an early predictor of various CVDs such as atherosclerosis and heart attack and has been implicated in the pathogenesis of diabetes-induced angiopathy [44].
Oxidative stress is tightly regulated by mechanisms that balance reactive oxygen species (ROS) production with ROS removal by antioxidant enzymes such as superoxide dismutase [45, 46]. Excessive ROS contributes to damage to DNA, lipids, and proteins and disrupts cardiovascular reactivity [47]. Nitric oxide (NO) produced by vascular endothelium regulates vasodilation, anti-coagulation, leukocyte adhesion, and smooth muscle proliferation in the vasculature. One method that hyperglycemia may decrease NO bioavailability is through increased levels of ROS [48].
Another mechanism of inflammation is FFA independently mediated inflammation and IR (via C-reactive protein, TNF, leptin, and adiponectin production) [49]. Van de Voorde et al. found that cytokine release is also promoted because of cellular ischemia when adipose tissue accumulation out-strips available blood supply [50•]. Furthermore, adipokines potentiate macrophage activation and formation of multinucleated giant cells which also contribute to cytokine secretion in the forms of IL-1α, TNF-α [51].
The atherosclerotic disease process is characterized by infiltration and retention of oxidized lipids in the artery wall, triggering a disproportionate inflammatory response and macrophage activation [52]. Much of the inflammatory cascade is attributable to secretion of adipokines from fat cells (cytokines specific to adipose tissue). Adipokines promote a cascade of inflammatory activation that includes IL-1β, IL-6, and NO synthase 2 which also activate macrophages that contribute to a feedback cycle of endothelial dysfunction and IR [53, 54].
Dyslipidemia is also directly related to adiposity and BMI through the mechanisms of insulin resistance, FFA release, and resultant HDL-C inhibition with upregulation of LDL-C—leading to atherosclerosis [55]. HDL-C protects against atherosclerosis by both removing excess cholesterol from macrophages and by downregulating adipokine secretion in fat tissue [56]. On the other hand, excess LDL-C promotes atherosclerosis through sub-endothelial deposition of LDL-C-/apolipoprotein-B-containing particles that stimulate macrophage activity, phagocytosis, and foam cell formation that leads to inflammation (discussed earlier) and results in atherosclerotic plaques [57]. Both oxidized and dense LDL-C are associated with a higher level of oxidative stress, MetS, smooth muscle induction, and higher risks for CHD [58, 59•, 60•].
Leptin likewise is a hormone related to adiposity and has been associated with many of the changes in lipid metabolism and CVD. Du et al. found that when treated with leptin, cells activated the p38 mitogen-activated protein kinase signaling pathway, enhanced the expression of proprotein convertase subtilisin/kexin type 9 (PCSK9) and hepatocyte nuclear factor 1α in HepG2 cells, causing decreased LDL-R expression and promoting free LDL-C circulation. When this effect was measured in an environment of atorvastatin exposure (which causes upregulation of LDL-C receptors) in this cell line, leptin was found to inhibit the action of atorvastatin [61•]. Additionally, leptin causes pro-coagulant and antifibrinolytic effects that promote atheroma formation; this is thought to be by the action of leptin receptors on vascular inflammation, proliferation, and calcification and by increasing oxidative stress. Thus, the effects of leptin in those with increased adipose mass contribute to a combination of dyslipidemia and endothelial dysfunction, potentiating the processes of atherosclerosis [62].
In summary, MetS promotes an inflammatory cascade through a combination of insulin resistance and adiposity that accelerates inflammation and associated atherosclerotic disease via numerous pathways.
Effects of Combined Illness
Despite our increased understanding of the different aspects involved in the development of MetS, the intricacies of the disease process remain poorly understood. What is understood, however, is the end result: The presence of MetS provides a significant increase in CVD morbidity [63••]. Diabetic patients have a two- to four-fold higher incidence of CHD and a ~ 10-fold increase in peripheral diseases owing to accelerated atherogenesis [47, 64]. The mechanisms at play are actively studied, but the picture so far shows a multifactorial disease process, much like MetS itself. RAAS activation, endothelial damage by way of persistent hyperglycemia and increased FFA synthesis, and sympathetic activation have all been implicated as likely causes of the increased incidence of CVD events attached to MetS [31, 32, 38, 65]. A meta-analysis of 37 studies across 172,573 individuals conducted by Gami et al. showed a relative risk of 1.78 (95% CI 1.58–2.00) of CVD events and death in those patients who had MetS vs. those who did not, and the relative risk only dropped to 1.53 (95% CI 1.32–1.79) after adjusting for traditional risk factors for CVD [66••]. Another independent study conducted by Solymoss et al. indicated a significantly increased risk of CVD morbidity in patients with MetS, showing a higher incidence of myocardial infarction (16.3 vs. 7.1%) even among patients who had no significant known CHD [67•].
In addition to the risk of myocardial infarction (MI) and CHD, MetS carries its own particular risk of developing heart failure (HF). A recently published scientific statement from The American Heart Association regarding comorbidities (including MetS) in patients with chronic HF also notes an overall increased prevalence of HF in MetS patients, particularly for HF with preserved ejection fraction (HFpEF) [68•].
pHTN is a relatively new concept aimed at identifying high-risk patients for early intervention, and with good reason. A meta-analysis performed by Huang et al. showed that patients with pHTN had a significantly higher risk of developing CVD (RR of 1.55, 95% CI 1.41–1.71), stroke (RR of 1.71, 95% CI 1.55–1.89), and CHD (RR of 1.50, 95% CI 1.30–1.74). Subgroup analysis of this same data also revealed a significantly increased risk for CVD even among patients with "low-range" pHTN (defined as SBP 120–129 mmHg and DBP 80–84 mmHg) as compared to those patients with optimal BPs (RR 1.46, 95% CI 1.32–1.62). Increased risk was also found among patients with "high-range" pHTN (defined as SBP 130–139 mmHg and DBP 85–89 mmHg) versus those with "low-range" pHTN (χ2 = 5.69, P = 0.02) [69•].
Obesity is itself an independent risk factor for the development of HF even without the presence of MetS. Obesity has been found to be linked to left ventricular (LV) enlargement, increased LV mass, wall thickening, and left atrial enlargement as well as right ventricular enlargement compared to non-obese people. These findings were found to be independent of age or BP and are attributed to the increase in work by the myocardium, promoting cardiac remodeling, including atrial and ventricular enlargement and increase in wall tension [70, 71•]. As opposed to HF caused by CHD, which is more likely to be systolic in nature, HF caused by obesity is more likely to be diastolic in nature (HFpEF) [68•]. One study by Fuentes et al. performed among 607 patients cited a significantly higher prevalence of diastolic dysfunction in those with pre-MetS (17–18%; defined as meeting 1–2 criteria of MetS) and MetS (29–35%) versus those with neither (7–9%) (p < 0.001) [72•].
Morbidity and Mortality
Data regarding CVD in patients with pHTN is fairly clear. A recent meta-analysis performed by Guo et al. demonstrated that patients who fell within the range of SBP 130–139 and DBP 85–89 (or the "high normal" BP criteria established by ESH-ESC as earlier) showed an increased risk in CVD mortality [73]. An analysis conducted by Vasan et al. evaluated patients with high normal BP who were enrolled in the Framingham Heart Study, and assessed their risk of CVD. They found that high normal BP was associated with a hazard ratio for CVD (adjusted for risk factor) of 1.6 (95% CI 1.1–2.2) for men and 2.5 (95% CI 1.6–4.1) for women, as compared to participants with optimal BP [74].
Increased CVD morbidity in the presence of MetS has been well documented, but some data concerning the cardiac-related mortality in MetS is conflicting. As discussed before, Gami et al. noted a significant increase in CVD mortality in patients with MetS [66••]. A study conducted by Isomaa et al. followed 4483 subjects who had type 2 diabetes to assess for the presence of MetS based on the WHO criteria, and assessed CVD mortality in 3606 of those subjects. Along with a three-fold risk of CHD in the subjects with MetS, they also reported a significant increase in CVD mortality versus those without the MetS (12.0 vs. 2.2%, p < 0.001) [75].
One source of conflict regarding the data comes from studies involving patients with both MetS and HF. The AHA scientific statement notes that studies have had conflicting results regarding mortality. They report that some studies have shown increased mortality in patients who have HF and MetS, and other studies that show a decrease in mortality with patients with an increasing number of MetS criteria, citing a potential "paradoxical effect." They do report that MetS is associated with higher all-cause and CVD mortality overall, but that more studies are needed to understand the paradox surrounding the improved survival noted in some HF patients [68•].
The obesity paradox is a phenomenon that is under increasing scrutiny as there is a large body of evidence that obesity confers survival benefits in patients with chronic diseases, particularly those with CVD, as compared to normal weight patients with the same conditions [71•, 76, 77]. One proposed mechanism for this effect involves the interactions between lean muscle mass and overall body fat, which reaches a balance in the overweight and obese such that the improvement in metabolic reserve contributed by lean muscle mass overcomes the harms associated with excess body fat, thus reducing mortality. Once BMI shifts (either lower or higher), the balance is disrupted and mortality rises accordingly [78•]. This subset of overweight and obese people without MetS is termed "metabolically healthy obese" [71•]. Despite this apparent paradox, a large trial by Ahmad et al. demonstrated that overall survival in healthy obese individuals is shorter than in those with normal BMI. In this study, the authors found that those with increased BMI succumbed to chronic illness (such as HF) earlier in life and lived with chronic illness significantly longer than those with normal BMI, who would on average become chronically ill at a more advanced age but have a shorter lifespan once illness had developed [79•].
Summary
pHTN and MetS are both lifestyle diseases that are potentiated by increased weight and increased adiposity. In both cases, dysregulation of normal homeostasis causes vascular remodeling and dysfunction that potentiates inflammatory responses leading to more rapid atherosclerosis and symptomatic CVD—including stroke, CHD, and HF.
Notes
Compliance with Ethical Standards
Conflict of Interest
The authors declare no conflicts of interest relevant to this manuscript.
Human and Animal Rights and Informed Consent
This article does not contain any studies with human or animal subjects performed by any of the authors.
References
Papers of particular interest, published recently, have been highlighted as: • Of importance •• Of major importance
Copyright information
© Springer Science+Business Media, LLC, part of Springer Nature 2018