Abstract
Prior research indicates that criminal thought content and criminal thought process mediate the peer influence effect (peer delinquency → participant delinquency). This study sought to model the temporal order of these two categories of antisocial cognition in mediating peer influence. Responses provided by 1,795 (847 male, 948 female) members of the Gang Resistance Education and Training study (mean age = 12.11 years) on measures of criminal thought content (negative attitude toward the police) and criminal thought process (proactive criminal thinking in the form of neutralizing techniques) were analyzed. Only the "content before process" model achieved significance, however. Thus, while peer associations may stimulate criminal thought content and criminal thought process, the effect on criminal thought content may be more proximal and the effect on criminal thought process may be mediated by criminal thought content.
This is a preview of subscription content, log in to check access.
Access options
Buy single article
Instant access to the full article PDF.
US$ 39.95
Price includes VAT for USA
Subscribe to journal
Immediate online access to all issues from 2019. Subscription will auto renew annually.
US$ 99
This is the net price. Taxes to be calculated in checkout.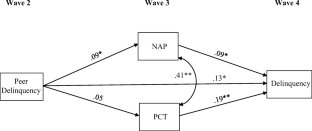 References
Akers RL (1998) Social learning and social structure: a general theory of crime and deviance. Northeastern University Press, Boston

Allison PD (2012) Handling missing data by maximum likelihood. SAS Global Forum 2012 (Paper 312-2012). SAS Institute, Cary

Augustyn MB, McGloin JM (2013) The risk of informal socializing with peers: considering gender differences across predatory delinquency and substance use. Justice Quart 30:117–143

Bandura A (1986) Social foundations of thought and action. Prentice Hall, Englewood Cliffs

Bandura A (1999) Moral disengagement in the perpetration of inhumanities. Pers Soc Psychol Rev 3:193–209

Berger J (2008) Identity signaling, social influence, and social contagion. In: Prinstein MJ, Dodge KA (eds) Understanding peer influence in children and adolescents. Guilford, New York, pp 181–199

Brechwald WA, Prinstein MJ (2011) Beyond homophily: a decade of advances in understanding peer influence processes. J Res Adolescence 21:166–179

Brown BB, Bakken JP (2011) Parenting and peer relationships: reinvigorating research on family–peer linkages in adolescence. J Res Adolescence 21:153–165

Cole DA, Maxwell SE (2003) Testing mediational models with longitudinal data: questions and tips in the use of structural equation modeling. J Abnorm Psychol 112:558–577

Collins LM, Schafer JL, Kam CM (2001) A comparison of inclusive and restrictive strategies in modern missing data procedures. Psychol Methods 6:330–351

Dodge KA, Coie JD (1987) Social-information processing factors in reactive and proactive aggression in children's peer groups. J Pers Soc Psychol 53:1146–1158

Elwert F, Winship C (2014) Endogenous selection bias: the problem of conditioning on a collider variable. Ann Rev Soc 40:31–53

Esbensen F-A (2002) National evaluation of the Gang Resistance Education and Training (G.R.E.A.T.) program: final report (94-IJ-CX-0058). U.S. Department of Justice, Washington

Gelfert A (2015) Inner speech, natural language, and the modularity of the mind. J Philos Sci 14:7–29

Gibbons FX, Gerrard M, Lane DJ (2003) A social reaction model of adolescent health risk. In: Suls JM, Wallson K (eds) Social psychological foundations of health and illness. Blackwell, Oxford, pp 107–136

Gottfredson MR, Hirschi T (1990) A general theory of crime. Stanford University Press, Stanford

Hayes AF (2013) Introduction to mediation, moderation, and conditional process analysis: a regression-based approach. Guilford, New York

Haynie DL, Osgood DW (2005) Reconsidering peers and delinquency: how do peers matter? Soc Forces 84:1109–1130

Hoeben EM, Meldrum RC, Walker D, Young JTN (2016) The role of peer delinquency and unstructured socializing in explaining delinquency and substance use: a state-of-the-art review. J Crim Justice 47:108–122

Hubbard DJ, Pratt TC (2002) A meta-analysis of the predictors of delinquency among girls. J Offender Rehabil 34(3):1–13

Imai K, Keele L, Tingley D (2010) A general approach to causal mediation analysis. Psychol Methods 15:309–334

Johnson SL, Burke JG, Gielen AC (2012) Urban students' perceptions of the school environment's influence on school violence. Child Sch 34:92–102

Kenny, D. A. (2013). Mediation: sensitivity analysis [webinar]. Retrieved from http://davidakenny.net/webinars/Mediation/Sensitivity/Sensitivity.html.

Kiesner J, Poulin F, Nicotra E (2003) Peer relations across contexts: individual-network homophily and network inclusion in and after school. Child Dev 74:1328–1343

Knecht A, Snijders TAB, Baerveldt C, Steglich CEG, Raub W (2010) Friendship and delinquency: selection and influence processes in early adolescence. Soc Dev 19:494–514

Kroner DG, Morgan RD (2014) An overview of strategies for the assessment and treatment of criminal thinking. In: Tafrate RC, Mitchell D (eds) Forensic CBT: a handbook for clinical practice. Wiley, Chichester, pp 87–103

Lahey BB, Van Hulle CA, D'Onofrio BM, Rodgers JL, Waldman ID (2008) Is parental knowledge of their adolescent offspring's whereabouts and peer associations spuriously associated with offspring delinquency? J Abnorm Child Psychol 36:807–823

Landenberger NA, Lipsey MW (2005) The positive effects of cognitive-behavioral programs for offenders: a meta-analysis of factors associated with effective treatment. J Exp Criminol 1:451–476

McGloin JM, Shermer LO (2009) Self-control and deviant peer network structure. J Res Crime Delinq 46:35–72

Meldrum RC, Young JTN, Weerman FM (2009) Reconsidering the effect of self-control and delinquent peers: implications of measurement for theoretical significance. J Res Crime Delinq 46:353–376

Monahan KC, Steinberg L, Cauffman E (2009) Affliliation with antisocial peers, susceptibility to peer influence, and antisocial behavior during the transition to adulthood. Dev Psychol 45:1520–1530

Morgan RD, Fisher WH, Duan N, Mandracchia JT, Murray D (2010) Prevalence of criminal thinking among state prison inmates with serious mental illness. Law Hum Behav 34:324–336

Mpofu E, Athanasou JA, Rafe C, Belshaw SH (2018) Cognitive-behavioral therapy efficacy for reducing recidivism rates of moderate- and high-risk sexual offenders: a scoping systematic literature review. Int J Offender Ther Comp Criminol 62:170–186

Muthén B, Muthén L (2017) Mplus user's guide, 8th edn. Muthén and Muthén, Los Angeles

Pratt TC, Cullen FT, Sellers CS, Winfree T, Madensen TD et al (2010) The empirical status of social learning theory: a meta-analysis. Justice Q 27:765–802

Preacher KJ (2015) Advances in mediation analysis: a survey and synthesis of new developments. Ann Rev Psychol 66:825–852

Preacher KJ, Selig JP (2012) Advantages of Monte Carlo confidence intervals for indirect effects. Commun Methods Meas 6:77–98

Shadish WR, Cook TD, Campbell DT (2002) Experimental and quasi-experimental designs for generalized causal inference. Mifflin, Boston

Sutherland EH (1947) Principles of criminology, 4th edn. J.B. Lippincott, Philadelphia

Sykes GM, Matza D (1957) Techniques of neutralization: a theory of delinquency. Am Sociol Rev 22:664–670

Thornberry TP (1987) Toward an interactional theory of delinquency. Criminology 25:863–891

Trzepacz PT, Baker RW (1993) The Psychiatric Mental Status Examination. Oxford University Press, Oxford

Vygotsky L (1994) The development of thinking and concept formation in adolescence. In: van der Veer R, Valsiner J (eds) The Vygotsky reader. Blackwell, Oxford, pp 185–265

Walters GD (2015) Proactive criminal thinking and the transmission of differential association: a cross-lagged multi-wave path analysis. Crim Justice Behav 42:1128–1144

Walters GD (2016a) Criminal thought content and criminal thought process as mediators of peer influence: combined versus individual effects. Crim Justice Rev 41:318–334

Walters GD (2016b) Friends, cognition, and delinquency: proactive and reactive criminal thinking as mediators of the peer influence and peer selection effects. Justice Q 33:1055–1079

Walters GD (2017) Modelling the criminal lifestyle: theorizing at the edge of chaos. Palgrave Macmillan, London

Walters GD, Morgan RD (2018) Assessing criminal thought content: preliminary validation of the Criminal Thought Content Inventory (CTCI). Psychol Crime Law 24:603–620

Warr M (2002) Companions in crime: the social aspects of criminal conduct. Cambridge University Press, Cambridge

Weerman FM, Wilcox P, Sullivan CJ (2018) The short-term dynamics of peers and delinquent behavior: an analysis of bi-weekly changes within a high school student network. J Quant Criminol 34:431–463

Wu AD, Zumbo BD (2008) Understanding and using mediators and moderators. Soc Indic Res 87:367–392

Young R, Johnson DR (2013) Methods for handling missing secondary respondent data. J Marriage Fam 75:221–234

Young JTN, Rebellon CJ, Barnes JC, Weerman FM (2013) Unpacking the black box of peer similarity in deviance: understanding the mechanisms linking personal behavior, peer behavior, and perceptions. Criminology 52:60–86
Ethics declarations
Conflict of Interest
The author declares that there is no conflicts of interest.
Ethical Approval
Study approved by the Kutztown University Institutional Review Board.
Informed Consent
This is a secondary data analysis, but the authors of the original GREAT study did obtain informed consent from parents and informed assent from participating children.
Additional information
Publisher's Note
Springer Nature remains neutral with regard to jurisdictional claims in published maps and institutional affiliations.
About this article
Cite this article
Walters, G.D. Mediating the Peer Influence Effect with Facets of Criminal Thought Process and Content in a Group of Early Adolescents: Replication and Extension. J Police Crim Psych 35, 207–218 (2020). https://doi.org/10.1007/s11896-019-09360-3
Keywords
Peer influence effect

Criminal thought content and process

Proactive criminal thinking

Negative attitude toward the police