Abstract
Low subjective well-being and work ability constitute threats to employees' job performances across the world. Indices of low subjective well-being have been observed among police officers in Nigeria and have been linked to their occupational experiences. Managing enhanced subjective well-being is paramount for police officers' job effectiveness. The current study investigated the effectiveness of rational emotive occupational health coaching (REOHC) in enhancing subjective well-being of police officers in Enugu state, Nigeria. Participants (N = 151) included police officers with not less than 5-year working experience who were randomly assigned to intervention (N = 76) and nonintervention (N = 75) groups. Participants in the intervention group were exposed to 120-min REOHC program weekly for a period of 16 weeks. Subjective well-being scale (SWBS) and perceived work ability index (PWAI) were used to collect data at pre-test, post-test, and follow-up assessments. Data collected were analyzed using independent samples as well as paired sample t test statistics and repeated measure ANOVA. Results revealed that participants in the intervention group had significant improvement in their life satisfaction, affect balance, and flourishing scores at post-test and follow-up assessments compared with the pre-test. Participants in the nonintervention control group did not have a significant change in subjective well-being subscale scores across pre-test, post-test, and follow-up evaluations. The conclusion drawn was that REOHC can be effective in managing subjective well-being among police officers and employees who work under chronic stressful conditions.
Access options
Buy single article
Instant access to the full article PDF.
US$ 39.95
Tax calculation will be finalised during checkout.
Subscribe to journal
Immediate online access to all issues from 2019. Subscription will auto renew annually.
US$ 79
Tax calculation will be finalised during checkout.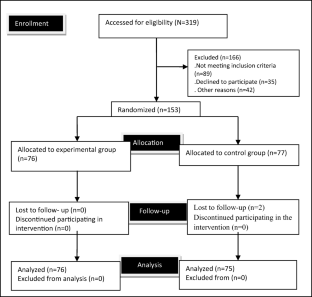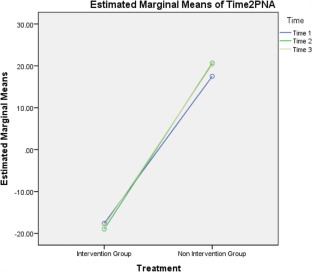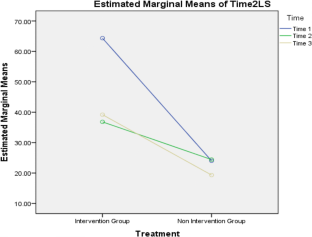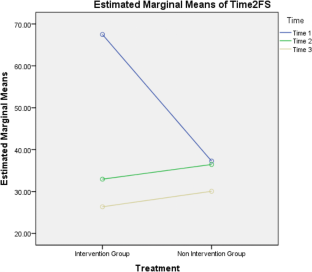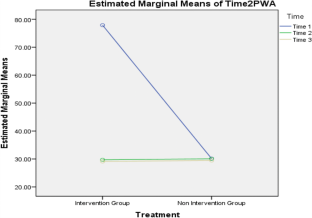 References
Aborisade RA, Fayemi JA (2015) Police corruption in Nigeria: a perspective on its nature and control. Nigerian Journal of Social Studies 18(2):245–262

Adegoke TG (2014) Effects of occupational stress on psychological wellbeing of police employees in Ibadan Metropolis, Nigeria. An Int Mult J 8(3):302–320

Adekunle OS (2017) Impact of emotional intelligence, dispositional optimism and emotional exhaustion on the psychological well-being of police officers in Ibadan, Oyo state, Nigeria. Int J Innov Appl Stud 19(3):717

Akinnawo EO (2010) The traumatic experiences and psychological health of women working in two male-dominated professions in Nigeria. IFE PsychologIA 20(18)

Albert Ellis Institute. (2014). Rational emotive & cognitive-behavior therapy. The Albert Ellis Institute. Retrieved from http://albertellis.org/rebt-cbt-therapy/

Amati M, Tomasetti M, Ciuccarelli M, Mariotti L, Tarquini LM, Bracci M, Baldassari M, Balducci C, Alleva R, Borghi B, Mocchegiani E, Copertaro A, Santarelli L (2010) Relationship of job satisfaction, psychological distress and stress-related biological parameters among healthy nurses: a longitudinal study. J Occup Health 52:31–38

Basińska BA, Wiciak I (2013) Impact of work on the well-being of police officers and firefighters. Internal Security 5(1):247–258

Benavides FG, Benach J, Moncada S (2001) Working conditions and sickness absence: a complex relation. J Epidemiol Community Health 55:368

Bernard ME (2016) Teacher beliefs and stress. J Rational-Emot Cognitive-Behav Ther Aborisade & Fayemi 2015- Nig J Soc Stud 34:209–224

Blanchflower DG, Oswald AJ, Stewart-Brown S (2012) Is psychological well-being linked to the consumption of fruit and vegetables? Soc Indic Res in press

Bourbonnais R, Malenfant R, Vezina M, Jauvin N, Brisson I (2005) Les caracteristiques du travail et la sante des agents en service de detention. Rev Epidemiol Sante Publique 53:127–142

Bourbonnais R, Jauvin N, Dussault J, Vezina M (2007) Psychosocial work environment, interpersonal violence at work and mental health among correctional officers. Int J Law Psychiatry 30(17):355–368

Bryson A, Forth J, Strokes L (2017) Does employees' subjective well-being affect workplace performance? Hum Relat 70(2):001872671769307

Callanan VJ, Rosenberger JS (2011) Media and public perceptions of the police: examining the impact of race and personal experience. Polic Soc 21:167–189. https://doi.org/10.1080/10439463.2010.540655

Chaturvedula S, Joseph C (2007) Dimensions of psychological well-being and personality in military aircrew: a preliminary study. Indian J Aerosp Med 51(2):17–27

Colligan TW, Higgins EM (2006) Workplace stress: etiology and consequences. J Work Behav Health 21(2):89–97

Cooper CL, Cartwright S (1994) Healthy mind, healthy organization—a proactive approach to occupational stress. Hum Relat 47(4):455–471

Crank J, Regoli R, Hewitt J, Culbertson R (1995) Institutional and organizational antecedents of role stress, work alienation and anomie among police executives. Crim Justice Behav 22:152–171

David D (2015) Rational emotive behavior therapy (REBT). In: Cautin RL, Lilienfeld SO (eds) Encyclopedia of clinical psychology. Wiley-Blackwell, New Jersey

David D, Szentagotai A (2006) Cognitions in cognitive-behavioral psychotherapies; toward an integrative model. Clin Psychol Rev 26(3):284–298

David OA, Ionicioiu I, Imbăruş AC, Sava FA (2016) Coaching banking managers through the financial crisis: effects on stress, resilience, and performance. J Ration Emot Cogn Behav Ther 34(4):267–281

Davidson KW, Mostofsky E, Whang W (2010) Don't worry, be happy: positive affect and reduced 10-year incident coronary heart disease: the Canadian Nova Scotia Health Survey. Eur Heart J 31:10651070

De la Fuente R, Parra A, Sánchez-Queija I (2017) Psychometric properties of the flourishing scale and measurement invariance between two samples of Spanish university students. Eval health Professions 40(4):409–424

Diener E (1984) Subjective well-being. Psychol Bull 95:542–575

Diener E (2009) Subjective well-being, In The science of well-being (pp. 11–58). Springer, Dordrecht

Diener ED, Emmons RA, Larsen RJ, Griffin S (1985) The satisfaction with life scale. J Pers Assess 49(1):71–75

Diener E, Chan M (2011) Happy people live longer: subjective well-being contributes to health and longevity. Appl Psychol Health Wellbeing 3:1–43

Diener E, Inglehart R, Tay L (2013) Theory and validity of life satisfaction scales. Soc Indic Res 112:497–527. https://doi.org/10.1007/s11205-012-0076-y

DiGiuseppe RA, Doyle KA, Dryden W, Backx W (2014) A practitioner's guide to rational-emotive behavior therapy. Oxford University Press, New York

Ekberg K, Wildhagen I (1996) Long-term sickness absence due to musculoskeletal disorders: the necessary intervention of work conditions. Scand J Rehabil Med 28:39–47

Ellis (1958) Rational psychotherapy. J Gen Psychol 59(1):35–49

Ellis, A. (1994). Reason and emotion in psychotherapy. Revised and updated edition. New York: Kensington

Ellis A (2004) Why rational emotive behavior therapy is the most comprehensive and effective form of behavior therapy. Journal of Rational-Emotive and Cognitive Behavior Therapy 22:85–92

Eme OI (2012) The cost of Boko Haram activities in Nigeria. Oman Chapter of Arabian Journal of Business and Management Review 34(971):1–23

Faul, F., Erdfelder, E., Lang, A. G., & Buchner, A. (2007). G* Power 3: A flexible statistical power analysis program for the social, behavioral, and biomedical sciences. Behavior research methods, 39(2), 175–191

Fredrickson BL (2001) The role of positive emotions in positive psychology: the broaden-and-build theory of positive emotions. Am Psychol 56:218–226

Galanakis M, Lakioti A, Pezirkianidis C, Karakasidou E, Stalikas A (2017) Reliability and validity of the Satisfaction with Life Scale (SWLS) in a Greek sample. Int J Humanit Soc Stud 5(2):120–127

Garsia-Herrero S, Mariscal MA, Gutierrez JM, Ritzel DO (2013) Using Bayesian network to analyze occupational stress caused by work demand: preventing stress through social support. Accid Anal Prev 57:114–123

Gerber M, Hartmann T, Brand S, Holsboer-Trachsler E, Puhse U (2010) The relationship between shift work, perceived stress, sleep and health in Swiss police officers. J Crim Just 38(6):1167–1175

Gong Z, Zhang J (2015) Job burnout and psychological empowerment among police in mainland China. Iran J Public Health 44(7):1014–1015

Harriot AA, Lewis BA (2014) Citizens' attitudes towards the police in Jamaica: implications for police-citizen partnership in crime control. In: Harriot AA, Lewis BA, Zechmeister EJ (eds) The political culture of democracy in Jamaica and in the Americas, 2014: democratic governance across 10 years of the Americas barometer. University of the West, Mona, pp 165–181

Hartley TA, Violanti JM, Sarkisian K, Andrew ME, Burchfiel CM (2013) PTSD symptoms among police officers: associations with frequency, recency, and types of traumatic events. Int J Emerg Ment Health 15(4):241–253

Howlett BA (1994) An investigation of the relationship between general belief patterns and well-being. J Rational-Emot Cognitive-Behav Ther 12:205–218. https://doi.org/10.1007/BF02354548

Husain W (2014) The levels of depression, anxiety and stress in police officers. Acad Res Int 5:458–465

Idubor E, Aihie JO, Igiebor GO (2015) The effect of occupational stress on health status of public officers: the case of Nigeria police. Int J Dev Sustain 4(4):398–414 ISSN: 2186-8662. ID: IJDS15021301

Ilevbare FM, Ogunjimi A (2015) Psychosocial factors predicting perceived workplace stress among policemen in a zonal division. Eur Sci J 10(17):1857–7881

Ilies R, Dimotakis N, De Pater IE (2010) Psychological and physiological reactions to high workloads: implications for well-being. Pers Psychol 63(2):407–436

Ilmarinen J (2009) Work ability-a comprehensive concept for occupational health research and prevention [editorial]. Scand J Work Environ Health 35(1):1–5

Johnson RR (2012) Police officers job satisfaction: a multidimensional analysis. Police Q 15(2):157–176

Jorn A (2016) Rational emotive behavior therapy. Psych central. Retrieved from https://psychcentral.com/lib/rational-emotive-behavior-therapy/

Juniper B, White N, Bellamy P (2010) A new approach to evaluating the well-being of police. Occup Med 60:560–565. https://doi.org/10.1093/occmed/kqq130

Kaewboonchoo O, Ratanasiripong P (2015) Psychometric properties of the Thai version of the work ability index (Thai WAI). J Occup Med 57(4):371–377. https://doi.org/10.1539/joh.14-0173-OA

Kahangi MS (2015) The effectiveness of cognitive behavioural therapy on subjective well-being of patients with chronic tension-type headache. J Novel Appl Sci 4(11):1187–1191

Kuykendall L, Tay L (2015) Employee subjective well-being and physiological functioning: an integrative model. Health Psycology Open 2(1)

Ladapo OA (2013) Effective investigations, a pivot to efficient criminal justice administration: challenges in Nigeria. African J Crim Justice Stud 5(2):79–94

Lambert EG, Hogan NL, Altheimer I (2010) An exploratory examination of the consequences of burnout in terms of life satisfaction, turnover intent, and absenteeism among private correctional staff. The Prison J 90(1):94–114

Lee J-H, Kim I, Won J-U, Ron J (2016) Post-traumatic stress disorder and occupational characteristics of police officers in Republic of Korea: a cross-sectional study. Occup Environ Med

Leino TM, Selin R, Summala H, Virtanen M (2011) Violence and psychological distress among police officers and security guards. Occup Med 61(6):400–406

López-Ortega M, Torres-Castro S, Rosas-Carrasco O (2016) Psychometric properties of the satisfaction with life scale (SWLS): secondary analysis of the Mexican health and aging study. Health Qual Life Outcomes 14(1):170

Mahfar M, & Senin AA (2015) Managing Stress at Workplace Using The Rational-Emotive Behavioral Therapy (REBT) Approach. International Conference On Human Resource Development 2015

Mangwani GB (2012) Suicides in the South African police service: a study of contributory factors and recommendation, Unpublished master's degree. A dissertation submitted to the Ishvore University of Technology, Pictoria

Manlapaz & Calaguas (2015) Work-related subjective well-being as experienced by public elementary school teachers

Martinussen M, Rechardsen AM, Burke RJ (2009) Job demands, job resources, and burnout among police officers. J Crim Just 35(3):239–249. https://doi.org/10.1016/j.jcrimjus.2007.03.001

Mehrnaz SK (2015) The effectiveness of cognitive behavioral therapy on subjective well-being of patients with chronic tension-type headache. J Novel App Sc 4(11):1187–1191

Murdock, K. K. (2013). Texting while stressed: Implications for students' burnout, sleep, and well-being. Psychology of Popular Media Culture, 2(4), 207

Ndom RJE, Makanjuola AB (2004) Perceived stress factors among resident doctors in a Nigerian teaching hospital. West Afr J Med 23(3):232–235

Neenan M (2008) Tackling procrastination: an REBT perspective for coaches. J Rat-Emo Cognitive-Behav Ther 26:53–62

Nelson KV (2017) Behind the frontlines: occupational stress and well-being in Jamaican police officers. Cardiff University, UK, Doctoral desertation

Nieuwenhuijsen K, Verbeek JHAM, de Boer AGEM et al (2010) Irrational beliefs in employees with an adjustment, a depressive, or an anxiety disorder: a prospective cohort study. J Rat-Emo Cognitive-Behav Ther 28:57–72. https://doi.org/10.1007/s10942-007-0075-0

Nkewu Z (2014) The impact of psychological wellbeing and perceived combat readiness on the willingness to deploy in the SANDF: an exploratory study. (Unpublished master's thesis), Stellenbosch University, Stellenbosch South Africa

Nurminen E, Malmivaara A, Ilmarinen J, Ylöstalo P, Mutanen P, Ahonen G, & Aro T (2002) Effectiveness of a worksite exercise program with respect to perceived work ability and sick leaves among women with physical work. Scandinavian journal of work, environment & health, 85-93

Nwidag B, Okwendi S (2015) A quantitative study of correlates of job satisfaction among officers of Nigeria police. J Soc Sc Hum Res 1(2):1–8

O'Hara AF, Violanti JM, Levenson RL Jr, Clark RG (2012) National police suicide estimates: web surveillance study III. Int J Emerg Ment Health 15:31–38

Odedokun SA (2015) Differential influence of demographic factors on job burnout among police officers in Ibadan, Oyo state. Mediterr J Soc Sci 6(3):520. ISSN 2039-2117. https://doi.org/10.5901/mjss.2015.v6n3s1p520

Ogbuanya TC, Eseadi C, Orji CT, Ede MO, Ohanu IB, Bakare J (2017a) Effects of rational emotive occupational health therapy intervention on the perceptions of organizational climate and occupational risk management practices among electronics technology employees in Nigeria. Medicine 96(18)

Ogbuanya TC, Eseadi C, Orji CT, Ohanu IB, Bakare J, Ede MO (2017b) Effects of rational emotive behavior coaching on occupational stress and work ability among electronics workshop instructors in Nigeria. Medicine 96(19)

Olusola OK (2015) Effects of the Nigeria police force personnel welfare condition on performance. Euro J Res Reflection Arts Hum 3(1):26–38 ISSN 2056-5887

Oswald AJ, Proto E, & Sgroi D (2012) Happiness and productivity. University of Warwick, Manuscript submitted for publication

Oyeniyi AB (2010) Terrorism in Nigeria: groups, activities, and politics. International Journal of Politics and Good Governance 1(1):1–16

Palmer S, Gyllensten K (2008) How cognitive behavioural, rational emotive behavioural or multimodal coaching could prevent mental health problems, enhance performance and reduce work related stress. J Ration Emot Cogn Behav Ther 26(1):38–52

Papazoglou K, Andersen JP (2014) A guide to utilizing police training as a tool to promote resilience and improve health outcomes among police officers. Traumatology: An Int J 20(2):103

Parks KM, Steelman LA (2008) Organizational wellness programs: a meta-analysis. J Occup Health Psychol 13(1):58–68 https://doi.org/10.1037/1076-8998.13.1.58

Peralta N, Godoi Vasconcelos AG, Härter Griep R, Miller L (2012) Validity and reliability of the work ability index in primary care workers in Argentina. Salud colectiva 8(2):163–173

Rani R, Garg P, Rastogi R (2012) Organizational justice and psychological wellbeing of police employees: a relationship study. Int J Adv Mgm Econs 1(5):183–194

Richardson KM, Rothstein HR (2008) Effects of occupational stress management intervention programs: a meta-analysis. J Occup Health Psychol 13(1):69–93

Rosenthal T, Alter A (2012) Occupational stress and hypertension. J Am Soc Hypertens 6(1):2–22

Sanjuan P, Ruiz A, Perez A (2011) Life satisfaction and positive adjustment as predicators of emotional distress in men with coronery heart disease. J Happiness Stud 12(6):1035–47. 15

Silva AJ, Caetano A (2013) Validation of the flourishing scale and scale of positive and negative experience in Portugal. Soc Indic Res 110(2):469–478

Skomorovsky A (2013) Psychological wellbeing of Canadian forces officer candidates: the role of personality and coping strategies. Mil Psychol 25(1):3–12

Sörensen LE, Pekkonen MM, Männikkö KH, Louhevaara VA, Smolander J, Alén MJ (2008) Associations between work ability, health-related quality of life, physical activity and fitness among middle-aged men. Appl Ergon 39(6):786–791

Spörrle M, Strobel M, Tumasjan A (2010) On the incremental validity of irrational beliefs to predict subjective well-being while controlling for personality factors. Psicothema 22(4):543–548

Stewart H, Mansingh G (2010, December) Using knowledge management to assist in the transformation of the Jamaica Constabulary Force. Proceedings of the SIG GlobDev Third Annual Workshop. St. Louis, USA

Sulaiman Y, Ortega A, D'Silva JL, Samah AA, Omar SZ (2015) A comparison across ranks of well-being among police officers in Malaysia. Asian Soc Sci 12(1):151

Tay L, Kuykendall L (2013) Promoting happiness: the malleability of individual and societal subjective wellbeing. Int J Psychol 48(3):159–176

Taxman FS, Gordon J (2009) Do fairness and equity matter? An examination of organizational justice among correctional officers in adult prisons. Crim Justice Behav 36(7):695–711

Tong KK, Wang YY (2017) Validation of the flourishing scale and scale of positive and negative experience in a Chinese community sample. PLoS One 12(8):e0181616

Turner MJ, Barker JB (2014) Using rational emotive behavior therapy with athletes. The Sport Psychologist 28(1):75–90

van den Berg TI, Elders LA, de Zwart BC, Burdorf A (2009) The effects of work-related and individual factors on the work ability index: a systematic review. Occup Environ Med 66(4):211–220

Vela JC, Lerma E, Ikonomopoulos J (2017) Evaluation of the life satisfaction and subjective happiness scales with Mexican American high school and college students. Hisp J Behav Sci 39(1):34–45

Wang W, Leather PJ (2016) Work characteristics and psychological health in East Asian police personnel direct and mediated effects. Int J Police Sci Manag 18:77–86. https://doi.org/10.1177/1461355716641699

Wickramasinghe ND, Wijesinghe PR, Dharmaratne SD, Agampodi SB (2016) The prevalence and associated factors of depression in policing: a cross sectional study in Sri Lanka. Springaplus 5(1). https://doi.org/10.1186/s40064-016-3474-9

Wood AG, Barker JB, Turner MJ, Sheffield D (2017) Examining the effect of rational emotive therapy on performance outcomes in elite paralympic athletes. Scand J Med Sci Sports 28(1). https://doi.org/10.1111/sms.12926

World Health Organization (2007). In health in prisons: a WHO guide to the essentials in prison health. Edited by Moller L, Stover H, Jurgens R, Gartherer A, Nikogosian H. Copenhagen, Denmark: World Health Organization; 2007
Ethics declarations
Conflict of Interest
The authors declare that they have no conflict of interest.
Ethical Approval
Ethical approval to conduct this study was provided by the Department of Educational Foundations at the University of Nigeria, Nsukka, Nigeria (REC/EDF/17/00012). This study was also conducted based on the ethical standard specification of the American Psychological Association APA (2017) and with that of the World Medical Association (2013).
Informed Written Consent
This was obtained from the study participants and also from the police division office of the participants' primary assignment.
Additional information
Publisher's Note
Springer Nature remains neutral with regard to jurisdictional claims in published maps and institutional affiliations.
About this article
Cite this article
Onyishi, C.N., Ede, M.O., Ossai, O.V. et al. Rational Emotive Occupational Health Coaching in the Management of Police Subjective Well-Being and Work Ability: a Case of Repeated Measures. J Police Crim Psych 36, 96–111 (2021). https://doi.org/10.1007/s11896-019-09357-y
Keywords
Rational emotive occupational health coaching

Rational emotive and cognitive behavioral therapy

Subjective well-being

Police officers

Nigeria