Abstract
In the arena of skills training for acting in complex, high-stress environments, situation awareness has been identified as a key characteristic of successful operators. The definition of situation awareness has evolved over time to include psychophysiological state management, stress inoculation, and cognitive components. This paper utilizes a mixed methods design to examine a training program, which claims to combine the aforementioned situation awareness components in protocols developed for military, law enforcement, and private security personnel. Four past participants of the training program completed in-depth, semi-structured interviews about their experience with the training. Subsequently, a training-specific survey was developed to more thoroughly investigate trainees' experiences. Survey responses of the program's trainees (n = 32) were compared to non-program trainees from similar fields (n = 35) on quantitative measures. Open-ended responses of the program's trainees were qualitatively analyzed. Overall, program trainees were found to perceive the training as positively impacting their situation awareness ability in stressful/threatening situations and non-stressful situations compared to the non-program trainees. Qualitative analyses conducted with the interviews and on open-response survey items provide descriptive explanations for how the training program is perceived to be influencing situation awareness abilities.
This is a preview of subscription content, log in to check access.
Access options
Buy single article
Instant access to the full article PDF.
US$ 39.95
Price includes VAT for USA
Subscribe to journal
Immediate online access to all issues from 2019. Subscription will auto renew annually.
US$ 99
This is the net price. Taxes to be calculated in checkout.
Notes
1.

To investigate if the large amount of the SAS training group that were non-US nationals influenced the effects, we also compared the responses of US only nationals from each group. Fifteen participants that were US nationals had complete data for each group. No significant group differences were found for PA-S, STAI or PSS. The non-SAS group was found to perceive their performance in non-stressful situations (PS-NS) as significantly better (M = 35.47, SD = 3.78) compared to the SAS group (M = 32.33, SD = 4.22), t(28) = −2.14, p = 0.04. This effect was not found in the overall group data. Importantly, the SAS group still perceived the impact of the SAS training to be significantly better in stressful (M = 37.40, SD = 6.59), t(28) = 2.32, p = 0.03, and non-stressful (M = 30.67, SD = 6.22), t(28) = 2.38, p = 0.03, situations compared to the non-SAS group (stressful M = 31.13, SD = 8.11; non-stressful M = 24.80, SD = 7.27).
References
Adams M, Tenney Y, Pew RW (1995) Situation awareness and the cognitive management of complex systems. Hum Factors 37:85–104

Alliger GM, Tannenbaum SI, Bennett W Jr, Traver H, Shotland A (1997) A meta-analysis of the relations among training criteria. Pers Psychol 50:341–358

Andersen JP, Gustafsberg H (2016) A training method to improve police use of force decision making: a randomized controlled trial. SAGE Open:1–13

Andersen JP, Papazoglou K, Arnetz BB, Collins PI (2015) Mental preparedness as a pathway to police resilience and optimal functioning in the line of duty. International Journal of Emergency Mental Health and Human Resilience 17(3):624–627

Arrabito GR, Leung AS (2014) Combating the impact of stigma on physically inured and mentally ill Canadian armed forces (CAF) members. Canadian Military Journal 14(2):25–35

Ball K, Owsley C, Sloane ME, Roenker DL, Bruni JR (1993) Visual attention problems as a predictor of vehicle crashes in older drivers. Invest Ophthalmol Vis Sci 34(11):3110–3123

Barnes LLB, Harp D, Jung WS (2002) Reliability generalization of scores on the Spielberger State-Trait Anxiety Inventory. Educ Psychol Meas 62:603–618

Bechara A, Damasio AR (2005) The somatic marker hypothesis: a neural theory of economic decision. Games and Economic Behavior 52:336–372. https://doi.org/10.1016/j.geb.2004.06.010

Bell, H. H. & Waag, W. L. (1995). User observer ratings to assess situational awareness in tactical air environments In D. J. Garland & M. R. Endsley (Eds.), Experimental analysis and measurement of situation awareness (pp. 93–99). Daytona Beach: Embry-Riddle Aeronautical University Press

Berka C, Behneman A, Kintz N, Johnson R, Raphael G (2010) Accelerating training using interactive neuro-educational technologies: applications to archery, golf, and rifle marksmanship. The International Journal of Sport and Society 1:1–17

Biggs AT, Cain MS, Mitroff SR (2015) Cognitive training can reduce civilian casualties in a simulated shooting environment. Psychol Sci:1–13

Bohm G, Brun W (2008) Intuition and affect in risk perception and decision making. Judgm Decis Mak 3(1):1–4

Brewer J (2014) Mindfulness in the military. Am J Psychiatr 171(8):803–806

Chaparro, A., Groff, L., Tabor, K., Sifrit, K., & Gugerty, L. J. (1999). Maintaining situational awareness: the role of visual attention. Proceedings of the Human Factors and Ergonomics Society 43rd Annual Meeting, 1343–1346, 43

Cohen J (1988) Statistical power analysis for the behavioral sciences, 2nd edn. Lawrence Earlbaum Associates, Hillsdale

Cohen, S. (1994). Perceived stress scale. Retrieved from http://www.mindgarden.com/documents/PerceivedStressScale.pdf.

Cohen S, Kamarck T, Mermelstein R (1983) A global measure of perceived stress. J Health Soc Behav 24(4):385–396

Cohn, J., Weltman, G., Ratwani, R., Chartrand, D., & McCraty, R. (2010). Stress inoculation through cognitive and biofeedback training. Paper presented at the annual Interservice/Industry Training, Simulation, and Education Conference

Driskell JE, Johnston JH (1998) Stress exposure training. In: Cannon-Bowers JA, Salas E (eds) Making decisions under stress: implications for individual and team training. American Psychological Association Press, Washington, DC, pp 191–217

Durso FT, Gronlund SD (1999) Situation awareness. In: Durso FT, Nickerson R, Schvaneveldt R, Dumais S, Lindsay S, Chi M (eds) Handbook of applied cognition. Wiley, New York, pp 284–314

Endsley, M.R. (1988). Design and evaluation for situation awareness enhancement. In Proceedings of the human factors society 32nd annual meeting, 97–101. Santa Monica, CA

Endsley MR (1999) Situation awareness in aviation systems. In: Garland DJ, Wise JA, Hopkin VD (eds) Handbook of aviation human factors. Lawrence Erlbaum Associates, Mahwah

Endsley MR (2015) Situation awareness misconceptions and misunderstandings. Journal of Cognitive Engineering and Decision Making 9(1):4–32. https://doi.org/10.1177/1555343415572631

Endsley, M.R., Holder, L.D., Leibrecht, B.C., Garland, D.J., Wampler, R.L., & Matthews, M.D. (2000). Modeling and measuring situation awareness in the infantry operational environment. Report for the U.S. Army Research Institute for the Behavioral and Social Sciences.

Endsley MR, Jones DG (2012) Designing for situation awareness: an approach to human-centered design, 2nd edn. Taylor & Francis, London

Eppley KR, Abrams AI, Shear J (1989) Differential effects of relaxation techniques on trait anxiety: a meta-analysis. J Clin Psychol 45(6):957–974

Flanagan SC, Kotwal RS, Forsten RD (2012) Preparing soldiers for the stress of combat. Journal of Special Operations Medicine 12(2):33–41

Foa EB, Dancu CV, Hembree EA, Jaycox LH, Meadows EA, Street GP (1999) A comparison of exposure therapy, stress inoculation training, and their combination for reducing posttraumatic stress disorder in female assault victims. Journal of Counseling and Clinical Psychology 67(2):194–200

Garrison KA, Scheinost D, Worhunsky PD, Elwafi HM, Thornhill TA IV et al (2013) Real-time fMRI links subjective experience with brain activity during focused attention. NeuroImage 81:110–118

Greene JC, Caracelli V, Graham W (1989) Toward a conceptual framework for mixed-method evaluation design. Educational Evaluation and Policy Analysis 11:255–274

Hale KS, Stanney KM, Milham LM, Carroll MAB, Jones DL (2009) Multimodal sensory information requirements for enhancing situation awareness and training effectiveness. Theor Issues Ergon Sci 10(3):245–266. https://doi.org/10.1080/14639220902151310

Honig A, Lewinski WJ (2008) A survey of the research on human factors related to lethal force encounters: implications for law enforcement training, tactics, and testimony. Law Enforcement Executive Forum 8(4):129–152

Hourani LL, Kizakevich PN, Hubal R, Spira J, Strange LB, Holiday DB, Bryant S, McLean AN (2011) Predeployment stress inoculation training for primary prevention of combat-related stress disorders. Journal of CyberTherapy & Rehabilitation 4(1):101–116

Ilnicki S, Wiederhold BK, Maciolek J, Kosinska L, Szymanska S, Zbyszewski M et al (2012) Effectiveness evaluation for short-term group pre-deployment VR computer-assisted stress inoculation training provided by Polish ISAF soldiers. Annual Review of Cybertherapy and Telemedicine:113–119. https://doi.org/10.3233/978-1-61499-121-2-113

Jha AP, Morrison AB, Dainer-Best J, Parker S, Rostrup N, Stanley EA (2015) Minds "at attention": mindfulness training curbs attentional lapses in military cohorts. PLoS One:1–19. https://doi.org/10.1371/journalpone.0116889

Johnson DC, Thom NJ, Stanley EA, Haase L, Simmons AN, Shih PAB, Thompson WK, Potterat EG, Minor TR, Paulus MP (2014) Modifying resilience mechanisms in at-risk individuals: a controlled study of mindfulness training in marines preparing for deployment. Am J Psychiatr 171(8):844–853

Kawaharada M, Yoshioka E, Saijo Y, Fukui T, Ueno T, Kishi R (2009) The effects of a stress inoculation training program for civil servants in Japan: a pilot study of a non-randomized controlled trial. Ind Health 47:173–182

Kirkpatrick DL, Kirkpatrick JD (2006) Evaluating training programs: the four levels, 3rd edn. Berrett-Koehler Publishers, Inc., San Francisco

Koglbauer I, Kallus KW, Braustingl R, Boucsein W (2011) Recovery training in simulator improves performance and psychophysiological state of pilots during simulated and real visual flight rules flight. Int J Aviat Psychol 21(4):307–324. https://doi.org/10.1080/1050841.2011.606741

Lee EH (2012) Review of the psychometric evidence of the perceived stress scale. Journal of Asian Nursing Research 6(4):121–127

Lincoln YS, Guba EG (1985) Naturalistic inquiry. Sage, Beverly Hills

Mace RD, Carroll D (1989) The effect of stress inoculation training on self-reported stress, observer's rating of stress, heart rate and gymnastics performance. J Sports Sci 7:257–266

Matthews MD, Strater LD, Endsley MR (2004) Situation awareness requirements for infantry platoon leaders. Mil Psychol 16(3):149–161

McClernon CK, McCauley ME, O'Connor PE, Warm JS (2011) Stress training improves performance during a stressful flight. Hum Factors 53(3):207–218. https://doi.org/10.1177/0018720811405317

Meichenbaum DH (1972) Cognitive modification of test anxious college students. Journal of Clinical and Counseling Psychology 39(2):370–380

Meichenbaum DH (1985) Stress inoculation training. Pergamon, Elmsford

Meichenbaum DH (2007) Stress inoculation training: a preventative and treatment approach. In: Lehrer PM, Woolfolk RL, Sime WS (eds) Principles and practice of stress management, 3rd edn. Guilford Press, New York, pp 497–518

Mertens DM (2005) Research methods in education and psychology: integrating diversity with quantitative and qualitative approaches, 2nd edn. Sage, Thousand Oaks

Morrow SL (2005) Quality and trustworthiness in qualitative research in counseling psychology. J Couns Psychol 52:250–260. https://doi.org/10.1037/0022-0167.52.2.250

Nazari MA, Querne L, De Broca A, Berquin P (2011) Effectiveness of EEG biofeedback as compared with methylphenidate in the treatment of attention deficit/hyperactivity disorder: a clinical outcome study. Neuroscience & Medicine 2:78–86

Patterson GT, Chung IW, Swan PW (2014) Stress management interventions for police officers and recruits: a meta-analysis. J Exp Criminol 10:487–513

Pergamin-Hight L, Naim R, Bakermans-Kranenburg MJ, Ijzendoorn MHV, Bar-Haim Y (2015) Content specificity of attention bias to threat in anxiety disorders: a meta-analysis. Clin Psychol Rev 35:10–18. https://doi.org/10.1016/j.cpr.2014.10.005

Prapavessis H, Grove JR, McNair PJ, Cable NT (1992) Self-regulation training, state anxiety, and sport performance: a psychophysiological case study. The Sport Psychologist 6:213–229

Randel JM, Pugh HL (1996) Differences in expert and novice situation awareness in naturalistic decision making. International Journal of Human-Computer Studies 45:579–597

Richardson KM, Rothstein H (2008) Effects of occupational stress management intervention programs: a meta-analysis. J Occup Health Psychol 12(1):69–93

Robson S, Manacapilli T (2014) Enhancing performance under stress. Stress inoculation training for battlefield airmen. Rand, Santa Monica

Sarter NB, Woods DD (1991) Situation awareness: a critical but ill-defined phenomenon. Int J Aviat Psychol 1(1):45–57

Saunders, T., Driskell, J.E., Hall, J. & Salas, E. (1996). The effect of stress inoculation training on anxiety and performance. Report for the U.S. Army Research Institute for the Behavioral and Social Sciences

Saw AE, Main LC, Gastin \B (2016) Monitoring the athlete training response: subjective self-reported measures trump commonly used objective measures: a systematic review. Br J Sports Med 50:281–291

Soliman AM, Mathna EK (2009) Metacognitive strategy training improves driving situation awareness. Social Behavior and Personality 37(9):1161–1170. https://doi.org/10.2224/sbp.2009.37.9.1161

Spielberger CD, Gorsuch RL, Lushene RE (1970) Manual for the State-Trait Anxiety Inventory. Consulting Psychologists Press, Palo Alto

Steadman, A. C. (2011). Applying neuroscience to enhance tactical leader cognitive performance in combat (Unpublished Masters thesis). U.S. Army Command and General Staff College, Fort Leavenworth, KS

Tang Y, Posner MI (2009) Attention training and attention state training. Trends Cogn Sci 13(5):222–227

Tenney YJ, Pew RW (2006) Situation awareness catches on: what? So what? Now what? Reviews of Human Factors and Ergonomics 2:1–34

Turner K, McCarthy VL (2017) Stress and anxiety among nursing students: a review of intervention strategies in literature between 2009 and 2015. Nurse Educ Pract 22:21–29

Varker T, Devilly GJ (2012) An analogue trial of inoculation/resilience training for emergency services personnel: proof of concept. Journal of Anxiety Disorders 26:696–701

What We Do. (n.d.). Retrieved August 31, 2015, from https://www.accentusludus.com/

Wickens CD (2008) Situation awareness: review of Mica Endsley's 1995 articles on situation awareness theory and measurement. Hum Factors 50(3):397–403

Wynne, M. (2013, May 16). Repost: neural-based training for situational awareness (first printed in SWAT Magazine). Retrieved July 21, 2015, from https://marcuswynne.wordpress.com/2013/05/16/neural-based-training-for-situational-awareness-first-printed-in-swat-magazine/
Appendices
Appendix 1
Introductory Protocol
Could we first have you verbally confirm that you are aware that we are recording this conversation and have given us your consent to do so?
We would first like to thank you for the opportunity to speak with you today. As you have been informed, you were selected because of the training you have completed with Marcus Wynne. We are going to go over some logistics before we get started. Is that ok?
We want to remind you that recordings will be kept in a secure location accessible only to researchers on the project. Further, the recording will be destroyed following transcription. We also want to remind you that all information will be held confidential and that you are free to end participation at any time or refrain from answering any questions you are uncomfortable with. Finally, we will do our best not to use your name throughout the remainder of the interview to ensure confidentiality of your responses. If for any reason we slip and use your name it will be replaced with a pseudonym in the transcript.
We have planned this interview to last approximately 30–45 min. Although we have a few specific questions we'd like to ask, this interview is primarily unstructured and informal and many of our questions will evolve from the information that you provide. We will do our best to cover as much as possible in the time allotted.
Do you have any questions about the logistics? We'd like to give you a little more information about the purpose of the interview and then hear from you.
This preliminary research is aimed at exploring training participants' experiences with training provided by Marcus Wynne. Our goal is to understand the training experience from the participant's perspective and to utilize this information to help guide further research into the mechanisms impacted by this training. There are no right or wrong answers, and this study is primarily exploratory. We want to encourage you to be as honest as possible, and ensure you that only the themes and data that emerge from these interviews will be shared outside of the primary research team. We greatly appreciate you taking the time to talk with us today.
Do you have any questions before we begin?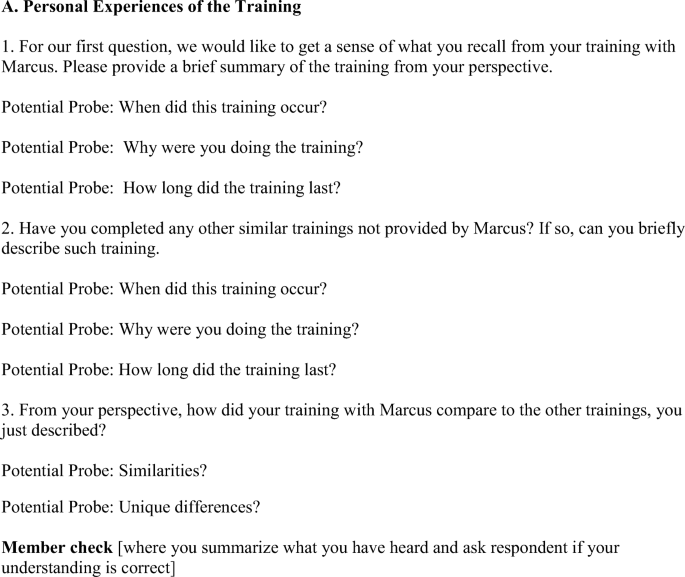 Appendix 2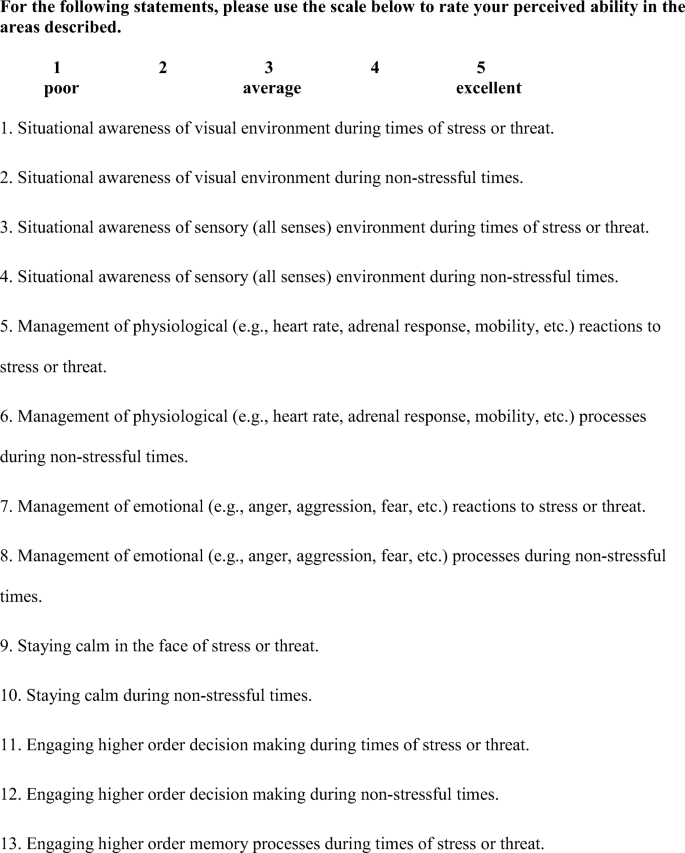 About this article
Cite this article
O'Hare, A.J., Beer, A. A Mixed Method Investigation of Past Trainees' Perceptions of a Critical Incident Situational Awareness Training Program. J Police Crim Psych 35, 13–34 (2020). https://doi.org/10.1007/s11896-018-9291-z
Keywords
Situation awareness

State management

Stress inoculation

Cognitive skills

Mixed methods