Abstract
Ambient fine particulate matter (PM2.5) poses great risk to human health worldwide. Pulmonary oxidative stress is considered to be a vital step in PM2.5 triggered adverse health effects. Many in vitro studies have demonstrated that PM2.5 could induce oxidative stress in lung epithelia or macrophages but few studies have explored the difference between these two types of cells when estimating PM2.5 caused pulmonary oxidative stress. In this study, we compared the oxidative stress intensity between lung epithelial cells (A549) and monocyte-macrophage cells (Raw264.7) after PM2.5 treatments and explored the major generation mechanism of ROS in both cell lines. We found that Raw264.7 was more sensitive to PM2.5-induced cytotoxicity than A549; however, PM2.5 caused much greater oxidative stress in A549 compared with in Raw264.7. Moreover, we found that production of ROS via xanthine oxidase and nitric oxide synthase was involved in oxidative stress in A549 cells, while NADPH oxidase and nitric oxide synthase were the major sources of ROS generation in Raw264.7 cells. These observations suggested that lung epithelial cell is a more sensitive cell when estimating PM2.5-induced pulmonary oxidative stress in vitro.
This is a preview of subscription content, log in to check access.
Access options
Buy single article
Instant access to the full article PDF.
US$ 39.95
Price includes VAT for USA
Subscribe to journal
Immediate online access to all issues from 2019. Subscription will auto renew annually.
US$ 99
This is the net price. Taxes to be calculated in checkout.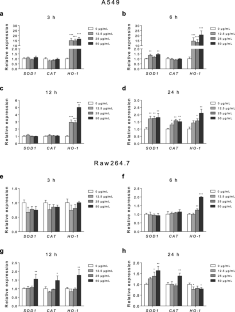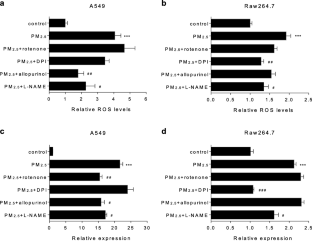 References
Alekseenko AV, Lemeshchenko VV, Pekun TG, Waseem TV, Fedorovich SV (2012) Glutamate-induced free radical formation in rat brain synaptosomes is not dependent on intrasynaptosomal mitochondria membrane potential. Neurosci Lett 513:238–242

Brook RD, Newby DE, Rajagopalan S (2017) Air pollution and cardiometabolic disease: an update and call for clinical trials. Am J Hypertens 31:1–10

Chen Y, Luo X, Zhao Z, Chen Q, Wu D, Sun X, Wu L, Jin L (2018a) Summer-winter differences of PM2.5 toxicity to human alveolar epithelial cells (A549) and the roles of transition metals. Ecotox Environ Safe 165:505–509

Chen F et al (2018b) The effects of PM2.5 on asthmatic and allergic diseases or symptoms in preschool children of six Chinese cities, based on China, children, homes and health (CCHH) project. Environ Pollut 232:329–337

Deng X, Zhang F, Rui W, Long F, Wang L, Feng Z, Chen D, Ding W (2013) PM2.5-induced oxidative stress triggers autophagy in human lung epithelial A549 cells. Toxicol in Vitro 27:1762–1770

Forstermann U, Sessa WC (2012): Nitric oxide synthases: regulation and function. Eur Heart J 33, 829-837, 837a-837d

Hamad SH, Schauer JJ, Antkiewicz DS, Shafer MM, Kadhim AK (2016) ROS production and gene expression in alveolar macrophages exposed to PM2.5 from Baghdad, Iraq: seasonal trends and impact of chemical composition. Sci Total Environ 543:739–745

Ito T, Bekki K, Fujitani Y, Hirano S (2019) The toxicological analysis of secondary organic aerosol in human lung epithelial cells and macrophages. Environ Sci Pollut R 26:22747–22755

Konczol M, Weiss A, Stangenberg E, Gminski R, Garcia-Kaufer M, Giere R, Merfort I, Mersch-Sundermann V (2013) Cell-cycle changes and oxidative stress response to magnetite in A549 human lung cells. Chem Res Toxicol 26:693–702

Kovac S, Domijan AM, Walker MC, Abramov AY (2014) Seizure activity results in calcium- and mitochondria-independent ROS production via NADPH and xanthine oxidase activation. Cell Death Dis 5:e1442

Lawal AO (2017) Air particulate matter induced oxidative stress and inflammation in cardiovascular disease and atherosclerosis: the role of Nrf2 and AhR-mediated pathways. Toxicol Lett 270:88–95

Li YN, Xi MM, Guo Y, Hai CX, Yang WL, Qin XJ (2014) NADPH oxidase-mitochondria axis-derived ROS mediate arsenite-induced HIF-1alpha stabilization by inhibiting prolyl hydroxylases activity. Toxicol Lett 224:165–174

Li R, Qiu X, Xu F, Lin Y, Fang Y, Zhu T (2016) Macrophage-mediated effects of airborne fine particulate matter (PM2.5) on hepatocyte insulin resistance in vitro. ACS Omega 1:736–743

Li J, Zhou Q, Yang T, Li Y, Zhang Y, Wang J, Jiao Z (2018) SGK1 inhibits PM2.5-induced apoptosis and oxidative stress in human lung alveolar epithelial A549cells. Biochem Biophys Res Commun 496:1291–1295

Lin Y, Ma Y, Qiu X, Li R, Fang Y, Wang J, Zhu Y, di Hu (2015) Sources, transformation, and health implications of PAHs and their nitrated, hydroxylated, and oxygenated derivatives in PM2.5 in Beijing. J Geophys Res-Atmos 120:7219–7228

Lippmann M (2014) Toxicological and epidemiological studies of cardiovascular effects of ambient air fine particulate matter (PM2.5) and its chemical components: coherence and public health implications. Crit Rev Toxicol 44:299–347

Liu H, Zhou BH, Qiu X, Wang HS, Zhang F, Fang R, Wang XF, Cai SH, Du J, Bu XZ (2012) T63, a new 4-arylidene curcumin analogue, induces cell cycle arrest and apoptosis through activation of the reactive oxygen species-FOXO3a pathway in lung cancer cells. Free Radic Biol Med 53:2204–2217

Ma Q (2013) Role of Nrf2 in oxidative stress and toxicity. Annu Rev Pharmacol 53:401–426

Michael S, Montag M, Dott W (2013) Pro-inflammatory effects and oxidative stress in lung macrophages and epithelial cells induced by ambient particulate matter. Environ Pollut 183:19–29

Mitkus RJ, Powell JL, Zeisler R, Squibb KS (2013) Comparative physicochemical and biological characterization of NIST interim reference material PM2.5 and SRM 1648 in human A549 and mouse RAW264.7 cells. Toxicol in Vitro 27:2289–2298

Miyata R, van Eeden SF (2011) The innate and adaptive immune response induced by alveolar macrophages exposed to ambient particulate matter. Toxicol Appl Pharm 257:209–226

Nasr BN, Kilani JS, Kovacic H, Chekir-Ghedira L, Ghedira K, Luis J (2015) The effects of caffeic, coumaric and ferulic acids on proliferation, superoxide production, adhesion and migration of human tumor cells in vitro. Eur J Pharmacol 766:99–105

Novo E, Parola M (2008) Redox mechanisms in hepatic chronic wound healing and fibrogenesis. Fibrogenesis Tissue Repair 1:5

Qiu YN, Wang GH, Zhou F, Hao JJ, Tian L, Guan LF, Geng XK, Ding YC, Wu HW, Zhang KZ (2019) PM2.5 induces liver fibrosis via triggering ROS-mediated mitophagy. Ecotoxicol Environ Saf 167:178–187

Quan C, Sun Q, Lippmann M, Chen L (2010) Comparative effects of inhaled diesel exhaust and ambient fine particles on inflammation, atherosclerosis, and vascular dysfunction. Inhal Toxicol 22:738–753

Roper C, Delgado LS, Barrett D, Simonich SLM, Tanguay RL (2019) PM2.5 filter extraction methods: implications for chemical and toxicological analyses. Environ Sci Technol 53:434–442

Rui W, Guan L, Zhang F, Zhang W, Ding W (2016) PM2.5-induced oxidative stress increases adhesion molecules expression in human endothelial cells through the ERK/AKT/NF-kappa B-dependent pathway. J Appl Toxicol 36:48–59

Sies H, Jones D (2007) Oxidative stress. Elsevier, In Encyclopedia of Stress, San Diego

Song L, Li D, Li X, Ma L, Bai X, Wen Z, Zhang X, Chen D, Peng L (2017) Exposure to PM2.5 induces aberrant activation of NF-kappaB in human airway epithelial cells by downregulating miR-331 expression. Environ Toxicol Pharmacol 50:192–199

Stanaway JD et al (2018) Global, regional, and national comparative risk assessment of 84 behavioural, environmental and occupational, and metabolic risks or clusters of risks for 195 countries and territories, 1990-2017: a systematic analysis for the global burden of disease study 2017. Lancet 392:1923–1994

Strak M, Janssen NA, Godri KJ, Gosens I, Mudway IS, Cassee FR, Lebret E, Kelly FJ, Harrison RM, Brunekreef B, Steenhof M, Hoek G (2012) Respiratory health effects of airborne particulate matter: the role of particle size, composition, and oxidative potential-the RAPTES project. Environ Health Perspect 120:1183–1189

Su R, Jin X, Zhang W, Li Z, Liu X, Ren J (2017) Particulate matter exposure induces the autophagy of macrophages via oxidative stress-mediated PI3K/AKT/mTOR pathway. Chemosphere 167:444–453

Turner J, McCabe K, Snawder J, Hernandez M (2019) (1 -> 3) beta-Glucan induces multimodal toxicity responses in parallel exposures of model human lung epithelial cells and immature macrophage. Air Qual Atmos Hlth 12:379–387

Wei T, Tang M (2018) Biological effects of airborne fine particulate matter (PM2.5) exposure on pulmonary immune system. Environ Toxicol Pharmacol 60:195–201

Xu F, Shi X, Qiu X, Jiang X, Fang Y, Wang J, Hu D, Zhu T (2020): Investigation of the chemical components of ambient fine particulate matter (PM2.5) associated with in vitro cellular responses to oxidative stress and inflammation. Environ Int 136

Yang B, Guo J, Xiao C (2018) Effect of PM2.5 environmental pollution on rat lung. Environ Sci Pollut R 25:36136–36146

Zhou L, Sun CB, Liu C, Fan Y, Zhu HY, Wu XW, Hu L, Li QP (2015) Upregulation of arginase activity contributes to intracellular ROS production induced by high glucose in H9c2 cells. Int J Clin Exp Pathol 8:2728–2736
Funding
This work was supported by the National Natural Science Foundation of China (31601192, 91643103), Zhejiang Provincial Natural Science Foundation of China (LY20H260004), special fund of the State Key Joint Laboratory of Environment Simulation and Pollution Control (16K04ESPCP) and Foundation of Zhejiang Chinese Medical University (2018ZJ07).
Ethics declarations
Conflict of interest
The authors declare that they have no conflict of interest.
Additional information
Publisher's note
Springer Nature remains neutral with regard to jurisdictional claims in published maps and institutional affiliations.
Electronic supplementary material
About this article
Cite this article
Li, R., Wang, Y., Qiu, X. et al. Difference on oxidative stress in lung epithelial cells and macrophages induced by ambient fine particulate matter (PM2.5). Air Qual Atmos Health 13, 789–796 (2020). https://doi.org/10.1007/s11869-020-00835-5
Received:

Accepted:

Published:

Issue Date:
Keywords
Air pollution

Fine particulate matter

Cytotoxicity

Oxidative stress

Lung epithelial cells

Macrophages