Abstract
The coastal stretch of north-eastern Mediterranean Morocco holds vitally important ecological, social, and economic functions. The implementation of large-scale luxury tourism resorts shall push socio-economic development and facilitate the shift from a mainly agrarian to a service economy. Sufficient water availability and intact beaches are among the key requirements for the successful realization of regional development plans. The water situation is already critical, additional water-intense sectors could overstrain the capacity of water resources. Further, coastal erosion caused by sea-level rise is projected. Regional climate change is observable, and must be included in regional water management. Long-term climate trends are assessed for the larger region (Moulouya basin) and for the near-coastal zone at Saidia. The amount of additional water demand is assessed for the large-dimensioned Saidia resort; including the monthly, seasonal and annual tourist per capita water need under inclusion of irrigated golf courses and garden areas. A shift of climate patterns is observed, a lengthening of the dry summer season, and as well a significant decline of annual precipitation. Thus, current water scarcity is mainly human-induced; however, climate change will aggravate the situation. As a consequence, severe environmental damage due to water scarcity is likely and could impinge on the quality of local tourism. The re-adjustment of current management routines is therefore essential. Possible adjustments are discussed and the analysis concludes with management recommendations for innovative regional water management of tourism facilities.
Access options
Buy single article
Instant access to the full article PDF.
US$ 39.95
Tax calculation will be finalised during checkout.
Subscribe to journal
Immediate online access to all issues from 2019. Subscription will auto renew annually.
US$ 79
Tax calculation will be finalised during checkout.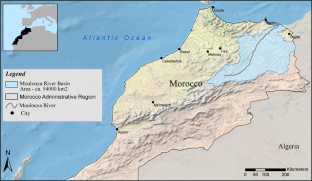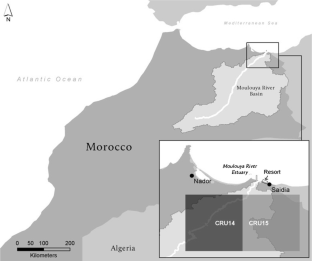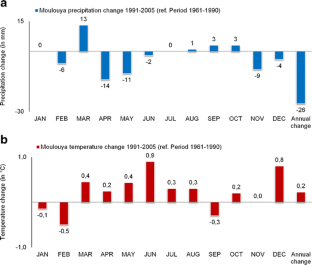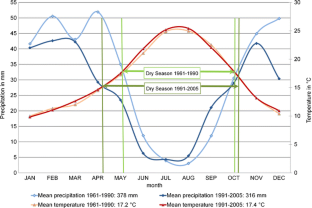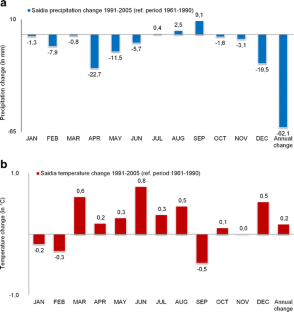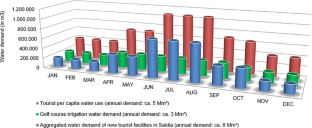 References
Anfuso G, Nachite D (2011) Climate change and the Mediterranean Southern Coasts. In: Jones A, Phillips MC (eds) Disappearing destinations: climate change and future challenges for coastal tourism. CAB International, Wallingford

Aramburu MP, Escribano R (1993) Golf: a conflicting recreational activity in the Madrid autonomous area (Spain). Landsc Urban Plan 23(3–4):209–220

Araus JL (2004) The problems of sustainable water use in the Mediterranean and research requirements agriculture. Ann Appl Biol 144(3):259–272

Belloumi M (2010) The relationship between tourism receipts, real effective exchange rate and economic growth in Tunisia. Int J Tour Res 12(5):550–560

Benoit G, Comeau A (eds) (2005) A sustainable future for the Mediterranean: the Blue Plan's Environment and Development Outlook. Earthscan, London

Carneiro JF, Boughriba M, Correia A, Zarhloule Y, Rimi A, Houadi BE (2008) Climate change impact in a shallow coastal Mediterranean Aquifer, at Saidia, Morocco. In: SWIM 20–20th Salt Water Intrusion Meeting, Naples, Florida, USA. See: http://conference.ifas.ufl.edu/swim/papers.pdf

Cazenave A, Cabanes C, Dominh K, Mangiarotti S (2001) Recent sea level change in the Mediterranean Sea revealed by Topex/Poseidon satellite altimetry. Geophys Res Lett 28(8):1607–1610

Diaz JA, Knox JW, Weatherhead EK (2007) Competing demands for irrigation water: golf and agriculture in Spain. Irrig Drain 56(5):541–549

Döll P (2009) Vulnerability to the impact of climate change on renewable groundwater resources: a global-scale assessment. Environ Res Lett 4(3)

El Yaouti F, El Mandour A, Khattach D, Benavente J, Kaufmann O (2009) Salinization processes in the unconfined aquifer of Bou-Areg (NE Morocco): a geostatistical, geochemical, and tomographic study. Appl Geochem 24(1):16–31

Falkenmark M (1989) The massive water scarcity now threatening Africa–why isnt it being addressed. Ambio 18(2):112–118

Falkenmark M, Widstrand C (1992) Population and water-resources—a delicate balance. Popul Bull 47(3):2–36

Garcia C, Servera J (2003) Impacts of tourism development on water demand and beach degradation on the island of Mallorca (Spain). Geogr Ann Ser A Phys Geogr 85A(3–4):287–300

Gleick PH, Chalecki EL, Wong A (2002) Measuring water well-being: water indicators and indices. In: Gleick PH (ed) The world's water, 2002–2003: the biennal report on freshwater resources. Island Press, Washington, pp 87–112

Gössling S (2002) Global environmental consequences of tourism. Glob Environ Chang Hum Policy Dimens 12(4):283–302

Gössling S (2005) Tourism's contribution to global environmental change: space, energy, disease, water. In: Hall MC, Higham J (eds) Tourism, recreation and climate change. Clevedon, pp 286–300

Gössling S, Peeters P, Hall CM, Ceron J-P, Dubois G, Lehmann LV, Scott D (2012) Tourism and water use: supply, demand, and security. An international review. Tour Manag 33(1):1–15

Imassi S (2007) Variabilité hydroclimatique et impacts des activités anthropiques sur les resources en eau de la Basse Moulouya (Maroc oriental). Thèse de Doctorat, Université Mohammed V–AGDAL, Faculté des Sciences, Rabat

IPCC Intergovernmental Panel on Climate Change (2007) Climate change 2007–the physical science basis. Contribution of Working Group I to the Fourth Assessment Report Cambridge, Cambridge University Press

Jones A, Phillips MC (eds) (2011) Disappearing destinations: climate change and future challenges for coastal tourism. CAB International, Wallingford

Jurado E, Dantas AG, da Silva CP (2009) Coastal zone management: tools for establishing a set of indicators to assess beach carrying capacity (Costa del Sol–Spain). J Coast Res 1125–1129

Kadi MA (2004) From water scarcity to water security in the Maghreb region: The Moroccan case. Environmental Challenges in the Mediterranean 2000–2050 37:175–185

Katircioglu ST (2009) Testing the tourism-led growth hypothesis: the case of Malta. Acta Oeconomica 59(3):331–343

Kent M, Newnham R, Essex S (2002) Tourism and sustainable water supply in Mallorca: a geographical analysis. Appl Geogr 22(4):351–374

Klein YL, Osleeb JP, Viola MR (2004) Tourism-generated earnings in the coastal zone: a regional analysis. J Coast Res 20(4):1080–1088

Lalou S (2011) Un tourisme prometteur à l'horizon 2020, Le Soir Echos, Casablanca, http://www.lesoir-echos.com/un-tourisme-prometteur-a-l%E2%80%99horizon-2020/actualites-2/presse-maroc/18557/. Cited Dec 2012

Loukissas P, Skayannis P (2001) Tourism, sustainable development, and the environment. In: Apostolopoulos Y, Loukissas P, Leontidou L (eds) Mediterranean tourism. Facets of socioeconomic development and cultural change. Routledge, New York, pp 239–256

Luterbacher J, Xoplaki E, Casty C, Wanner H, Pauling A, et al. (2006) Mediterranean climate variability over the last centuries: a review In: Lionello P, Malanotte-Rizzoli P (eds) Mediterranean climate variability, volume 4. Amsterdam

Markwick MC (2000) Golf tourism development, stakeholders, differing discourses and alternative agendas: the case of Malta. Tour Manag 21(5):515–524

Moustadraf J, Razack M, Sinan M (2008) Evaluation of the impacts of climate changes on the coastal Chaouia aquifer, Morocco, using numerical modeling. Hydrogeol J 16(7):1411–1426

New M, Lister D, Hulme M, Makin I (2002) A high-resolution data set of surface climate over global land areas. Clim Res 21(1):1–25

Nicholls RJ, Cazenave A (2010) Sea-level rise and its impact on coastal zones. Science 329(5992):628–628

Phillips MC, Jones AL (2006) Erosion and tourism infrastructure in the coastal zone: problems, consequences and management. Tour Manag 27(3):517–524

Rico-Amoros AM, Olcina-Cantos J, Sauri D (2009) Tourist land use patterns and water demand: evidence from the Western Mediterranean. Land Use Policy 26:493–501

Roudies N (2010) Vision 2020 for tourism in Morocco: raise the destination to be in the top twenty of the touristic destinations in the world. Paper presented at the OECD LEED "New Strategies for tourism and the local development in the Mediterranean region", Trento, Italy, 13–16 December 2010

Royaume du Maroc (2001) L'Accord d'application. In: Ministère du Tourisme du Maroc–Administration au Tourisme (ed): Rabat, Morocco. See http://www.tourisme.gov.ma Cited Dec 15, 2008

Royaume du Maroc (2008) Plan Azur: Référentiel développement durable pour les nouvelles zones touristiques à horizon 2010–Principes de Développement Touristique Durable Cas Morocain. In: SMAP III TA Regional Workshop on Sustainable Tourism at 19, 20 & 21 February 2008 Istanbul, Turkey, Département du Tourisme

Royaume du Maroc (2010) Vision 2020 et Avenir. In: Adminstration du Tourisme (ed) Rabat, Morocco: Available online: http://www.tourisme.gov.ma/francais/2-Vision2020-Avenir/1-en-bref/enbref.htm Cited 4 December 2012

Skim A (2007) Water scarcity–Moroccan experience. In: EMWIS (Euro-Mediterranean Information System on know-how in the Water sector) National information seminar in Cyprus, 10 May 2007 http://www.semide.net/media_server/files/B/r/08a_DrougthManagementMorocco.pdf Cited January 2012

Snoussi M (2004) Review of certain basic elements for the assessment of environmental flows in the Lower Moulouya. IUCN International Union for Conservation of Nature, Gland

Snoussi M, Haïda S, Imassi S (2002) Effects of the construction of dams on the water and sediment fluxes of the Moulouya and the Sebou Rivers, Morocco. Reg Environ Chang 3(1):5–12

Snoussi M, Kitheka J, Shaghude Y, Kane A, Arthurton R, Le Tissier M, Virji H (2007) Downstream and coastal impacts of damming and water abstraction in Africa. Environ Manag 39(5):587–600

Snoussi M, Ouchani T, Niazi S (2008) Vulnerability assessment of the impact of sea-level rise and flooding on the Moroccan coast: the case of the Mediterranean eastern zone. Estuarine Coastal Shelf Sci 77(2):206–213

Snoussi M, Ouchani T, Khouakhi A, Niang-Diop I (2009) Impacts of sea-level rise on the Moroccan coastal zone: quantifying coastal erosion and flooding in the Tangier Bay. Geomorphology 107(1–2):32–40

Stefano LD (2004) Freshwater and tourism in the Mediterranean. WWF Mediterranean Programme, Rome

Taylor RG, Koussis AD, Tindimugaya C (2009) Groundwater and climate in Africa—a review. Hydrol Sci J-J Sci Hydrol 54(4):655–664

Tekken V, Kropp JP (2012) Climate-driven or human-induced: indicating severe water scarcity in the Moulouya River Basin (Morocco). Water 4(4):959–982

Tekken V, Costa L, Kropp JP (2009) Assessing the regional impacts of climate change on economic sectors in the low-lying coastal zone of Mediterranean East Morocco. J Coast Res 272–276

Trieb F (2007) AQUA-CSP. Concentrating solar power for seawater desalination. Final Report. German Aerospace Center (DLR) & Federal Ministry for the Environment, Nature Conservation and Nuclear Safety, Germany

Trieb F, Muller-Steinhagen H (2008) Concentrating solar power for seawater desalination in the Middle East and North Africa. Desalination 220(1–3):165–183

UNEP/MAP-Plan Bleu (2009) State of the environment and development in the Mediterranean. United Nations Environment Programme/Mediterranean Action Plan, Athens

UNEP/PAP (2009) Sustainable coastal tourism. An integrated planning and management approach. United Nations Environment Programme/Priority Actions Programme, Split

UNWTO (2008) Tourism highlights 2008 edition. In: United Nation World Tourism Organization UNWTO (ed) Madrid

Walter H, Lieth H (1960) Klimadiagramm-Weltatlas. Jena

WWF (2001) Tourism threats in the Mediterranean. World Wide Fund for Nature (WWF) Background information. Switzerland

Xoplaki E, Luterbacher J, Gonzalez-Rouco JF (2006) Mediterranean summer temperature and winter precipitation, large-scale dynamics, trends. Nuovo Cimento Soc Ital Fis C-Geophys Space Phys 29(1):45–54
Acknowledgments
The work was supported by the project "ACCMA–Adaptation to Climate Change in Morocco" as part of the program 'Adaptation aux Changements Climatiques en Afrique (ACCA)', financed by the International Development Research Centre Canada (IDRC) and the UK Department for International Development (DFID). The authors would like to thank Susanne Stoll-Kleemann (University Greifswald) and three anonymous reviewers for their valuable and constructive comments on this manuscript.
About this article
Cite this article
Tekken, V., Costa, L. & Kropp, J.P. Increasing pressure, declining water and climate change in north-eastern Morocco. J Coast Conserv 17, 379–388 (2013). https://doi.org/10.1007/s11852-013-0234-7
Received:

Revised:

Accepted:

Published:

Issue Date:
Keywords
North-eastern Morocco

Climate change

Coastal zone

Luxury tourism

Water demand

Adaptation