Abstract
In this paper, the resource-based view is used to analyze the implementation of crowdsourcing as an IT-based practice. The study examines strategic positioning regarding market orientation and the role of two capabilities: transformational leadership and organizational learning capability, in the implementation of crowdsourcing. An empirical study of Spanish telecommunications and biotechnology companies confirms the moderating effect of these capabilities on the relationship between market orientation and crowdsourcing.
Access options
Buy single article
Instant access to the full article PDF.
US$ 39.95
Tax calculation will be finalised during checkout.
Subscribe to journal
Immediate online access to all issues from 2019. Subscription will auto renew annually.
US$ 79
Tax calculation will be finalised during checkout.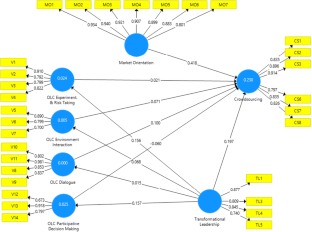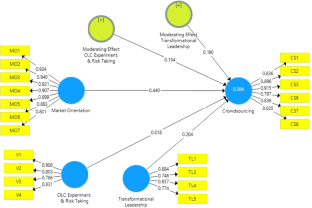 References
Bass B (1985) Leadership and performance beyond expectations. The Free Press, New York

Bass B (1999) Two decades of research and development in transformational leadership. Eur J Work Organ Psychol 8(1):9–32

Battistella C, Biotto G, De Toni AF (2012) From design driven innovation to meaning strategy. Manag Decis 50(4):718–743

Bhattarai C, Kwong CCY, Tasavori M (2019) Market orientation, market disruptiveness capability and social enterprise performance: an empirical study from the United Kingdom. J Bus Res 96:47–60

Bouncken RB, Kraus S (2013) Innovation in knowledge-intensive industries: the double-edged sword of coopetition. J Bus Res 66(10):2060–2070

Bouncken RB, Plüschke BD, Pesch R, Kraus S (2016) Entrepreneurial orientation in vertical alliances: joint product innovation and learning from allies. RMS 10(2):381–409

Bouncken R, Roig-Tierno N, Kraus S (2019) Knowledge- and innovation-based business models for future growth: digitalized business models and portfolio considerations. Rev Manag Sci 1:1. https://doi.org/10.1007/s11846-019-00366-z

Brabham DC (2008) Crowdsourcing as a model for problem solving: an introduction and cases. Converg Int J Res New Media Technol 14:75–90

Bruque S, Vargas A, Hernández MJ (2004) Organizational determinants of IT adoption in the pharmaceutical distribution sector. Eur J Inf Syst 13(2):133–146

Chen Y-S, Lin MJ, Chang C-H (2009) The positive effects of relationship learning and absorptive capacity on innovation performance and competitive advantage in industrial markets. Ind Mark Manag 38(2):152–158

Chiva R, Alegre J, Lapiedra R (2007) Measuring organizational learning capability among the workforce. Int J Manpow 28(3/4):224–242

Coelho DA, Nunes F, Vieira FL (2018) The impact of crowdsourcing in product development: an exploratory study of Quirky based on the perspective of participants. Int J Des Creat Innov 6(1–2):114–128

Çömleka O, Kitapçı H, Çelikc V, Özşahind M (2012) The effects of organizational learning capacity on firm innovative performance. Procedia Soc Behav Sci 41:367–374

Daft RL, Weick KE (1984) Toward a model of organization as interpretation systems. Acad Manag Rev 9:284–295

Deshpandé R, Farley JU (1998) Measuring market orientation: generalization and synthesis. J Mark Focus Manag 2:213–232

Devece C (2013) The value of business managers' 'information technology' competence. Serv Ind J 33(7–8):720–733

Devece C, Llopis-Albert C, Palacios D (2017a) Market orientation, organizational performance, and the mediating role of crowdsourcing in knowledge-based firms. Psychol Mark 34(12):1127–1134

Devece C, Palacios D, Martinez-Simarro D (2017b) Effect of information management capability on organizational performance. Serv Bus 11(3):563–580

Dillman DA (2000) Mail and Internet surveys: the tailored design method. Wiley, New York

Djelassi S, Decoopman I (2013) Customers' participation in product development through crowdsourcing: issues and implications. Ind Mark Manage 42:683–692

Doherty NF, Terry M (2009) The role of IS capabilities in delivering sustainable improvements to competitive positioning. J Strateg Inf Syst 18:100–116

Galliers RD (2006) On confronting some of the common myths of information strategy discourse. In: Avgerou C, Mansell R, Quah D, Silverstone R (eds) The Oxford handbook of information and communication technology. Oxford University Press, Oxford, pp 225–243

Garcia-Morales VJ, Jimenez-Barrionuevo MM, Gutierrez-Gutierrez L (2012) Transformational leadership influence on organizational performance through organizational learning and innovation. J Bus Res 65(7):1040–1050

Gatautisa R, Vitkauskait E (2014) Crowdsourcing application in marketing activities. Procedia Soc Behav Sci 110:1243–1250

Giesen E, Riddleberger E, Christner R, Bell R (2010) When and how to innovate your business model. Strategy Leadersh 38(4):17–26

Gonzalez-Benito O, Gonzalez-Benito J, Munoz-Gallego PA (2014) On the consequences of market orientation across varied environmental dynamism and competitive intensity levels. J Small Bus Manag 52(1):1–21

Hagen B, Zucchella A, Larimo J, Dimitratos P (2017) A taxonomy of strategic postures of international SMEs. Eur Manag Rev 14:265–285

Hair JF, Ringle CM, Sarstedt M (2011) PLS-SEM: indeed a silver bullet. J Mark Theory Pract 19(2):139–151

Hartog DN, Muijen JJ, Koopman PL (1997) Transactional versus transformational leadership: an analysis of the MLQ. J Occup Organ Psychol 70(1):19–34

Humphreys JH, Einstein WO (2003) Nothing new under the sun: transformational leadership from a historical perspective. Manag Decis 41(1/2):85–95

Jaworski B, Kohli A (1993) Market orientation: antecedents and consequences. J Mark 57:53–70

Johnson JS, Fisher GJ, Friend SB (2019) Crowdsourcing service innovation creativity: environmental influences and contingencies. J Mark Theory Pract 27(3):251–268

Jung DD, Wu A, Chow CW (2008) Towards understanding the direct and indirect effects of CEOs' transformational leadership on firm innovation. Leadersh Q 19(5):582–594

King WR (2009) Knowledge management and organizational learning. Springer, New York

Kline PB (1998) Principles and practices of structural equation modelling. Guilford, New York

Kogut B, Zander U (1992) Knowledge of the firm, combinative capabilities and the replication of technology. Organ Sci 3(3):383–397

Kohli AK, Jaworski BJ (1990) Market orientation: the construct, research propositions and managerial implications. J Mark 54:1–18

Lado AA, Wilson M (1994) Human resource systems and sustained competitive advantage: a competency-based perspective. Acad Manag Rev 19:699–727

Lado AA, Boyd NG, Wright P (1992) A competency based model of sustainable competitive advantage: towards a conceptual integration. J Manag 18:77–91

Lang M, Bharadwaj N, Di Benedetto CA (2016) How crowdsourcing improves prediction of market-oriented outcomes. J Bus Res 69:4168–4176

Liang TP, You JJ, Liu CC (2010) A resource-based perspective on information technology and firm performance: a meta-analysis. Ind Manag Data Syst 110(8–9):1138–1158

Marjanovic S, Fry C, Chataway J (2012) Crowdsourcing based business models: in search of evidence for innovation 2.0. Sci Public Policy 39(3):318–332

Martínez-Simarro D, Devece C, Llopis-Albert C (2015) How information systems strategy moderates the relationship between business strategy and performance. J Bus Res 68(7):1592–1594

Mazurek S (2018) Strategic orientations of the network business models. Transform Bus Econ 17(2A):410–425

McEvily S, Chakravarthy B (2002) The persistence of knowledge-based advantage: an empirical test for product performance and technological knowledge. Strateg Manag J 23(4):285–305

Narver J, Slater S (1990) The effect of a market orientation on business profitability. J Mark 54:20–35

Oczkowski E, Farrell MA (1998) Discriminating between measurement scales using non-nested tests and two-stage least squares estimators: the case of market orientation. Int J Res Mark 15:349–366

Palacios-Marques D, Devece-Carañana C, Llopis-Albert C (2016) Examining the effects of online social networks and organizational learning capability on innovation performance in the hotel industry. Psychol Mark 33(12):1126–1133

Piccoli G, Ives B (2005) IT-dependent strategic initiatives and sustained competitive advantage: a review and synthesis of the literature. MIS Q 29(4):747–776

Piccolo RF, Colquitt JA (2006) Transformational leadership and job behaviors: the mediating role of core job characteristics. Acad Manag J 49(2):327–340

Podsakoff PM, MacKenzie SB, Lee J-Y, Podsakoff NP (2003) Common method biases in behavioral research: a critical review of the literature and recommended remedies. J Appl Psychol 88:879–903

Prahalad CK, Ramaswamy V (2004) Co-creation experiences: the next practice in value creation. J Interact Mark 18:5–14

Prpić J, Shukla P, Kietzmann JH, McCarthy IP (2015) How to work a crowd: developing crowd capital through crowdsourcing. Bus Horiz 58(3):77–85

Qin S, Van Der Velde D, Chatzakis E, McStea T, Smith N (2016) Exploring barriers and opportunities in adopting crowdsourcing based new product development in manufacturing SMEs. Chin J Mech Eng 29(6):1052–1066

Rahimli A (2012) Knowledge management and competitive advantage. Inf Knowl Manag 2(7):37–43

Ravichandran T, Lertwongsatien C (2005) Effect of information systems resources and capabilities on firm performance: a resource-based perspective. J Manag Inf Syst 21(4):237–276

Resick CJ, Whitman DS, Weingarden SM, Hiller NJ (2009) The bright-side and the dark-side of CEO personality: examining core self-evaluations, narcissism, transformational leadership, and strategic influence. J Appl Psychol 94(6):1365–1381

Richter C, Kraus S, Brem A, Durst S, Giselbrecht C (2017) Digital entrepreneurship: innovative business models for the sharing economy. Creat Innov Manag 26(3):300–310

Sarstedt M, Ringle CM, Hair JF (2014) PLS-SEM: looking back and moving forward. Long Range Plan 74:132–137

Slater SF, Narver JC (1994) Does competitive environment moderate the market orientation-performance relationship. J Mark 58:46–55

Solano-Acosta A, Herrero-Crespo A, Collado-Agudo J (2018) Effect of market orientation, network capability and entrepreneurial orientation on international performance of small and medium enterprises (SMEs). Int Bus Rev 27(6):1128–1140

Strassmann PA (1997) The squandered computer: evaluating the business alignment of information technologies. Information Economics Press, New Canaan

Streukens S, Leroi-Werelds S (2016) Bootstrapping and PLS-SEM: a step-by-step guide to get more out of your bootstrap results. Eur Manag J 34:618–632

Surowiecki J (2005) The wisdom of crowds. Anchor Books, New York

Templeton GF, Lewis BR, Snyder CA (2002) Development of a measure for the organizational learning construct. J Manag Inf Syst 19(2):175–218

Teo HH, Wang X (2005) Organizational learning capacity and attitude toward complex technological innovations: an empirical study. Interscience 57(2):264–279

Vorhies DW, Morgan NA (2005) Benchmarking marketing capabilities for sustained competitive advantage. J Mark 69(1):80–94

Wade M, Hulland J (2004) Review: the resource-based view and information systems research: review, extension, and suggestions for future research. MIS Q 28(1):107–142

Xu Y, Ribeiro-Soriano DE, Gonzalez-Garcia J (2015) Crowdsourcing, innovation and firm performance. Manag Decis 53(6):1158–1169

Zuraik A, Kelly L (2019) The role of CEO transformational leadership and innovation climate in exploration and exploitation. Eur J Innov Manag 22(1):84–104
Additional information
Publisher's Note
Springer Nature remains neutral with regard to jurisdictional claims in published maps and institutional affiliations.
Appendix: Measurement scales
Appendix: Measurement scales
About this article
Cite this article
Devece, C., Palacios-Marqués, D. & Ribeiro-Soriano, D.E. IT-based strategy, capabilities, and practices: crowdsourcing implementation in market-oriented firms. Rev Manag Sci 15, 15–32 (2021). https://doi.org/10.1007/s11846-019-00369-w
Received:

Accepted:

Published:

Issue Date:
Keywords
Crowdsourcing

Market orientation

Resource-based view

Transformational leadership

Organizational learning capability
Mathematics Subject Classification