Abstract
Mergers and acquisitions (M&A) aim to increase the wealth of shareholders of the acquiring company, in particular by creating synergies. It is often assumed that relatedness is a source of synergies. Our study distinguishes between business, cultural, technological, and size relatedness. It discusses the reasons why these different forms of relatedness can lead to an acquisition success and we conduct a meta-analysis of 67 prior M&A studies. Results indicate that positive effects can be expected under specific conditions only and have a limited overall impact on acquisition success. A moderator analysis finds that synergies stemming from relatedness depend on industry-, country-, and investor-characteristics.
Access options
Buy single article
Instant access to the full article PDF.
US$ 39.95
Tax calculation will be finalised during checkout.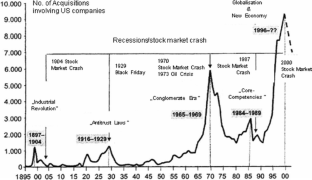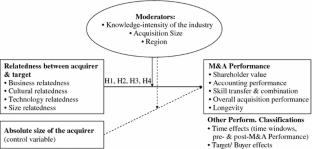 Notes
1.

Sudarsanam's (1995) review includes only four prior studies. His conclusions should be considered with care.

2.

This is in contrast to financial synergies, where dissimilarity of firms is considered to be the most important source of benefits (Chatterjee 1986). "In sum, mergers of similar firms tend to have greater financial synergies when the correlation of cash flows is low and volatilities are somewhat lower than the base case" (Leland 2007). Unfortunately, cash flows in related acquisitions tend to be correlated by definition because the acquisition takes place in a similar or at least linked business. That is why financial synergies are most likely to be achieved in unrelated diversification.

3.

According to Jensen and Ruback (1983) a takeover is defined as a transfer of the target's control rights from the target's management team to the bidding firm's management. Such activities take place on the market for corporate control: managers' fears of becoming a target act as a control mechanism effectively aligning their interests with those of the shareholders. The term "acquisition" is a mere purchase (of control rights) whereas the term "merger" describes the combination of two firms to one legal entity that have been different legal entities before (see, e.g. Bruner 2002, p. 1). Berkovitch and Khanna (1991) define a merger as an offer made to the target's management. The merger offer leads to bargaining between the two parties. Negotiations take place in relative secrecy. In contrast, a tender offer is made directly to the target's shareholders and conveys more information to the public. Another way to acquire control over a target firm is the proxy contest in which the amount of voting rights is decisive (Bebchuk and Hart 2001).

4.

Most of the studies we included in the meta-analysis do also not explicitly distinguish between acquisitions and mergers and use the general term M&A. Other authors treat M&A the same way (Gugler et al. 2003).

5.

6.

For example, Datta et al. (1991) review the literature on diversification and find inconclusive evidence. Palich et al. (2000) conduct a meta-study and establish an inverted U-curve, i.e. diversification is profitable when a firm has been a single business firm and then diversifies into related businesses. But diversification lowers profitability when the firm switches from related to unrelated diversification. In the following sections we present some conflicting findings on the effects of the relatedness variables on acquisition performance.

7.

As single entities these projects would not exist. Fluck and Lynch (1999) consider this approach consistent with diversified firms suffering from a conglomerate discount in financial markets and thus displaying a lower value than focused firms. Nonetheless, in this case, the combined entity has a higher value as compared to stand alone firms.

8.

In Scanlon et al. (1989) abnormal returns for small-related acquisitions are positive but not significant whereas for large acquisitions CARs are significantly negative.

9.

However, this result only holds concerning public targets.

10.

Included studies are listed in the reference section. Two studies are counted as four studies because both studies use two independent samples.

11.

In their study the authors talk about a combined sample size of 206,910 M&As. This number is obtained by adding up sample sizes of different correlations from one study.

12.

13.

In some cases variables had to be coded in opposite directions in order to measure the effect of relatedness (and not of distance) on performance (and not on without-performance).

14.

The 5-day-window covers days −2 to +2 relative to the transaction announcement date as mentioned in Sect. 3.5.

15.

The 201-day-window covers days −100 to +100 relative to the transaction announcement date as mentioned in Sect. 3.5.

16.

Of the former EU-25 11 countries have strong co-determination laws: Austria, Czech Republic, Denmark, Finland, Germany, Hungary, Luxemburg, Netherlands, Slovak Republic, Slovenia, Sweden. In the UK, Greece, France, Italy and Spain such labor laws are absent. In the UK the influence of labor unions is dependent on the business segment.
References
Ahuja G, Katila R (2001) Technological acquisitions and the innovation performance of acquiring firms: a logitudinal study. Strateg Manag J 22:197–220. doi:10.1002/smj.157

Andrade G (1999) Do appearances matter? The impact of EPS accretion and dilution on stock prices. http://ssrn.com/abstract=172868 or doi: 10.2139/ssrn.10.2139/ssrn.172868

Baysinger B, Hoskisson RE (1989) Diversification strategy and R&D intensity in multiproduct firms. Acad Manag J 32:310–332. doi:10.2307/256364

Bebchuk L, Hart O (2001) Takeover bids vs proxy fights in contests for corporate control. Harvard Law School, John M. Olin Center for Law, Economics and Business, Discussion paper series 336

Berkovitch E, Khanna N (1991) A theory of acquisition markets: mergers versus tender offers, and golden parachutes. Rev Financ Stud 4(1):149–174

Bettis RA, Hall WK (1982) Diversification strategy, accounting determined risk, and accounting determined return. Acad Manag J 25:254–264. doi:10.2307/255989

Borenstein M et al. (2007) Comprehensive meta analysis (version 2)

Brown S, Warner J (1980) Measuring security price performance. J Financ Econ 8:205–257. doi:10.1016/0304-405X(80)90002-1

Bruner RF (2002) Does M&A pay? A survey of evidence for the decision maker. J Appl Financ 12:48–68

Bruner RF (2005) Deals from hell: M&A lessons that rise above the ashes. Wiley, Hoboken

Bruton GD, Oviatt BM, White MA (1994) Performance of acquisitions of distressed firms. Acad Manag J 37:972–989. doi:10.2307/256607

Buono AF, Bowditch JL, Lewis JW (1985) When cultures collide: an anatomy of a merger. Hum Relat 38:477–500. doi:10.1177/001872678503800506

Capron L, Mitchell W (2000) Internal versus external knowledge sourcing: evidence from telecom operators in Europe. Working paper, INSEAD

Cassiman B et al (2005) The impact of M&A on the R&D process: an empirical analysis of the role of technological- and market-relatedness. Res Policy 34:195–220. doi:10.1016/j.respol.2005.01.002

Chakrabarti AK (1990) Organizational factors in post-acquisition performance. IEEE Trans Eng Manag 37:259–268. doi:10.1109/17.62321

Chatterjee S (1986) Types of synergy and economic value: the impact of acquisitions on merging and rival firms. Strateg Manag J 7:119–139. doi:10.1002/smj.4250070203

Chatterjee A, Hambrick DC (2007) It's all about me: narcissistic chief executive officers and their effects on company strategy and performance. Adm Sci Q 52:352–386

Chatterjee S, Wernerfelt B (1991) The link between resources and type of diversification: theory and evidence. Strateg Manag J 12:33–48. doi:10.1002/smj.4250120104

Chatterjee S et al (1992) Cultural differences and shareholder value in related mergers: linking equity and human capital. Strateg Manag J 13:319–334. doi:10.1002/smj.4250130502

Cloodt M, Hagedoorn J, Van Kranenburg H (2006) Mergers and acquisitions: their effect on the innovative performance of companies in high-tech industries. Res Policy 35:642–654. doi:10.1016/j.respol.2006.02.007

Cohen WL, Levinthal DM (1990) Absorptive capacity: a new perspective on learning and innovation. Adm Sci Q 35:128–152. doi:10.2307/2393553

Dalton DR et al (2003) Meta-analysis of financial performance and equity: Fusion or confusion? Acad Manag J 46:13–26

Datta DK (1991) Organizational fit and acquisition performance: effects of post-acquisition integration. Strateg Manag J 12:281–297. doi:10.1002/smj.4250120404

Datta D, Rajagopalan N, Rasheed AMA (1991) Diversification and performance: critical review and future directions. J Manag Stud 28(5):529–558

Datta DK, Pinches GE, Narayanan VK (1992) Factors influencing wealth creation from mergers and acquisitions: a meta-analysis. Strateg Manag J 13:67–84. doi:10.1002/smj.4250130106

Davis PS et al (1992) Business unit relatedness and performance: a look at the pulp and paper industry. Strateg Manag J 13:349–361. doi:10.1002/smj.4250130504

Doukas JA, Petmezas D (2007) Acquisitions, overconfident managers and self-attribution bias. Eur Financ Manag 13:531–577. doi:10.1111/j.1468-036X.2007.00371.x

Eisend M (2004) Metaanalyse. Einführung und kritische Diskussion. Betriebswirtschaftliche Reihe, Fachbereich Wirtschaftswissenschaft der Freien Universität Berlin, p 8

Ficery K, Herd T, Pursche B (2007) Where has all the synergy gone? The M&A puzzle. J Bus Strateg 28:29–35. doi:10.1108/02756660710820802

Finkelstein S, Haleblian J (2002) Understanding acquisition performance: the role of transfer effects. Organ Sci 13:36–47. doi:10.1287/orsc.13.1.36.539

Flanagan D (1996) Announcement of purely related and purely unrelated mergers and shareholder returns: reconciling the relatedness paradox. J Manag 22:823–835. doi:10.1177/014920639602200602

Flanagan D, O'Shaugnessy KC (2003) Core-related acquisitions, multiple bidders and tender offer premiums. J Bus Res 56:573–585. doi:10.1016/S0148-2963(01)00269-7

Fluck Z, Lynch AW (1999) Why do firms merge and then divest? a theory of financial synergy. J Bus 72:319–346. doi:10.1086/209617

Fuller K, Netter J, Stegemoller M (2002) What do returns to acquiring firms tell us? evidence from firms that make many acquisitions. J Financ 57:1763–1793. doi:10.1111/1540-6261.00477

Gugler K et al (2003) The effects of mergers: an international comparison. Int J Ind Organ 21:625–653. doi:10.1016/S0167-7187(02)00107-8

Hagedoorn J, Duysters G (2002) The effect of mergers and acquisitions on the technological performance of companies in a high-tech environment. Technol Anal Strateg Manag 14:67–85. doi:10.1080/09537320220125892

Hall BH, Jaffe A, Trajtenberg M (2001) The NBER patent citations data file: lessons, insights and methodological tools, Working paper no. 8498, NBER

Hambrick D, Cannella A (1993) Relative standing: a framework for understanding departures of acquired executives. Acad Manag J 36:733–762. doi:10.2307/256757

Harrison JS, Hall EH, Nargundkar (1993) Resource allocation as an outcropping of strategic consistency: performance implications. Acad Manag J 36:1026–1051. doi:10.2307/256644

Hayward MLA, Hambrick DC (1997) Explaining the premiums paid for large acquisitions: evidence of CEO hubris. Adm Sci Q 42:103–127. doi:10.2307/2393810

Healy PM, Palepu KG, Ruback RS (1997) Which takeovers are profitable? Strategic or financial? Sloan Bus Rev 38:45–57

Heeley MB, King DR, Covin JG (2006) Effects of firm R&D investment and environment on acquisition likelihood. J Manag Stud 43:1514–1535. doi:10.1111/j.1467-6486.2006.00636.x

Hitt MA et al (1991) Effects of acquisitions on R&D inputs and outputs. Acad Manag J 34:693–706. doi:10.2307/256412

Hitt MA et al (1996) The market for corporate control and firm innovation. Acad Manag J 39:1084–1119. doi:10.2307/256993

Hofstede G (1980) Culture's consequences: international differences in work-related values. Sage Publications, Berverly Hills

Hofstede G (2001) Culture's consequences—comparing values, behaviors. Institutions and Organizations across Nations, Thousand Oaks

Hunter JE, Schmidt FL (2004) Methods of meta-analysis: correcting error and bias in research findings. Sage Thousand Oaks, London

Jansen SA (2002) Die 7 K's des Merger Managements. Zeitschrift für Organisation 71(1):6–13

Jensen MC, Ruback RS (1983) The market for corporate control: the scientific evidence. J Financ Econ 11(1):5–50

Kahnemann D, Tversky A (1986) Rational choice and the framing of decisions. J Bus 59:251–278. doi:10.1086/296367

Kiechel WI (2007) Private equity's long view. Harv Bus Rev 85:18–19

King DR et al (2004) Meta-analyses of post-acquisition performance: indications of unidentified moderators. Strateg Manag J 25:187–200. doi:10.1002/smj.371

Kogut B, Singh H (1988) The effect of national culture on the choice of entry mode. J Int Bus Stud 19:411–432. doi:10.1057/palgrave.jibs.8490394

Köppen J, Knyphausen-Aufseß DZ (2004) Akquisitionsprämien und Lebensdauer von Synergien entscheiden über den Erfolg eines Mergers. M&. Rev 5:467–475

Kothari SP, Warner JB (2004) Econometrics of event studies. http://ssrn.com/abstract=608601

Krishnan HA, Hitt MA, Park D (2007) Acquisition premiums, subsequent workforce reductions and post-acquisition performance. J Manag Stud 44:709–732. doi:10.1111/j.1467-6486.2006.00672.x

Kumar MS (1985) Growth, acquisition activity and firm size: evidence from the United Kingdom. J Ind Econ 33:327–338. doi:10.2307/2098540

Kürsten W (2008) Synergies, shareholder value and exchange ratios in ''value-creating'' mergers: why shareholders should doubt management's pre-merger promises. Manag Financ 34:252–261. doi:10.1108/03074350810849288

Kusewitt JB (1985) An exploratory study of strategic acquisition factors relating to performance. Strateg Manag J 6:151–169. doi:10.1002/smj.4250060205

Laincz CA, Rodrigues ASD (2005) A theoretical foundation for understanding firm size distributions and Gibrat's law. Discussion paper, University of York, England

Larsson R, Finkelstein S (1999) Integrating strategic, organizational, and human resource perspectives on mergers and acquisitions: a case survey of synergy realization. Organ Sci 10:1–26. doi:10.1287/orsc.10.1.1

Larsson R, Lubatkin MH (2001) Achieving acculturation in mergers and acquisitions: an international case survey. Hum Relat 54:1573–1607

Leland HE (2007) Financial synergies and the optimal scope of the firm: implications for mergers, spinoffs, and structured finance. J Financ 62:765–807. doi:10.1111/j.1540-6261.2007.01223.x

Limmack R, McGregor N (1995) Industrial relatedness, structural factors and bidder returns. Appl Financ Econ 5:179–190. doi:10.1080/758523005

Lindenberg E, Ross MP (1999) To purchase or to pool: does it matter? J Appl Corp Financ 12:32–48. doi:10.1111/j.1745-6622.1999.tb00006.x

Lubatkin M (1987) Merger strategies and stockholder value. Strateg Manag J 8:39–53. doi:10.1002/smj.4250080105

Lubatkin M, Srinivasan N (1997) Merger strategies and shareholder value during times of relaxed antitrust enforcement: the case of large mergers during the 1980's. J Manag 23:59–81. doi:10.1177/014920639702300104

MacKinlay CA (1997) Event studies in economics and finance. J Econ Lit 35:13–39

Malmendier U, Tate G (2005) Does overconfidence affect corporate investment? CEO overconfidence measures revisited. Eur Financ Manag 11:649–659. doi:10.1111/j.1354-7798.2005.00302.x

Malmendier U, Tate G (2008) Who makes acquisitions? CEO overconfidence and the market's reaction. J Financ Econ 89:20–43. doi:10.1016/j.jfineco.2007.07.002

Markides CC, Williamson PJ (1994) Related diversification, core competences and corporate performance. Strateg Manag J 15:149–166

Miller DJ (2006) Technological diversity, related diversification, and firm performance. Strateg Manag J 27:601–619. doi:10.1002/smj.533

Moeller SB, Schlingemann FP, Stulz RM (2004) Firm size and the gains from acquisitions. J Financ Econ 73:201–228. doi:10.1016/j.jfineco.2003.07.002

Montgomery C, Singh H (1987) Corporate acquisition strategies and economic performance. Strateg Manag J 8:377–386. doi:10.1002/smj.4250080407

Morck R, Shleifer A, Vishny RW (1990) Do managerial objectives drive bad acquisitions? J Financ 45:31–48. doi:10.2307/2328808

Morosini P, Shane S, Singh H (1998) National cultural distance and cross-border acquisition performance. J Int Bus Stud 29:137–158. doi:10.1057/palgrave.jibs.8490029

Mueller DC (1997) Merger policy in the united states: a reconsideration. Rev Ind Organ 12:655–685. doi:10.1023/A:1007797626160

Müller-Stewens G, Lechner C (2003) Strategisches Management—Wie strategische Initiativen zum Wandel führen? Schäffer-Pöschel, Stuttgart

Orwin RG (1994) Evaluating coding decisions. In: Cooper HHedges LV (ed) The handbook of research synthesis. Russell Sage Foundation, New York, pp 139–162

Palepu K (1985) Diversification strategy, profit performance and the entropy measure. Strateg Manag J 6:239–255. doi:10.1002/smj.4250060305

Palich LE, Cardinal LB, Miller CC (2000) Curvilinearity in the diversification–performance linkage: an examination of over three decades of research. Strateg Manag J 21(2):155–174

Papadakis VM (2005) The role of broader context and the communication program in merger and acquisition implementation success. Manag Decis 43:236–255. doi:10.1108/00251740510581948

Pennings JM, Barkema H, Douma S (1994) Organizational learning and diversification. Acad Manag J 37:608–640. doi:10.2307/256702

Porter M (1985) Competitive advantage: creating and sustaining superior performance. Free Press, New York

Prahalad CK, Bettis RA (1986) The dominant logic: a new linkage between diversity and performance. Strateg Manag J 7:485–501

Puranam P, Srikanth K (2007) What they know vs what they do: how acquirers leverage technology in acquisitions. Strateg Manag J 28:805–825. doi:10.1002/smj.608

Rappaport A (1986) Creating shareholder value: the new standard for business performance. Free Press, New York

Ravenscraft DJ, Scherer FM (1989) The profitability of mergers. Int J Ind Organ 7:101–116. doi:10.1016/0167-7187(89)90048-9

Robinson JR, Shane PB (1990) Acquisition accounting method and bid premia for target firms. Account Rev 65:25–48

Roll R (1986) The hubris hypothesis of corporate takeovers. J Bus 59:197–216. doi:10.1086/296325

Ronen S, Shenkar O (1985) Clustering countries on attitudinal dimensions: a review and synthesis. Acad Manag Rev 10(3):435–454

Rumelt R (1974) Strategy, structure, and economic performance. Harvard Business School Press, Boston

Russo EJ, Schoemaker PJH (1990) Decision traps. Simon & Schuster Inc., New York

Salter MS, Weinhold WA (1978) Diversification via acquisition: creating value. Harv Bus Rev 56:166–176

Scanlon KP, Trifts JW, Pettway RH (1989) Impacts of relative size and industrial relatedness on returns to shareholders of acquiring firms. J Financ Res 12:103–112

Schoenberg R (2006) Measuring performance of corporate acquisitions: an empirical comparison of alternative metrics. Br J Manag 17:361–370. doi:10.1111/j.1467-8551.2006.00488.x

Seth A (1990) Value creation in acquisitions: a re-examination of performance issues. Strateg Manag J 11:99–115. doi:10.1002/smj.4250110203

Singh H, Montgomery C (1987) Corporate acquisition strategies and economic performance. Strateg Manag J 8:377–387. doi:10.1002/smj.4250080407

Sirower M (2001) Der Synergieeffekt. FinanzBuch Verlag, München

Slangen AHL (2006) National cultural distance and initial foreign acquisition performance: the moderating effect of integration. J World Bus 41:161–170. doi:10.1016/j.jwb.2006.01.003

Stahl GK, Voigt A (2008) Do cultural differences matter in merger and acquisitions? a tentative model and examination. Organ Sci 19:160–176. doi:10.1287/orsc.1070.0270

Sudarsanam SP (1995) The essence of mergers and acquisitions. Prentice Hall, Hemel Hempstead

Sudarsanam S, Holl P, Salami A (1996) Shareholder wealth gains in mergers: effect of synergy and ownership structure. J Bus Financ Account 23:673–695. doi:10.1111/j.1468-5957.1996.tb01148.x

Tosi HL et al (2000) How much does performance matter? A meta-analysis of CEO pay studies. J Manag 26:301–339. doi:10.1177/014920630002600207

Traijtenberg M (1990) A penny for your quotes: patent citations and the value of inventions. RAND J Econ 20(4):172–187

Tschöke K, Csanad D (2007) Der globale M&A-Markt im zweiten Quartal 2007. M&. Rev 17:380–386

Tuch C, O'Sullivan N (2007) The impact of acquisitions on firm performance: a review of evidence. Int J Manag Rev 9:141–170. doi:10.1111/j.1468-2370.2007.00206.x

Vermeulen F, Barkema H (2001) Learning through acquisitions. Acad Manag J 44:457–476. doi:10.2307/3069364
Appendices
Appendix A
Appendix B
Studies in the Meta-Analysis
Ahuja G, Katila R (2001) Technological acquisitions and the innovation performance of acquiring firms: a longitudinal study. Strateg Manag J 22:197–220
Amit R, Livnat J (1988) Diversification stragegies, business cycles and economic-performance. Strateg Manag J 9:99–110
Barkema HG, Bell JHJ, Pennings JM (1996) Foreign entry, cultural barriers, and learning. Strateg Manag J 17:151–166
Barkema HG, Vermeulen F (1998) International expansion through start-up or acquisition: a learning perspective. Acad Manag J 41:7–26
Baysinger B, Hoskisson RE (1989) Diversification strategy and R&D intensity in multiproduct firms. Acad Manag J 32:310–332
Bergh D D (1997) Predicting divestiture of unrelated acquisitions: an integrative model of Ex Ante conditions. Strateg Manag J 18:715–731
Bruton GD, Oviatt BM, White MA (1994) Performance of acquisitions of distressed firms. Acad Manag J 37:972–989
Buchholtz AK, Ribbens BA, Houle IT (2003) The role of human capital in postacquisition ceo departure. Acad Manag J 46:506–514
Cannella AA, Hambrick DC (1993) Effects of executive departues on the performance of acquired firms. Strateg Manag J 14:137–152
Capon N et al (1988) Corporate diversity and economic performance: the impact of market specialization. Strateg Manag J 9:61–74
Capron L, Pistre N (2002) When do acquirers earn abnormal returns? Strateg Manag J 23:781–794
Cassiman B et al (2005) The impact of M&a on the R&D process—an empirical analysis of the role of technological- and market-relatedness. Res Policy 34:195–220
Chakrabarti AK (1990) Organizational factors in post-acquisition performance. IEEE Trans Eng Manag 37:259–268
Chatterjee S (1986) Types of synergy and economic value: the impact of acquisitions on merging and rival firms. Strateg Manag J 7:119–139
Chatterjee S et al (1992) Cultural differences and shareholder value in related mergers: linking equity and human capital. Strateg Manag J 13:319–334
Chatterjee S, Wernerfelt B (1991) The link between resources and type of diversification: theory and evidence. Strateg Manag J 12:33–48
Datta DK (1991) Organizational fit and acquisition performance: effects of post-acquisition integration. Strateg ManagJ 12:281–297
Datta DK, Pinches GE, Narayanan VK (1992) Factors influencing wealth creation from mergers and acquisitions: a meta-analysis. Strateg Manag J 13:67–84
Dessyllas P, Hughes A (2005) R&D and patenting activity and the propensity to acquire in high technology industries. Working Paper No. 298, ESRC Centre for Business Research, University of Cambridge
Dewenter K L (1995) Does the market react differently to domestic and foreign takeover announcements? Evidence from the US chemical and retail industries J Financ Econ 37:421–441
Donohoe SO (2006) Shareholder returns in domestic and cross border acquisitions: empirical evidence from the Uk in the fifth merger wave. Department of Accounting and Economics, Waterford Institute of Technology
Fan JPH, Goyal VK (2006) On the patterns and wealth effects of vertical mergers. J Business 79:877–902
Fields LP, Fraser DR, Kolarl JW (2007) Bidder returns in bancassurance mergers: is there evidence of synergy? J Bank Financ 31:3646–3662
Finkelstein S (1997) Interindustry merger patterns and resource dependence: a replication and extension of pfeffer (1972). Strateg Manag J 18:787–810
Finkelstein S, Haleblian J (2002) Understanding acquisition performance: the role of transfer effects. Org Sci 13:36–47
Flanagan D (1996) Announcement of purely related and purely unrelated mergers and shareholder returns: reconciling the relatedness paradox. J Manag 22:823–835
Fowler KL, Schmidt DR (1989) Determinants of tender offer post-acquisition financial performance. Strateg Manag J 10:339–350
Hagedoorn J, Duysters G (2002) The effect of mergers and acquisitions on the technological performance of companies in a high-tech environment. Tech Anal Strateg Manag 14:67–85
Haleblian J, Finkelstein S (1999) The influence of organizational acquisition experience on acquisition performance: a behavioral learning perspective. Admin Sci Q 44:29–56
Hambrick DC, Cannella AA (1993) Relative standing: a framework for understanding departures of acquired executives. Acad Manag J 36:733–762
Harris RS, Ravenscraft D (1991) The role of acquisitions in foreign direct investment: evidence from the US stock market. J Financ 46:825–844
Harrison JS, Hall EH, Nargundkar (1993) Resource allocation as an outcropping of strategic consistency: performance implications. Acad Manag J 36:1026–1051
Harrison JS et al (1991) Synergies and posacquisition performance - differences versus similarities in ressource allocations. J Manag 17:173–190
Hitt MA et al (1991) Effects of acquisitions on R&D inputs and outputs. Acad Manag J 34:693–706
Hitt MA et al (1996) The market for corporate control and firm innovation. Acad Manag J 39:1084–1119
Hitt MA, Hoskisson RE, Kim H (1997) International diversification: effects on innovation and firm performance in product-diversified firms. Acad Manag J 40:767–798
Homburg C, Bucerius M (2006) Is speed of integration really a success factor of mergers and acquisitions? An analysis of the role of internal and external relatedness. Strateg Manag J 27:347–367
Hoskisson RO, Johnson RA (1992) Corporate restructuring and strategic change: the effect on diversification strategy and R&D intensity. Strateg Manag J 13:625–634
Krishnan HA, Miller A, Judge WQ (1997) Diversification and top management team complementarity: Is performance improved by merging similar or dissimilar teams? Strateg Manag J 18:361–374
Kroll M et al (1997) Form of control: a critical determinant of acquisition performance and ceo rewards. Strateg Manag J 18:85–96
Krug JA, Nigh D (1998) Top management departures in cross-border acquisitions governance issues in an international context. J Int Manag 4:267–287
Kurokawa S (1997) Make-or- buy decisions in R&D: small technology based firms in the United States and Japan. IEEE Tran Eng Manag 44:124–134
Kusewitt JB (1985) An exploratory-study of strategic acquisition factors relating to performance. Strateg Manag J 6:151–169
Langetieg TC, Haugen RA, Wichern DW (1980) Merger and stockholder risk. J Financ Quant Anal 15:689–717
Larsson R, Finkelstein S (1999) Integrating strategic, organizational, and human resource perspectives on mergers and acquisitions: a case survey of synergy realization. Organ Sci 10:1–26
Loree D, Chen CC, Guisinger S (2000) International acquisitions: do financial analysts take note? J World Bus 35:300–313
Lubatkin M (1987) Merger strategies and stockholder value. Strateg Manag J 8:39–53
Lubatkin M et al (1998) Managing mergers across borders: a two-nation exploration of a nationally bound administrative heritage. Organ Sci 9:670–684
Lubatkin M et al (2001) Ecological investigation of firm effects in horizontal mergers. Strateg Manag J 22:335–357
Lubatkin M, Srinivasan N (1997) Merger strategies and shareholder value during times of relaxed antitrust enforcement: the case of large mergers during the 1980's. J Manag 23:59–81
Markides CC, Williamson PJ (1994) Related diversification, core competencies and corporate performance. Strateg Manag J 15:149–165
Mason RH, Goudzwaard MB (1976) Performance of conglomerate firms: a portfolio approach. J Financ 31:39–48
Miller DJ (2006) Technological diversity, related diversification, and firm performance. Strateg Manag J 27:601–619
Morck R, Shleifer A, Vishny RW (1990) Do managerial objectives drive bad acquisitions? J Financ 45:31–48
Morosini P, Shane S, Singh H (1998) National cultural distance and cross-border acquisition performance. J Int Bus Stud 29:137–158
Pennings JM, Barkema H, Douma S (1994) Organizational learning and diversification. Acad Manag J 37:608–640
Puranam P, Srikanth K (2007) What they know vs what they do: how acquirers leverage technology in acquisitions. Strateg Manag J 28:805–825
Ramaswamy K (1997) The performance impact of strategic similarity in horizontal mergers: evidence from the US banking industry. Acad Manag J 40:697–715
Singh H, Montgomery C (1987) Corporate acquisition strategies and economic performance. Strateg Manag J 8:377–387
Slangen AHL (2006) National cultural distance and initial foreign acquisition performance: the moderating effect of integration. J World Bus 41:161–170
Swaminathan V, Murshed F, Hulland J (2008) Value creation following merger and acquisition announcements: the role of strategic emphasis alignment. J Market Res45:33–47
Vermeulen F, Barkema H (2001) Learning through acquisitions. Acad Manag J 44:457–476
Very P et al (1997) Relative standing and the performance of recently acquired european firms. Strateg Manag J 18:593–614
Weber Y, Shenkar O, Raveh A (1996) National and corporate cultural fit in mergers/acquisitions: an exploratory study. Manag Sci 42:1215–1227
Weston JF, Mansinghka SK (1971) Tests of the efficiency performance of conglomerate firm. J Financ 26:919–936
About this article
Cite this article
Homberg, F., Rost, K. & Osterloh, M. Do synergies exist in related acquisitions? A meta-analysis of acquisition studies. Rev Manag Sci 3, 75–116 (2009). https://doi.org/10.1007/s11846-009-0026-5
Received:

Accepted:

Published:

Issue Date:
Keywords
Mergers and acquisitions

Meta-analysis

Business relatedness

Size relatedness

Technological relatedness

Cultural relatedness

Synergies
JEL Classification