Abstract
Introduction
Postgraduate medical training incorporates education, both formal and informal, combined with clinical service. This study explored the early training experience of pediatricians in Ireland and its potential impact on patient safety.
Aim
We sought to identify factors that contribute to the patient safety experience of new entrant pediatric trainees.
Methods
Trainees, or senior house officers (SHOs), in their first year of postgraduate training, participated in an interview conducted using a critical interview technique (CIT). They described an adverse event where the medical care delivered to the patient was not ideal. Thematic analysis identified themes that influenced the described event.
Results
Thirteen trainees participated in the interviews. This study identified influences on the relationship between the SHO and patient safety, including the SHO themselves, teamwork and communication. Colleagues within the workplace, including consultants, registrars, and nurses, also affect this relationship. The registrar is described as a central figure holding an active role in clinical care in 11 of the 13 stories told. In the participants' experience, the registrar was the senior decision-maker, teacher, team builder, and communication intermediary within the teams' hierarchical structure. The registrars' previous clinical experience, communication style, along with their ability to supervise and provide feedback shaped the SHO experience.
Conclusions
Through a process designed to focus on exploring patient safety, it emerged that the registrar plays a crucial role in the working experience of their junior colleagues. The influence of the registrar needs to be recognized within clinical teams and by postgraduate training bodies.
Access options
Buy single article
Instant access to the full article PDF.
US$ 39.95
Tax calculation will be finalised during checkout.
Subscribe to journal
Immediate online access to all issues from 2019. Subscription will auto renew annually.
US$ 79
Tax calculation will be finalised during checkout.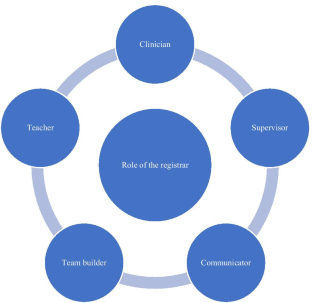 Availability of data and material
The data of this study is the interview transcripts. They were recorded and treated as confidential. They were transcribed by the PI with preservation of participant anonymity.
Code availability
This qualitative study and thematic analysis involved developing a custom code as outlined in methods.
Abbreviations
CIT:

Critical interview technique

PI:

Principal investigator

RCPI:

Royal College of Physicians of Ireland

SHO:

Senior House Officer

SME:

Subject matter experts

TCD:

Trinity College Dublin
References
1.

Nordquist J et al (2019) The clinical learning environment. Med Teach 41:366–372

2.

Lemer C, Moss F (2013) Patient safety and junior doctors: Are we missing the obvious? BMJ Qual. Saf. 22:8–10

3.

Welp A, Meier LL, Manser T (2016) The interplay between teamwork, clinicians' emotional exhaustion, and clinician-rated patient safety: A longitudinal study. Crit. Care 20:1–10

4.

Reinertsen JL, Gosfield AG, Rupp WWJ (2007) Engaging Physicians in a Shared Quality Agenda. IHI Innovation Series white paper. (Institute for Healthcare Improvement; 2007)

5.

Mitchell I et al (2016) Patient safety incident reporting: A qualitative study of thoughts and perceptions of experts 15 years after To Err is Human. BMJ Qual. Saf. 25, 92–99 management. BMJ Qual. Improv. Reports 3, u204560.w2109 (2014)

6.

Norman RI, Dogra N (2014) A survey of the practice and experience of clinical educators in UK secondary care. BMC Med Educ 14:1–9

7.

Kilty C et al (2017) A national stakeholder consensus study of challenges and priorities for clinical learning environments in postgraduate medical education. BMC Med Educ 17:1–9

8.

Vaughan L, McAlister G, Bell D (2011) August is always a nightmare: Results of the Royal College of Physicians of Edinburgh and Society of Acute Medicine August transition survey. Clin Med J R Coll. Physicians London 11:322–326

9.

Greenaway, D (2013) Securing the future of excellent patient care. Final report of the independent review. Shape of Training, 2013. Gen Med Counc. 1–57

10.

Morrow G et al (2012) Preparedness for practice: The perceptions of medical graduates and clinical teams. Med Teach 34:123–135

11.

Cleland JA, Ross S, Miller SC, Patey R (2009) There is a chain of Chinese whispers. Empirical data support the call to formally teach handover to prequalification doctors. Qual Saf Heal Care 18:267–271

12.

Brennan N et al (2010) The transition from medical student to junior doctor: today's experiences of tomorrow's doctors. Med Educ 44:449–458

13.

Durani P, Dias J, Singh HP, Taub N (2013) Junior doctors and patient safety: Evaluating knowledge, attitudes and perception of safety climate. BMJ Qual Saf 22:65–71

14.

Hall LH et al (2016) Healthcare staff well-being, burnout, and patient safety: A systematic review. PLoS One 11:1–12

15.

Hayes B (2017). National survey of well-being of hospital doctors in Ireland. https://doi.org/10.1136/oemed-2018-icohabstracts

16.

Gee C, Morrissey N, Hook S (2015) Departmental induction and the simulated surgical ward round. Clin. Teach. 12:22–26

17.

Gardezi SAA (2010) Improving patient care over weekends by reducing on-call work load and better time medical student to junior doctor: Today's experiences of Tomorrow's Doctors. Med. Educ. 44:449–458

18.

Walsh Ó, Lydon S, O'Connor P (2017) A mixed methods evaluation of paediatric trainee preparedness to manage cardiopulmonary arrests. Eur. J. Pediatr. 176:1653–1662

19.

Health Service Executive (2013) Health Service Executive Open Disclosure, pp. 1–25

20.

Tavakol M, Sandars J (2014) Quantitative and qualitative methods in medical education research: AMEE Guide No 90: Part II. Med Teach 36:838–848

21.

Kuper A, Lingard L, Levinson W (2008) Critically appraising qualitative research. Bmj 337:687–689

22.

Braun V, Clarke V (2006) Using thematic analysis in psychology. Qual Res Psychol 3:77–101

23.

Kitto SC, Chesters J, Grbich C (2008) Quality in qualitative research: criteria for authors and assessors in the submission and assessment of qualitative research articles for the Medical Journal of Australia. Med J Aust 188:243–246

24.

Canadian Patient Safety Institute (2017) The case for investing in patient safety Available from: http://www.patientsafetyinstitute.ca/en/About/Documents/The Case for Investing in Patient Safety.pdf. Last accessed December 14th 2020.

25.

Makary MA, Daniel M (2016) Medical error-the third leading cause of death in the US. BMJ [Internet]. 353:1–5. Available from: https://doi.org/10.1136/bmj.i2139

26.

Corrigan LT, Donaldson JM, MS E (2000) To Err is Human: Building a Safer Health System. Washington (DC): National Academies Press (US); 2000. PMID: 25077248.: Institute of Medicine (US) Committee on Quality of Health Care in America

27.

Rafter N et al (2017) The Irish National Adverse Events Study (INAES): The frequency and nature of adverse events in Irish hospitals - A retrospective record review study. BMJ Qual Saf 26(2):111–9

28.

DHoC (2016) Building a culture of patient safety. Report of the commission on patient safety and quality assurance 1–241

29.

Imrie K (2014) Training 21st century clinical leaders. Available from http://www.rcpi.ie/content/docs/000001/2003_5_media.pdf?1406801209

30.

Irish Medical Council I (2019) Guide to professional conduct and ethics for registered medical practitioners [Internet]. Available from: http://www.medicalcouncil.ie/Public-Information/Professional-Conduct-Ethics/The-Guide-to-Professional-Conduct-and-Ethics-for-Registered-Medical-Practitioners.pdf

31.

RCPI (2020) Basic Specialist Training in Paediatrics 0–37. Available from: https://www.rcpi.ie/training/basic-specialist-training-about/paediatrics/. Accessed 14 Dec 2020

32.

Huda N, Faden L, Goldszmidt M (2017) Entrustment of the on-call senior medical resident role: Implications for patient safety and collective care. BMC Med Educ 17:1–9

33.

Passi V et al (2013) Doctor role modelling in medical education: BEME Guide No. 27. Med Teach 35

34.

Cruess SR, Cruess RL, Steinert Y (2008) Teaching rounds: Role modelling - Making the most of a powerful teaching strategy. BMJ 336:718–721

35.

Benner P, Hughes RG, Sutphen M (2008) Action: Thinking Critically and Clinically. Patient Saf. Qual. An Evidence-Based Handb. Nurses 6:87–110

36.

Babiker A et al (2014) Health care professional development: working as a team to improve patient care. Sudan J Paediatr 14:9–16

37.

Rosen MA et al (2018) Teamwork in healthcare: key discoveries enabling safer, high-quality care. Am Psychol 73:433–450

38.

Smith CDC et al (2018) Implementing optimal team-based care to reduce clinician burnout. NAM Perspect, Natl Acad Med Washington, DC

39.

Wilkie V (2012) Leadership and management for all doctors. Br J Gen Pract 62:230–231
Ethics declarations
Ethics approval
Ethical approval was provided by the Health Policy and Management/Centre for Global Health Research Ethics Committee at Trinity College Dublin, the University of Dublin (TCD) and supported by the Faculty of Paediatrics, Royal College of Physicians of Ireland (RCPI). These are included as Appendix 1 and 2.
Consent to participate
All participants consented to participation in the study. No incentives were offered. It was made clear that a decision not to participate would not impact on their reputation or opportunities made available to them in the future. The right to withdraw from the study at any time was highlighted in written information provided and a time of interview. Written consent was obtained from participants prior to interview.
Consent for publication
Participants were advised in information leaflets provided in advance that results of the study would be presented and published without including any identifying information relating to them.
Conflict of interest
The authors declare that they have no conflicts of interest.
About this article
Cite this article
Diskin, C., Byrne, D., Normand, C. et al. The early experience of doctors training in pediatrics: patient safety culture and the role and influence of the registrar. Ir J Med Sci (2021). https://doi.org/10.1007/s11845-021-02520-7
Received:

Accepted:

Published:
Keywords
Postgraduate medical education

Registrar

Senior house officers (SHOs)