Abstract
Background
This study aimed to investigate the correlation of sirtuin2 (SIRT2) with clinical characteristics, prognosis in endometrial cancer (EC) patients, and its effect on chemosensitivity in EC cell lines.
Methods
A total of 137 EC patients who underwent surgical resection were retrospectively enrolled. SIRT2 expression in tumor tissues (n = 137) and adjacent tissues (n = 61) was detected by immunohistochemistry (IHC) staining and evaluated by a semiquantitative scoring method. EC patients' clinical characteristics and survival data were collected. Besides, SIRT2 was modulated by plasmid transfection in EC cells, then their chemosensitivity to cisplatin and paclitaxel was evaluated.
Results
SIRT2 was increased in tumor tissues compared with adjacent tissues (reflected by both IHC score and high-expression ratio, both P < 0.001). Meanwhile, tumor SIRT2 was positively correlated with lymph node metastasis (P = 0.037) and the International Federation of Gynecology and Obstetrics (FIGO) stage (P = 0.044), but not other clinical characteristics. Moreover, tumor SIRT2 high expression was correlated with worse overall survival (OS) (P = 0.023), while it could not independently predict OS (P = 0.090, hazard ratio = 2.782). Besides, both mRNA and protein levels of SIRT2 were increased in Ishikawa (P = 0.035) and KLE (P < 0.001) cells compared with human endometrial epithelial cells. SIRT2 overexpression decreased chemosensitivity to cisplatin and paclitaxel in Ishikawa cells, while SIRT2 knockdown increased chemosensitivity to cisplatin and paclitaxel in KLE cells (all P < 0.05).
Conclusion
SIRT2 correlates with lymph node metastasis, increased FIGO stage, worse OS, and reduced chemosensitivity to cisplatin and paclitaxel in EC.
Access options
Buy single article
Instant access to the full article PDF.
US$ 39.95
Tax calculation will be finalised during checkout.
Subscribe to journal
Immediate online access to all issues from 2019. Subscription will auto renew annually.
US$ 79
Tax calculation will be finalised during checkout.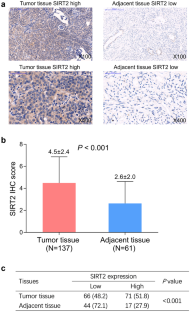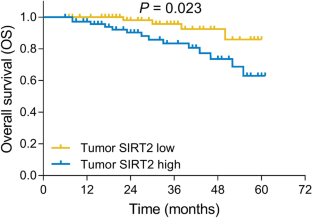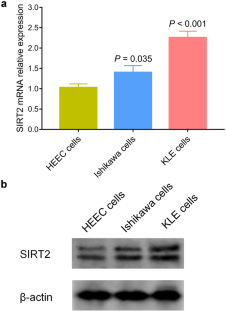 References
1.

Morice P, Leary A, Creutzberg C et al (2016) Endometrial cancer. Lancet 387(10023):1094–1108

2.

Passarello K, Kurian S, Villanueva V (2019) Endometrial cancer: an overview of pathophysiology, management, and care. Semin Oncol Nurs 35(2):157–165

3.

Lortet-Tieulent J, Ferlay J, Bray F, Jemal A (2018) International patterns and trends in endometrial cancer incidence, 1978–2013. J Natl Cancer Inst 110(4):354–361

4.

Colombo N, Preti E, Landoni F et al (2013) Endometrial cancer: ESMO Clinical Practice Guidelines for diagnosis, treatment and follow-up. Ann Oncol 24 Suppl 6 vi33–38.

5.

Lee YC, Lheureux S, Oza AM (2017) Treatment strategies for endometrial cancer: current practice and perspective. Curr Opin Obstet Gynecol 29(1):47–58

6.

Chang HC, Guarente L (2014) SIRT1 and other sirtuins in metabolism. Trends Endocrinol Metab 25(3):138–145

7.

Wang Y, Yang J, Hong T et al (2019) SIRT2: controversy and multiple roles in disease and physiology. Ageing Res Rev 55:100961

8.

Singh S, Kumar PU, Thakur S et al (2015) Expression/localization patterns of sirtuins (SIRT1, SIRT2, and SIRT7) during progression of cervical cancer and effects of sirtuin inhibitors on growth of cervical cancer cells. Tumour Biol 36(8):6159–6171

9.

Kuhlmann N, Chollet C, Baldus L et al (2017) Development of substrate-derived sirtuin inhibitors with potential anticancer activity. ChemMedChem 12(20):1703–1714

10.

Du Y, Wu J, Zhang H et al (2017) Reduced expression of SIRT2 in serous ovarian carcinoma promotes cell proliferation through disinhibition of CDK4 expression. Mol Med Rep 15(4):1638–1646

11.

He Q, Chen K, Ye R et al (2020) Associations of sirtuins with clinicopathological variables and prognosis in human ovarian cancer. Oncol Lett 19(4):3278–3288

12.

Pecorelli S (2009) Revised FIGO staging for carcinoma of the vulva, cervix, and endometrium. Int J Gynaecol Obstet 105(2):103–104

13.

Hu Z, Gu X, Zhong R, Zhong H (2018) Tumor-infiltrating CD45RO(+) memory cells correlate with favorable prognosis in patients with lung adenocarcinoma. J Thorac Dis 10(4):2089–2099

14.

Ye SL, Li XY, Zhao K, Feng T (2017) High expression of CD8 predicts favorable prognosis in patients with lung adenocarcinoma: a cohort study. Medicine (Baltimore) 96(15):e6472

15.

Luo H, Zhou M, Ji K et al (2017) Expression of sirtuins in the retinal neurons of mice, rats, and humans. Front Aging Neurosci 9:366

16.

Li Y, Zhang M, Dorfman RG et al (2018) SIRT2 promotes the migration and invasion of gastric cancer through RAS/ERK/JNK/MMP-9 pathway by increasing PEPCK1-related metabolism. Neoplasia 20(7):745–756

17.

Hu F, Sun X, Li G et al (2018) Inhibition of SIRT2 limits tumour angiogenesis via inactivation of the STAT3/VEGFA signalling pathway. Cell Death Dis 10(1):9

18.

Yang LP, Feng HQ, Ma JC et al (2020) SIRT2 expression exhibits potential to serve as a biomarker for disease surveillance and prognosis in the management of cervical cancer patients. Medicine (Baltimore) 99(11):e18668

19.

Yan L, Zhan X, Jia Z et al (2018) Sirtuin 2 (Sirt2) expression predicts lymph node metastasis and poor overall survival of patients with esophageal squamous cell carcinoma. Clin Lab 64(5):669–675

20.

Bartosch C, Monteiro-Reis S, Almeida-Rios D et al (2016) Assessing sirtuin expression in endometrial carcinoma and non-neoplastic endometrium. Oncotarget 7(2):1144–1154

21.

Nguyen P, Lee S, Lorang-Leins D et al (2014) SIRT2 interacts with beta-catenin to inhibit Wnt signaling output in response to radiation-induced stress. Mol Cancer Res 12(9):1244–1253

22.

Song HY, Biancucci M, Kang HJ et al (2016) SIRT2 deletion enhances KRAS-induced tumorigenesis in vivo by regulating K147 acetylation status. Oncotarget 7(49):80336–80349

23.

Lu Z, Nian Z, Jingjing Z et al (2017) MicroRNA-424/E2F6 feedback loop modulates cell invasion, migration and EMT in endometrial carcinoma. Oncotarget 8(69):114281–114291

24.

Huang S, Zhao Z, Tang D et al (2017) Downregulation of SIRT2 inhibits invasion of hepatocellular carcinoma by inhibiting energy metabolism. Transl Oncol 10(6):917–927
Ethics declarations
Ethics approval and consent to participate
The written informed consents were collected from patients or their legal representatives. This study was conducted with approval from the Institutional Review Board of North China University of Science and Technology Affiliated Hospital.
Competing interests
The authors declare that they have no competing interests.
About this article
Cite this article
Tang, Y., He, Y., Zhao, N. et al. Sirtuin2 correlates with lymph node metastasis, increased FIGO stage, worse overall survival, and reduced chemosensitivity to cisplatin and paclitaxel in endometrial cancer. Ir J Med Sci (2021). https://doi.org/10.1007/s11845-021-02516-3
Received:

Accepted:

Published:
Keywords
Chemosensitivity

Clinical characteristics

Endometrial cancer

Overall survival

Sirtuin2