Abstract
Objectives
The European and American colonoscopy guidelines recommend mandatory photodocumentation of caecal intubation to allow retrospective analysis and improve outcomes. We aim to demonstrate whether photodocumentation of caecal intubation improves colonoscopy outcomes.
Methods
We extracted images and procedural data from 317 consecutive colonoscopies. Images were anonymised and reviewed by four expert reviewers who scored their certainty that caecal intubation was achieved. Statistical analysis correlated adequately and inadequately photodocumented cases with polyp detection rate (PDR) and adenoma detection rate (ADR).
Results
The patients' mean age was 59.4 years and 52% were male. Eighty-one percent were performed by consultant endoscopists and 19% by specialist registrar. Sixty-five percent of these procedures were performed by gastroenterologists and 35% by surgical endoscopists. Fifty-three percent were deemed to have adequately demonstrated photographic evidence of caecal intubation. Statistical analysis comparing adequately and inadequately photodocumented cases: the PDR of procedures with confirmed caecal intubation was greater than procedures without photographic evidence (40% vs 34%). Similarly, the ADR of photographically confirmed cases was greater than that of inadequately photodocumented cases (25% vs 18%). The number of images taken per procedure positively correlated with photographic documentation of caecal intubation.
Conclusion
While failing to reach statistical significance, there was a nominal difference in ADR and PDR demonstrated between the two groups, and with predominantly positive confidence intervals, this might suggest that a larger sample size could result in significance in favour of photodocumentation of caecal intubation. Future studies would be warranted. However, endoscopists that take more images were more likely to have proven caecal intubation.
Access options
Buy single article
Instant access to the full article PDF.
US$ 39.95
Tax calculation will be finalised during checkout.
Subscribe to journal
Immediate online access to all issues from 2019. Subscription will auto renew annually.
US$ 79
Tax calculation will be finalised during checkout.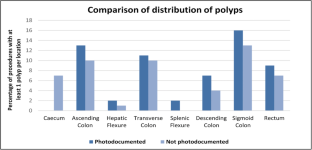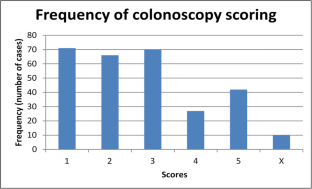 Acknowledgements
MINITAB® and all other trademarks and logos for the company's products and services are the exclusive property of Minitab, LLC. All other marks referenced remain the property of their respective owners. See minitab.com for more information.
Ethics declarations
Conflict of interests
The authors declare no conflict of interests for this article.
Ethical approval
Ethical approval was granted by the Clinical Research Ethics Committee, Galway University Hospitals Group, Ireland—Ref: C.A. 2226.
Consent to participate
N/A.
Consent for publication
N/A.
Code availability
N/A.
Additional information
Publisher's note
Springer Nature remains neutral with regard to jurisdictional claims in published maps and institutional affiliations.
About this article
Cite this article
Moran, B., Sehgal, R., O'Morain, N. et al. Impact of photodocumentation of caecal intubation on colonoscopy outcomes. Ir J Med Sci (2021). https://doi.org/10.1007/s11845-020-02469-z
Received:

Accepted:

Published:
Keywords
Caecal imaging

Caecal intubation

Caecal intubation rate (CIR)

Colonoscopy

Outcomes

Photodocumentation