Abstract
Background
The aim of this study was to evaluate the validity of a dysphagia screening test (DST) in patients who have undergone resection for head and neck cancer (HNC). In addition, we examined whether or not combined effects of DSTs improve the detection accuracy of penetration/aspiration.
Methods
Thirty-six HNC patients were participated. The DST consisted of the repetitive saliva swallowing test (RSST), the water swallowing test (WST), the modified water swallowing test (MWST), the food test (FT), and tongue pressure. A videofluoroscopic swallowing study was conducted, and the penetration–aspiration scale was used for scoring. For statistical analyses, we used the receiver operating characteristic (ROC) analysis. Furthermore, the accuracy of the determination of penetration/aspiration was evaluated by combining two or three DSTs.
Results
The penetration/aspiration could be predicted with moderate accuracy based on MWST and FT. The area under the ROC curve (AUC) values of the MWST and FT were 0.76 (p = 0.03) and 0.80 (p = 0.050), and the sensitivity/specificity was 0.9/0.61 (MWST) and 0.8/0.8 (FT), respectively. As a result of combining 2 or 3 DSTs, the combination of "MWST and FT" was the most accurate, with an AUC of 0.87 (p = 0.02). The combination of three tests had lower accuracy than the combination of two tests.
Conclusion
Based on our results, it is recommended that MWST or FT be used when only one type of DST is performed. In addition, the combination of two DSTs may detect aspiration patients more accurately than one alone.
Access options
Buy single article
Instant access to the full article PDF.
US$ 39.95
Tax calculation will be finalised during checkout.
Subscribe to journal
Immediate online access to all issues from 2019. Subscription will auto renew annually.
US$ 79
Tax calculation will be finalised during checkout.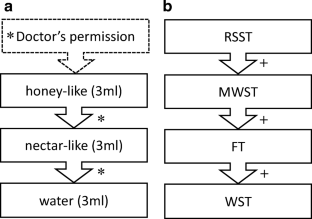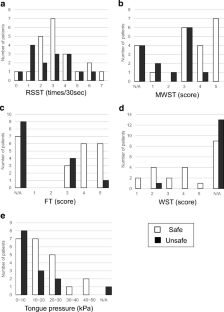 References
1.

Logemann JA, Bytell DE (1979) Swallowing disorders in three types of head and neck surgical patients. Cancer 44:1095–1105. https://doi.org/10.1002/1097-0142(197909)44:3<1095::aid-cncr2820440344>3.0.co;2-c

2.

Hey C, Lange BP, Eberle S, Zaretsky Y, Sader R, Stöver T, Wagenblast J (2013) Water swallow screening test for patients after surgery for head and neck cancer: early identification of dysphagia, aspiration and limitations of oral intake. Anticancer Res 33:4017–4021

3.

Borggreven PA, Verdonck-de Leeuw I, Rinkel RN et al (2007) Swallowing after major surgery of the oral cavity or oropharynx: a prospective and longitudinal assessment of patients treated by microvascular soft tissue reconstruction. Head Neck 29:638–647. https://doi.org/10.1002/hed.20582

4.

Lin BM, Starmer HM, Gourin CG (2012) The relationship between depressive symptoms, quality of life, and swallowing function in head and neck cancer patients 1 year after definitive therapy. Laryngoscope 122:1518–1525. https://doi.org/10.1002/lary.23312

5.

Payakachat N, Ounpraseuth S, Suen JY (2013) Late complications and long-term quality of life for survivors (> 5 years) with history of head and neck cancer. Head Neck 35:819–825. https://doi.org/10.1002/hed.23035

6.

Hamahata A, Beppu T, Shirakura S, Hatanaka A, Yamaki T, Saitou T, Sakurai H (2014) Tongue pressure in patients with tongue cancer resection and reconstruction. Auris Nasus Larynx 41:563–567. https://doi.org/10.1016/j.anl.2014.05.023

7.

van Deudekom FJ, Schimberg AS, Kallenberg MH, Slingerland M, van der Velden LA, Mooijaart SP (2017) Functional and cognitive impairment, social environment, frailty and adverse health outcomes in older patients with head and neck cancer, a systematic review. Oral Oncol 64:27–36. https://doi.org/10.1016/j.oraloncology.2016.11.013

8.

Horiguchi S, Suzuki Y (2011) Screening tests in evaluating swallowing function. JMAJ 54:31–34

9.

Kubota T (1982) Paralytic dysphagia in the brain vascular disorders - for screening test and the clinical application. Sogo Rehabil 10:271–276. https://doi.org/10.11477/mf.1552104702

10.

Lazarus C, Logemann JA, Pauloski BR, Rademaker AW, Helenowski IB, Vonesh EF, MacCracken E, Mittal BB, Vokes EE, Haraf DJ (2007) Effects of radiotherapy with or without chemotherapy on tongue strength and swallowing in patients with oral cancer. Head Neck 29:632–637. https://doi.org/10.1002/hed.20577

11.

Rieger JM, Zalmanowitz JG, Wolfaardt JF (2006) Functional outcomes after organ preservation treatment in head and neck cancer: a critical review of the literature. Int J Oral Maxillofac Surg 35:581–587. https://doi.org/10.1016/j.ijom.2006.03.026

12.

Patterson JM, Hildreth A, McColl E, Carding PN, Hamilton D, Wilson JA (2011) The clinical application of the 100mL water swallow test in head and neck cancer. Oral Oncol 47:180–184. https://doi.org/10.1016/j.oraloncology.2010.11.020

13.

Harrison LB, Zelefsky MJ, Armstrong JG, Carper E, Gaynor JJ, Sessions RB (1994) Performance status after treatment for squamous cell cancer of the base of tongue--a comparison of primary radiation therapy versus primary surgery. Int J Radiat Oncol Biol Phys 30:953–957. https://doi.org/10.1016/0360-3016(94)90371-9

14.

Hasegawa Y, Sugahara K, Fukuoka T, Saito S, Sakuramoto A, Horii N, Sano S, Hasegawa K, Nakao Y, Nanto T, Kadoi K, Moridera K, Noguchi K, Domen K, Kishimoto H (2017) Change in tongue pressure in patients with head and neck cancer after surgical resection. Odontology 105:494–503. https://doi.org/10.1007/s10266-016-0291-0

15.

Hedstrom J, Tuomi L, Finizia C et al (2018) Correlations between patient-reported dysphagia screening and penetration-aspiration scores in head and neck cancer patients post-oncological treatment. Dysphagia 33:206–215. https://doi.org/10.1007/s00455-017-9847-6

16.

Fujishima I, Takahashi K, Nito T et al (2015) The assessment of dysphagia (simplified version) revision 2015. Jpn J Dysphagia Rehabil 19:179–186

17.

Nito T, Katsumata A, Koyama T et al (2014) The method of videofluoroscopic swallowing study (detailed version) the Japanese journal of dysphagia rehabilitation medical review committee 2014 edition. Jpn J Dysphagia Rehabil 18:167–186

18.

Imai Y, Hasegawa K (1994) The revised Hasegawa's dementia scale (HDS-R) - evaluation of its usefulness as a screening test for dementia. J Hong Kong Coll Psychiatr 4:20–24

19.

Cichero JA, Steele C, Duivestein J et al (2013) The need for international terminology and definitions for texture-modified foods and thickened liquids used in dysphagia management: foundations of a global initiative. Curr Phys Med Rehabil Rep 1:280–291. https://doi.org/10.1007/s40141-013-0024-z

20.

Rosenbek JC, Robbins JA, Roecker RB et al (1996) A penetration-aspiration scale. Dysphagia 11:93–98. https://doi.org/10.1007/bf00417897

21.

Robbins J, Coyle J, Rosenbek J, Roecker E, Wood J (1999) Differentiation of normal and abnormal airway protection during swallowing using the penetration-aspiration scale. Dysphagia 14:228–232. https://doi.org/10.1007/PL00009610

22.

Daggett A, Logemann J, Rademaker A, Pauloski B (2006) Laryngeal penetration during deglutition in normal subjects of various ages. Dysphagia 21:270–274. https://doi.org/10.1007/s00455-006-9051-6

23.

Baba M, Saitoh E, Okada S (2008) Dysphagia rehabilitation in Japan. Phys Med Rehabil Clin N Am 19:929–938 x

24.

Sakayori T, Maki Y, Hirata S, Okada M, Ishii T (2013) Evaluation of a Japanese "prevention of long-term care" project for the improvement in oral function in the high-risk elderly. Geriatr Gerontol Int 13:451–457. https://doi.org/10.1111/j.1447-0594.2012.00930.x

25.

Tohara H, Saitoh E, Baba M et al (2002) Swallowing characteristics and tongue surface movements of persons with regard to pasty foods -a dysphagia evaluation system without videofluorographic study. Jpn J Dysphagia Rehabil 6:196–206

26.

Tohara H, Saitoh E, Mays KA, Kuhlemeier K, Palmer JB (2003) Three tests for predicting aspiration without videofluorography. Dysphagia 18:126–134. https://doi.org/10.1007/s00455-002-0095-y

27.

Wakasugi Y, Tohara H, Hattori F, Motohashi Y, Nakane A, Goto S, Ouchi Y, Mikushi S, Takeuchi S, Uematsu H (2008) Screening test for silent aspiration at the bedside. Dysphagia 23:364–370. https://doi.org/10.1007/s00455-008-9150-7

28.

Osawa A, Maeshima S, Tanahashi N (2012) Food and liquid swallowing difficulty in stroke patients : a study based on the findings of food tests, a modified water swallowing test and videofluoroscopic examination of swallowing. Jpn J Rehabil Med 49:838–845

29.

Osawa A, Maeshima S, Tanahashi N (2013) Water-swallowing test: screening for aspiration in stroke patients. Cerebrovasc Dis 35:276–281. https://doi.org/10.1159/000348683

30.

Tsuga K, Yoshikawa M, Oue H, Okazaki Y, Tsuchioka H, Maruyama M, Yoshida M, Akagawa Y (2012) Maximal voluntary tongue pressure is decreased in Japanese frail elderly persons. Gerodontology 29:e1078–e1085. https://doi.org/10.1111/j.1741-2358.2011.00615.x

31.

Mashige F (2005) Preparation of receiver-operating characteristic (ROC) curves and determination of optimum cut-off values. J Anal Bio-Sci 28:133–139

32.

Smithard DG, O'Neill PA, Park C et al (1998) Can bedside assessment reliably exclude aspiration following acute stroke? Age Ageing 27:99–106. https://doi.org/10.1093/ageing/27.2.99

33.

Oguchi K, Saitoh E, Baba M et al (2000) The repetitive saliva swallowing test (RSST) as a screening test of functional dysphagia (2) validity of RSST. Jpn J Rehabil Med 37:383–388

34.

Nakamori M, Hosomi N, Ishikawa K, Imamura E, Shishido T, Ohshita T, Yoshikawa M, Tsuga K, Wakabayashi S, Maruyama H, Matsumoto M (2016) Prediction of pneumonia in acute stroke patients using tongue pressure measurements. PLoS One 11:e0165837. https://doi.org/10.1371/journal.pone.0165837

35.

Maeda K, Akagi J (2015) Decreased tongue pressure is associated with sarcopenia and sarcopenic dysphagia in the elderly. Dysphagia 30:80–87. https://doi.org/10.1007/s00455-014-9583-0

36.

Mise K, Motoyoshi K, Hyodo M (2010) The effectiveness of rehabilitation therapy for dysphagia due to head and neck diseases. Otologia 56:S119–S124. https://doi.org/10.11334/jibi.56.S119

37.

Lim SH, Lieu PK, Phua SY et al (2001) Accuracy of bedside clinical methods compared with fiberoptic endoscopic examination of swallowing (FEES) in determining the risk of aspiration in acute stroke patients. Dysphagia 16:1–6. https://doi.org/10.1007/s004550000038
Acknowledgements
The authors would like to express their sincere appreciation to Ms. M. Shiramizu for her tremendous support. We also thank the doctors of the Department of Otorhinolaryngology–Head and Neck Surgery for their generous support.
Availability of data and material
The datasets during and/or analyzed during the current study available from the corresponding author on reasonable request.
Funding
This study was supported, in part, by the Ministry of Education, Culture, Sports, Science and Technology (MEXT) Supported Program for the Strategic Research Foundation at Private Universities, 2014–2018.
Ethics declarations
Conflict of interest
The authors declare that they have no conflicts of interest.
Ethics approval
All procedures performed in studies involving human participants were conducted in accordance with the ethical standards of the institutional ethics committee at Hyogo College of Medicine (H28–1713) and with the 1964 Declaration of Helsinki and its later amendments or comparable ethical standards.
Consent to participate
Consent to participate was obtained from all individual participants included in the study.
Consent for publication
Consent for publication was obtained from all individual participants included in the study.
Code availability
Not applicable
Additional information
Publisher's note
Springer Nature remains neutral with regard to jurisdictional claims in published maps and institutional affiliations.
The original version of this article was revised: "The above article was published online with error in Table 5 and 6. Some of the entries were mistakenly deleted under AUC column.
About this article
Cite this article
Horii, N., Hasegawa, Y., Sakuramoto-Sadakane, A. et al. Validity of a dysphagia screening test following resection for head and neck cancer. Ir J Med Sci 190, 67–77 (2021). https://doi.org/10.1007/s11845-020-02286-4
Received:

Accepted:

Published:

Issue Date:
Keywords
Deglutition

Dysphagia

Head and neck cancer

Screening test

Videofluoroscopic swallowing study