Abstract
Background
The incidence of thyroid cancer (TC) is increasing rapidly worldwide. The target therapy for papillary TC (PTC) is limited, and the studies of PTC prognostic biomarkers are not common. As a new member of annexin A (ANXA) family, the function and clinical significance of ANXA10 in PTC have not been well investigated.
Methods
Expressions of all the 12 ANXA members were detected with qPCR in 12 PTC tissues, and the ANXA10 mRNAs in PTCs and their adjacent normal thyroid tissues were compared. The subcellular location and expression of ANXA10 in 121 PTC patients were investigated with immunohistochemistry, which further classified the patients into subgroups with low or high ANXA10. The clinical significance and prognostic value of ANXA10 were estimated by analyzing its correlation with clinical factors and overall survival rates by the chi-squared test, univariate analyses, and multivariate analyses.
Results
ANXA10 had the highest expression in PTCs among all the ANXA members. Moreover, ANXA10 was significantly upregulated in PTC compared with normal thyroid tissues. The PTC patients with low and high expression of ANXA10 took up 70.25% (85/121) and 29.75% (36/121), respectively. ANXA10 expression was associated with tumor size, differentiation, and overall survival rates of PTC. ANXA10 was an independent prognostic biomarker predicting the poor outcome of PTC.
Conclusions
ANXA10 expression was upregulated in PTC, and it was an independent prognostic biomarker of PTC, suggesting that ANXA10 may be a promising target for individual treatment of ANXA10.
Access options
Buy single article
Instant access to the full article PDF.
US$ 39.95
Tax calculation will be finalised during checkout.
Subscribe to journal
Immediate online access to all issues from 2019. Subscription will auto renew annually.
US$ 79
Tax calculation will be finalised during checkout.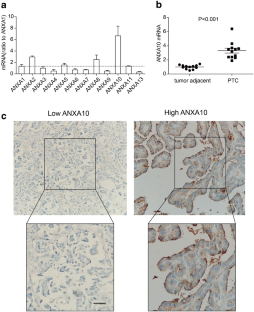 Ethics declarations
Conflict of interest
The authors declare that they have no conflict of interest.
Additional information
Publisher's note
Springer Nature remains neutral with regard to jurisdictional claims in published maps and institutional affiliations.
About this article
Cite this article
Liu, X., Yang, M., Guo, Y. et al. Annexin A10 is a novel prognostic biomarker of papillary thyroid cancer. Ir J Med Sci 190, 59–65 (2021). https://doi.org/10.1007/s11845-020-02263-x
Received:

Accepted:

Published:

Issue Date:
Keywords
Annexin

Annexin A10

Biomarker

Papillary thyroid cancer

Prognosis