Abstract
Background
Electroanatomical mapping systems (EMS) reduce fluoroscopy dose for the ablation. Higher costs and longer procedure times are the drawbacks associated with EMS. Our objective was to validate the efficiency of the EMS.
Objective
To demonstrate that using EMS is more efficient and as secure as the traditional system of ablation.
Methods
From April 2013 to June 2018, all patients were included into two groups, according to the intention of ablation with or without fluoroscopy. Right, left, supraventricular and ventricular ablation were included. We compared procedure variables (fluoroscopy, radiofrequency and procedure times, ablation results, complication rates and costs of the procedure) that included material and detrimental effect of fluoroscopy.
Results
A total of 105 were included in the fluoroscopy group and 287 in the without fluoroscopy group. We found an important reduction in time and radiation dose in all the ablation procedures studied, without increasing the procedure time. No differences in ablation results nor complications rate were found. We found lower costs in the flutter ablation without fluoroscopy, similar costs in the right focal tachycardia ablation group and higher costs in the without fluoroscopy group for the AVNRT and left accessory pathway. When detrimental effect of fluoroscopy was added, all procedures without fluoroscopy were significantly more efficient than the ones performed with it.
Conclusions
Ablation without fluoroscopy is a technique as safe and effective as the conventional technique. Our study suggests that the radiation dose delivered to the patient and staff might be reduced, without increasing the total procedure time, being even more efficient.
Access options
Buy single article
Instant access to the full article PDF.
US$ 39.95
Tax calculation will be finalised during checkout.
Subscribe to journal
Immediate online access to all issues from 2019. Subscription will auto renew annually.
US$ 79
Tax calculation will be finalised during checkout.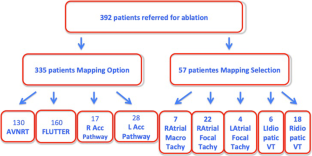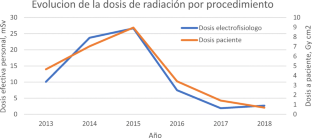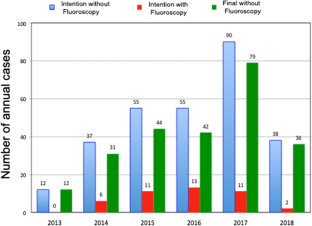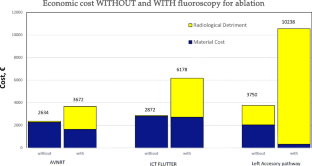 Abbreviations
AVNRT :

AV node re-entry tachycardia

CTI :

Cavo-tricuspid isthmus

AF :

Atrial fibrillation

KAP :

Kerma-area product

NAV :

Navistar® catheter

CS :

Coronary sinus

SVT :

Supraventricular tachycardia
References
1.

Roguin A, Goldstein J, Bar O, Goldstein JA (2013) Brain and neck tumors among physicians performing interventional procedures. Am J Cardiol 111(9):1368–1372

2.

Macías R, Uribe I, Tercedor L, Jiménez-Jáimez J, Jiménez J, Barrio T et al (2014) A zero-fluoroscopy approach to cavotricuspid isthmus catheter ablation: comparative analysis of two electroanatomical mapping systems. Pacing Clin Electrophysiol 37(8):1029–1037

3.

Álvarez M, Bertomeu-González V, Arcocha MF, Moriña P, Tercedor L, Ferrero de Loma Á et al (2017) Nonfluoroscopic Catheter Ablation. Results from a prospective multicenter registry. Rev Esp Cardiol (Engl Ed) 70(9):699–705

4.

Gaita F, Guerra PG, Battaglia A, Anselmino M (2016) The dream of near-zero X-rays ablation comes true. Eur Heart J 37(36):2749–2755

5.

Bor D, Olgar T, Onal E, Caglan A, Toklu T (2009) Assessment of radiation doses to cardiologists during interventional examinations. Med Phys 36(8):3730–3736

6.

Salud SMd. Suministro de Material Fungible especifico para las áreas de Electrofisiologia del SERVICIO MURCIANO DE SALUD 2015 [Available from: https://www.acobur.es/licitacion-publica/CS_2F9999_2F1100560692_2F14_20ACPA//792872.

7.

Protection ICoR. Development of the Draft 2005 recommendations of the ICRP: a collection of papers. A report of ICRP supporting guidance 4. Ann ICRP. 2004;34 Suppl:1-44, iii-xiii.

8.

Pani A, Giuseppina B, Bonanno C, Grazia Bongiorni M, Bottoni N, Brambilla R et al (2018) Predictors of zero X-ray ablation for supraventricular tachycardias in a nationwide multicenter experience. Circ Arrhythm Electrophysiol 11(3):e005592

9.

Shalganov T, Stoyanov M, Kunev B (2017) The non-fluoroscopic navigation reduces significantly not only the fluoroscopic exposure during catheter ablation of the cavotricuspid isthmus but the total radiofrequency time as well. Acta Cardiol 72(2):167–171

10.

Casella M, Dello Russo A, Pelargonio G, Del Greco M, Zingarini G, Piacenti M et al (2016) Near zerO fluoroscopic exPosure during catheter ablAtion of supRavenTricular arrhYthmias: the NO-PARTY multicentre randomized trial. Europace. 18(10):1565–1572

11.

Siegel JA, Sacks B, Greenspan BS (2018) Radiation dose does indeed matter: proof that invalidates the linear no-threshold model. J Nucl Med 59:1779–1780

12.

Protection ICoR. 2007 [The 2007 Recommendations of the International Commission on Radiological Protection.: Elservier; p. 1-332.

13.

Heidbuchel H, Wittkampf FH, Vano E, Ernst S, Schilling R, Picano E et al (2014) Practical ways to reduce radiation dose for patients and staff during device implantations and electrophysiological procedures. Europace. 16(7):946–964

14.

Rosenstein MB, Libby F. Claycamp Gregg Poston, John W. Yoder, R. Craig Reece, Warren D. Slobodien, Michael J. Simon, SL. Soares, CG. Yoder, RC. Gesell, TF. Report No. 122 – Use of personal monitors to estimate effective dose equivalent and effective dose to workers for external exposure to low-let radiation. National Council on Radiation Protection and measurements (NCRP); 1995. Contract No.: 122.

15.

Protection ICoR. Cost-benefit analysis in the optimization of radiation protection. Ann ICRP 1983;ICRP Publication 37. Ann. ICRP 10:2-3.

16.

Centre IET. Survey on the values and uses of the monetary value of the man. Sievert 2017. March [Internet]. 2018; (Information Sheet No. 61). Available from: http://www.isoe-network.net/publications/pub-resources/pub-info-sheet/etc-information-sheets/3848-etc-61/file.html.

17.

Vaiserman A, Koliada A, Zabuga O, Socol Y (2018) Health Impacts of low-dose ionizing radiation: current scientific debates and regulatory issues. Dose-Response 16(3):1559325818796331

18.

Kreuzer M, Auvinen A, Cardis E, Durante M, Harms-Ringdahl M, Jourdain JR, Madas BG, Ottolenghi A, Pazzaglia S, Prise KM, Quintens R, Sabatier L, Bouffler S (2018) Multidisciplinary European Low Dose Initiative (MELODI): strategic research agenda for low dose radiation risk research. Radiat Environ Biophys 57(1):5–15

19.

Pantos I, Koukorava C, Nirgianaki E, Carinou E, Tzanalaridou E, Efstathopoulos EP, Katritsis DG (2012) Radiation exposure of the operator during cardiac catheter ablation procedures. Radiat Prot Dosim 150(3):306–311
Additional information
Publisher's note
Springer Nature remains neutral with regard to jurisdictional claims in published maps and institutional affiliations.
About this article
Cite this article
Gil-Ortega, I., Serna-Berná, A., Trujillo-Santos, A.J. et al. Non fluoroscopic ablation of different arrhythmic structures in an electrophysiology unit. Assessment of efficiency and security. Ir J Med Sci 190, 79–87 (2021). https://doi.org/10.1007/s11845-020-02247-x
Received:

Accepted:

Published:

Issue Date:
Keywords
Catheter ablation

Ionising radiation

Electroanatomical mapping system

Radiological detriment

Efficiency