Abstract
Background
Emergency department (ED) frequent attenders (FAs) have a higher rate of adverse outcomes compared to infrequent attenders.
Aims
The primary aim was to describe the prevalence of FAs at an inner city ED. A subgroup analysis was undertaken for high and very high FAs to establish demographics and other factors which might cause them to attend frequently.
Methods
A retrospective review of all patients who attended the ED at Mercy University Hospital (MUH), Cork, during 2016 was undertaken. Patients were classified as either infrequent attenders (1–2 attendances/year), frequent attenders (3–12 attendances/year), high frequent attenders (HFA, 13–29 attendances/year), or very high frequent attenders (VHFA, > 30 attendances/year).
Results
During 2016, a total of 21,920 patients presented 33,152 times. Overall, 90.2% (n = 19,761) were infrequent attenders, whilst 9.6% (n = 2115) were FAs. A further 36 patients (0.16%) were HFAs and eight patients (0.04%) were classified as VHFAs. Almost 10% of patients attended the ED three or more times, accounting for 29% of overall ED attendances. The HFA and VHFA cohorts were predominantly male (79.5%, n = 35) with an average age of 49.6 years. They were found to have multiple medical comorbidities, complex psychosocial problems, and a mortality rate of 11.3% over a 2-year period.
Conclusions
This retrospective review is the most detailed assessment of Irish FAs undertaken to date. Further studies are required to examine the Irish hospitals most at need of Case Management Strategy Programmes which we postulate could minimise the risk of adverse outcomes for these patients and improve overall ED efficiency.
This is a preview of subscription content, log in to check access.
Access options
Buy single article
Instant access to the full article PDF.
US$ 39.95
Price includes VAT for USA
Subscribe to journal
Immediate online access to all issues from 2019. Subscription will auto renew annually.
US$ 99
This is the net price. Taxes to be calculated in checkout.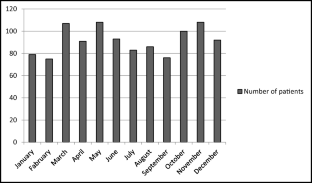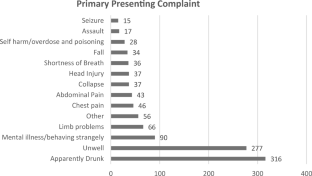 References
1.

Lacalle E, Rabin E (2010) Frequent users of emergency departments: the myths, the data, and the policy implications. Ann Emerg Med 56(1):42–48. https://doi.org/10.1016/j.annemergmed.2010.01.032

2.

Gunnarsdottir OS, Rafnsson V (2006) Mortality of the users of a hospital emergency department. Emerg Med J 23:269–274

3.

Moe J, Kirkland S, Ospina MB, Campbell S, Long R, Davidson A, Duke P, Tamura T, Trahan L, Rowe BH (2016) Mortality, admission rates and outpatient use among frequent users of emergency departments: a systematic review. Emerg Med J 33:230–236

4.

Mcgovern EJ, Bolger J, Courtney D, Khan W, Khan I, Horan J et al (2016) Can "hot spotting" prove to be a useful tool to identify disproportionate ED use in the rural general hospital setting? Ir Med J 109(8):452

5.

Royal College of Emergency Medicine (2017) Best practice guideline: frequent attenders in the emergency. https://www.rcem.ac.uk//docs/RCEM%20Guidance/Guideline%20-%20Frequent%20Attenders%20in%20the%20ED%20(Aug%202017).pdf. Accessed 2 Feb 2018

6.

Locker TE, Baston S, Mason SM, Nicholl J (2007) Defining frequent use of an urban emergency department. Emerg Med J 24:398–402

7.

Bieler G, Paroz S, Faouzi M, Trueb L, Vaucher P, Althaus F, Daeppen JB, Bodenmann P (2012) Social and medical vulnerability factors of emergency department frequent users in a universal health insurance system. Acad Emerg Med 19:63–68

8.

Murphy AW, Leonard C, Plunkett PK, Brazier H, Conroy R, Lynam F, Bury G (1999) Characteristics of attenders and their attendances at an urban accident and emergency department over a one year period. J Accid Emerg Med 16:425–427

9.

Byrne M, Murphy AW, Mcgee HM, Mod BA, Murray A (2003) Frequent attenders to an emergency department: a study of primary health care use, medical profile, and psychosocial characteristics. Ann Emerg Med 41(3):309–318

10.

Ramasubbu B, Donnelly A, Moughty A (2016) Profile of frequent attenders to a Dublin inner city emergency department. Ir Med J 109(4):389

11.

Ramasubbu B, Lee B, Collins N (2015) Re-attenders to the emergency department of a major urban hospital serving a population of 290,000. Ir Med J 108(1):18–19

12.

Nelson K, Connor M, Wensley C, Moss C, Pack M, Hussey T (2011) Review article: people who present on multiple occasions to emergency departments. Emerg Med Australas 23:532–540

13.

Ní Cheallaigh C, Cullivan S, Sears J, Lawlee AM, Browne J, Kieran J, Segurado R, O'Carroll A, O'Reilly F, Creagh D, Bergin C, Kenny RA, Byrne D (2017) Usage of unscheduled hospital care by homeless individuals in Dublin, Ireland: a cross-sectional study. BMJ Open 7:e016420

14.

Hardie TL, Polek C, Wheeler E, Mccamant K, Dixson M, Gailey R et al (2015) Characterising emergency department high-frequency users in a rural hospital. Emerg Med J 32:21–25

15.

Vinton DT, Capp R, Rooks SP, Abbott JT, Ginde AA (2014) Frequent users of US emergency departments: characteristics and opportunities for intervention. Emerg Med J 31:526–532

16.

Skinner J, Carter L, Haxton C (2009) Case management of patients who frequently present to a Scottish emergency department. Emerg Med J 26:103–105

17.

Mandelberg JH, Kuhn RE, Kohn MA (2000) Epidemiologic analysis of an urban, public emergency department's frequent users. Acad Emerg Med 7(6):637–646

18.

Irish Committee for Emergency Medicine Training, Irish Association for Emergency Medicine, Health Service Executive (2012) The National Emergency Medicine Programme. https://www.hse.ie/eng/services/publications/clinical-strategy-and-programmes/the-national-emergency-medicine-programme.pdf. Accessed 7 Mar 2018

19.

Soril LJJ, Leggett LE, Lorenzetti DL, Noseworthy TW (2015) Reducing frequent visits to the emergency department: a systematic review of interventions. PLoS One 10(4)

20.

Newton A, Sarker SJ, Parfitt A, Henderson K, Jaye P, Drake N (2011) Individual care plans can reduce hospital admission rate for patients who frequently attend the emergency department. Emerg Med J 28:654–658

21.

Ng J, Hayhurst C (2016) Best Bets - the effectiveness of case management at reducing the number of emergency department frequent attenders. BestBets Best Evidence Topics. http://www.bestbets.org/bets/bet.php?id=2858. Accessed 3 Apr 2018
Ethics declarations
Conflict of interest
The authors declare that they have no conflict of interest.
Ethical approval
This article does not contain any studies with human participants or animals performed by any of the authors.
Additional information
Publisher's note
Springer Nature remains neutral with regard to jurisdictional claims in published maps and institutional affiliations.
About this article
Cite this article
Uí Bhroin, S., Kinahan, J. & Murphy, A. Profiling frequent attenders at an inner city emergency department. Ir J Med Sci 188, 1013–1019 (2019). https://doi.org/10.1007/s11845-019-01964-2
Received:

Accepted:

Published:

Issue Date:
Keywords
Emergency medicine

Psychiatry

Vulnerable patients