Abstract
This paper explores the realities of forestry benefit sharing under joint forest management in a major teak plantation region of Java, Indonesia, with reference to empirical information about the uses and effects of monetary benefits in terms of stakeholder power relations. The authors intend to enrich current understandings of the pitfalls of benefit-sharing mechanisms at the local level. The analysis focuses on institutional designs of benefit sharing, recent statistical realities of shared benefits, the uses of monetary benefits in villages, and the livelihood and conservation implications of shared benefits through household surveys. The results confirm that the benefit-sharing system has been neither effective nor equitable economically (ineffective investment, a distribution policy preferring villages' wants, and a lack of attempts to improve general farmers' livelihoods and pro-poor arrangements), ecologically (little change in forest protection systems and continuing illegal logging and unofficial forestland cultivation), and in terms of governance (elite capture and a lack of downward accountability). Limited capacity, downward accountability of committee executive members and a laissez-faire attitude of forest administrators were also observed. A laissez-faire policy of forest administration under the frameworks of joint forest management can create room for elite capture as well as ineffective conservation and poor livelihood outcomes and should thus be avoided. Appropriate and supportive facilitation and collaboration from the outside to develop the capacity and downward accountability of village-level decision makers is needed. These issues are increasingly important in the context of Reducing Emissions from Deforestation and Forest Degradation Plus (REDD+).
This is a preview of subscription content, log in to check access.
Access options
Buy single article
Instant access to the full article PDF.
US$ 39.95
Price includes VAT for USA
Subscribe to journal
Immediate online access to all issues from 2019. Subscription will auto renew annually.
US$ 99
This is the net price. Taxes to be calculated in checkout.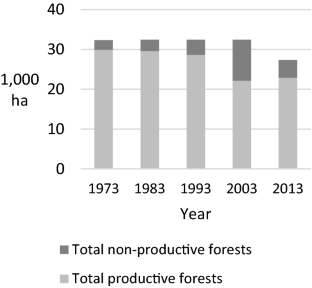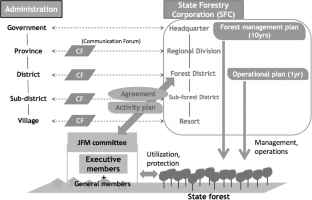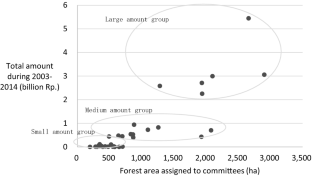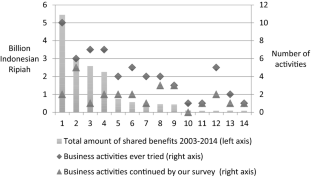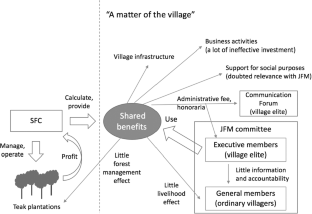 References
Andersson KP, Smith SM, Alston LJ, Duchelle AE, Mwangie E, Larson AM, de Sassi C, Sills EO, Sunderlin WD, Wong GY (2018) Wealth and the distribution of benefits from tropical forests: implications for REDD+. Land Use Pol 72:510–522. https://doi.org/10.1016/j.landusepol.2018.01.012

Arnold JEM (2001) 25 years of community forestry. Food and Agriculture Organization of the United Nations, Rome

Chhetri BBK, Lund JF, Nielsen OJ (2012) The public finance potential of community forestry in Nepal. Ecol Econ 73:113–121. https://doi.org/10.1016/j.ecolecon.2011.09.023

Djamhuri TL (2012) The effect of incentive structure to community participation in a social forestry program on state forest land in Blora District, Indonesia. For Pol Econ 25:10–18. https://doi.org/10.1016/j.forpol.2012.02.004

Fleischman FD (2014) Why do foresters plant trees? Testing theories of bureaucratic decision-making in Central India. World Dev 62:62–74. https://doi.org/10.1016/j.worlddev.2014.05.008

Fujiwara T, Septiana RM, Awang SA, Widayanti WT, Bariatul H, Hyakumura K, Sato N (2012) Changes in local social economy and forest management through the introduction of collaborative forest management (PHBM), and the challenges it poses on equitable partnership: a case study of KPH Pemalang, Central Java, Indonesia. Tropics 20:115–134. https://doi.org/10.3759/tropics.20.115

Inoue M, Tsurudome Y, Mugniesyah SSM (2003) Hillside forest land as a safety net for local people in a mountain village in West Java: an examination of differences in the significance of national and private lands. J For Res 8:95–101. https://doi.org/10.1007/s103100300011

Krott M (2005) Forest policy analysis. Springer, Dordrecht

Krott M, Bader A, Schusser C, Devkota R, Maryudi A, Giessen L, Aurenhammer H (2014) Actor-centred power: the driving force in decentralised community based forest governance. For Pol Econ 49:34–42. https://doi.org/10.1016/j.forpol.2013.04.012

Kubo Y, Lee JH, Fujiwara T, Septiana RM, Iwasa Y (2018) Profit sharing and agroforestry: a theoretical study of potential conflicts in managing illegal logging risk in tropical forests. Theory Ecol. https://doi.org/10.1007/s12080-018-0381-4

Lee JH, Kubo Y, Fujiwara T, Septiana RM, Riyanto S, Iwasa Y (2018) Profit sharing as a management strategy for a state-owned teak plantation at high risk for illegal logging. Ecol Econ 149:140–148. https://doi.org/10.1016/j.ecolecon.2018.03.005

Luttrell C, Loft L, Gebara MF, Kweka D, Brockhaus M, Angelsen A, Sunderlin WD (2013) Who should benefit from REDD+? Rationales and realities. Ecol Soc 18(4):52. https://doi.org/10.5751/ES-05834-180452

Martin A, Coolsaet B, Corbera E, Dawson NM, Fraser JA, Lehmann I, Rodriguez I (2016) Justice and conservation: the need to incorporate recognition. Biol Conserv 197:254–261. https://doi.org/10.1016/j.biocon.2016.03.021

Maryudi A (2011) The contesting aspirations in the forests: actors, interests and power in community forestry in Java, Indonesia. Universitätsdrucke Göttingen, Göttingen

Maryudi A, Citraningtyas ER, Purwanto RH, Sadono R, Suryanto P, Riyanto S, Siswoko BD (2016) The emerging power of peasant farmers in the tenurial conflicts over the uses of state forestland in Central Java, Indonesia. For Pol Econ 67:70–75. https://doi.org/10.1016/j.forpol.2015.09.005

Nath TK, Jashimuddin M, Inoue M (2016) Community-based forest management (CBFM) in Bangladesh. Springer, Cham

Peluso NL (1992) Rich forests, poor people: resource control and resistance in Java. University of California Press, Berkeley

Persha L, Andersson K (2014) Elite capture risk and mitigation in decentralized forest governance regimes. Glob Environ Change 24:265–276. https://doi.org/10.1016/j.gloenvcha.2013.12.005

Pham TT, Brockhaus M, Wong G, Dung LN, Tjajadi JS, Loft L, Luttrell C, Mvondo SA (2013) Approaches to benefit sharing: a preliminary comparative analysis of 13 REDD+ countries. Center for International Forestry Research, Bogor

Pham TT, Moeliono M, Brockhaus M, Le DN, Wong GY, Le TM (2014) Local preferences and strategies for effective, efficient, and equitable distribution of PES revenues in Vietnam: lessons for REDD+. Hum Ecol 42:885–899. https://doi.org/10.1007/s10745-014-9703-3

Prasetyo RB, Damayanti EK, Masuda M (2012) Land cover changes before and after implementation of the PHBM program in Kuningan District, West Java, Indonesia. Tropics 21:47–57. https://doi.org/10.3759/tropics.21.47

Randublatung Forest District (2016) Profile of the Randublatung Forest District. Randublatung Forest District, Blora (in Indonesian)

Ribot JC, Lund JF, Treue T (2010) Democratic decentralization in sub-Saharan Africa: its contribution to forest management, livelihoods, and enfranchisement. Environ Conserv 37(1):35–44. https://doi.org/10.1017/S0376892910000329

Schusser C, Krott M, Movuh MCY, Logmani J, Devkota RR, Maryudi A, Salla M, Bach ND (2015) Powerful stakeholders as drivers of community forestry: results of an international study. For Pol Econ 58:92–101. https://doi.org/10.1016/j.forpol.2015.05.011

Shiga K, Masuda M, Onda N (2012) Changes in people's involvement measures by the State Forestry Corporation and challenges of joint forest management system in Java: policy design and implementation process. J For Econ 58(2):1–13. https://doi.org/10.20818/jfe.58.2_1(in Japanese)

Siscawati M (2012) Social movements and scientific forestry: examining the community forestry movement in Indonesia. Dissertation, University of Washington

Statistics Indonesia (2015) Blora district in figures 2015. Badan Pusat Statistik Kabupaten Blora, Blora (in Indonesian)

Torpey-Saboe N, Andersson K, Mwangi E, Persha L, Salk C, Wright G (2015) Benefit sharing among local resource users: the role of property rights. World Dev 72:408–418. https://doi.org/10.1016/j.worlddev.2015.03.005

Whitten AJ, Soeriaatmadja RM, Arief SA (1996) The ecology of Java and Bali. Periplus Editions, Singapore

Wong GY, Loft L, Brockhaus M, Yang AL, Pham TT, Assembe-Mvondo S, Luttrell C (2017) An assessment framework for benefit sharing mechanisms to reduce emissions from deforestation and forest degradation within a forest policy mix. Environ Pol Gov 27:436–452. https://doi.org/10.1002/eet.1771

Wulan YC, Yasmi Y, Purba C, Wollenberg E (2004) The analysis of conflict: the forest sector in Indonesia 1997–2003. Center for International Forestry Research, Bogor (in Indonesian)

Yokota Y, Harada K, Rohman SNO, Wiyono TM, Inoue M (2014) Contributions of company-community forestry partnerships (PHBM) to the livelihoods of participants in Java, Indonesia: a case study in Madiun, East Java. Jpn Agric Res Q 48:363–377. https://doi.org/10.6090/jarq.48.363
Acknowledgements
This study was financially supported by JSPS KAKENHI Grant Numbers JP15KT0127, JP16K16240, and JP18K18235. The field research was conducted with foreign research permits from the Ministry of Research, Technology and Higher Education in Indonesia. The authors appreciate Prof. Lilik B. Prasetyo at Bogor Agricultural University for being the research counterpart as well as staff members of the Randublatung Forest District and village respondents for cooperating with the research. The data, analysis, and opinions presented in this paper are the sole responsibility of the authors.
Additional information
Publisher's Note
Springer Nature remains neutral with regard to jurisdictional claims in published maps and institutional affiliations.
About this article
Cite this article
Ota, M., Masuda, M. & Shiga, K. Payment for What? The Realities of Forestry Benefit Sharing Under Joint Forest Management in a Major Teak Plantation Region of Java, Indonesia. Small-scale Forestry (2020). https://doi.org/10.1007/s11842-020-09446-5
Keywords
Stakeholder

Power bargaining

Forest administration

Elite capture

Encroachment

Livelihood