Abstract
In developing countries seedlings are often produced in small-scale nurseries as a means to raise tree planting materials and, provided they are of high quality, these can form the basis for successful forest plantation initiatives. This study uses morphological characteristics to assess the quality of seedlings of three tree species (Persea americana, Cola acuminata and Dacryodes edulis) in the Western Highlands of Cameroon. The growth characteristics and quality indicators of seedlings produced in two nursery categories were compared—three nurseries collaborating with the tree domestication program implemented by the World Agroforestry Centre (Category 1) and three nurseries collaborating with government and non-governmental projects (Category 2). Seedlings produced in nurseries in the first nursery category were found to be uniform in terms of growth characteristics and quality indicators. In the second category, there were relatively higher seedling proportions having measured parameters out of threshold standards for root to shoot ratio and for sturdiness quotient. Significant differences between nursery categories (at α = 0.05) were detected in root collar diameter of C. acuminata and D. edulis and in shoot dry weight of D. edulis. These differences could be attributed to better nursery management as a results of training and technical backstopping received by nursery operators in Category 1. The level of experience of nursery operators in both categories was found to be insufficient and greater exposure to skills and knowledge could enhance the production of high quality seedlings.
Access options
Buy single article
Instant access to the full article PDF.
US$ 39.95
Tax calculation will be finalised during checkout.
Subscribe to journal
Immediate online access to all issues from 2019. Subscription will auto renew annually.
US$ 79
Tax calculation will be finalised during checkout.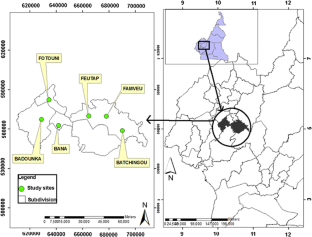 References
Asaah EK, Tchoundjeu Z, Leakey RRB, Takoutsing B, Njong J, Edang I (2011) Trees, agroforestry and multifunctional agriculture in Cameroon. Int J Agric Sustain 9(1):110–119

Barnett JP, McGilvray JM (1993) Performance of container and bareroot loblolly pine seedlings on bottomlands in South Carolina. South J Appl For 17(2):80–83

Bawa KS, Dayanandan S (1997) Socio-economic factors and tropical deforestation. Nature 386:562–563

Bayala J, Dianda M, Wilson J, Ouedraogo SJ, Sanon K (2009) Predicting field performance of five irrigated tree species using seedling quality assessment in Burkina Faso West Africa. New Forests 38(3):309–322

Besong BJ, Ngwasiri CN (1995) The 1994 forestry law and national natural resources management in cameroon. A PVO-NGO/NRMS Publication, Yaounde Cameroon

Byron RN (2001) Keys to smallholder forestry in developing countries in the tropics. In: Harrison SR, Herbohn JL (eds) Sustainable farm forestry in the tropics: social and economic analysis and policy. Edward Elgar, Cheltenham, pp 211–238

Carter EJ (1987) From seed to trial establishment. A handbook giving practical guidelines in nursery practice and the establishment of simple species and/or provenance trials. DFR User Series, 2, Division of Forest Research, Commonwealth Scientific and Industrial Research Organization, P.O. Box 4008, Yarralumla, ACT 2600, Australia

Davis AS, Jacobs DF (2005) Quantifying root system quality of nursery seedlings and relationship to out planting performance. New Forest 30:235–251

Degrande A, Tadjo P, Takoutsing B, Asaah E, Tsobeng A, Tchoundjeu Z (2012) Getting trees into farmers' fields: success of rural nurseries in distributing high quality planting material in Cameroon. Small-scale For. doi:10.1007/s11842-012-9220-4

Dey DC, Parker WC (1997) Morphological indicators of stock quality and field performance of red oak (Quercus rubra L.) seedlings under planted in a central Ontario shelter wood. New Forest 14:145–156

Dumroese RK, Page-Dumroese DS, Salifu KF, Jacobs DF (2005) Exponential fertilization of Pinus monticola seedlings: nutrient uptake efficiency, leaching fractions, and early out planting performance. Can J For Res 35:2961–2967

Food and Agriculture Organization of the United Nations (FAO) (1996) Forest Resources Assessment 1990, Survey of Tropical Forest Cover and Study of Change Process. FAO Forestry Paper 130. Rome

Franzel S, Jaenicke H, Janssen W (1996) Choosing the right trees: setting priorities for multipurpose tree improvement. ISNAR research report No. 8. ISNAR. The Hague, Netherlands

Gao ZG, Liu JL, Zheng GX, Zhong ZL (2007) Study on effect of PP333 on Pinus massoniana seedling quality. J Zhejiang For Sci Tech 27:55–56

Gazal RM, Kubiske ME (2004) Influence of initial root characteristics on hysiological responses of cherrybark oak and Shumard oak seedlings to field drought conditions. For Ecol Manage 189(1–3):295–305

Gregorio NO, Herbohn JL and Harrison S (2005) Germplasm Access and Planting Stock Quality in Smallholder Forest Nurseries in Leyte, the Philippines. In: Harrison, Steve R., Herbohn, John L., Suh, Jungho, Mangaoang, Eduardo and Vanclay, Jerry: Redevelopment of a Timber Industry Following Extensive Land Clearing: Proceedings from the End-of-Project Workshop. ACIAR Smallholder Forestry Project, Ormoc City, the Philippines, 19-21 August, 2004, pp. 279-291

Grossnickle SC (1992) Relationship between freezing tolerance and shoot water relations of western red cedar. Tree Physiol 11:229–240

Harrison S, Gregorio N, Herbohn J (2008) A critical overview of forest seedling production policies and practices in relation to smallholder forestry in developing countries. Small-scale For 7(3–4):207–223

Jacobs DF, Rose R, Haase DL, Morgan P (2003) Influence of nursery soil amendments on water relations, root architectural development, and field performance of Douglas-fir transplants. New Forest 26:263–277

Jacobs DF, Salifu KF, Seifert JR (2005) Relative contribution of initial root and shoot morphology in predicting field performance of hardwood seedlings. New Forest 30:235–251

Jaenicke H (1999) Good tree nursery practices: practical guidelines for research nurseries. ICRAF, Nairobi, pp 8–15

Kant S, Redantz A (1997) An econometric model of tropical deforestation. J For Econ 3(1):51–86

Li GL, Liu Y, Zhu Y, Yang J, Sun HY, Jia ZK, Ma LY (2011) Influence of initial age and size on the field performance of Larix olgensis seedlings. New Forest 42(2):215–226. doi:10.1007/s11056-011-9248-x

Li GL, Zhu Y, Li QM, Liu Y, Zou SQ, Huang YL (2012) Effect of seedling age on the seedling quality and field performance of Pinus koraiensis. Scientia Silvae Sinicae 48(1):35–41

Liu Y, Chen Y, Zhang ZY, Li XG (2000) Effects of fertilizer treatments on seedling growth and cold resistance of triploid Populus tomentosa. J Beijing For Univ (Nat Sci Ed) 22(1):38–44

McDonald PM (1991) Container seedlings outperform bareroot stock: survival and growth after 10 years. New Forest 5:147–156

Mexal JG, Landis TD (1990) Target seedling concepts: height and diameter. In: Rose R, Campbell SJ, Landis TD (eds) Target seedling symposium: combined proceedings of the western forest nursery associations. Roseburg, Oregon, pp 17–35

Minang AP (2007) Baseline and program implementation plan: Agricultural and tree product program (food for progress 2006) USDA/MINPLADAT/ICRAF. ICRAF, Yaounde. Cameroon

South DB, Harris SW, Barnett JP, Hainds MJ, Gjerstad DH (2005) Effect of container type and seedling size on survival and early height growth of Pinus palustris seedlings in Alabama USA. For Ecol Manag 204(2–3):385–398

Takoutsing B, Degrande A, Tchoundjeu Z, Asaah E, Tsobeng A (2012) Enhancing farmers access to quality planting materials through community-based seed and seedling systems: experiences from the western highlands of cameroon. Middle-East J Scientific Res 12(4):455–463. doi:10.5829/idosi.mejsr.2012.12.4.1625

Tchoundjeu Z, Asaah EK, Anegbeh P, Degrande A, Mbile P, Facheux C, Tsobeng A, Atangana AR, Ngo Mpeck ML, Simons AJ (2006) Putting participatory domestication into practice in West and Central Africa. Forests, Trees and Livelihoods 16(1):53–69

Tchoundjeu Z, Degrande A, Leakey RRB, Simons AJ, Nimino G, Kemajou E, Asaah E, Facheux C, Mbile P, Mbosso C, Sado T, Tsobeng A (2010) Impact of participatory tree domestication on farmer livelihoods in west and central Africa. Forests, Trees and Livelihoods 19(3):217–234

Wang F, Yu CL, Liu D (2007) Effects of plant growth regulators on drought resistance of shrub seedlings. For Sci Tech 32(3):56–60

Wightman KE, Shear T, Goldfrab B, Haggar J (2001) Nursery and field establishment techniques to improve seedling growth of three costa rican hardwoods. New Forest 22:75–96

Wilson CB, Jacobs FD (2006) Quality Assessment of temperate zone deciduous hardwood seedlings. New Forest 31:417–433

Zida EP, Sereme P, Leth V, Sankara P (2008) Effect of aqueous extracts of Acacia gourmaensis A. Chev and Eclipta alba (L.) hassk. on seed health, seedling vigour and grain yield of sorghum and pearl millet. Asian J Plant Pathol 2:40–47
Acknowledgments
The authors would like to thank the United State Department of Agriculture for funding this research work through the Agricultural and Tree Products Program in the Republic of Cameroon. We are indebted to the many farmers who provided their time and resources for this study.
About this article
Cite this article
Takoutsing, B., Tchoundjeu, Z., Degrande, A. et al. Assessing the Quality of Seedlings in Small-scale Nurseries in the Highlands of Cameroon: The Use of Growth Characteristics and Quality Thresholds as Indicators. Small-scale Forestry 13, 65–77 (2014). https://doi.org/10.1007/s11842-013-9241-7
Accepted:

Published:

Issue Date:
Keywords
Growth parameters

Seedlings quality indicators

Root-to-shoot ratio

Sturdiness quotient

Root deformation

Nursery management