Abstract
Invasive plants are a novel resource for the resident pollinator community, but may not be able to successfully attract pollinators if they have a specialized pollination system or restrictive floral morphology. Pollinator limitation may limit invasion success, but a plant able to attract many pollinators in different conditions will be a successful invasive species. In this study, we measured the pollinator community by capturing pollinators at several timepoints during the flowering season. Captures were made at six field sites along an elevation gradient. Measurements were specific to an invasive shrub with very low self-compatibility and a restrictive floral morphology, Cytisus scoparius (Scotch broom). We found that the pollinator community varies along an elevation gradient, having more Apis mellifera at low elevation sites and more Bombus spp., especially Bombus sitkensis at higher elevations. We saw different higher pollination rates, but lower seed set at higher elevation sites. Although C. scoparius has been able to attract a variety of pollinators, pollen robbing by one species may result in decreased plant fitness.
This is a preview of subscription content, log in to check access.
Access options
Buy single article
Instant access to the full article PDF.
US$ 39.95
Price includes VAT for USA
Subscribe to journal
Immediate online access to all issues from 2019. Subscription will auto renew annually.
US$ 99
This is the net price. Taxes to be calculated in checkout.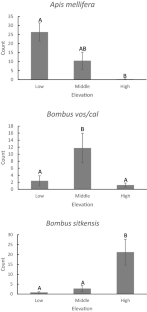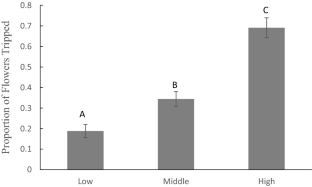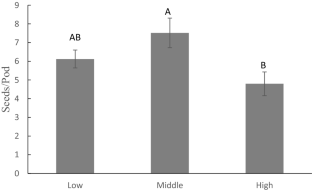 References
Blionis GJ, Vokou D (2001) Pollination ecology of Campanula species on Mt Olympos, Greece. Ecography 24(3):287–297

Bode RF, Tong R (2017) Pollinators exert positive selection on flower size on urban, but not rural scotch broom (Cytisus scoparius L. Link). J Plant Ecol 11:493–501

Bode RF, Grove S, Krueger N (2019) Limits to biocontrol: the effects of urbanization and elevation on Bruchidius villosus and Exapion fuscirostre—two biological control agents of Cytisus scoparius. Biol Invasions 21:1021–1031

Brito VL, Sazima M (2012) Tibouchina pulchra (Melastomataceae): reproductive biology of a tree species at two sites of an elevational gradient in the Atlantic rainforest in Brazil. Plant Syst Evol 298(7):1271–1279

Cavallero L, Morales CL, Montero-Castaño A, Gowda JH, Aizen MA (2018) Scale-dependent Effects of conspecific flower availability on pollination quantity and quality in an invasive shrub. Oecologia 188(2):501–513

Fortel L, Henry M, Guilbaud L, Guirao AL, Kuhlmann M, Mouret H, Rollin O, Vaissière BE (2014) Decreasing abundance, increasing diversity and changing structure of the wild bee community (Hymenoptera: Anthophila) along an urbanization gradient. PloS one. https://doi.org/10.1371/journal.pone.0104679

Galen C (1989) Measuring pollinator-mediated selection on morphometric floral traits: bumblebees and the alpine sky pilot, Polemonium viscosum. Evolution 43(4):882–890

Gavini SS, Farji-Brener AG (2015) La Importancia del Color: morfos florales, tasas de visita y éxito reproductivo en el arbusto Sarothamnus scoparius. Ecologia Austral 25:204–211

Gillespie SD, Bayley J, Elle E (2017) Native Bumble Bee (Hymenoptera: Apidae) pollinators vary in floral resource use across an invasion gradient. Can J Entomol 149(2):204–213

Gillespie SD, Elle E (2018) Non-Native plants affect generalist pollinator diet overlap and foraging behavior indirectly, via impacts on native plant abundance. Biol Invasions 20(11):3179–3191

Hargreaves AL, Harder LD, Johnson SD (2009) Consumptive emasculation: the ecological and evolutionary consequences of pollen theft. Biol Rev 84:259–276

Hodkinson ID (2005) Terrestrial insects along elevation gradients: species and community responses to altitude. Biol Rev 80:489–513

Horvitz CC, Schemske DW (1990) Spatiotemporal variation in insect mutualists of a neotropical herb. Ecology 69:1741–1745

Inouye DW (1980) The terminology of floral larceny. Ecology 61(5):1251–1253

Koch J, Strange J, Williams P (2012) Bumblebees of the Western United States. U.S. Forest Service and Pollinator Partnership. Executive Editor Larry Stritch.

Kuriya S, Hattori M, Nagano Y, Itino T (2015) Altitudinal flower size variation correlates with local pollinator size in a bumblebee-pollinated herb, Prunella vulgaris L. (Lamiaceae). J Evol Biol 28(10):1761–1769

Malo JE, Baonza J, Suarez F (1995) Diferencias intra y interpoblaciones, y entre años, en la morfologia floral de Cytisus scoparius (L.) Link. Anales de Jardin Botanico de Madrid 53:33–40

Malo JE, Baonza J (2002) Are there predictable clines in plant-pollinator interactions along altitudinal gradients? The example of Cytisus scoparius (L.) Link in the Sierra de Guadarrama (Central Spain). Divers Distrib 8:365–371

Morales CL, Aizen MA (2002) Does invasion of exotic plants promote invasion of exotic flower visitors? A case study from the temperate forests of the southern Andes. Biol Invasions 4:87–100

Muir JL, Vamosi JC (2015) Invasive Scotch Broom (Cytisus scoparius Fabaceae) and the Pollination Success of three Garry oak-associated Plant Species. Biol Invasions 17:2429–2446

Nagano Y, Abe K, Kitazawa T, Hattori M, Hirao AS, Itino T (2014) Changes in pollinator fauna affect altitudinal variation of floral size in a bumblebee-pollinated herb. Ecol Evol 4(17):3395–3407

Nienhuis C, Stout JC (2009) Effectiveness of native bumblebees as pollinators of the alien invasive plant Impatiens glandulifera. J Pollinat Ecol 1:1–11

Olesen JM, Jordano P (2002) Geographic patterns in plant-pollinator mutualistic networks. Ecology 83(9):2416–2424

Parker IM (1997) Pollinator limitation of Cytisus scoparius (Scotch Broom), an invasive exotic shrub. Ecology 78(5):1457–1470

Parker IM (2000) Invasion dynamics of Cytisus scoparius: a matrix model approach. Ecol Appl 10(3):726–743

Parker IM, Engel A, Haubensak KA, Goodell K (2002) Pollination of Cytisus scoparius (Fabaceae) and Genista monspessulana (Fabaceae), two invasive shrubs in California. Madroño 49(1):25–32

Paynter Q, Main A, Gourlay AH, Peterson PG, Fowler SV, Buckley YM (2010) Disruption of an exotic mutualism can improve management of an invasive plant: Varroa Mite, honeybees and biological control of scotch broom Cytisus scoparius in New Zealand. J Appl Ecol 47:309–317

Peterson DJ, Prasad R (1998) The Biology of Canadian Weeds. 109. Cytisus scoparius (L.) Link. Can J Plant Sci 78:497–504

Richardson DM, Allsopp N, D'Antonio CM, Milton SJ, Rejmanek M (2000) Plant invasions–the role of mutualisms. Biol Rev 75(1):65–93

Sakai AK, Allendorf FW, Holt JS, Lodge DM, Molofsky J, With KA, Baughman S et al (2001) The population biology of invasive species. Annu Rev Ecol Syst 32:305–332

Simpson SR, Gross CL, Silberbauer LX (2005) Broom and honeybees in Australia: an Alien Liason. Plant Biol 7:541–548

Stokes KE, Buckley YM, Sheppard AW (2006) A Modelling approach to estimate the effect of exotic pollinators on exotic weed population dynamics: Bumblebees and Broom in Australia. Divers Distrib 12:593–600

Stout J (2000) Does size matter? Bumblebee behavior and the Pollination of Cytisus scoparius L. (Fabaceae). Apidologie 31(1):129–139

Suzuki N (2003) Significance of flower exploding pollination on the reproduction of the Scotch Broom, Cytisus scoparius (Leguminosae). Ecol Res 18:523–532

Taylor RJ, Harrod RJ (1995) Reproduction and pollination biology of Centaurea and Acroptilon species, with emphasis on C. diffusa. Northwest Sci 69(2):97–105

Traveset A, Willson MF, Sabag C (1998) Effect of nectar-robbing birds on fruit set of Fuchsia magellanica in Tierra del Fuego: a disrupted mutualism. Funct Ecol 12(3):459–464

Valentine DH (1978) The pollination of introduced species, with special reference to the British Isles and the genus Impatiens. In: Richards AJ (ed) The pollination of flowers by insects. Academic Press, London
Acknowledgements
We would like to thank Kaylin Fosnacht for helping in pollinator capture. Sandra Gillespie reviewed an early edition of this manuscript and gave feedback. Samuel Bode aided in field studies and observations. Saint Martin's University provided some funding and the facilities where research was performed. This project was funded by Murdock Life Sciences Grant No. 2015277.
Additional information
Publisher's Note
Springer Nature remains neutral with regard to jurisdictional claims in published maps and institutional affiliations.
Handling Editor: Isabel Alves dos Santos.
Electronic supplementary material
Below is the link to the electronic supplementary material.
About this article
Cite this article
Bode, R.F., Linhart, R.D. & Dufresne, C. Variation in the pollinator community visiting invasive Cytisus scoparius L. Link (Fabaceae) along an elevation gradient. Arthropod-Plant Interactions 14, 511–519 (2020). https://doi.org/10.1007/s11829-020-09755-8
Received:

Accepted:

Published:

Issue Date:
Keywords
Biodiversity

Mutualism

Apis
Bombus

Pollination