Oxidation and biotoxicity assessment of microcystin-LR using different AOPs based on UV, O3 and H2O2
Abstract
Microcystin-LR attracts attention due to its high toxicity, high concentration and high frequency. The removal characteristics of UV/H
2
O
2
and O
3
/H
2
O
2
advanced oxidation processes and their individual process for MC-LR were investigated and compared in this study. Both the removal efficiencies and rates of MC-LR as well as the biotoxicity of degradation products was analyzed. Results showed that the UV/H
2
O
2
process and O
3
/H
2
O
2
were effective methods to remove MC-LR from water, and they two performed better than UV-, O
3-
, H
2
O
2
-alone processes under the same conditions. The effects of UV intensity, H
2
O
2
concentration and O
3
concentration on the removal performance were explored. The synergistic effects between UV and H
2
O
2
, O
3
and H
2
O
2
were observed. UV dosage of 1800 mJ ·cm
–2
was required to remove 90% of 100 mg·L
–1
MC-LR, which amount significantly decreased to 500 mJ·cm–2 when 1.7 mg·L
–1
H
2
O
2
was added. 0.25 mg·L
–1
O
3
, or 0.125 mg·L
–1
O
3
with 1.7 mg·L
–1
H
2
O
2
was needed to reach 90% removal efficiency. Furthermore, the biotoxicity results about these UV/H
2
O
2
, O
3
/H
2
O
2
and O
3
-alone processes all present rising trends with oxidation degree of MC-LR. Biotoxicity of solution, equivalent to 0.01 mg·L
–1
Zn
2+
, raised to 0.05 mg·L
–1
Zn
2+
after UV/H
2
O
2
or O
3
/H
2
O
2
reaction. This phenomenon may be attributed to the aldehydes and ketones with small molecular weight generated during reaction. Advice about the selection of MC-LR removal methods in real cases was provided.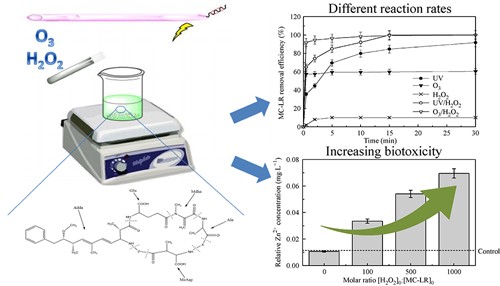 Keywords
Microcystin-LR 
Advanced oxidation processes (AOPs) 
Biotoxicity 
Synergistic effects 
Notes
Acknowledgments
This research was supported by Major Science and Technology Program for Water Pollution Control and Treatment in China (No. 2014ZX07203-009).
Copyright information
© Higher Education Press and Springer-Verlag GmbH Germany, part of Springer Nature 2018