Application and mechanism of polysaccharide extracted from Enteromorpha to remove nano-ZnO and humic acid in coagulation process
Abstract
Enteromorpha polysaccharide (Ep) extracted from alga a novel green coagulant aid for nanoparticles (NPs) and heavy metal ions removal and the structure of EP was intensively studied in this study. The integration of Ep with polyaluminum chloride (PAC-Ep) coagulants exhibited higher coagulation performance than that of the polyaluminum chloride (PAC) because of the negatively charged NPs suspension and humic aid (HA) solution. Significant high removal efficiencies of dissolved organic matter (94.1%), turbidity (99.3%) and Zn ions (69.3%) were achieved by the PAC-Ep coagulants. The dual-coagulation properties of PAC-Ep for different pollutants was based on multiple mechanisms, including (i) Al
3+
charge neutralization; (ii) hydroxy aluminum hydroxyl bridging formed polynuclearhydroxy complexes bridge and sweep colloidal particles; (iii) adsorption and bridging of Ep chain for the NPs and heavy metal ions. Results indicated that the destabilization of colloid was induced by the coexisting HA and higher removal was achieved as ions adsorption was enhance in the presence of HA complexation. On the basis of that, the extraction of polysaccharide is a promising candidate for its high coagulation performance in water treatment.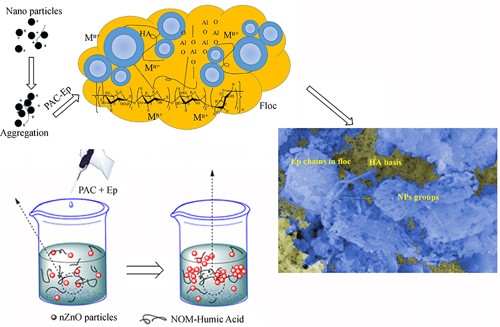 Keywords
Algal Extraction 
Enteromorpha polysaccharide 
1H-13C nuclear magnetic resonance (NMR) 
Fourier transform infrared (FTIR) 
X-ray photoelectron spectroscopy (XPS) 
Coagulation mechanism 
Notes
Acknowledgments
This research was supported by the National Natural Science Foundation of China (Grant Nos. 51478250 & 21377072). Also this work was supported by grants from Tai Shan Scholar Foundation (No. ts201511003).We thank Haiyan Yu et al. from Core Facilities Center, School of Life Science, Shandong University for their SEM observation. And we also wish to thank Dr. Hongyu Dong from Tongji University for her valuable advises.
Copyright information
© Higher Education Press and Springer-Verlag GmbH Germany, part of Springer Nature 2018