Abstract
In this work, morphology-dependent antibacterial property of zinc oxide nanoparticles (ZNPs) has been studied and an attempt has been made to investigate the reactive oxygen species generation potential of these nanoparticles. The antibacterial properties of ZnO nanorods with two different sizes have been quantitatively studied and their Minimum Inhibitory Concentration (MIC) has been determined against E.coli, a gram negative bacteria. It has been observed that ZNPs with smaller size exhibit better bacteriostatic and bactericidal properties. Furthermore, optical analysis has revealed that the smaller nanoparticles having greater efficiency to inhibit cell growth have higher density of surface defects and greater availability of free electrons and holes which leads to the generation of reactive oxygen species (ROS). To develop an insight into the oxidative microenvironment and the consequential cellular response, we have done the transcriptional analysis of oxidative stress gene sodA in ZNPs treated bacterial samples. Expression profile of the gene has been found to be ZNPs concentration dependent. An increase in the concentration of nanoparticles till MIC increased the expression level in a concentration dependent fashion. However beyond the MIC, the expression level of the gene is unexpectedly down-regulated reflecting the detrimental effect of higher levels of ROS on cellular components and metabolic activities. Thus through this study, we have tried to investigate the correlation between the surface morphology of ZNPs, production of ROS, growth-inhibiting activity and cellular response in this condition.
Access options
Buy single article
Instant access to the full article PDF.
US$ 39.95
Tax calculation will be finalised during checkout.
Subscribe to journal
Immediate online access to all issues from 2019. Subscription will auto renew annually.
US$ 119
Tax calculation will be finalised during checkout.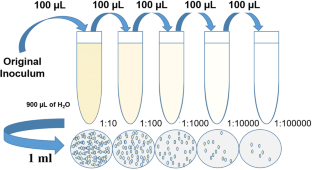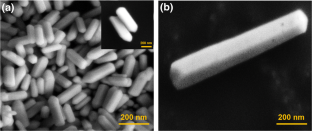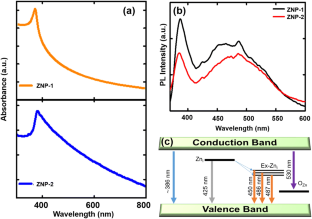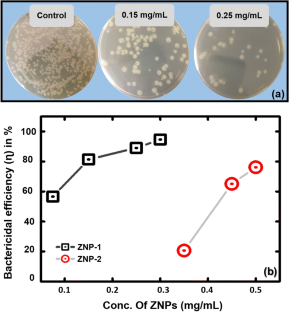 Abbreviations
FESEM:

Field Emission Scanning Electron Microscope

MIC:

Minimum Inhibitory Concentration

PL:

Photoluminescence

ROS:

Reactive Oxygen Species

RT-PCR:

Real time-Polymerase Chain Reaction

SEM:

Scanning Electron Microscope

TEM:

Transmission Electron Microscope
References
Alekshun MN, Levy SB (2007) Molecular mechanisms of antibacterial multidrug resistance. Cell 128:1037–1050. https://doi.org/10.1016/j.cell.2007.03.004

Arii T, Kishi A (2003) The effect of humidity on thermal process of zinc acetate. Thermochim Acta 400:175–185. https://doi.org/10.1016/S0040-6031(02)00487-2

Arora A, Padua GW (2010) Review: Nanocomposites in food packaging. J Food Sci 75:43–49. https://doi.org/10.1111/j.1750-3841.2009.01456.x

Bajpai VK, KamLe M, Shukla S, Mahato DK, Chandra P, Hwang SK, Kumar P, Huh YS, HanYK (2018) Prospects of using nanotechnology for food preservation, safety, and security. J Food Drug Anal 26:1201–1214. https://doi.org/10.1016/j.jfda.2018.06.011

Bayan S, Mohanta D (2011) Defect mediated optical emission of randomLy oriented ZnO nanorods and unusual rectifying behavior of Schottky nanojunctions. J Appl Phys 110:054316. https://doi.org/10.1063/1.3631792

Bertin G, Averbeck D (2006) Cadmium: cellular effects, modifications of biomolecules, modulation of DNA repair and genotoxic consequences (a review). Biochimie 88:1549–1559. https://doi.org/10.1016/j.biochi.2006.10.001

Cabiscol E, Tamarit J, Ros J (2000) Oxidative stress in bacteria and protein damage by reactive oxygen species. Internatl Microbiol 3:3–8 http://hdl.handle.net/10459.1/56751

Cho K, Wang X, Nie S, Chen Z, Shin DM (2008) Therapeutic nanoparticles for drug delivery in cancer. Clin Cancer Res 14:1310–1316. https://doi.org/10.1158/1078-0432

Cohen ML (2000) Changing patterns of infectious disease. Nature 406:762–767. https://doi.org/10.1038/35021206

Demple B (1991) Regulation of bacterial oxidative stress genes. Annu Rev Genet 25:315–337

Djurisic AB, Leung YH (2006) Optical properties of ZnO nanostructures. Small 2:944–961. https://doi.org/10.1002/smll.200600134

El-Sayed MA (2000) Some interesting properties of metals confined in time and nanometer space of different shapes. Acc Chem Res 34:257–264. https://doi.org/10.1021/ar960016n

Espitia PJP, Soares NFF, Coimbra JSR, Andrade NJA, Cruz RS, Medeiros EAA (2012) Zinc oxide nanoparticles: synthesis, antimicrobial activity and food packaging applications. Food Bioprocess Tech 5:1447–1464. https://doi.org/10.1007/s11947-012-0797-6

Fan XM, Lian JS, Zhao L, Liu YH (2005) Single violet luminescence emitted from ZnOfilms obtained by oxidation of Zn film on quartz glass. Appl Surf Sci 252:420–424. https://doi.org/10.1016/j.apsusc.2005.01.018

Farr SB, Kogoma T (1991) Oxidative stress responses in Escherichia coli and Salmonella typhimurium. Microbiol Rev 55:561–585 0146-0749/91/040561-25$02.00/0

Halliwell B, Chirico S (1993) Lipid peroxidation: its mechanism, measurement, and significance. Am J Clin Nutr 57:715–724. https://doi.org/10.1093/ajcn/57.5.715S

Hanley C, Layne J, Punnoose A, Reddy KM, Coombs I, Coombs A, Feris K, Wingett D (2008) Preferential killing of cancer cells and activated human T cells using ZnO nanoparticles. Nanotechnology 9:295103–295113. https://doi.org/10.1088/0957-4484/19/29/295103

Herman A, Herman AP (2014) Nanoparticles as antimicrobial agents: their toxicity and mechanisms of action. J Nanosci Nanotechnol 14:946–957. https://doi.org/10.1166/jnn.2014.9054

Hidalgo E, Demple B (1996) Adaptive responses to oxidative stress: the soxRS and oxyR regulons, regulation of gene expression in Escherichia coli. Springer, Boston, MA 1996:435–452. https://doi.org/10.1007/978-1-4684-8601-8_21

Jain PK, Huang X, El-Sayed IH, El-Sayed MA (2007) Review of some interesting surfaceplasmon resonance-enhanced properties of noble metal nanoparticles and their applications to biosystems. Plasmonics 2:107–118. https://doi.org/10.1007/s11468-007-9031-1

Kayaci F, Vempati S, Akgun CO, Donmez I, Biyikliab N, Uyar T (2014) Selective isolation of the electron or hole in photocatalysis: ZnO–TiO2 and TiO2–ZnO core–shell structured heterojunction nanofibers via electrospinning and atomic layer deposition. Nanoscale 6:5735–5745. https://doi.org/10.1039/C3NR06665G

Kellogg EW, Fridovich I (1975) Superoxide, hydrogen peroxide, and singlet oxygen in lipid peroxidation by a xanthine oxidase system. J Biol Chem 250:8812–8817

Kolar M, Urbanek K, Latal T (2001) Antibiotic selective pressure and development of bacterial. Int J Antimicrob Agents 17:357–363. https://doi.org/10.1016/S0924-8579(01)00317-X

Liu Y, He L, Mustapha A, Li H, Hu ZQ, Lin M (2009) Antibacterial activities of zinc oxide nanoparticles against Escherichia coli O157:H7. J Appl Microbiol 107:1193–1201. https://doi.org/10.1111/j.1365-2672.2009.04303.x

Loft S, Poulsen HE (1996) Cancer risk and oxidative DNA damage in man. J Mol Med (Berl) 74:297–312. https://doi.org/10.1007/BF00207507

Lopes S, Jurisicova A, Sun JG, Casper RF (1998) Reactive oxygen species: potential cause for DNA fragmentation in human spermatozoa. Hum Reprod 13:896–900. https://doi.org/10.1093/humrep/13.4.896

Lushchak VI (2010) Adaptive response to oxidative stress: Bacteria, fungi, plants and animals. Comp Biochem Physiol C Toxicol Pharmacol 153:175–190. https://doi.org/10.1016/j.cbpc.2010.10.004

Lv Y, Pan C, Ma X, Zong R, Bai X, Zhu Y (2013) Production of visible activity and UV performance enhancement of ZnO photocatalyst via vacuum deoxidation. Appl Catal B Environ 138-139:26–32. https://doi.org/10.1016/j.apcatb.2013.02.011

McBain SC, Yiu HH, Dobson J (2008) Magnetic nanoparticles for gene and drug delivery. Int J Nanomedicine 3:169–180. https://doi.org/10.2147/ijn.s1608

Mirzaeia H, Darroudi M (2017) Zinc oxide nanoparticles: biological synthesis and biomedical applications. Ceram Int 43:907–914. https://doi.org/10.1016/j.ceramint.2016.10.051

Munita JM, Arias CA (2016) Mechanisms of antibiotic resistance. Microbiol Spectr 4. https://doi.org/10.1128/9781555819286.ch17

Mutalik C, Wang DY, Krisnawati DI, Jazidie A, Yougbare S, Kuo TR (2020) Light-activated Heterostructured Nanomaterials for antibacterial applications. Nanomaterials 10:643–658. https://doi.org/10.3390/nano10040643

Padmavathy N, Vijayaraghavan R (2008) Enhanced bioactivity of ZnO nanoparticles-an antimicrobial study. Sci Technol Adv Mater 9:035004–035011. https://doi.org/10.1088/1468-6996/9/3/035004

Patel A, Prajapati P, Boghra R (2011) Overview on application of nanoparticles in cosmetics. Asian J Pharm Clin Res 1:40–45

Patra S, Verma D, Kole AK, Tiwary CS, Kundu D, Chaudhuri S, Kumbhakar P (2017) Optical, structural properties and antibacterial activities of uncapped and HMT capped ZnO nanoparticles. Materials Today Communications 12:133–145. https://doi.org/10.1016/j.mtcomm.2017.07.003

Raghupathi KR, Koodali RT, Manna AC (2011) Size-dependent bacterial growth inhibition and mechanism of antibacterial activity of zinc oxide nanoparticles. Langmuir 27:4020–4028. https://doi.org/10.1021/la104825u

Rasheed MU, Thajuddin N, Ahamed P, Teklemariam Z, Jamil K (2014) Antimicrobial drug resistance in strains of Escherichia coli isolated from food sources. Rev Inst Med Trop Sao Paulo 54:341–346. https://doi.org/10.1590/S0036-46652014000400012

Reddy KM, Feris K, Bell J, Wingett DG, Hanley C, Punnoose A (2007) Selective toxicity of zinc oxide nanoparticles to prokaryotic and eukaryotic systems. Appl Phys Lett 90:213902–213905. https://doi.org/10.1063/1.2742324

Roszak DB, Colwell RR (1987) Survival strategies of bacteria in the natural environment. Microbiol Rev 51:365–379

Sawai J, Yoshikawa T (2004) Quantitative evaluation of antifungal activity of metallic oxide powders (MgO, CaO and ZnO) by an indirect conductimetric assay. J Appl Microbiol 96:803–809. https://doi.org/10.1111/j.1365-2672.2004.02234.x

Sharma P, Brown S, Walter G, Santra S, Moudgil B (2006) Nanoparticles for bioimaging. Adv Colloid Interface Sci 123–126:471–85. https://doi.org/10.1016/j.cis.2006.05.026

Smijs TG, Pavel S (2011) Titanium dioxide and zinc oxide nanoparticles in sunscreens: focus on their safety and effectiveness. Nanotechnol Sci Appl 4:95–112. https://doi.org/10.2147/NSA.S19419

Song W, Zhang J, Guo J, Zhang J, Ding F, Li L, Sun Z (2010) Role of the dissolved zinc ion and reactive oxygen species in cytotoxicity of ZnO nanoparticles. Toxicol Lett 199:389–397. https://doi.org/10.1016/j.toxlet.2010.10.003

Stoimenov PK, Klinger RL, Marchin GL, Klabunde KJ (2002) Metal oxide nanoparticles as bactericidal agents. Langmuir 18:6679–6686. https://doi.org/10.1021/la0202374

Sunada K, Kikuchi Y, Hashimoto K, Fujishima A (1998) Bactericidal and detoxification effects of TiO2 thin film photocatalysts. Environ Sci Technol 32:36–38. https://doi.org/10.1021/es970860o

Vanbogelen RA, Kelley PM, Neidhardt FC (1987) Differential induction of heat shock, sos, and oxidation stress regulons and accumulation of nucleotides in Escherichia coli. J Bacteriol 169:26–32. https://doi.org/10.1128/jb.169.1.26-32.1987

Vijayanathan V, Thomas T, Thomas TJ (2002) DNA nanoparticles and development of DNA delivery vehicles for gene therapy. Biochemistry 41:14085–14094. https://doi.org/10.1021/bi0203987

Xie Y, He Y, Irwin PL, Jin T, Shi X (2011) Antibacterial activity and mechanism of action of zinc oxide nanoparticles against Campylobacter jejuni. Appl Environ Microb 77:2325–2331. https://doi.org/10.1128/AEM.02149-10

Xua L, Gua F, Sua J, Chena Y, Li X, Wang X (2011) The evolution behavior of structures and photoluminescence of K-doped ZnO thin films under different annealing temperatures. J Alloy Compd 509:2942–2947. https://doi.org/10.1016/j.jallcom.2010.11.164

Zeng H, Duan G, Li Y, Yang S, Xu X, Cai W (2010) Blue luminescence of ZnO nanoparticles based on nonequilibrium processes: defect origins and emission controls. Adv Funct Mater 20:561–572. https://doi.org/10.1002/adfm.200901884

Zhang N, Xu YJ (2013) Aggregation and leaching-resistant, reusable, and multifunctional Pd@CeO2 as a robust nanocatalyst achieved by a hollow core–shell strategy. Chem Mater 25:1979–1988. https://doi.org/10.1021/cm400750c

Zheng M, Doan B, Schneider TD, Storz G (1999) OxyR and SoxRS regulation of fur. J Bacteriol 181:4639–4643. https://doi.org/10.1128/JB.181.15.4639-4643.1999
Acknowledgments
Authors are grateful to Prof. Sudip. Chattopadhyay, Department of Biotechnology, NIT Durgapur and Dr. Siddharth Dutta, senior research associate in Prof. Chattopadhyay's lab, for helping us with some of the experimental facilities in his lab and for fruitful discussions and suggestions. Authors are also thankful to Dr. S. Biswas for his help and fruitful suggestions. Authors are also thankful to National Institute of Technology Durgapur, Ministry of Human Resource Development, Government of India for the financial supports.
Ethics declarations
Conflict of interest
On behalf of all the authors, the corresponding author states that there is no conflict of interest.
Additional information
Publisher's note
Springer Nature remains neutral with regard to jurisdictional claims in published maps and institutional affiliations.
About this article
Cite this article
Singh, R.D., Kumbhakar, P., Pal, S. et al. Investigating morphology-dependent antibacterial property of ZnO nanoparticles and developing an insight into oxidative stress generation and cellular response. Biologia (2021). https://doi.org/10.1007/s11756-021-00690-4
Received:

Accepted:

Published:
Keywords
ZnO

Antibacterial property

Optical property

Surface defects

Transcriptional analysis