Abstract
In the present study 423 Lucanus cervus individuals belonging to the entomological collection of the" Grigore Antipa" National Museum of Natural History (MNINGA) were checked for the presence of morphological differences and anomalies. Various malformations were identified in 16 specimens. This study also presents the first cases of bilateral symphysocery 2 + 3 and unilateral symphysocery 2 + 3 + 4 at the antennal clubs for L. cervus, as revealed by scanning electron microscopy. The teratological cases were more prevalent on the left rather than the right antenna (36.3% vs. 18.18%). The normal structural variations in L. cervus were classified as follows: different number of lamellate antennomeres of the antennal club, different number of pores on the last lamella and different shapes of the clypeus. More than 94% of the examined individuals had four antennomeres at the antennal club for both left and right antennae. The rounded shape (72%) with a uniporous sensilla (98%) of the last lamellate antennomere was the most common morph in the analysed samples. Among variations, V-shaped clypeus form was prevalent (37.3%) in L. cervus analysed males. Some structural modifications could have been caused by environmental factors producing alterations in the pupation or eclosion stages. For a better understanding of the causes of teratology and the presence of morphological changes in populations of L. cervus, further investigations are needed.
Access options
Buy single article
Instant access to the full article PDF.
US$ 39.95
Tax calculation will be finalised during checkout.
Subscribe to journal
Immediate online access to all issues from 2019. Subscription will auto renew annually.
US$ 119
Tax calculation will be finalised during checkout.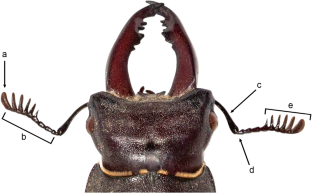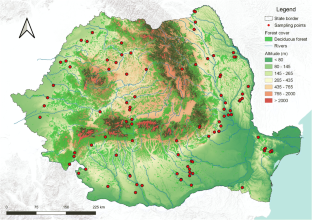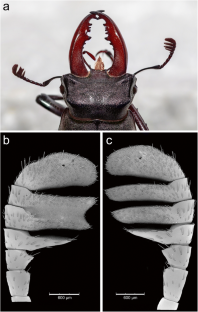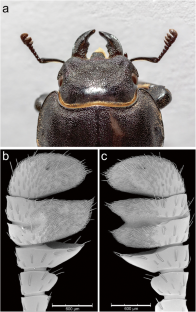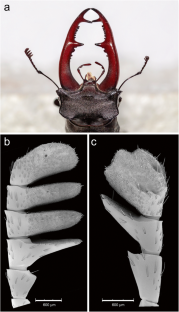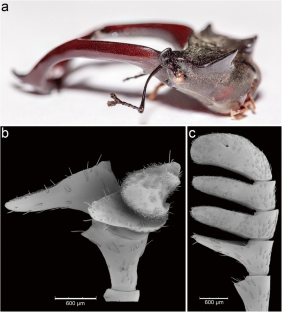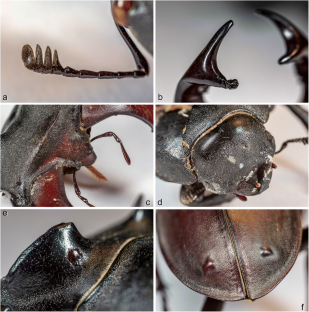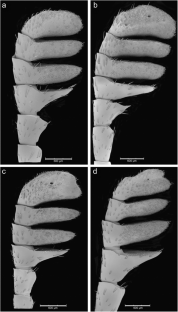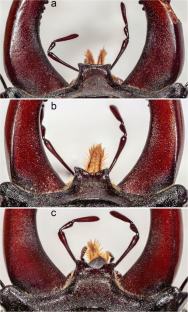 Data Availability
All the samples are preserved in the MNINGA museum entomological collections.
References
Abdullah M, Abdullah A (1969) Abnormal elytra, wings and other structures in a female Trirhabda virgata (Chrysomelidae) with a summary of similar teratological observations in the Coleoptera. Deutsch Entomol Z 16:405–409. https://doi.org/10.1002/mmnd.19690160412

Antoine M (1912) Notes entomologiques. 1. Coléoptères anormaux. Bulletin de la Société Linnéenne du Nord de la France 41:175–183

Asiain J, Marquez J (2009) New teratological examples in Neotropical Staphylinidae (Insecta: Coleoptera), with a compilation of previous teratological records. Rev Mex Biodiv 80:129–139

Asmuss HM (1835) Monstrositates coleopterorum. Commentatio Pathologico-entomologica, Paris

Balazuc J (1948) La Tératologie des Coléoptères et expériences de transplantation chez Tenebrio molitor L. Mémoires du Muséum National d'Histoire Naturelle (nouvelle série), Paris 25:1–193

Balazuc J (1952) Un Ergates faber L. gynandromorphe (Col. Cerambycidae). Bull Soc Entomol France 3:34–38

Balazuc J (1969) Supplément à la tératologie des Coléoptères. Redia 59:39–111

Balbi E (1897) Difformitates et monstrositates Coleopterorum in collectione Balbii. Il Naturalista Siciliano 2:150–156

Bardiani M et al (2017) Guidelines for the monitoring of Lucanus cervus. J Nat Conserv 20:37–78 doi.org/10.3897/natureconservation.20.12687

Buckley D, Molnár V, Németh G, Petneházy O, Vörös J (2013) Monster… -omics: on segmentation, resegmentation, and vertebrae formation in amphibians and other vertebrates. Front Zool 10:17. https://doi.org/10.1186/1742-9994-10-17

Burke AF, Sole CL, Scholtz CH (2018) A remarkable teratological case for Eucymatodera parva Schenkling, 1908 (Cleridae: Tillinae) from Namibia. Afr Entomol 26:250–253. https://doi.org/10.4001/003.026.0250

Caruso D, Savini V (2012) Tres casos teratológicos de Gioia georgia en Choroní, Venezuela. Venezuela Entomotropica 27:89–91

Chapman RF (1998a) The insects: structure and function. Cambridge University Press, Cambridge

Chapman RF (1998b) Mechanoreception. In: Chapman RF (ed) The insects: structure and function, 4th edn. Cambridge University Press, Cambridge, pp 610–652

Clark JT (1977) Aspects of variation in the stag beetle Lucanus cervus (L.) (Coleoptera: Lucanidae). Syst Entomol 2:9–16

Clark SM, Belo Neto LA (2010) A remarkable teratological specimen of Pseudoluperus longulus (Leconte) (Coleoptera: Chrysomelidae) from Utah, U. S. A. Coleopt Bull 64:383–385

Cox K, Thomaes A, Antonini G et al (2013) Testing the performance of a fragment of the COI gene to identify western Palaearctic stag beetle species (Coleoptera, Lucanidae). Zookeys 365:105–126. https://doi.org/10.3897/zookeys.365.5526

de Albuquerque NR, Arruda WS, Costa AS, Galharte RCV, Vargas LGH, Moreno IH (2010) A dicephalic yellow anaconda snake, Eunectes notaeus (Serpentes: Boidae), from southern Pantanal, Brazil. J Nat Hist 44:1989–1994. https://doi.org/10.1080/00222931003764105

de Bruyne M, Baker TC (2008) Odor detection in insects: volatile codes. J Chem Ecol 34:882–897. https://doi.org/10.1007/s10886-008-9485-4

Della Beffa D (1990) Casi di teratologia in alcune specie di Coleotteri Lucanidi. Riv Coleott Ital 7:135

Dziengo-Czaja M, Koss J, Matuszak A (2008) Teratological forms of diatoms (Bacillariophyceae) as indicators of water pollution in the western part of Puck Bay (southern Baltic Sea). Oceanol Hydrobiol Stud 37:119–132. https://doi.org/10.2478/v10009-007-0042-1

Fernández-Álvarez FA, Recuero E, Martínez-Solano I, Buckley D (2011) First record of bicephaly in Lissotriton boscai (Amphibia, Caudata, Salamandridae). North-West J Zool 7:161–163

Ferrer J, Fernández-López J, González AF, Menéndez DF, Torralba-Burrial A (2014) Unusual teratology for a Tenebrionid: antennal Schistomelia in Probaticus granulatus (Allard, 1876) (Coleoptera: Tenebrionidae). Coleopt Bull 68:139–142 https://www.jstor.org/stable/24773302

Fremlin M (2013) Results of the "stag beetle 'larval incidents' in private gardens" survey. Essex Naturalist (New Series) 30:94–106

Friedrich F, Matsumura Y, Pohl H, Bai M, Hörnschemeyer T, Beutel RG (2014) Insect morphology in the age of phylogenomics: innovative techniques and its future role in systematics. Entomol Sci 17:1–24. https://doi.org/10.1111/ens.12053

Frolov AV, Akhmetova LA (2016) Revision of the subgenus Orphnus (Phornus) (Coleoptera, Scarabaeidae, Orphninae). Eur J Taxon 241:1–20. https://doi.org/10.5852/ejt.2016.241

Gadeau de Kerville H (1886) Séance du 24 novembre 1886. Annales de la Société Entomologique de France 6:CLXXIX-CLXXX

Gamboa RF, Garzón A (2009) Primer registro de Lucanus cervus (Linné, 1758) f. pontbrianti (Mulsant, 1839) (Coleoptera: Lucanidae) para la Península Ibérica. Boletín de la Sociedad Entomológica Aragonesa 44:533–534

Gasca-Álvarez HJ, Deloya C, Reyes-Castillo P (2016) Teratological cases in five species of Cotinis Burmeister (Coleoptera: Scarabaeidae: Cetoniinae: Gymnetini), with a compilation of teratologies in Scarabaeoidea. Coleopt Bull 71:329–338. https://doi.org/10.1649/0010-065X-71.2.329

Gerard M, Layet V, Costa T, Roumazeilles Y, Chenal P, Cailliez D, Gerard B (2012) Sirenomelia and caudal malformations in two families. Am J Med Genet A 158A:1801–1807. https://doi.org/10.1002/ajmg.a.35408

Ghannem S, Zrelli S, Boumaiza M (2015) New teratological record in Carabidae (Insecta: Coleoptera) from Tunisia. Arquivos Entomolóxicos 14:127–129

Hendriks P (2011) De ondergrondse metamorfose van het Vliegend hert. De Levende Natuur 112:27–28

Hendriks P, Fremlin M (2012) How stag beetle Lucanus cervus larvae pupate. http://maria.fremlin.de/stagbeetles/pupation/pupation_captivity.html. Accesed 15 Dec 2007

Huang JP, Lin CP (2010) Diversification in subtropical mountains: Phylogeography, Pleistocene demographic expansion, and evolution of polyphenic mandibles in Taiwanese stag beetle, Lucanus formosanus. Mol Phylogenet Evol 57:1149–1161. https://doi.org/10.1016/j.ympev.2010.10.012

Kalter H (2003) Teratology in the 20th century: environmental causes of congenital malformations in humans and how they were established. Neurotoxicol Teratol 25:131–282. https://doi.org/10.1016/j.ntt.2003.09.002

Keil TA (1999) Morphology and development of the peripheral olfactory organs. In: Hansson BS (ed) Insect olfaction. Springer, Berlin, pp 5–47

Kizub IV, Leshchenko MV (2019) New cases of teratology in Lucanidae and Geotrupidae (Coleoptera: Scarabaeoidea) from the Palearctic region. Munis Entomol Zool 14:108–112

Klimaszewski J, Watt JC (1997) Coleoptera: family–group review and keys to identification. In: Duval CT (ed) Fauna of New Zealand, vol 37. Manaaki Whenua Press, New Zealand, pp 1–199

Lacroix JP (1969) Contribution à l'étude des Lucanides - A propos de Lucanus cervus récoltés au Bois de Boulogne. L'Entomologiste 25:119–129

Linnaeus C (1758) Systema naturae per regna tria naturae, secundum classes, ordines, genera, species, cum characteribus, differentiis, synonymis, locis. Tomus I. Editio decima, reformata. Holmiae [= Stockholm]: L. Salvii, pp 1– 824

Mocquerys S (1880) Recueil de Coléoptères anormaux par feu M. S. Mocquerys avec introduction par M. J. Bourgeois, Rouen

Monty J (1974) Teratological effects of the virus Rhabdionvirus oryctes on Oryctes rhinoceros (L.) (Coleoptera, Dynastidae). Bull Entomol Res 64:633–636. https://doi.org/10.1017/S0007485300035926

Narita S, Pereira RAS, Kjellberg F, Kageyama D (2010) Gynandromorphs and intersexes: potential to understand the mechanism of sex determination in arthropods. Terr Arthropod Rev 3:63–69. https://doi.org/10.1163/187498310X496190

Nazarenko VY (2014) Morphological anomalies in Molytinae weevils (Coleoptera, Curculionidae). Ukr Entomol J 1:69–72. https://doi.org/10.3897/zookeys.714.21112

Nowak-Chmura M (2012) Teratological changes in tick morphology in ticks feeding on exotic reptiles. J Nat Hist 46(15–16):911–921. https://doi.org/10.1080/00222933.2011.651635

Nowińska A, Brożek J (2017) Morphological study of the antennal sensilla in Gerromorpha (Insecta: Hemiptera: Heteroptera). Zoomorphology 136:327–347. https://doi.org/10.1007/s00435-017-0354-y

Nowińska A, Brożek J (2019) Antennal sensory structures in water bugs of Nepoidea (Insecta: Hemiptera: Nepomorpha), their morphology and function. Zoomorphology 138:307–319. https://doi.org/10.1007/s00435-01900446-4

Olsen RG (1977) Insect teratogenesis in a standing-wave irradiation system. Radio Sci 12:199–207. https://doi.org/10.1029/RS012i06Sp00199

Olsen RG (1982) Constant-dose microwave irradiation of insect pupae. Radio Sci 17:145S–148S. https://doi.org/10.1029/RS017i05Sp0145S

Ortuño VM, Hernández JM (1993) Several teratological cases in Coleoptera. Bol R Soc Esp Hist Nat Secc Biol 89:163–179

Ortuño VM, Ramos Abuin JA (2008) Reflexiones sobre la teratología y descripciones de cuatro teratosis apendiculares en Coleoptera. Boletín de la Sociedad Entomológica Aragonesa 43:435–439

Osuna E (1992) Fenómeno teratológico en Psalidognathus sp. (Coleoptera: Cerambycidae). Bol Entomol Venez 7:145–156

Planet LM (1896) Note sur deux Lucanus cervus anomaux. Bull Soc Entomol France 6:168–169

Proches Ş (1997) Stag beetles (Lucanidae, Coleoptera) of Romania a biogeographical and ecological review. In: Analele Universităţii Bucureşti, XLVI. Biologie, Bucuresti, pp 99–104

Romiti F, Redolfi DL, Piras P, Carpaneto GM (2016) Shape variation of mandible and head in Lucanus cervus (Coleoptera: Lucanidae): a comparison of morphometric approaches. Biol J Linn Soc Lond 120:836–851. https://doi.org/10.1093/biolinnean/blw001

Savini V, Furth D (2004) Teratología en Coleoptera: un caso en Gioia bicolor (Blake 1969) (Chrysomelidae, Alticinae) de Jamaica. Entomotropica 19:165–167

Schneider D (1964) Insect antennae. Annu Rev Entomol 9:103–122

Schulz UH, Martins-Junior H (2001) Astyanax fasciatus as bioindicator of water pollution of Rio dos Sinos, RS, Brazil. Braz J Biol 61:615–622. https://doi.org/10.1590/S1519-69842001000400010

Solano E, Thomaes A, Cox K et al (2016) When morphological identification meets genetic data: the case of Lucanus cervus and L. tetraodon (Coleoptera, Lucanidae). J Zool Syst Evol Res 54:197–205. https://doi.org/10.1111/jzs.12124

Taboada-Verona C, Faúndez EI, Sierra-Serrano O (2016) Reporte de un caso teratológico en Pelidnota polita Latreille, 1812 (Coleoptera: Scarabaeidae: Rutelinae) en Colombia. Boletín de la Sociedad Entomológica Aragonesa 59:303–304

Vermeulen AC (1995) Elaborating chironomid deformities as bioindicators of toxic sediment stress: the potential application of mixture toxicity concepts. Ann Zool Fenn 32:265–285

Vitali F (2007) Anomalies multiples chez un exemplaire tératologique d' Acanthinodera cumingii (Hope, 1833) (Coleoptera: Cerambycidae). L'Entomologiste 63:79–80

Wagner CM, Rice PH, Pease AP (2013) First record of dicephalia in a bull shark Carcharhinus leucas (Chondrichthyes: Carcharhinidae) foetus from the Gulf of Mexico. U.S.A J Fish Biol 82:1419–1422. https://doi.org/10.1111/jfb.12064

Zhang J, Guan L, Ren B (2011) Fine structure and distribution of antennal sensilla of longicorn beetles Leptura arcuata and Leptura aethiops (Coleoptera: Cerambycidae). Ann Entomol Soc Am 104:778–787. https://doi.org/10.1603/AN10188
Acknowledgments
The author would like to thank Ionut Iorgu, Scientific Researcher, "Grigore Antipa" National Museum of Natural History, for his kind help in photographing the specimens and for the help in processing the photos. We are also grateful to Andrei Ștefan, Scientific Researcher, "Grigore Antipa" National Museum of Natural History, for the editing of the map of the study areas. We also thank Tiberiu Sahlean, Scientific Researcher, "Grigore Antipa" National Museum of Natural History, for his advice in certain aspects of using Photoshop 10.1 (Adobe Systems, Mountain View, CA, USA) and for the help in processing the photos.
Ethics declarations
Conflict of interest
On behalf of all authors, the corresponding author states that there is no conflict of interest.
Ethics approval
The publication of the manuscript has been approved by all co-authors, as well as by the responsible authorities at the" Grigore Antipa" National Museum of Natural History, where the work has been carried out.
Consent to participate
Not applicable.
Consent for publication
Not applicable.
Code availability
Not applicable.
Additional information
Publisher's note
Springer Nature remains neutral with regard to jurisdictional claims in published maps and institutional affiliations.
About this article
Cite this article
Popa, AF., Motoc, R.M., Iorgu, E.I. et al. Morphological variability and teratologies in the stag beetle Lucanus cervus (Coleoptera: Lucanidae) from Romania. Biologia (2021). https://doi.org/10.1007/s11756-021-00685-1
Received:

Accepted:

Published:
Keywords
Teratology

Stag beetle

Malformations

Variability

Scanning Electron microscopy