Abstract
The Western honey bee, Apis mellifera plays a crucial role as a pollinator worldwide. Except the wide number of commercial crops, honey bees pollinate many wild plants, some of which are threatened with extinction and are valuable genetic resource. Although during the last few years honey bee populations are steady and increasing in numbers with some fluctuation, there are a number of threats responsible for honey bee health and survival. As key factors for this are pointing out poor nutrition, sublethal insecticide exposure, and biotic stressors, including diseases and parasites. The decline of honey bee populations negatively affects not only many commercial crop and flowering plants, but also reduces honey bee products such as honey, bee pollen, propolis, bee venom, royal jelly and beeswax etc., many of them with significant role in human health benefits. Many hypotheses have been put forward in an attempt to explain these losses, but so far no indisputable factor has been identified responsible as the main driver of bee decline. Thus, it is necessary to urgently take measures to protect and preserve the honey bee by identifying and neutralizing the most significant causes leading to this phenomenon. Conservation methods are in place to protect A. mellifera and honey bee populations in a large part of the world. However, the survey also reveals the disparity in resources and information dedicated between honey bees and all other pollinators.
Access options
Buy single article
Instant access to the full article PDF.
US$ 39.95
Tax calculation will be finalised during checkout.
Subscribe to journal
Immediate online access to all issues from 2019. Subscription will auto renew annually.
US$ 119
Tax calculation will be finalised during checkout.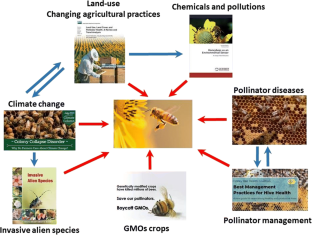 References
Aizen MA, Harder LD (2009) The global stock of domesticated honey bees is growing slower than agricultural demand for pollination. Curr Biol 19:915–918. https://doi.org/10.1016/j.cub.2009.03.071

Anderson DL, Trueman JWH (2000) Varroa jacobsoni (Acari: Varroidae) is more than one species. Exp Appl Acarol 24:165–189. https://doi.org/10.1023/A:1006456720416

Baldock K, Goddard MA, Hicks DM, Kunin WE, Mitschunas N, Morse H, Memmott J (2019) A systems approach reveals urban pollinator hotspots and conservation opportunities. Nat Ecol Evol 3:363–373. https://doi.org/10.1038/s41559-018-0769-y

Belsky J, Joshi NK (2019) Impact of biotic and abiotic stressors on managed and feral bees. Insects 10:233. https://doi.org/10.3390/insects10080233

Blaauw BR, Isaacs R (2014) Flower plantings increase wild bee abundance and the pollination services provided to a pollination-dependent crop. J Appl Ecol 51:890–898. https://doi.org/10.1111/1365-2664.12257

Blackmore LM, Goulson D (2014) Evaluating the effectiveness of wildflower seed mixes for boosting floral diversity and bumblebee and hoverfly abundance in urban areas. Insect Conserv Divers 7:480–484. https://doi.org/10.1111/icad.12071

Brookes G, Barfoot P (2018) Environmental impacts of genetically modified (GM) crop use 1996–2016: Impacts on pesticide use and carbon emissions. GM Crops Food 9:109–139. https://doi.org/10.1080/21645698.2018.1476792

Brown MJF, Paxton RJ (2009) The conservation of bees: A global perspective. Apidologie 40:410–416. https://doi.org/10.1051/apido/2009019

Capri E, Marchis A (2013) Bee health in Europe. Facts and Figs. 2013. Compendium of the latest information on bee health in Europe. OPERA Research Center report, pp 60

Chauzat MP, Faucon JP (2007) Pesticide residues in beeswax samples collected from honey bee colonies (Apis mellifera L.) in France. Pest Manag Sci 63:1100–1106. https://doi.org/10.1002/ps.1451

Chauzat MP, Faucon JP, Martel AC, Lachaize J, Cougoule N, Aubert M (2006) A survey on pesticide residues in pollen loads collected by honey-bees (Apis mellifera) in France. J Econ Entomol 99:253–262. https://doi.org/10.1603/0022-0493-99.2.253

Chauzat MP, Carpentier P, Martel AC, Bougeard S, Cougoule N, Porta P, Lachaize J, Madec F, Aubert M, Faucon JP (2009) Influence of pesticide residues on honey bee (Hymenoptera: Apidae) colony health in France. Environ Entomol 38:514–523. https://doi.org/10.1603/022.038.0302

Chauzat MP, Martel AC, Cougoule N, Porta P, Lachaize J, Zaggane S, Aubert M, Carpentier P, Faucon JP (2011) An assessment of honeybee colony matrices, Apis mellifera (Hymenoptera:Apidae) to monitor pesticide presence in continental France. Environ Toxicol Chem 30:103–111. https://doi.org/10.1002/etc.361

Chen Y, Pettis JS, Evans JD, Kramer M, Feldlaufe MF (2004) Transmission of Kashmir bee virus by the ectoparasitic mite Varroa destructor. Apidologie 35:441–448. https://doi.org/10.1051/apido:2004031

Connolly CN (2013) The risk of insecticides to pollinating insects. Commun Integr Biol 6:e25074. https://doi.org/10.4161/cib.25074

Costanza R, d'Arge R, De Groot R, Farber S, Grasso M, Hannon B, Limburg K, Naeem S, O'Neill RV, Paruelo J, Raskin RG, Sutton P, van den Belt M (1997) The value of the world's ecosystem services and natural capital. Nature 387:253–260. https://doi.org/10.1038/387253a0

Cronk Q, Ojeda I (2008) Bird-pollinated flowers in an evolutionary and molecular context. J Exp Bot 59:715–727. https://doi.org/10.1093/jxb/ern009

Delaplane KS, Mayer DF (2000) Crop pollination by bees. CABI Publishing, Oxon

Desneux N, Decourtye A, Delpuech JM (2007) The sublethal effects of pesticides on beneficial arthropods. Annu Rev Entomol 52:81–106. https://doi.org/10.1146/annurev.ento.52.110405.091440

Downey DL, Winston ML (2001) Honey bee colony mortality and productivity with single and dual infestations of parasitic mite species. Apidologie 32:567–575. https://doi.org/10.1051/apido:2001144

Evans JD, Pettis JS, Hood WM, Shimanuki H (2003) Tracking an invasive honey bee pest: mitochondrial DNA variation in Noth American small hive beetles. Apidologie 34:103–109. https://doi.org/10.1051/apido:2003004

FAOSTAT (2008) ProdSTAT database. Food and agriculture organization of the United Nations. Available at http://faostat.fao.org/site/526/default.aspx. Accessed Accessed 28 Jun 2019

Feyereisen R (2018) Toxicology: bee P450s take the sting out of cyanoamidine neonicotinoids. Curr Biol 28:R560–R562. https://doi.org/10.1016/j.cub.2018.03.013

Geiger F, Bengtsson J, Berendse F, Weisser WW, Emmerson M, Morales MB, Ceryngier P, Liira J, Tscharntke T, Winqvist C, Eggers S, Bommarco R, Pärt T, Bretagnolle V, Plantegenest M, Clement LW, Dennis C, Palmer C, Oñate JJ, Guerrero I, Hawro V, Aavik T, Thies C, Flohre A, Hänke S, Fischer C, Goedhart PW, Inchausti P (2010) Persistent negative effects of pesticides on biodiversity and biological control potential on European farmland. Basic Appl Ecol 11:97–105. https://doi.org/10.1016/j.baae.2009.12.001

Ghazoul J (2005) Buzziness as usual? Questioning the global pollination crisis. Trends Ecol Evol 20:367–373. https://doi.org/10.1016/j.tree.2005.04.026

Gill RJ, Ramos-Rodriguez O, Raine NE (2012) Combined pesticide exposure severely affects individual- and colony-level traits in bees. Nature 491:105–108. https://doi.org/10.1038/nature11585

Goulson D, Lye GC, Darvill B (2008) Decline and conservation of bumble bees. Annu Rev Entomol 53:191–208. https://doi.org/10.1146/annurev.ento.53.103106.093454

Gregorc A, Alburaki M, Rinderer N, Sampson B, Knight PR, Karim S, Adamczyk J (2018) Effects of coumaphos and imidacloprid on honey bee (Hymenoptera: Apidae) lifespan and antioxidant gene regulations in laboratory experiments. Sci Rep 8:15003. https://doi.org/10.1038/s41598-018-33348-4

Han F, Wallberg A, Webster MT (2012) From where did the Western honeybee (Apis mellifera). originate? Ecol Evol 2:1949–1957. https://doi.org/10.1002/ece3.312

Higes M, Martin R, Meana A (2006) Nosema ceranae, a new microsporidian parasite in honeybees in Europe. J Invertebr Pathol 92:93–95. https://doi.org/10.1016/j.jip.2006.02.005

Hung KLJ, Kingston JM, Albrecht M, Holway DA, Kohn JR (2018) The worldwide importance of honey bees as pollinators in natural habitats. Proc Biol Sci 285:20172140. https://doi.org/10.1098/rspb.2017.2140

Ingram M, Nabhan GC, Buchmann SL (1996) Impending pollination crisis threatens biodiversity and agriculture. Tropinet 7:1

Johnson RM (2009) ) Managed pollinator CAP Coordinated Agricultural Project: a national research and extension initiative to reverse pollinator decline when varroacides interact. Am Bee J 149:1157–1159

Johnson RM (2015) Honey bee toxicology. Annu Rev Entomol 60:415–434. https://doi.org/10.1146/annurev-ento-011613-162005

Johnson RM, Ellis MD, Mullin CA, Frazier M (2010) ) Pesticides and honey bee toxicity—USA. Apidologie 41:312–331. https://doi.org/10.1051/apido/2010018

Johnson R, Corn ML (2014) Bee health: background and issues for congress. Congressional research service 7–5700. https://www.crs.gov/reports/pdf/R46310. Accessed 30 June 2020

Klatt BK, Holzschuh A, Westphal C, Clough Y, Smit I, Pawelzik E, Tscharntke T (2013) Bee pollination improves crop quality, shelf life and commercial value. Proc Biol Sci 281:20132440. https://doi.org/10.1098/rspb.2013.2440

Klein AM, Vaissiere BE, Cane JH, Steffan-Dewenter I, Cunningham SA, Kremen C, Tscharntke T (2007) Importance of pollinators in changing landscapes for world crops. Proc Biol Sci 274:303–313. https://doi.org/10.1098/rspb.2006.3721

London-Shafir I, Shafir S, Eisikowitch D (2003) Amygdalin in almond nectar and pollen-facts and possible roles. Plant Syst Evol 238:87–95. https://doi.org/10.1007/s00606-003-0272-y

Maini S, Medrzycki P, Porrini C (2010) The puzzle of honey bee losses: a brief review. Bull Insectol 63:153–160. http://www.bulletinofinsectology.org/. Accessed 14 Mar 2020

Manjon C, Troczka BJ, Zaworra M, Beadle K, Randall E, Hertlein G, Singh KS, Zimmer CT, Homem RA, Lueke B, Reid R, Kor L, Kohler M, Benting J, Williamson MS, Emyr Davies TG, Field LM, Bass C, Nauen R (2018) Unravelling the molecular determinants of bee sensitivity to neonicotinoid insecticides. Curr Biol 28:1137–1143. https://doi.org/10.1016/j.cub.2018.02.045

Mineau P, Harding KM, Whiteside M, Fletcher MR, Garthwaite D, Knopper LD (2008) Using reports of bee mortality in the field to calibrate laboratory-derived pesticide risk indices. Environ Entomol 37:546–554. https://doi.org/10.1603/0046-225x(2008)37[546:urobmi]2.0.co;2

Mullin CA, Frazier M, Frazier JL, Ashcraft S, Simonds R, vanEngelsdorp D, Pettis JS (2010) High levels of miticides and agrochemicals in North American apiaries: Implications for honey bee health. PLoS One 5:e9754. https://doi.org/10.1371/journal.pone.0009754

Nellemann C, MacDevette M, Manders T, Eickhout B, Svihus B, Prins AG, Kaltenborn BP (2009) The environmental food crisis—The environment's role in averting future food crises. (A UNEP rapid response assessment); United Nations Environment Programme, GRID-Arendal: Arendal

Osborne JL, Martin AP, Shortall CR, Todd AD, Goulson D, Knight ME, Hale RJ, Sanderson RA (2008) Quantifying and comparing bumble bee nest densities in gardens and countryside habitats. J Appl Ecol 45:784–792. https://doi.org/10.1111/j.1365-2664.2007.01359.x

Pellett FC (1938) History of American Beekeeping. Collegiate Press, Ames

Rader R, Howlett BG, Cunningham SA, Westcott DA, Newstrom-Lloyd LE, Walker MK, Teulon DAJ, Edwards W (2009) Alternative pollinator taxa are equally efficient but not as effective as the honeybee in a mass flowering crop. J Appl Ecol 46:1080–1087. https://doi.org/10.1111/j.1365-2664.2009.01700.x

Regan EC, Santini L, Ingwall-King L, Homann M, Rondinini C, Symes A, Taylor J, Butchart SHM (2015) Global trends in the status of bird and mammal pollinators. Conserv Lett 8:397–403. https://doi.org/10.1111/conl.12162

Richards AJ (2001) Does low biodiversity resulting from modern agricultural practice affect crop pollination and yield? Ann Bot 88:165–172. https://doi.org/10.1006/anbo.2001.1463

Sheppard WS (1989a) A history of the introduction of honey bee races into the United Sates: Part I. Am Bee J 129:617–619

Sheppard WS (1989b) A history of the introduction of honey bee races into the United Sates: Part II. Am Bee J 129:664–667

Simone-Finstrom M, Li-Byarlay H, Huang MH, Strand MK, Rueppell O, Tarpy DR (2016) Migratory management and environmental conditions affect lifespan and oxidative stress in honey bees. Sci Rep 6:32023. https://doi.org/10.1038/srep32023

Smith КМ, Loh EH, Rostal MK, Zambrana-Torrelio CM, Mendiola L, Daszak P (2014) Pathogens, pest, and economics: drivers of honey bee colony declines and losses. EcoHealth 10:434–445. https://doi.org/10.1007/s10393-013-0870-2

Thompson HM (2003) Behavioural effects of pesticides in bees – their potential for use in risk assessment. Ecotoxicology 12:317–330. https://doi.org/10.1023/A:1022575315413

United Nations Environment Programme (UNEP) (2010) UNEP Emerging Issues. http://www.unenvironment.org/. Accessed 13 Feb 2019

van der Zee R, Pisa L, Andonov S, Brodschneider R, Charriere JD, Chlebo R, Coffey MF, Crailsheim K, Dahle B, Gajda A, Gray A, Drazic MM, Higes M, Kauko L, Kence A, Kence M, Kezic N, Kiprijanovska H, Kralj J, Kristiansen P, Hernandez RM, Mutinelli F, Nguyen BK, Otten C, Özkırım A, Pernal SF, Peterson M, Ramsay G, Santrac V, Soroker V, Topolska G, Uzunov A, Vejsnæs F, Wei S, Wilkinset S (2012) Managed honey bee colony losses in Canada, China, Europe, Israel and Turkey, for the winters of 2008–9 and 2009–10. J Apic Res 51:100–114. https://doi.org/10.3896/IBRA.1.51.1.12

vanEngelsdorp D, Evans JD, Saegerman C, Mullin C, Haubruge E, Nguyen BK, Frazier M, Frazier J, Cox-Foster D, Chen Y, Underwood R, Tarpy DR, Pettis JS (2009) Colony collapse disorder: a descriptive study. PLoS One 4:e6481. https://doi.org/10.1371/journal.pone.0006481

vanEngelsdorp D, Evans JD, Donovall L, Mullin C, Frazier M, Frazier J, Tarpy DR, Hayes J, Pettis JS (2009a) Entombed pollen: a new condition in honey bee colonies associated with increased risk of colony mortality. J Invertebr Pathol 101:147–149. https://doi.org/10.1016/j.jip.2009.03.008

Watson K, Stallins JA (2016) Honey bees and colony collapse disorder: A pluralistic reframing. Geogr Compass 10:222–236. https://doi.org/10.1111/gec3.12266

Whitfield CW, Behura SK, Berlocher SH, Clark AG, Johnston JS, Sheppard WS, Smith DR, Suarez AV, Weaver D, Tsutsui ND (2006) Thrice out of Africa: ancient and recent expansions of the honey bee, Apis mellifera. Science 314:642–645. https://doi.org/10.1126/science.1132772

Williams IH (1994) The dependences of crop production within the European Union on pollination by honey bees. Agric Rev 6:229–257

Winfree R, Williams NM, Gaines H, Ascher JS, Kremen C (2008) Wild bee pollinators provide the majority of crop visitation across land-use gradients in New Jersey and Pennsylvania, USA. J Appl Ecol 45:793–802. https://doi.org/10.1111/j.1365-2664.2007.01418.x

Winston M, Dropkin J, Taylor O (1981) Demography and life history characteristics of two honey bee races (Apis mellifera). Oecologia 48:407–413. https://www.jstor.org/stable/4216331. Accessed 22 Oct 2019

Yasrebi-de Kom IA, Biesmeijer JC, Aguirre‐Gutiérrez J (2019) Risk of potential pesticide use to honeybee and bumblebee survival and distribution: A country‐wide analysis for The Netherlands. Divers Distrib 25:1709–1720. https://doi.org/10.1111/ddi.12971
Acknowledgements
This work was funded by the National Scientific Fund of the Bulgarian Ministry of Education and Science, [grant numbers 06/10 17.12.2016]. The funders had no role in study design, data collection and analysis, decision to publish, or preparation of the manuscript.
Ethics declarations
Conflict of interest
In this manuscript, all authors have no actual or potential conflict of interest including financial, personal or other relationships with journal editors. This submitted work has not been inappropriately influenced. 
Submission declaration
This manuscript and its contents have not previously been published nor are under active consideration for publication with any journal or publisher except with Biologia.
Additional information
Publisher's note
Springer Nature remains neutral with regard to jurisdictional claims in published maps and institutional affiliations.
About this article
Cite this article
Neov, B., Shumkova, R., Palova, N. et al. The health crisis in managed honey bees (Apis mellifera). Which factors are involved in this phenomenon?. Biologia (2021). https://doi.org/10.1007/s11756-021-00684-2
Received:

Accepted:

Published:
Keywords
Apis mellifera

Honey bee population decline

Biotic and abiotic stressors