Abstract
Here, we report our unique "non-pledget commissural suture technique" to avoid complete atrioventricular block during surgical aortic valve replacement, whereby all commissural stiches are made in a figure-of-eight fashion without a pledget. Then, standard stiches in a non-everting fashion are made using pledget sutures and a prosthetic valve is implanted at the supra-annular position. Among 152 evaluated patients, only five patients experienced complications, including three left bundle branch blocks, one postoperative pacemaker implantation, and one moderate paravalvular leak. Based on the high success rate, our technique may be a reasonable alternative for surgical aortic valve replacement.
Access options
Buy single article
Instant access to the full article PDF.
US$ 39.95
Tax calculation will be finalised during checkout.
Subscribe to journal
Immediate online access to all issues from 2019. Subscription will auto renew annually.
US$ 79
Tax calculation will be finalised during checkout.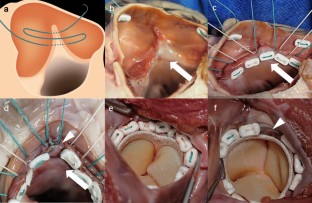 References
1.

Fadahunsi OO, Olowoyeye A, Ukaigwe A, Li Z, Vora AN, Vemulapalli S,et al. Incidence, predictors, and outcomes of permanent pcemaker implantation following transcatheter aortic valve replacement: analysis from the US society of thoracic surgeons/American college of cardiology TVT Registry. JACC Cardiovasc Interv. 2016;9:2189–99.

2.

Matthews IG, Fazal IA, Bates MG, Turley AJ. In patients undergoing aortic valve replacement, what factors predict the requirement for permanent pacemaker implantation? Interact Cardiovasc Thorac Surg. 2011;12:475–9.

3.

Uva MS. Transcatheter aortic valve implantation in low-risk patients: is it too early? Heart. 2019;105:s51–6.

4.

Mehaffey JH, Haywood NS, Hawkins RB, Kern JA, Teman NR, Kron IL, et al. Need for permanent pacemaker after surgical aortic valve replacement reduces long-term survival. Ann Thorac Surg. 2018;106:460–5.

5.

Totaro P, Calamai G, Montesi G, Barzaghi C, Vaccari M. Continuous suture technique and impairment of the atrioventricular conduction after aortic valve replacement. J Card Surg. 2000;15:418–22.

6.

González Barbeito M, Estévez-Cid F, Pardo Martínez P, Velasco García de Sierra C, IglesiasGil C, Quiñones Laguillo C, et al. Surgical technique modifies the postoperative atrioventricular block rate in sutureless prostheses. J Thorac Dis. 2019;11:2945–3295.

7.

Kim HH, Lee S, Joo HC, Kim JH, Youn YN, Yoo KJ, et al. Impact of suture techniques for aortic valve replacement on prosthesis-patient mismatch. Ann Thorac Surg. 2020;109:661–7.

8.

Yanagisawa H, Tabata M. Modified annular suturing technique for minimizing postoperative pacemaker use after surgical aortic valve replacement. Gen Thorac Cardiovasc Surg. 2020;5:78.
Ethics declarations
Conflict of interest
The authors declare that they have no conflicts of interest.
Additional information
Publisher's Note
Springer Nature remains neutral with regard to jurisdictional claims in published maps and institutional affiliations.
About this article
Cite this article
Kunioka, S., Fujita, K., Iwasa, S. et al. Non-pledget commissural suture technique to avoid atrioventricular block. Gen Thorac Cardiovasc Surg (2021). https://doi.org/10.1007/s11748-021-01605-5
Received:

Accepted:

Published:
Keywords
Aortic valve replacement

Heart block

Permanent pacemaker